The state of Texas has always been known for innovation, diversity, and its large size. Its vast land area has construction needs in the state completely unique. Popular cities like San Antonio and Austin support industrial and economic growth and better life through functionality and adaptability. The construction is on the rise, making metal buildings an ideal solution to the needs of Texans.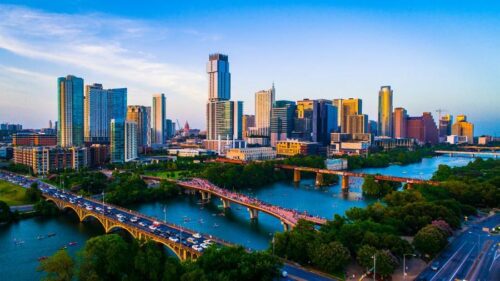 Metal buildings have proven useful for both existing and new property owners. We have all covered in Texas, whether residential metal buildings, steel garages, storage buildings, metal carports, metal barns, or recreational buildings.
Steel and studs help buyers in Texas by supplying high-quality and cost-effective metal building kits with installation services through a highly qualified team. Our team is here to assist you with the perfect building for your unique needs!
Buy Metal Buildings Near You, TX
Metal buildings kits are referred to as pre-engineered steel buildings, modular buildings, factory buildings, or kit buildings. These construction projects are delivered to you as a ready-to-assemble kit with minimal on-site construction required. The erected steel buildings can be just one component of a larger project or used as a standalone structure.
We are a leading Texas steel building supplier in Texas, providing steel metal buildings and red iron metal buildings to homeowners, businesses, and organizations.
We provide pre-engineered metal buildings solution and installation services to all types of property owners, including residential and commercial clients within Houston, San Antonio, Austin, East Texas, Dallas, and any other city in Lone star state, TX.
We offer a variety of storage space kits that you can choose from varied color samples, sizes, doors, steel frames, lean-tos, roof styles, insulation systems, and more. Contact us now to order metal buildings, including:
Metal sheds

RV covers

Metal vehicle covers

Metal buildings used as living spaces

Steel Barns

Steel Carports
We offer sales and installation services for clients. You can call us now or get started using our online builder.
Metal Buildings At Competitive Prices
Metal building prices depend on each structure's total area. Base packages start at just $4 per square foot (sq.ft). Both construction and installation charges are calculated separately. We offer prefab metal buildings including clear span buildings, metal shops, industrial buildings, and metal garage buildings. Each of our metal building kits compared with traditional building materials like wood and brick perform better in strength, cost, and durability. Furthermore, each building kit comes with a 20-year warranty. You can contact us today for a free quote for your Metal Buildings.
Why Are Metal Buildings So Popular In Texas?
The construction industry in Texas, TX, is thriving and has an increasing demand than ever. These steel buildings are the perfect solutions for storing equipment, enhancing facades, outdoor storage, protecting vehicles, and more. We are also serving the largest markets in Texas, including agricultural, commercial, industrial, and residential.
Texas's top-selling steel buildings include Metal building sheds, Hay sheds, offices, carports, airplane hangars, metal, manufacturing plants, and houses. Steel and Studs are the most reliable and resourceful suppliers of steel buildings in tx. With our accurate understanding of benefits and installation, you save cost on energy-efficient construction plans.
Also, These steel-based structures cost less than a traditional home and are much faster to build. They have zero maintenance requirements and often require cheaper taxes and insurance costs.
Bardominiums: Most Popular Metal Building Designs In Texas
Barndominiums provide a mix of storage and living spaces to buyers. They are popular across Texas because of the thriving agricultural industry in the state. Steel and Studs can deliver a customized barndominium kit from the best brands for most buyers in Texas. Verified brands like Morton Buildings and DuraMax are available for sale on our website.
There are varying uses of barndominiums for Texans, such as weekend retreats, farmhouses, and homes. Ultimately, the popularity of these structures is soaring, showing more Texans would be buying a barndominium in the near term.
Other Popular Metal Buildings In Texas
Apart from barndominiums, metal buildings have other use cases including:
Metal Storage Buildings
Metal storage buildings can be used for your personal belongings or used to start a business. Our metal storage building offerings include 14 and 16-gauge frames and 26 and 29-gauge panels.
Commercial Steel Buildings
These buildings are made from galvanized steel and could serve as storefronts and business locations. The rising demand for commercial steel buildings in Texas makes them a great choice for you. Steel and Studs metal building kit options will meet your building needs for steel warehouses, manufacturing plants, and convenience stores regardless of scale.
Prefabricated Steel Buildings
Our prefab buildings are delivered and installed free. The lead time for these structures falls between 60 and 90 days. With over 75% of Texan rural areas covered with farmland, we can install pre-engineered steel structures in all rural locations. Our prefabricated steel structures are also applicable to residential buildings to protect valuable properties.
Cost-Effective Metal Building Texas
Cost-saving abilities of steel buildings make them a good alternative to traditional homes when it is entirely uneconomical. Whether you want to expand your existing real estate or a temporary building before building a full one on your estate, a metal building shed can be a quick and fast solution.
A steel structure saves costs in the following ways:
Driving both materials and installation costs down considerably.

They are expected to last for at least 20 years with zero maintenance requirements.

Build-out costs are considerably lower than those of traditional and wooden structures.
"Electricity costs have been rising in the past few years. With our metal building shed, we have been able to cut our energy costs to about half on a monthly basis. Having a metal building installed on our property has been a great decision for us" – James.
Heating and cooling are expensive maintenance items for a metal building. Insulation is the most effective solution to poor energy efficiencies in a metal building structure. Steel and studs offer various insulation solutions, including bubble foam insulants.
Customers may request insulation if it is required for their structures. Also, we can minimize energy leakages in our structures, ensuring effective insulation in the structures. Overall our metal buildings offer huge insulation effects via the walls and roof sheets.
Metal buildings are highly customizable and scalable for all use cases. This makes the structures highly suitable for most Texan households and farmlands. If you want to buy a metal building in Texas, contact us at Steel and Studs today.
We are not involved in the designs and manufacturing of metal building kits. We focus on supply and installation by our specialists.
You must prepare your site before delivery to reduce installation delays. Conduct the best site location, clear the site, level the site properly, and make drainage considerations.
When you are ordering a metal building kit, you may choose a certified building kit over an uncertified one. Certified building kits meet specific building standards and offer higher durability and strength benefits. They offer additional bracing, more weather resistant anchors, and further upgraded features.