Here at Steel and Stud, we believe in offering the best products at the best prices to all 48 states in the US. We provide free delivery and installation at no additional cost when you buy Arkansas carports from us.
Steel and Studs are now offering affordable steel carports for sale in Arkansas. We have the carport you need, whether it's a metal carport or a lightweight, portable carport.
Whether you're a manufacturer or a homeowner, if you're located in Arkansas, we have no doubt you'll benefit from a metal building. Our metal carports are available in various sizes and styles, perfect for residential and commercial use in Arkansas.
With "A" rating with the BBB, we're the largest independent dealer in the US. Our headquarters are located in Northern California. Steel and Stud is a leader in the industry regarding permanent and portable garage and carport options. We provide only the best quality steel and aluminium carports. Our metal garages have transformed the car shelter industry by giving clients a durable alternative.
Arkansas is well-known for its gorgeous landscape, making hunting, off-roading, and boating easily accessible. Any outdoorsman knows that having a proper place to store gear is vital for being prepared. So, whether you're looking to keep your boat, dirt bikes, ATVs, UTVs, jet skis, or cars, trucks, or RVs, our Arkansas metal carports kits can help.
In addition to providing a convenient and secure place to stow outdoor vehicles and equipment, Arkansas metal buildings also offer an excellent means of increasing home storage space.
Think about it, if you're paying for a storage unit, that's an ongoing cost. Metal buildings in Arkansas can do the same job, but once you've paid for it, it's yours forever at no further charge.
Want to know more about metal buildings in Arkansas? We'll detail the steel carports we offer, including some common uses and tips on getting the most from them, and information about obtaining the proper permits to install metal carports in Arkansas. Call us today to know more about metal carports in Arkansas.
Metal Carports in Arkansas We Sell
We sell metal buildings in Arkansas that span nearly every use case, from man caves to workshops, ranging from simple car covers to large enclosed structures with walk-in and roll-up doors and windows.
We offer a wide variety of metal carports in Arkansas, including the following:
Metal Carports
Steel carports are most commonly used as car covers, but they can also be used as outdoor storage shelters. We also sell carport kits, which are designed for do-it-yourself assembly. In addition, we sell RV carports and portable carports, which are compact and easy to move.
LEARN MORE.
Metal Garages
Our steel garages are fully customizable. No matter what size you need and what features you require, we can help you design a metal garage to fit your needs. We also sell metal garage kits, which are easier to install, and portable garages that can easily be moved.
LEARN MORE.
Portable Canopies
Portable canopies can be used in more ways than just about any other products we sell. Their lightweight construction makes them extremely easy to install, take down and even move. The wide variety of canopy options we stock makes it easy to pick the right one.
LEARN MORE.
Utility Carports, Sheds, and Buildings
The biggest selling point of a utility shed is that they're often designed to include both open and enclosed space — like a carport with storage. We also sell portable, mobile, lean-to, and loafing sheds, which are partially enclosed utility buildings.
LEARN MORE.
Solar Carports
Not every metal carport vendor sells solar carports. But we do. It's one of our stand-out products, and it shows we're a leader in our industry. Solar carports cost more, but they'll drastically reduce your electric bills and help you recoup your investment over time.
LEARN MORE.
Accessory Dwelling Units (ADUs)
ADUs, also known as mother-in-law suites and granny flats, is gaining traction nationwide. They help control rental rates while allowing homeowners to supplement their income. Although they can be costly, metal ADUs are a great affordable solution.
LEARN MORE.
Barndominiums
One of the biggest trends in home building, barndominiums — a combination of a "metal barn" and a "condominium" — are houses often built on large plots of land in rural areas. Metal barns are more affordable than houses made of other more costly materials, like brick or stone.
LEARN MORE.
Shouses
Another home building trend, shouses, or shop houses, are residential structures with a built-in shop. A shouse is also known as a shop with living quarters attached. These home styles are ideal for homeowners who require a place to work but don't want to build a detached workshop.
LEARN MORE.
Cold-formed Steel Framing
In addition to metal carports and steel buildings, we sell metal building materials, including cold-formed steel framing. We stock purlins, trusses, studs, and track framing. These frames can support roofs, load-bearing walls, interior walls, etc.
LEARN MORE.
Why Buy Metal Carports in Arkansas From Steel and Stud?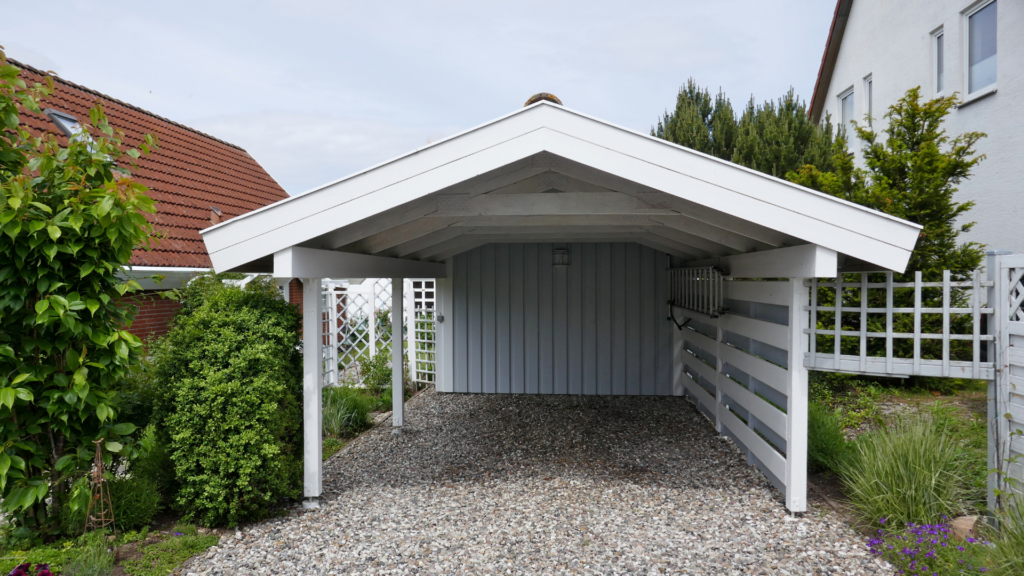 Metal buildings in Arkansas offer durability and cost-effectiveness that other building styles, like wood, brick, or stone simply can't. But at Steel and Stud, we want to do more than sell metal buildings in Arkansas. We want to help you design a carport that meets all your requirements, and we want to make sure it's assembled properly. So, we do.
Get free delivery and installation services on your purchased carport kits perfect for both residential and commercial uses including office storage, warehouses, and workshops.
RV carports are used to cover and shelter vehicles and other equipment that usually wouldn't fit in a smaller, enclosed metal garage, such as big boats, tractors, RVs, and tractor-trailers.
We can construct any length of steel carport in AR, and we can go up to a 100′ wide clear span or as per your need. Steel And Stud have been in the Arkansas carport business for nearly 10 years. Our galvanized steel RV carports can sustain Arkansas's humid climate. Our metal carport canopy offers the best security and durability available.
Our ten-plus years in the metal carport business have made us one of the nation's most experienced metal building suppliers. We've sold steel buildings to thousands of homeowners and businesses across the country, and we hope you'll join our list of satisfied customers.
Metal Buildings in Arkansas Work in Rural and Urban Areas
While quality is important to us, we're also extremely proud of our design capabilities. We have a tool, the Carport, and Garage Builder, on our website to plan out how your carport will look before you buy it. You can choose the dimensions, the walls, and the doors and windows. You'll even be able to see what metal carports in Arkansas cost.
A custom metal building is an excellent option in a diverse state like Arkansas.
One of the first things to select when planning your steel building design is the size. We let you choose all the available dimensions, including the width, length, and height.
Size is an essential consideration for our customers. Like Little Rock, those living in cities may find their available space is limited and, as such, require a smaller footprint. Ordering a metal building in Arkansas can be as small as 10-feet wide by 10-feet long by 5-feet tall.
On the other hand, rural residents of Arkansas generally have a lot of space. Whether you're looking for something for your residence or a solution for your business, a metal carport can provide you with as much covered storage as you could ever need.
We also offer two different steel frame sizes, 14-gauge and 12-gauge frames. The 12-gauge is 20 per cent more potent than the 14-gauge.
If you're planning to store any valuable items in your AR carport, you should be looking into a fully enclosed unit. If you enclose all the walls and add a roll or walk indoors, you'll be able to properly secure your carport and ensure access is granted only to authorized people.
As per your vehicles and equipment size, you may consider adding frame-outs to your metal building. We can add frame-outs to any metal building or carport large enough to accommodate all sizes of trucks, from pickups to semis.
If you're in the country and looking more for convenience than you are for security, we sell steel carports with open sides in all sizes. This option provides basic shelter for your outdoor equipment and vehicles and allows quick and easy access.
A metal carport is only as strong as its foundations or anchoring system. Depending on where you live, you may have to opt for different means of securing your steel building.
If, for example, you're installing your steel building on any other surface than concrete, we strongly recommend using mobile home drills to ensure your carport is secure.
We can also provide asphalt anchors, more commonly used in urban settings where an asphalt base is a norm.
How Owning A Metal Building in Arkansas Benefits Homeowners
Even basic cars and trucks cost a lot of money these days. But if you live in Arkansas, chances are, you also own other vehicles used to enjoy the outdoors, such as boats, motorcycles, ATVs, or UTVs. In that case, you not only want to protect them from the elements but also theft.
Your expensive toys, tools, and vehicles are exceptionally vulnerable to Arkansas' famous hail storms. The hailstones have been reported as big as 5 inches in diameter. As you can imagine, hail can cause significant damage to car bodies and windows. But a metal carport can protect your vehicles — and it may cost less than repairing your vehicle after a storm.
There are many possible uses for your steel structure in Arkansas besides storing vehicles. Some of our customers have converted their metal buildings into metal barns. The solid and sturdy steel structures we sell are ideal for this application.
Also, if you live in a subdivision with strict rules on the design of any auxiliary buildings, like steel barns and carports, contact us to make sure you can meet those regulations.
Homeowners associations can often impose rules on the storage of trailered boats and RVs in driveways. If you have no space in your existing garage to fit any additional vehicles, a portable metal carport or metal garage could be the perfect solution.
Metal Carports Fit Right into Arkansas's Industrial Economy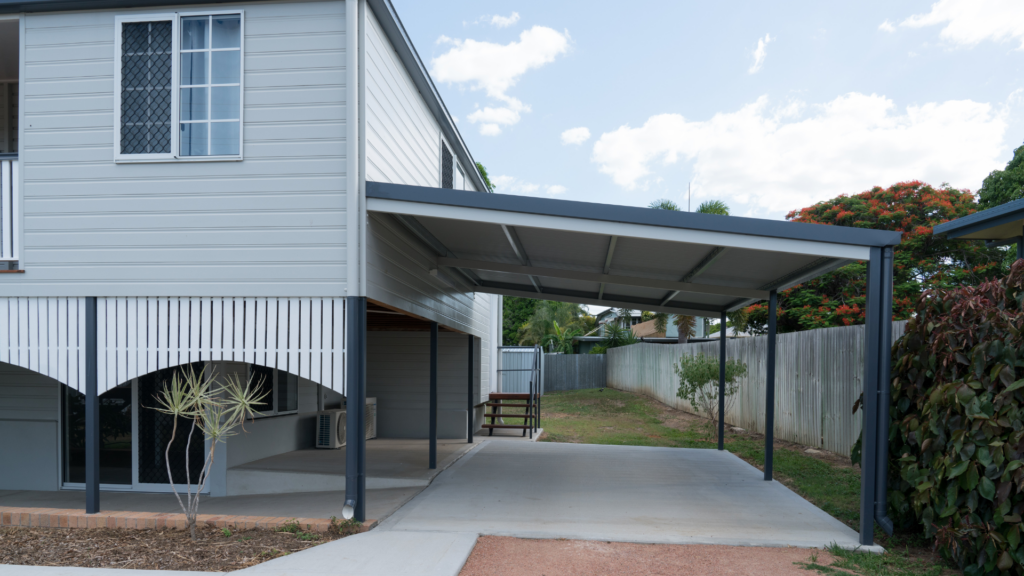 Business owners and operators across Arkansas are already taking advantage of the benefits of steel carports and metal buildings.
There are many industry sectors across the State of Arkansas. Still, the four biggest contributors to the economy are food and beverage processing, paper and timber production, steel production, and aerospace and defence. All of these industries, and others, can benefit from incorporating a steel carport or metal buildings into their operations.
Food processing, in particular, is a massive industry in Arkansas. 23 of the top 25 most successful food and beverage companies globally have manufacturing facilities in Arkansas.
If you're a local business owner in the food processing industry, you can also benefit from steel carports.
Our enclosed steel carports can be outfitted for poultry farming, catfish processing, cotton and cottonseed preparation, etc. And if your Arkansas agriculture speciality is in the growth of crops like wheat, barley, or soybeans, our steel buildings make the perfect storage units. Enclosed facilities can even be climate-controlled, making them ideal for year-round use.
At Steel and Studs, we know a thing or two about steel. And if you love extra workspaces, you should consider buying a metal building to expand and improve your operation.
Within the past few years, billions of dollars have been poured into Arkansas's steel production industry, turning the state into one of the country's industry leaders. Producing steel requires storage — raw materials and finished products — and a metal building is a perfect solution.
The State of Arkansas boasts nearly 20 million acres of forestland, making it the perfect location for lumber industries. Over 5 percent of Arkansas's total economy comes from forestry.
Arkansas has developed a sustainable approach to the wood industry, and thanks to these efforts, it will remain a vital sector for years to come. With this in mind, an investment in a metal building for any company in the timber industry can provide a safe and secure place for storing raw wood materials and products that need protection from the elements.
There are many major aerospace and defence companies based in Arkansas as well. In fact, civilian aircraft, engines, and parts are the state's leading exports. Businesses in this industry can also greatly benefit from owning metal carports in Arkansas, whether it's to help with production or supply chain and logistics.
Considerations for Buying Arkansas Metal Carports
Anyone looking to build a carport in Arkansas, whether for residential or business purposes, should take note of the following factors. From inclement weather to the state's varied topography, take note of these tips before you start designing a metal building in Arkansas.
Use the Right Anchors to You're Prepared for Strong Arkansas Winds
Arkansas is prone to extreme weather conditions, including strong winds and even tornadoes, so you must prepare your carport for these possible conditions.
While we can install our steel buildings on a wide range of surfaces, we recommend that our Arkansas customers install metal carports on a concrete slab. Pouring a concrete slab allows us to attach the structure to the ground using concrete anchors, which are much stronger than bar pin anchors used on dirt, gravel, and grass surfaces.
If a concrete base isn't an option, you can also pour an asphalt slab. But if the only surface you're able to build on is dirt or soil, you'll need to install mobile home anchors, which provide an extra level of security, and the bar pin anchors that are included.
We will fulfil your metal carport needs, building in whatever shape and size you need, on whatever surface you present us with – asphalt, clay, sand, dirt, or concrete – as long as it's level.
Add Sidewalls to Keep Out Hail and Debris
Arkansas weather is generally mild and temperate but can occasionally turn extreme. Depending on what you're planning to keep underneath your metal building or carport, you may want to enclose it entirely.
During a hail storm, for example, significant damage can be caused to vehicles' bodywork and glass, and in some cases, the car can be totaled by the insurance company.
An open-sided carport may not be the best choice if you're the owner of valuable or vintage vehicles that need protection, as hail can blow almost horizontally during bad storms. A fully enclosed carport with a roll-up or walk-in door is the best option for the best protection.
Similarly, flying debris becomes a real hazard to any valuable vehicles or equipment during high winds and tornados. Keep your cars and possessions safe in an enclosed carport.
If you're using your metal building to store lumber or other items that likely won't be damaged by an ice storm, an open carport or shed should provide adequate shelter for your needs.
Workers Will Require a Climate-controlled Space
Many residential carport owners won't need to consider climate control. But suppose you're a business owner erecting a metal building to bolster your operation and plan to have employees working indoors. In that case, we suggest you enclose your metal carport and install an HVAC system.
Summer weather in AR can be sweltering. Providing a comfortable atmosphere for your workers is essential. To do that, we suggest proper insulation to ensure thermal efficiency and install an air conditioning and heating system.
Note that installing an HVAC system is only recommended for fully enclosed steel buildings to avoid excess energy costs.
Prices for Arkansas Metal Carports
We offer some of the finest metal buildings in Arkansas, but we also deliver and install every carport we sell at no additional cost. The price you see is the price you pay.
Our payment process is simple. We ask for a small 10% down payment at checkout on the website. Once we've received your deposit, we will follow up with you to arrange a delivery and installation date and time. When our crew arrives, show them where you'd like your carport installed and watch them go to work.
To get an idea of our starting metal carport prices, please see the pricing chart below:
| | | |
| --- | --- | --- |
| Dimensions | Metal Carport Cost* | Steel Building Cost* |
| 10×10 | From $1155 | From $2970 |
| 10×15 | From $1255 | From $3186 |
| 15×15 | From $1255 | From $3186 |
| 15×20 | From $1455 | From $3537 |
| 20×20 | From $1455 | From $3537 |
*Prices based on standard features, including 7-foot leg height, roof style, and frame gauge thickness. Metal building estimates include one walk-in door and one roll-up door.
Permits for Arkansas Metal Building
The versatile nature of metal carports has helped increase their popularity in Arkansas. The speed and ease of the metal garage installation process compared to a brick and mortar garage or timber-framed carport is beyond comparison, and the strength and durability are unparalleled, too.
Of course, it's easy to assume that because our process for buying Arkansas metal carports is so simple, all there is to do is make a few clicks. However, like all other states, Arkansas has building codes and regulations that must be adhered to, including carports.
We recommend acquiring permits before you make a purchase. After applying for and being granted access, your metal building project can usually begin immediately.
For more information specific to Arkansas carport installation, head to your city or county's website and review the planning and development guidelines.
We Sell Metal Buildings and Carports Across Arkansas
We have Carports for sale in Arkansas, Ashley, carport kits in Baxter, Benton, Boone, Bradley, and utility carports in Calhoun, Carroll, Chicot, Clark, Clay, Cleburne, Cleveland, Columbia, Conway, Craighead, Crawford, Crittenden, Cross, steel carport in Dallas, Desha, Drew, carport in Faulkner, Franklin, Fulton, RV carports in Garland, Grant, Greene, carport canopy in Hempstead, Hot Spring, Howard, portable carport in Independence, Izard, aluminium carports in Jackson, Jefferson, Johnson, carport garages in Lafayette, Lawrence, Lee, Lincoln, Little River, Logan, Lonoke, Madison, Marion, Miller, Mississippi, Monroe, Montgomery, Nevada carports, Newton, Ouachita, Perry, Phillips, Pike, Poinsett, Polk, Pope, Prairie, Pulaski, Randolph, Saline, Scott, Searcy, Sebastian, Sevier, Sharp, St. Francis, Stone, Union, Van Buren, Washington, White, Woodruff, Yell.