Kansas is one of the most significant sources of free land in the United States, and some people in the city are offered land at lower prices, where they can settle down with their families. If you are also given this wonderful opportunity or own your personal space in the city, Steel and Stud will help you increase your property's resale value and functionality.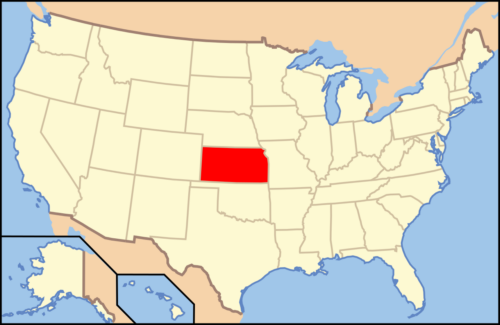 Offering a way more functional and affordable option than traditional or wooden structures, Steel and Stud manufactures high-quality KS steel buildings at the best prices. We have a range of customization options for our top-selling metal carports and steel structures, where you can choose your design and material according to your use and preferences.
Apart from different options, our building specialists also ease the process for building permits. We have high-expertise local teams for each city and state in the United States, well-versed with all the local steel structure codes and regulations. The metal's versatility, cost-efficiency, environmental friendliness, and strength make it a trusted, quality material used by our construction team.
All you need to do is think of the empty outdoor space that you wish to utilize and give us a call. We will figure out the Kansas Metal building permit, leveling, and installation options, delivering the functional and affordable steel carport kit in a few days.
Steel And Stud Has The Best Options for Kansas carport
More than 90% of Kansas's total revenue is from agricultural activities. Therefore, ranchers and farmers need a durable, robust, affordable structure to store and protect their stock from damaging environmental elements.
Pre-engineered metal building industry is on rise as it eliminates all the guesswork, doubts, and stress of agricultural, industrial, commercial, or residential construction. High-quality steel features, welded, punched, and marked with bolt-together technique, make assembling much easier with free-installation support.
Some of the best-selling KS steel carports at Steel and Stud include:
Steel industrial buildings in Kansas
Pole Barns in Kansas
Kansas Steel Aircraft Hangers
Kansas Indoor House Arenas
Residential metal buildings in Kansas
Recreational buildings in Kansas
Steel Warehouses in Kansas
Steel Church Building in Kansas
Agricultural warehouses in Kansas
Commercial Steel buildings in Kansas
Pre-fabricated steel buildings in Kansas
Metal garage in Kansas
Metal barns in Kansas
Steel and Stud steel garages are available in multiple sizes with open customization options for livestock shelters, dairies, stables, metal barns, equipment storages, farm offices, hay sheds, and other agricultural structures.
All our options are resistant to wind, fire, and termite damage and help save insurance costs. Our pro-value insulation technique with climate-controlled options will help owners enjoy incredible savings on cooling and heating costs.
Metal Buildings by Steel and Stud:
More than steel carports, Steel and Stud aim to provide the best metal buildings that can ideally be used for various purposes. Ranging from closed structures to open carports, recreational spaces, open patios, and many other options, the free-standing and attached metal structures can help with storage buildings and open frame outs while enhancing the overall aesthetic of the existing property.
Most opted options for metal carports in Kansas include:
Metal Garages
Metal garages are fully-enclosed metal structures installed to protect your cars and other vehicles. It can be used for small trucks, RVs, SUVs, and other storage materials. We offer you a range of customization options in metal garages, starting from only $3900, that fits all your needs and sizes.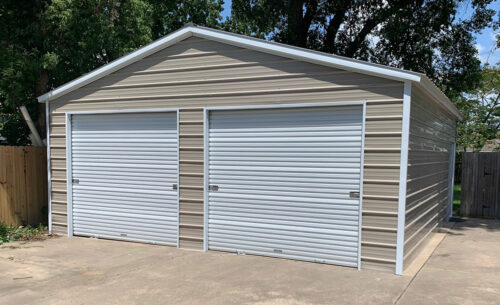 We deal with garage kits and portable garage options that can easily be shifted from one place to another. Our experts can help find the best size of metal garages according to your preferences, providing free installation.
Most opted sizes for metal garages in Kansas are: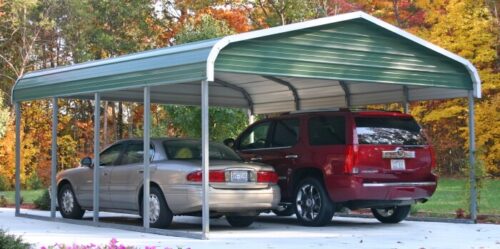 Metal carports are similar to metal garages but do not have side walls. These are the free-standing structures attached to an existing property ranging from one car to Triple Wide Metal Carports/ Triple Carports. Kansas temperature ranges from quite warm to mild and humid throughout the year.
The lowest temperature in the city is 9 degrees, whereas the highest is 32 degrees. Metal carport by Steel and Stud are therefore the best option for Kansans, ideally can be used throughout the year to protect vehicles from damaging elements.
These can be customized according to users' requirements and needs adding width, length, and height based on the preferences. Steel and Stud also offer their customers the option of customization, where they can alter the core design and exterior look to make the unit more attractive and functional from an aesthetic point of view.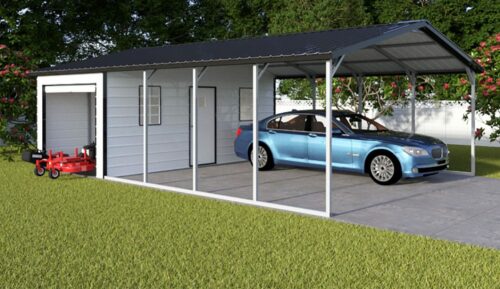 A level up from a metal carport, utility carports combine open and enclosed spaces. These are more like a carport with storage buildings.
Utility Carports from Steel and Studs offer function, strength, and flexibility. All these factors effectively combine to shelter your vehicle from damaging elements in Kansas. We help extract the most out of your outdoor space, providing customized options in fully-enclosed storage sheds with various uses.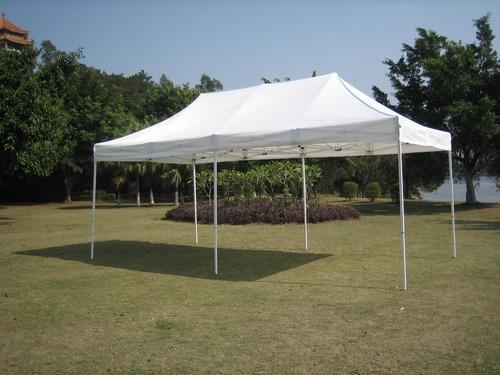 Portable canopies are:
An affordable option for Kansans.

Protecting from UV rays.

Snow and rain.
These lightweight structures can easily be placed from one place to another and do not require any permission from local authorities.
Steel and Studs provide easy DIY installation options for portable canopies and free installation options, offering a wide variety of options for accessible selections.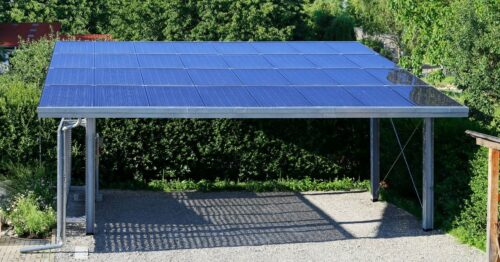 Solar Carports in Kansas will help save a lot of electricity, an affordable option to cut unnecessary costs.
Not every metal building vendor deals with solar sheds. Steel and Studs experts will help you free install these ground-mounted canopies that stretch over parking spaces. The canopy for solar shed roofs is slightly tilted towards the ground and can seamlessly be mounted, elevating the aesthetics of the existing structure.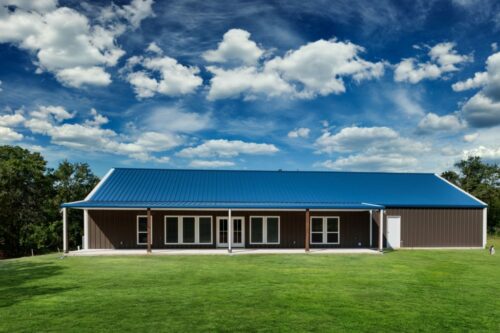 Barndominiums, also known as barndo, refer to metal structures ranging from simple one-story to vast, luxurious homes. It is an open concept built with ample footage space that combines working and living areas.
Steel and Studs Barndominiums are a cost-effective way to utilize your outdoor space in Kansas to its full potential in all areas of life. It helps cut down the cost of constructing a traditional building and can be used to extend living or working spaces for the existing structures.
ADU (Accessory Dwelling Units)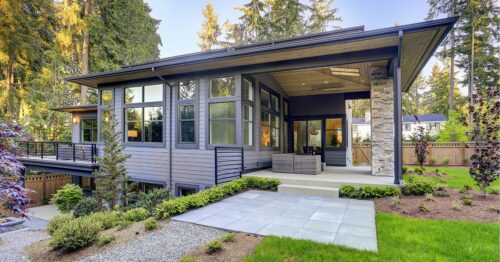 An accessory dwelling unit is an additional apartment or residential space that occupies the same space as of primary residence. It can be either a guest house, a rented apartment for increased income, or a detached garage.
Kansas is known for its lots of free land space. Homeowners or business owners can effectively use these spaces to add income to their earnings. We have various customization options for ADUs that will make these additional units appear as a part of your existing property, enhancing the aesthetics while reducing construction costs.
Cold-Formed Steel Framing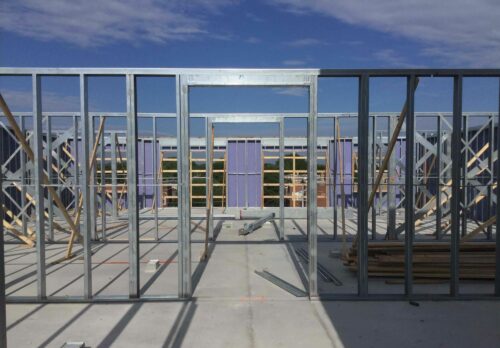 Ideal for mid-rise and low-rise steel buildings, cold-formed steel framing structures are a reliable and durable option for light-frame constructions. Horizontal and vertical elements are formed by repeating frame members, extending strength to the overall structure.
Most of the structures in Kansas have an additional shop space along with their residential areas. These are ideal for businesses and homeowners who are short of storage space but do not want to opt for further investment. Shouses can be an effective and affordable option for these structures as these metal building types also fulfill the same use.
Different Roof Styles for Metal Carports in Kansas: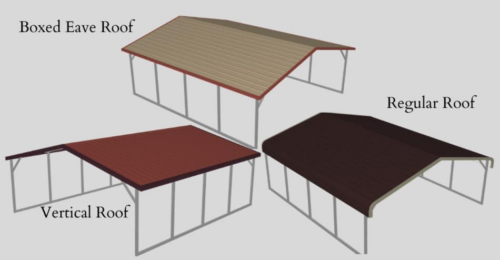 Metal Carport roofs come in different styles, each with advantages and disadvantages. The three most opted carport roof styles according to Kansas weather are:
Kansas experiences snowfall from December to January. It is the most affordable roof style and is commonly known as the regular roof. It has no eaves but still provides complete protection from damaging elements. The frame-outs for the standard top have rounded panels that make the snow accumulation on the roof difficult as it slides down through the ridges.
Steel and Studs offers a regular roof style at only $2695. This price may vary according to size and customized elements.
Boxed-eave roof is also known for its A-frame style, where roofing panels run from front to back. This roof style helps save a lot of costs while enhancing the aesthetical value of your space.
Boxed Eave carports from Steel and Studs can easily be converted into enclosed carports by adding side panels. Fully-enclosed boxed eave metal garages are ideal for the Kansas environment as these offer complete protection from harsh weather elements like high winds, snowfall, and rains.
The base price for a fully enclosed boxed eave carport at Steel and Studs varies from $1845 to $3300.
Vertical Roof Style Metal Carport:
A vertical roof for a metal carport is the most robust roof style available and ideal for Kansas metal carports. These are designed with vertical roof orientation starting from peal and ending at sides or eaves.
The vertical roof style is widely known for its durability and strength, allowing water, debris, and snow to fall and avoid damage.
The base price for a metal carport in Kansas ranges from $3145 to $5000, depending on size and other customized elements.
What are the Factors to Consider While Purchasing Metal Buildings in Kansas?
Whether installing steel structures for business or personal use, you must carefully address all the factors to finalize the best metal building option. The top factors that influence your metal carport decisions are:
Before going into the roof panels or structure details, you first need to find the use of the metal building. How you use it impacts the accessories and building type. Metal building experts at Steel and Studs will address all your uses, helping you choose the right kind of structure that fulfills all your needs.
Installation for metal buildings requires only a few days but dismantling it is a confusing and time-taking task. Therefore, you need to decide the final location where you want your structure to be installed, considering the ease and convenience of the location.
Location will also affect the structure's material as different building codes, and zones have additional requirements.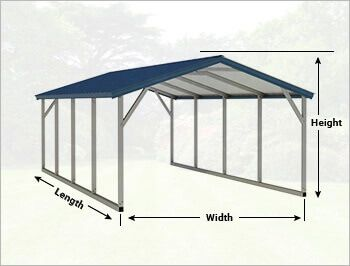 The first thing you need to consider before placing an order for prefab metal buildings is the accurate size. The cost for the prefab metal buildings is decided based on their dimensions, that is, the height, width, and length of the structure.
The following factors that will highly influence your metal carport selection are delivery time and urgency. Steel and Studs provide fast delivery for the structures along with free installation. But some structures may take a little extra time due to their customized elements. Therefore, make sure to get the timeline before finalizing your orders.
How can homeowners increase their property's functionality with Metal Carports in Kansas?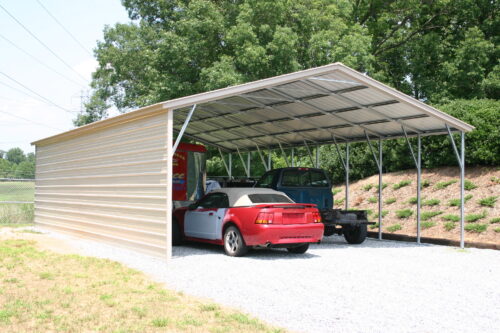 Kansas is the most significant source of free land in the United States. Moreover, the city experiences multiple seasons, offering diversity and beautiful weather all your-around.
 This highlights the importance of the best selections that will help extract the maximum functionality of the open space and the importance of advanced planning. Some of the factors that you need to consider before planning the installation of a metal carport are:
If you want to install the metal structure for residential purposes in Kansas, then any structure with more than 200 square feet will need a local permit. for commercial purposes, an area extending 120 square feet needs a permit.
Also, you need to find the building codes and restrictions details to know what kind of structures are best suited for your area.
Kansas experiences summer, rain, and snowfall in other months over a year. Therefore, you need to consider all these environmental calls to get the most out of your metal carport. Solar sheds in summer will help you save electricity, whereas vertical roofs will help prevent snow load on the top.
Steel and Studs assist all their customers with professionals that will help guide them throughout the installation process. These experts will address all the permits and restrictions, providing a range of options according to your area, budget, environment, and other preferences.
Why Purchase Metal Carports in Kansas from Steel and Studs?
Metal carports, referred to as covered parking, offer a variety of advantages to homeowners while lifting the aesthetics of their existing property. Kansas has a lot of free lands, and local codes provide feasibility to homeowners, allowing them to install metal buildings without complications.
The design and styles for these metal structures are endless, bringing out the best of your outdoor space. Some of the key benefits of installing a metal carport from Steel and Stud includes :
Less Maintenance and Increased Durability:
Unlike traditional buildings and carports curated from wooden panels, metal structures are the most durable option for homeowners who are struggling with a space to park and protect their vehicles.
These are steel, metal, and other sturdy materials that don't wrap or bend for many years. The material can easily withstand harsh weather conditions and will not show any signs of rust or damage.
Protection from Weather Damage:
Kansas City experience all the weather types, and metal carports help protect it from all such damaging elements. From severe rain to strong winds, hail, or snowstorms, the structure will withstand all such elements, covering the mechanical and cosmetic appeal of your prized possessions.
With so many advancements in innovative technologies, people are looking for hacks to save energy costs as much as possible. Steel and Studs metal carports will help you save a lot from their high quality.
With a carport, you need not worry about extra light consumption as you only need to turn them on while using it, unlike open spaces where you always need to have your lights on. Moreover, metal carports also help save on cooling and heating costs. Metal doesn't let heat escape immediately, keeping your car warm while assisting in the easy removal of ice and frost during winters.
Some metal building providers may not help increase the aesthetical value of your house. But Steel and Studs prioritize the value of your home while providing metal-building solutions. Our carport will not only add attractiveness and appeal but will also be an add-on while reselling the house. Our metal building prices are the best in the industry. Using our metal buildings is incredibly versatile, an ideal addition for Kansans to utilize their free land without investing any extra cost.
More than just solving parking problems, We also provide rent-to-own and other financing options to our customers. Being an affordable and easy-to-install structure, Steel and Studs metal carports in Kansas are worth considering.
How Can Commercial Properties Benefit from Metal Buildings?
Dairy Industries and meatpacking are the two leading industries in Kansas, followed by computer machinery and transportation equipment manufacturing. All these industries require colossal space. Metal Carports
Steel carports and buildings are the smart choices for any commercial or residential structure. These can stay stronger, grow up faster and protect better than any other ordinary building.
The flexibility of Steel Panels:
Steel panels are highly adjustable and flexible. These can easily be used to fulfill different size requirements, allowing easy infrastructure expansion compared to traditional building options.
Metal building specialists at Steel and Studs will help you with all the benefits of metal construction for your property, making the installation worth the cost in the long run.
Unlike wooden structures, metal buildings reduce the burden on the environment. Firstly, these include lesser trees and cannot readily catch fire. Secondly, steel is 100% recyclable. If you wish to dismantle your steel building, the raw material can ideally be used for other purposes, ensuring zero wastage.
Steel and Studs metal buildings are highly known for their versatility and functionality. Nearly any commercial business can benefit from our metal structures. These robust buildings are an ideal option for:
Medical offices
Office buildings
Self-storage facilities
Public libraries
Car dealerships
Warehouses
Retail stores
Aircraft hangers
Gymnasiums
Customizable Metal Buildings for Remote Areas in Kansas: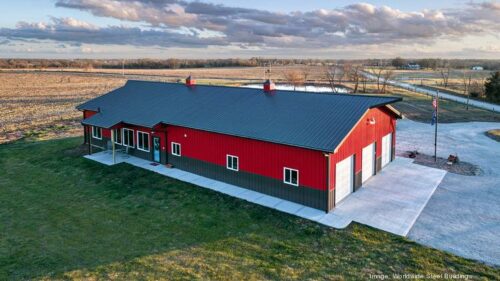 Whenever a user thinks about a steel building, the only structures that strike them are factories or industrial set-ups. Some might think of a storage unit or a commercial building. But Steel and Studs offer a broad perspective, making the structures ideal for rural and urban areas. We have a proven record of delivering steel models for agricultural and huge packaging industries in Kansas, overcoming all the environmental and industrial challenges for the structures.
Some of the reasons that make our pre-engineered steel building an ideal choice for remote areas are:
The versatility of Our Steel Structures:
One of the benefits of steel buildings is that you can be involved in each step of the design process. Buildings in remote areas are ideally used for multi-purposes and must meet all the building permits for easy and hassle-free installations. Outlying areas are usually far from the city and need to be resourceful.
Steel buildings in remote areas are an ideal option for agricultural storage sheds. These will help store a lot of stock, preventing them from all the environmental stress and damaging elements. Users can also use it to store storage equipment and farming equipment, and be an excellent riding arena.
Ideal for Long-routes Transportation:
For all the metal building owners who wish to install metal projects in remote areas, ease of transport and accessibility play an essential role. Pre-fabricated steel buildings will help meet all your transportation needs, providing ready-to-install kits in customized packaging.
Unlike traditional building projects where the owner must find all the raw materials, steel building construction is far more straightforward and accessible. All the parts- screws, bolts, panels, and beams- will be packed in a kit specially curated for your project.
All these parts will come in adequately arranged kits to the owners, eliminating the need to worry about running out of raw materials, welding, and cutting. Moreover, these kits also help save wastage, making it easier to clean the installed site.
What can you expect from Pre-fab Metal Buildings provided by Steel and Studs?
Metal buildings provided by Steel and Studs are approved structures from building specialists, ideal for all your Kansas local building codes. In addition to high-quality fabricating materials that elevate your aesthetic and design requirements, our pre-engineered metal buildings will also ensure maximum strength and safety.
Where other metal building manufacturers don't help construct or unload buildings, our experts will assist you throughout the process, from unloading to assembling and free installation. Other USP features that lift the authenticity of Steel and Studs are:
Detailed drawings for accurate deliveries
Pre-cut, arranged, and numbered steel components that correspond to the provided detailed drawings
Building erection instruction with step-by-step procedure and assistance
Anchor belt patterns
Free installation support by building specialists during the erection process.
Besides 24/7 assistance from expert building specialists, engineers and drafters at Steel and Studs will help curate the best custom metal carports designs to fit nearly all your industrial, commercial, agricultural, residential, and storage building projects. We can customize each possible element for your complex or simple metal structure. It further extends flexibility to the users to design their building with the required length, width and height, adorned with multiple customization options and accessories. It includes:
Insulation
Windows
Custom Trim
Walk-through doors, Overhead, and Roll-Up
Wall Lights and Sky Lights
Down Spouts and Gutters.
When you place your metal building order with metal building manufacturers like Steel and Studs, you can expect benefits from different segments, ranging from customization to accuracy, estimation, and on-time deliveries. Moreover, we always leave scope for extension, remodeling, and strengthening in the structures, helping you with easy and affordable solutions in the long run.
Building Permit for Metal Structure in Kansas: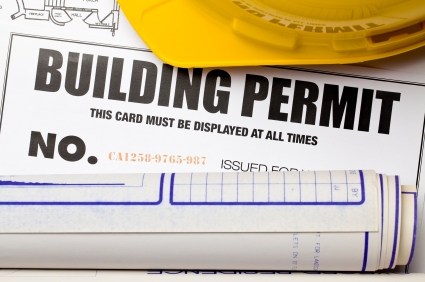 Apart from all the efficiency, strength, effectiveness, affordability, and other benefits of metal structures, some areas in Kansas are prohibited from installing Kansas metal buildings. Some regions have permission to install metal RV covers and steel barns, but owners need the desired permission. Building codes regulate all these.
Therefore, it is essential to have basic knowledge about your local building code. A prospect must have relevant permits before applying for their orders. This homework must be done before placing your orders for custom metal carports or metal barns.
To get more details about Kansas metal carports installation, search the Kansas City website and go through the developmental and planning guidelines.
Frequently Asked Questions for Metal Carport in Kansas
Metal and steel are 100% durable. Installation of metal buildings will increase the overall costs for your existing structure, and resale values for steel buildings are also usually very high.
Every dealer has its security features. Steel and Studs offers-
Alarm at every entry point
Secured garage doors
Cameras at every corner
Interior reinforcements
Strong locks and bars for every window opening.
Steel buildings at Steel and Studs have lower corrosion and deteriorating issues, offering a life of a minimum of 50-70 years.