Americans know how to make the most of an area. The right building can completely revolutionize your ability to accomplish tasks easily and efficiently, from hosting social gatherings to streamlining business operations.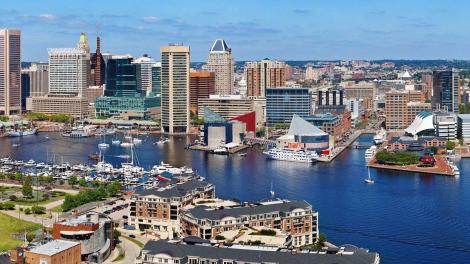 Maryland is no exception. People in Maryland have been intelligent enough to use metal carports and buildings for decades. The demand for metal carports is only increasing because of their versatility and popularity in Maryland. Steel is the most viable metal for building carports in Maryland.
Metal carports and steel buildings are causing significant disruption in the construction industry, dramatically increasing businesses selling them online. Steel and Studs are the best and the largest independent custom metal carports dealers in Maryland. We have been in this business for over a decade and created a community of tons of satisfied Maryland customers. Better Business Bureau (BBB) has given us an "A" rating.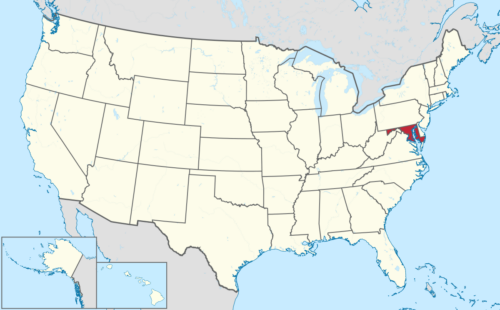 When you shop our metal buildings and carports selection, you'll always know what you're paying. The most exciting part is that we do not charge any hidden fees, and shipping, delivery, and installation are on us.
When buying from Steel and Studs, you can be sure you will acquire a Maryland carport kit that matches your requirements. We have several carport designs and materials available, so you can choose one that fits your home's decor.
You can tell us the measurements of the Maryland steel carport you want, depending on what you will use that carport for and how much space is available for use. Our team of experts will work out a plan based on your specifications to deliver a cost-effective carport that fits your needs and perform a free installation.
We provide carport kits capable of being installed on any surface. Our Maryland portable carports from Steel and Studs are more sturdy on sand, concrete, asphalt, and clay. We offer a Garage and Carport Builder that lets you design a steel carport or metal garage from the ground up.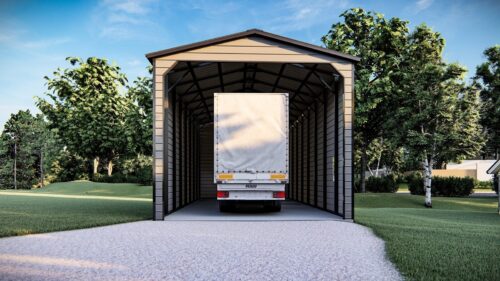 At Steel and Studs, we comprehend the value of a customer's money; that is why we provide the highest quality products at the lowest prices. We are all about working in accordance with your distinct tastes and needs. Our nationwide service will reach you no matter where you live, so you can rest assured that your carport will arrive at your doorstep on time.
As first-time metal carport buyers, we understand that choosing the right one can sometimes feel overwhelming. In this article, you will learn about what influences metal carport design and how and why to purchase metal carports in Maryland. We will describe the potential residential and industrial uses for the metal carports we have for sale in Maryland.
Top Selling Metal carports and Steel Buildings in Maryland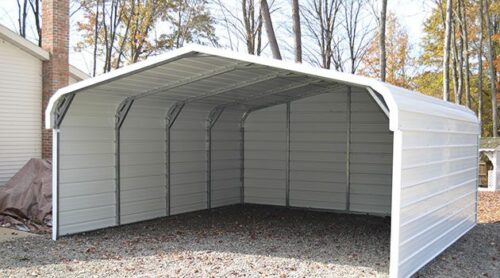 A metal carport is a covered structure that protects automobiles from the onslaught of weather conditions. Carports can also be used for storing other items as well. The structure usually has one or two walls, either free-standing or attached to a wall. The most common metal used for metal carports is steel. We offer the best quality do-it-yourself assembly steel carport kits. Moreover, we sell RV carports and portable carports in Maryland that are portable and easy to move. Steel and Studs are selling metal carports at the lowest prices.
Metal Garages are sturdy fully-enclosed buildings to protect your cars and vehicles. There are many uses of Maryland metal garages. You could also use it for commercial purposes like setting up a manufacturing unit, storage, or as an office, as its use is not limited to storing your garden equipment or shelter for your car, truck, motorcycle, RV, ATV, or other vehicles.
We provide fully customizable and cost-effective metal garages. Regardless of the size or features of a metal garage you require, we can design one to meet your needs, and that too at the best prices. Our garage kits are a bit easier to install, and we also sell portable garages that you can move readily.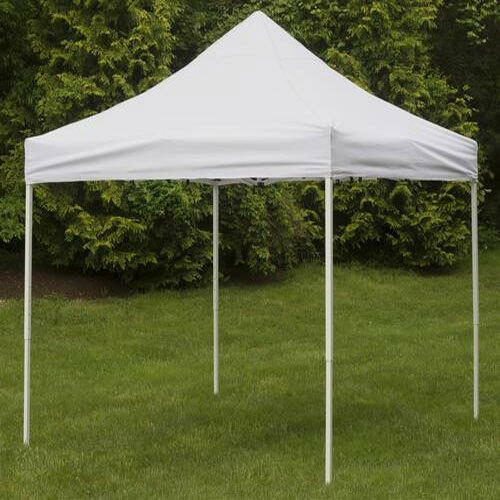 Portable canopies are tents without walls, with only a pole-supported top. You can use a portable canopy on a sunny day for shade, especially at the beach or while camping. We offer a variety of sun shelters, including large canopies that can provide generous space for setting up events or fairs or even farmers' markets and stalls. Even if you think you don't need them, you might, as canopies can offer you extra room in times of need and add a recreational vibe to your space. Portable canopies' lightweight construction makes them incredibly easy to set up and take down. We have a plethora of sun shelters available, making it simple for you to choose the right one for your needs.
Utility Carports, Sheds, and Buildings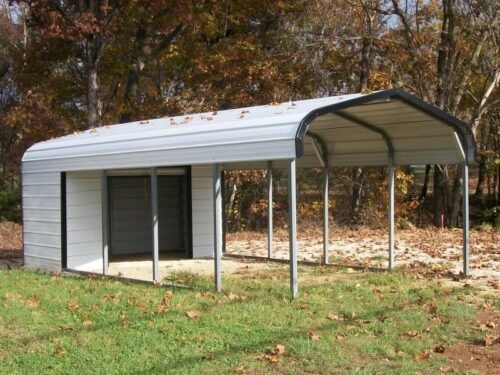 A metal shed is a single-story roofed, fully enclosed structure that stores home and garden tools such as lawn tractors and gardening supplies. A utility carport is a cross between a carport and a shed. In addition to a carport, it also provides a small enclosed space that may be used as a shed. In addition to being accessible, metal utility carports also offer the security of steel sheds or garages while providing the same storage level as a carport. A utility shed's most appealing aspect is its open and enclosed spaces. We also sell portable sheds and partially enclosed utility buildings such as lean-tos and loafing sheds at the most reasonable prices.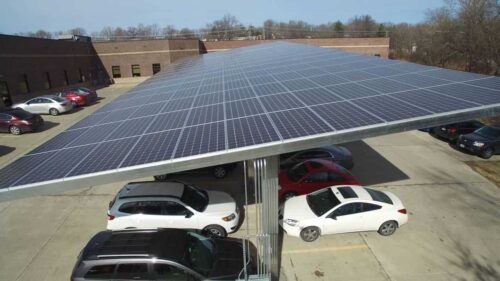 Solar carports are ground-mounted roof constructions extending over your car parking spaces. There is a slight tilt in the canopy roof area, which creates a perfect platform for the seamless installation of solar panels and increases the structure's aesthetics. Finding a solar carport vendor in Maryland is not easy, but no worries, we are here for you. We sell solar carports at Steel and Studs, and it is one of the stand-out products that establishes us as a leader in our metal building industry. Solar carports cost more, but solar carports will help you recoup your investment over time by drastically reducing your electric bills.
Accessory Dwelling Units (ADUs)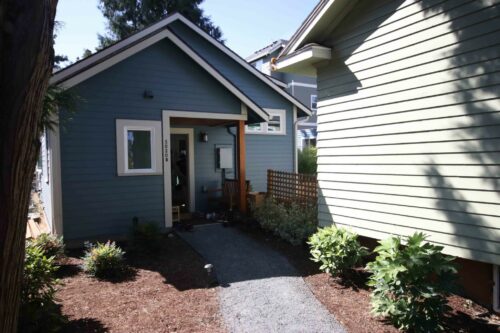 An accessory dwelling unit (ADU) is a small, separate residential residence unit located on the same ground or attached to your primary home. The popularity of ADUs, also known as granny flats and mother-in-law suites, is growing across the country. They are part of the primary residence and cannot be sold separately, but you can rent them. Renting ADUs will help you get some additional income. Erecting concrete ADUs could be costly, so it is better to erect metal ADUs as they are much more affordable.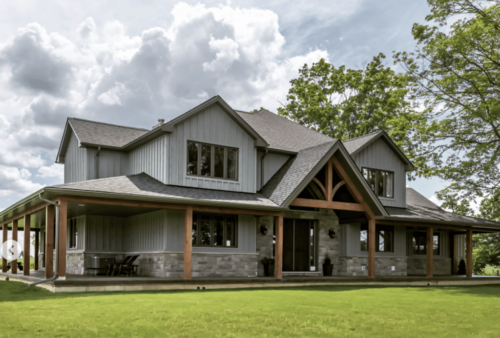 A barndominium is a fusion of "barn" and "condominium." It is an open-concept steel barns with extensive square footage that combines living space and a working area. It could be any metal structure, from a simple one-story to a large luxurious home. The cost of barn homes is much lower than that of houses made of bricks or stones. We offer the best quality metal for your metal building. We also sell prefabricated metal building kits that are easy to install.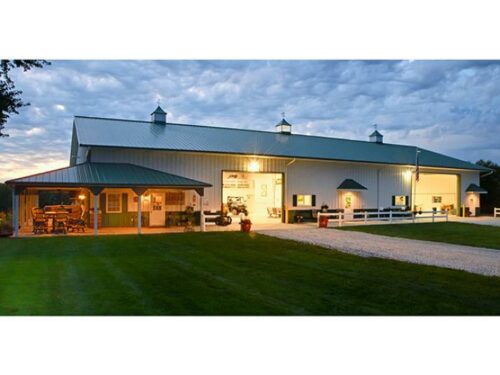 The word "shouse" combines two words- shop and house. A shouse is a house with a personal workshop or storage space connected to it. It is ideal for homeowners who need a place to work but don't want to build a detached workshop. We sell both prefabricated metal building kits and also deliver shouses according to your specifications and needs.
Cold-formed Steel Framing
Cold-formed steel (CFS) member is made from structural quality sheet steel that is rolled through a series of dies to form C-sections and other shapes. It is called cold-formed steel because no heat is required in the process. It has hogged the interior market, non-loadbearing partition walls in commercial construction because of its lightweight, robust, fireproof, and relatively easy-to-install characteristics. At Steel and Studs, we sell all kinds of metal building materials, including cold-formed steel framing, in addition to carports and steel buildings. We also sell purlins, trusses, studs, and track framing, which support roofs, load-bearing walls, and interior walls.
Benefits of Buying a Maryland Carport from Steel and Studs
Steel and Studs is the leading metal building and carport manufacturer across the USA. In addition to being the carport delivered to your doorstep, there are the following benefits of buying from us. 
Customizable for Rural and Urban Areas
We customize the carport based on your requirement. You just need to give us details like height, width, and length and wait for the magic to happen. We deliver the highest-quality customized carports in Maryland to your doorstep with a free installation service. There are many things that you will have to consider while erecting a carport like:
Size: Most of the counties are rural in Maryland, so most people have plenty of free space to work with, and keeping that in mind, our company provides metal carports and steel buildings of all sizes. So no matter how small or large a carport you are looking for, it could be either to fit one or multiple vehicles, we are there for you. The carport builder tool's maximum size is 61′ x 30′ – so if you want something larger, call us with your requirements and specifications, and we'll take care of it.
Open or fully enclosed carport: Depending on your preference, we offer carports with sidewall options— only one side wall, partial height sidewalls, or full height walls on both sides. Security could be a big concern in big cities and states, so to keep your automobiles safe and secure, you should go for fully enclosed carports. Our sturdy steel structures keep access restricted only to authorized people. And if you are living in small towns or rural areas, then you may not have security concerns, and in that case, open-sided steel carports are a good option as they will protect your vehicles from the harsh sun and heavy rains. Open carports also give you unrestricted access to your shed, and you can even accommodate an oversized item that is larger than your steel building's footprint.
Walk-in and roll-up doors and windows: 
When buying from Steel and Studs, you can select multiple rolling doors, walk-in doors, and frame-outs on all four sides of the building. Although our roller doors are limited in size, we can supply your metal buildings with frame outs, so you can install custom doors and windows. Customers typically use roll-up doors to store large farm equipment, especially in larger buildings.
Anchors:  It doesn't matter what surface you have— dirt, asphalt, concrete, clay, or sand— we can install metal carports in Maryland as long as it's level. Although we can install metal buildings on nearly any surface, we recommend including anchors in your custom build if not using concrete as a foundation. The anchoring system of your custom build will vary depending on the ground's surface. You can call our customer service team for more information and guidance if you are unsure what kind of drills, anchors, or tethers you need.
Perfect for Residential Use
Maryland Carports are not only practical for parking your vehicles but also provide extra storage space. Who doesn't love some extra storage space? There are many practical benefits of erecting a metal carport at your place.
Storing vehicles and RVs: Our carports are not limited to storing your cars, ATVs, trucks, bikes, and boats. We also design carports for storing RVs. We know that an RV is an expensive investment, and you wouldn't want to take any risks with its protection. That is why we have created a galvanized steel carport in Maryland with roof options and a zinc coating, protecting the carport frame from corrosive elements like water and salt. We cannot insist enough that you should not go for a large tarpaulin to cover the RV as it would stop air circulating and promote mold growth inside the vehicle. We can cover any RVE or vehicle-size RV up to 100 feet wide clear span. If you need a bigger size, then contact us.
Storing other items: Erecting a metal carport is much cheaper than extending your home. You can get a significant storage area or even an enclosed storage area with a metal carport. You can store items like lawn equipment, woods to keep them dry, and other machinery to keep them safe. You can store some of the items in open carports also, but if you want to store more delicate or valuable items, you can order our fully enclosed carports that are prepared for climate-controlled insulation, ensuring that your items are safe and secure in all four seasons. 
Perfect for Commercial Use
There's a growing demand for commercial metal buildings in Maryland, particularly for industries like agriculture, manufacturing, chemical industry, etc. The two significant factors that affect buying a commercial carport are its cost-effectiveness and durability. We are proud to say that we offer both things. Our quality is the best in the market, and the prices are the lowest. 
Agriculture: We take pride in supplying hard-working farmers with quality steel carports that they can use as crop storage facilities. Our metal barns are equipped to handle food processing facilities and are ideal for keeping their expensive equipment and machinery in prime condition.
Mining: The primary products mined in Maryland are Iron, Chromium, and Copper. In this industry, the use of metal buildings is already wide. Metal buildings are perfect for storing heavy equipment used for mining and also the raw materials as they await transportation for processing. Our steel buildings can be ordered with frame-outs, too. Metal buildings are ideal if you want to drive trucks right into the building to load up and drive right out again in controlled conditions.
Biopharma and life sciences: In Maryland, the growth of biopharma and life science continues to grow. Maryland is giving more doctoral scientists than any other state, thanks to leading academic programs all over the state. The workforce in Maryland is just not educated but ready to work, making it a hub for pharma companies. Metal buildings are greatly used in this industry for erecting temperature-controlled labs for experiments and production.
Factors to Consider When Buying a Carport in Maryland
Before nailing on the design and setup of your Maryland Carport, you should keep a few things in mind. A business carport will naturally have different needs than a residential carport, and you should also consider your location within Maryland when designing the layout and design of the carport.
Temperature Regulation Inside Your Metal Building
The climate of Maryland is generally hot and humid in summers and cool in winters. The upland sections in the west have colder and longer winters and cooler and shorter summers compared to the eastern shore and other lowland areas. You need to maintain the temperature of a metal building to keep the items stored in their peak conditions, especially when you are using a metal building for commercial use and people are working inside it for extended periods. You need to consider a climate control system to keep your employees warm in winter and cool in summer. It would also affect their productivity. If they are comfortable, they will be more productive. Also, ensure that the temperature of the building is as per the occupational health and safety rules regarding building climate.
You'll need to insulate the structure and install an HVAC system to properly control the temperature in your metal building. It will cost more, but you'll have an extremely efficient steel building that allows for year-round optimal storage. Insulating will prevent waste of your cold or warm air from being pumped in. It is often done with fiberglass sheets or with spray foam. As a result, you will save money on energy bills by improving the efficiency of your HVAC system.
Metal Carport Roofs Made for Heavy Snow Loads
The average seasonal snowfall in Maryland is 20.6 inches, ranging from 10 inches on the lower Eastern Shore to 110 inches in Garrett County. Since so much snow falls each year, you should always consider how to mitigate the effects of dangerous snow buildup on your roof before building any permanent or portable carport.
We offer our carports and metal buildings with three types of roof styles— standard horizontal, A-frame horizontal, and A-frame vertical roof style. A-Frame vertical roof styles are always best for areas with a lot of snow load and heavy rain.
The A-Frame vertical comes with flush ends, trim on all four eaves, and a ridge cap. The ridges run side to side, letting snow slide off under its weight. This reduces the amount of snow buildup passively and eliminates the need to get on the roof and manually clear the snow.
Drainage is a Key Factor in Keeping Your Building in Top Condition
Lack of drainage can damage your foundations and, ultimately, the steel structure of the carport or metal building itself. It could cause molds and dampness. The location of the carport installation is critical to ensure proper drainage. You should at least have one downward slope to naturally lead water down and away from your structure. If you want to manage drainage more actively, you should install gutters and, if possible, direct them to a storm drain or municipal sewer.
Maryland has 3,190 miles of coastline, which could lead to salty air into the landmass via Atlantic storms. As we know, salty air could lead to rust on steel and other metal structure. You could save your steel from getting rust by galvanizing it. At Steel and Studs, we galvanize our metal buildings to make them rust-resistant so that they can have a long life and are low maintenance.
Steel is coated with a protective layer, mostly zinc, which protects the steel underneath when it is galvanized. To avoid salt buildup, give your building a regular freshwater rinse if you live near the water. 
We are the leading supplier of metal buildings, prefab metal buildings, and metal carports in Maryland and across the USA. The things that make us leading in this industry despite the competition are our pricing, high-quality products, and customer service. We do not believe in keeping our customers in the dark; the metal building prices you see are the price you pay. This price also includes shipping, handling, and even installation. You will not have to pay us a penny more than the price mentioned. In the case of the custom metal building also, we will let you know the price according to your requirements. We promise you to provide the same top-quality service in every corner of the country.
You could also use our website's 3D garage and carport designer to get instant pricing. So, log on, choose your required size and sidewalls, select your color, doors, windows, frame outs, and roof style, and our tool will show you exactly how your building will look and will give you quotes directly relating to the pricing in your state.
Once you are ready with your design and are ready to check out, you'll need to pay a small 10% deposit upfront. The remaining 90% balance will be due upon delivery. We'll contact you after the token money is paid to set up a delivery and installation date. Voila! You have your metal carport installed and ready to use.
Permitting and Land Usage
Every state requires a permit before building any structure, including metal buildings, steel carports, and metal buildings. Maryland is no exception.
It is essential to remain compliant with all the laws applicable in your area. You must obtain your building permit before hitting the checkout button on our website. Otherwise, we won't be able to start working on your order. Once all the paperwork is completed, feel free to place your order.
Steel carports yield many benefits, especially in Maryland's climatic conditions, where its cool winters and hot and humid summers. Steel carport maintains the carport's temperature throughout the seasons and keeps your cars and other items safe from the toll the extreme temperatures take on them. They are an excellent substitute for garages and people who are environment friendly.
So if you also want to reap the most benefits of your space and keep your things and cars secure, erecting a metal carport is the most effective and sturdy solution.