Ohio residents from the country to the cities can now add tons of value and convenience to their home or business with the addition of a metal carport from Steel and Stud. Are you looking for quality metal carports in Ohio with almost limitless potential applications, from vehicle and farm equipment storage to manufacturing lines and warehousing? In that case, metal carports from Steel and Stud are the perfect buy! Buy steel carport Ohio for your home or business, and have a secure and sturdy structure for many years.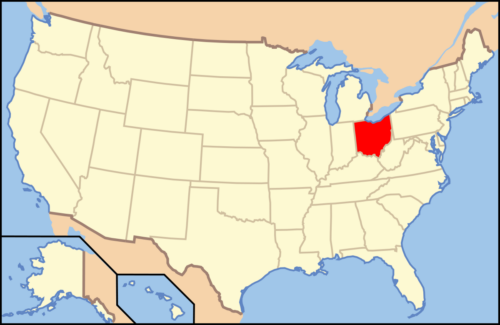 Many homes, offices, and churches have one thing in common: Steel and Stud metal carports. If your Ohio establishment doesn't have a steel garage, you might consider purchasing an Ohio metal carport.
Because more businesses and homeowners see the benefit of Ohio metal garage steel buildings, there has been an increasing number of websites offering metal carports. To help make your decision a little easier to purchase a metal carport in Ohio, visit Steel and Stud. We have more than a decade of business experience and offer the finest customer service and best metal building prices you'll find anywhere (and we have thousands of satisfied customers to prove it!).
This blog will help residents to design and purchase Ohio metal garages. We'll share our experiences to help you make the most of your new metal structure.
We recommend researching and abiding by the relevant building permits to ensure a smooth transaction and certified building process.
If you don't have a design in mind just yet, don't worry, one of the other focuses of this post is to introduce you to our 3D metal carport and garage builder tool. This unique feature will let you design every aspect of your steel carport from the comfort of your living room.
We hope that you'll find this post both interesting and informative. We believe that you should have all of the information you need before committing to a purchase, and that's why we're compiling everything in this one post. If we have missed something you'd like to know or have further questions, please don't hesitate to reach out to our customer service team.
Benefits of Buying Metal Carports in Ohio
The Buckeye State is blessed with a wide range of topography, from the Northern shores of Lake Erie to the 23 stunning state forests and expansive prairies. Ohio's vast rural spaces lend themselves perfectly to a wide range of outdoor activities.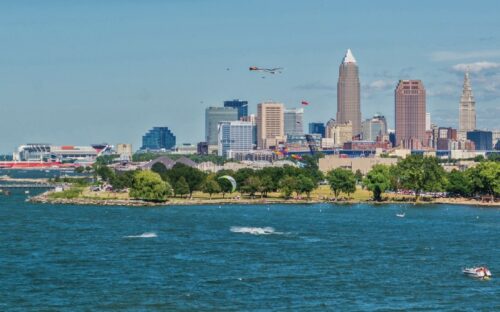 If you live anywhere along the shores of Lake Erie, you might be put off thinking that a metal carport so close to the water might suffer from corrosion issues – but there's no need for you to worry. The metal carports available for you to buy from Steel and Stud are fully galvanized in a process that coats the steel to make it extremely rust resistant. Thanks to this treatment, your new metal carport will be practically maintenance-free.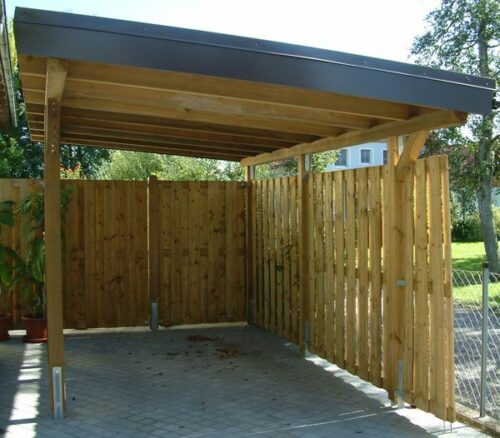 As well as being rust resistant, the steel carports for sale in Ohio are also naturally mold, rot, and fungus resistant (unlike wood) – if your business involves food storage, then this should be high on your list of needs.
The custom metal carports we sell are perfect for hunters, boaters, and fishing enthusiasts, regardless of whether you live in the cities or the countryside.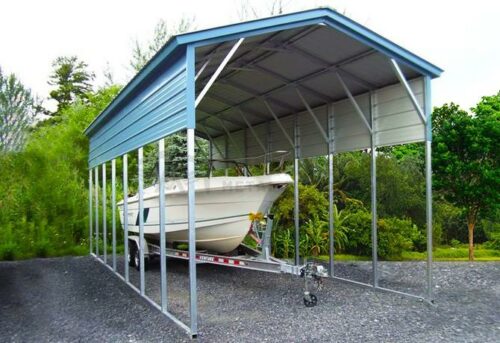 Many of our customers in Ohio have added renewable energy sources to their carports. Our carports can accommodate solar panels and wind turbines, which, over time, can generate money and save electricity – helping you do your part for the planet and your wallet!
Many portable and permanent cover options are available, but we strive to provide the highest level of dependability and value.
Ohio metal carport kits represent fantastic value and are a fast and easy means of boosting your residential and commercial storage capabilities. Metal Carports are a one-time investment hence should only be done with the best. The BBB has awarded us an "A" rating for our excellent services. You can read our customer testimonials to find out why Ohio metal structures are the best for you.
Customizable Metal Carports for Rural and Urban Areas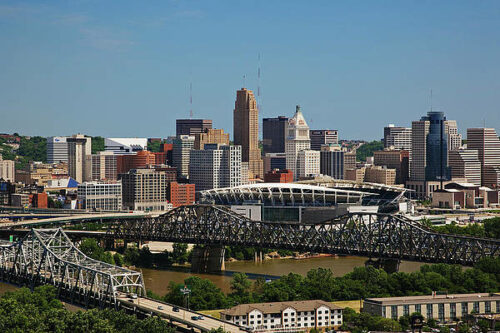 Steel and Stud allow you to customize your metal building to meet your exact needs. We understand that your location, whether it be urban or rural, will significantly impact your metal carport needs. Our 3D Steel carport and garage builder is the ideal tool for creating your bespoke steel carport in Ohio. Using this advanced app, you can design almost every possible element of your new metal carport, including height, width, length, roof panels, windows, garage doors, and even color.
If you're located in one of Ohio's major cities like Cleveland or Cincinnati, you're most likely restricted by available space, as are many of our customers living in America's largest towns. We absolutely cater to this situation and can supply you with a range of smaller options. Our sheds start in sizes as small as 10′ x 10′, and can be ordered with a leg height of just 5′ if height isn't a big concern for you.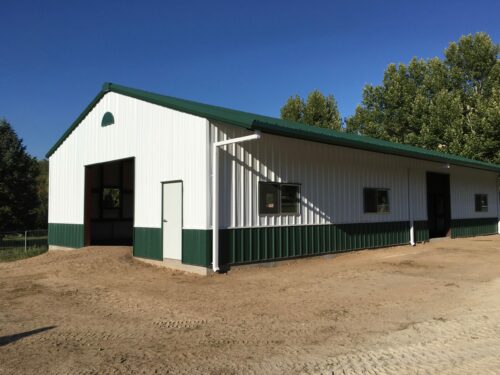 For our customers out in the country, chances are you're working with much more land. Our customizable metal carports can be specified in sizes up to 30′ x 61′. If you need metal barns, don't worry, we can still help. Just give our customer service team a call, and we'll talk you through the process of ordering more prominent building sizes.
As well as length, width, and height, we also offer various steel gauges for our steel barns, metal RV covers, steel sheds, and other storage buildings. Each metal carport comes in a 14-gauge or 12-gauge frame (14g = 2-1/2" x 2-1/2″ galvanized steel) (12g = 2-1/4″ x 2-1/4″ galvanized steel). The 12-gauge is 20 percent stronger than the 14-gauge.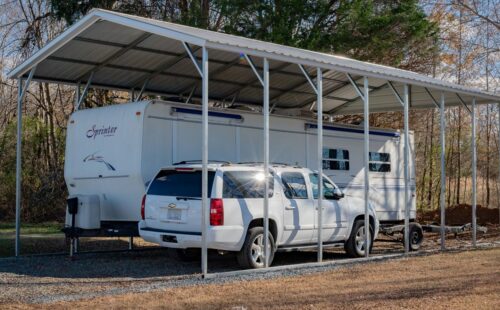 We haven't mentioned the final area of customization yet is the sidewall selection. We offer our customers a choice of open-sided, partially enclosed, or fully enclosed metal buildings. In the cities where security is a high priority, we recommend a fully enclosed building. When designing your metal carport, select all four sidewalls and your door and window options if this is what you're looking for. In rural areas where easy access to tools, vehicles and equipment is the priority, you may only require a simple shelter, in which case, no sidewalls are even needed.
Utility carports in Ohio have another advantage: they are versatile. They can be installed on almost any surface. 
"Can you install a metal carport on a sand-based surface? 
It's possible for our building specialist. 
Asphalt, concrete, dirt? 
We can handle them all. "
All you need to ensure is that the surface is flat and level. While we can install it on virtually any surface, you must order the correct anchoring system. Each surface type has its specific requirements, so if you're unsure what you need, give us a call, and we will gladly assist.
We are the largest steel structures dealer in the country delivering metal barns, metal RV covers, steel garages, and steel carports to every state, and are the largest carport dealer in the country. We strive to provide high-quality service and a high-quality Ohio carport kit. All Ohio metal carports and RV carports that you buy from our Ohio carports are of the highest quality at the best prices.
Because of the extraordinary number of customizations possible with metal buildings from Steel and Stud, there's almost no limit to the number of residential applications you can apply to your new metal carport. For starters, certified buildings and carports in Ohio are absolutely essential for RV owners. Metal carports will help you keep your trailer, fifth wheel, or motorhome protected from harsh weather conditions like chilling winter and the intense summer sun. All of our metal carports canopy options are durable and dependable.
Our metal carports aren't only for RVs, almost any vehicle will benefit from the shelter they provide. Boats, motorcycles, ATVs, UTVs, you name it, a metal building can help you prolong the life and reduce the required maintenance for any of these vehicles.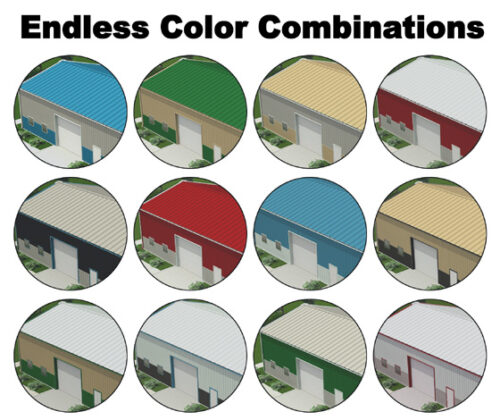 If you're located in a residential area that imposes restrictions on the appearance of add-on buildings, our tastefully designed metal buildings are available in a range of 12 colors, so keeping within the rules is easily done.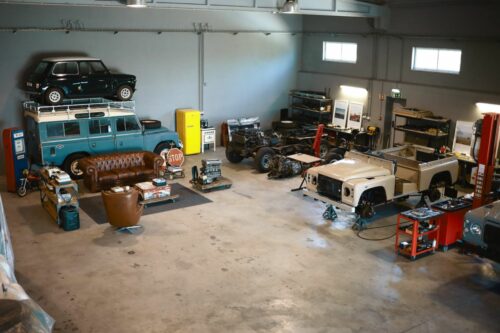 Whether your hobbies revolve around motorsports, the arts, or anything else, you can most likely accommodate an Ohio metal building to help you further your passions on your own property. Classic examples include car workshops, wood and metal shops, painting and sculpturing studios, and many more.
Perfect for Commercial Use
Small and large businesses across Ohio have been taking advantage of dynamic metal buildings for a long time now. If you're looking to start up a new venture or expand your successful operation and haven't invested in a steel building yet, we have one question – why not?
Many industries are powering Ohio's economy, but right now, we're going to focus on the top 3, and how metal buildings from Steel and Stud can help you if you run a business in one of these important sectors.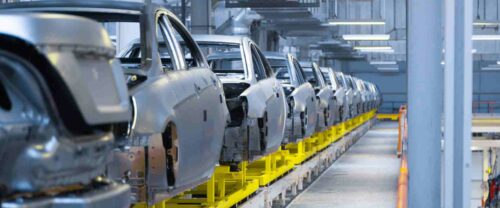 Ohio is often overlooked in the auto industry, but those in the know know that plants in this state are responsible for producing many of the vehicles you see on the road today. Whether in the supply chain, warehousing, or component manufacturing, the metal buildings we sell can definitely be used to your benefit if you work in the auto industry. Steel buildings can house assembly lines and be built large enough to accommodate large volumes of parts or even fully completed vehicles. Frameouts can be made into the products we sell that are large enough to allow delivery vehicles direct access.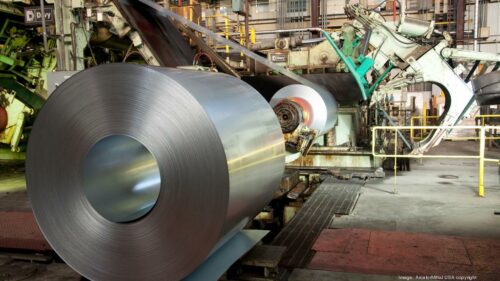 The Buckeye state has been involved in steel manufacturing since the 1800s, but manufacture isn't the be-all and end-all here. Many companies across Ohio are working in the finished steel product, too. Both steel manufacturers and dead product businesses can easily take advantage of a steel building. Keeping raw steel out of the elements is very important to avoid unwanted corrosion, so a fully enclosed metal building is what you should look at for your business in this industry.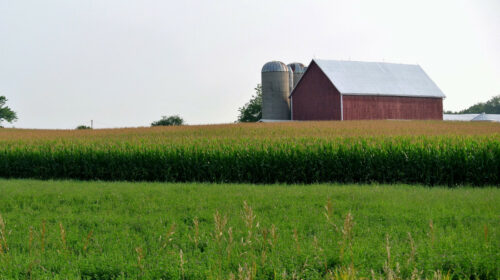 Like much of America, Ohio relies on the input of farming and agriculture for its GDP. Soybeans, corn, and dairy are among the top three products in this sector of Ohio's economy. Steel buildings are ideal for storing raw and processed produce if you're involved in crop farming. If you're in the dairy industry and you're looking for a new milking facility or are just looking to expand, the metal buildings we sell are perfect for this application.
Factors to Consider When Buying a Best Metal Carports in Ohio
As a part of our complete buying experience, we strive to ensure that our customers are fully prepared for their carport purchases. As with most types of construction, there are some factors that you need to consider when deciding on your best metal building purchase, some of which are quite specific to the state of Ohio.
Temperature Regulation Inside your Metal Carport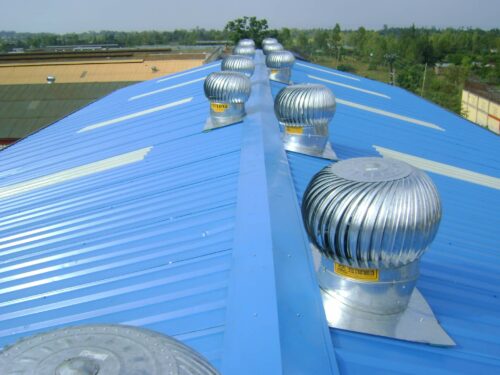 As Ohioans, we're sure you know all about the extremes of temperature that the state faces, from hot summers into the 90s to icy cold winters with thermometers dropping well below freezing.
In many cases, it's not unusual to get snow, sun, and rain all on the same day! With this in mind, if you've got intentions of using your steel garages for industrial applications involving regular worker occupancy, it' 's extremely important (and in some cases may be a requirement) that you install a means of controlling the temperature inside the building.
As well as employee comfort, keeping supplies or crops inside your metal building at the proper temperature may be necessary, too. If you plan to use your carport for a hobby or interest like woodwork or painting, then you'll be much more comfortable if you install proper climate control equipment.
We install insulation systems like fiberglass sheets or even modern spray foam insulation technology to control the temperature of a fully enclosed metal building. This will help to maximize the thermal efficiency of the building. Once it's insulated, you can install an HVAC system to keep your metal carport or building cool in the summer and warm in the winter.
Metal Carport Roofs Made for Heavy Snow Loads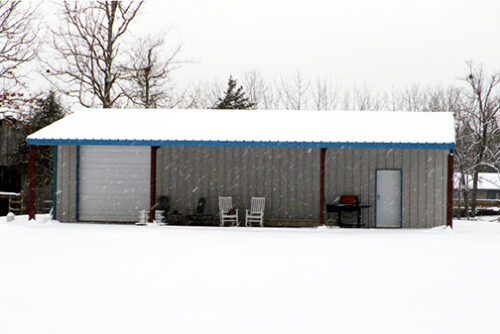 Ohio sees more than its fair share of cold weather each winter; unfortunately for most, this often means dealing with copious amounts of snow.
If you're planning to build a carport to avoid the daily winter routine of waking up early to get out there and scrape your window, we don't blame you. The metal carports we sell in Ohio are perfect for keeping the snow off your vehicle, giving you that precious extra morning time in bed!
Of course, if you're in an area that regularly gets large volumes of snow, it helps to choose the right carport to help you deal with it most efficiently. We sell metal buildings with several roof styles at Steel and Stud, including the standard horizontal, boxed eave or A-Frame Horizontal, and A-frame vertical roof style.
Our recommendation for snowy areas is generally the A-Frame vertical roof. It has trim on all four eaves, a ridge cap, and is flush on both ends. The direction of the ridges diverts snow off the roof, helping it slide away under its own weight, meaning you don't need to worry about clearing it as often to prevent a dangerous build-up.
Consider What Your Weather Protection Needs Are
Ohio is prone to serious weather such as tornadoes, and while the high season for these events runs from April to July, tornadoes have been known to occur within every month of the year in OH (https://weathersafety.ohio.gov/TornadoFacts.aspx).
As well as extreme wind, hail is another perennial weather problem for the Buckeye state, with huge potential for damage to possessions.
With these weather conditions in mind, if you have fragile or valuable items that you plan to store in your metal carport, such as classic cars, you should consider a fully enclosed metal building over an open-sided option. This will provide 360 protection for your items in storage and reduce the risk of hail or flying debris damaging your possession.
Steel and Stud have been the best metal buildings and carports retailers in Ohio for over a decade and literally have thousands of happy customers across the state and the country. We expect to give the best when you look at us; we only deal in the best! Our customer service team is always on hand to answer any questions and concerns from customers old and new.
It doesn't matter where in the USA you're from; with us, you'll always get the best metal carport, metal barn, and to top it all off, we will deliver and install your carport for free!
Once you're ready to go, we suggest you head to our website to start designing your metal carport. Once you're there, you can choose your specifications and get a great idea of what your steel building will look like. Just as importantly, the carport and garage designer tool will also give you a quotation for your carport based on your location, so there's no guesswork involved.
You'll be ready to check out when you've completed your design. At this point, we'll ask for a small deposit of around 10%. We'll then contact you for delivery and setup details. The remaining balance is due upon receipt of the carport. It's as simple as that.
To get an idea of our starting metal carport prices, please see the pricing chart below:
| Dimensions | Metal Carport Cost* | Steel Building Cost* |
| --- | --- | --- |
| | | |
| | | |
| | | |
| | | |
| | | |
*Prices based on standard features, including 7-foot leg height, roof style and frame gauge thickness. Steel building estimates include one walk-in door and one roll-up door.
Permitting and Land Usage of Metal Buildings in Ohio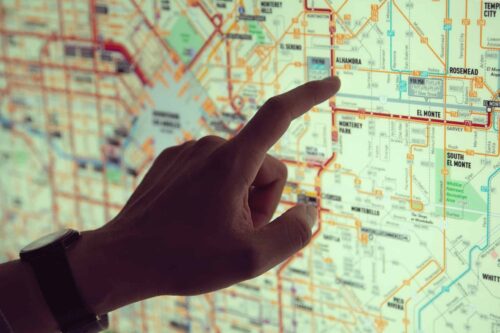 Like every other state, Ohio requires everyone looking to install a metal carport for business or residential purposes to follow all local and statewide rules and regulations.
This does mean that there will be permits that you must apply for before purchasing your metal building or steel carport. The regulations you need to follow may change depending on precisely what steel structure you're planning and what you plan to use it for, so it is imperative to do your research before purchasing.
To help you get started, we've included links to the permits sections of the websites of some of Ohio's largest states, Cleveland, Cincinnati, and Columbus.
Once you've applied for and received your permit, you'll be free to go ahead and make your steel building purchase.
We sell metal building kits and garages in Ohio for Cars, Boats and RVs across the state, including Carports Discount Pricing in these OH areas
Adams, Allen, Ashland, Ashtabula, Athens, Auglaize, Belmont, Brown, Butler, Carroll, Champaign, Clark, Clermont, Clinton, Columbiana, Coshocton, Crawford, Cuyahoga, Darke, Defiance, Delaware, Erie, Fairfield, Fayette, Franklin, Fulton, Gallia, Geauga, Greene, Guernsey, Hamilton, Hancock, Hardin, Harrison, Henry, Highland, Hocking, Holmes, Huron, Jackson, Jefferson, Knox, Lake, Lawrence, Licking, Logan, Lorain, Lucas, Madison, Mahoning, Marion, Medina, Meigs, Mercer, Miami, Monroe, Montgomery, Morgan, Morrow, Muskingum, Noble, Ottawa, Paulding, Perry, Pickaway, Pike, Portage, Preble, Putnam, Richland, Ross, Sandusky, Scioto, Seneca, Shelby, Stark, Summit, Trumbull, Tuscarawas, Union, Van Wert, Vinton, Warren, Washington, Wayne, Williams, Wood, Wyandot
Frequently Asked Question
Yes, we do provide rent-to-own services.
Typically, concrete cures enough within 7-10 days to allow forms to be removed and to support their own weight.
This is one of the most frequently asked questions. The online builder makes it easy to find out more about carport construction and purchase. You can design your garage or carport online using the online builder tool. This feature on our homepage allows you to completely control the design process by creating a virtual representation.
Yes, we deliver best metal carports Kit across 48 states of the USA.
Usually, we take 2 weeks to deliver the customized kits.
Yes, we provide customized metal carport kits at the best metal building prices.