Are you looking for metal carports in Washington State for your car, RV, truck, or boat?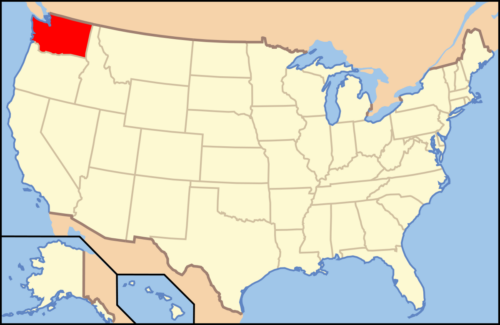 Our steel carport and metal garage styles span just about every possible use, ranging from simple car covers to large enclosed structures with walk-in and roll-up doors and windows.
We understand making a choice can feel a little overwhelming, especially if this is your first metal carport. This page can be your in-depth guide to the Washington metal buildings option we offer. We'll give you the details on our steel garages and metal carports base prices' available sizes and styles.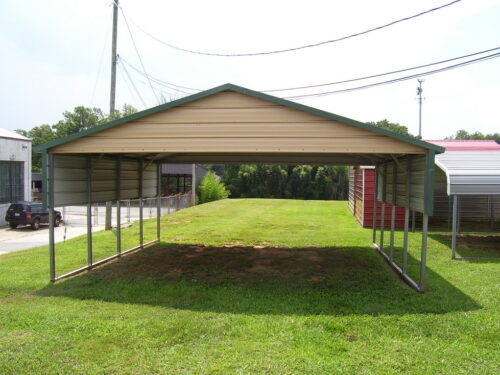 The first carport was invented around 1909. In 1936 architect Frank Lloyd Wright attached a carport canopy to his house and coined the term "carport."
Carports have evolved since then!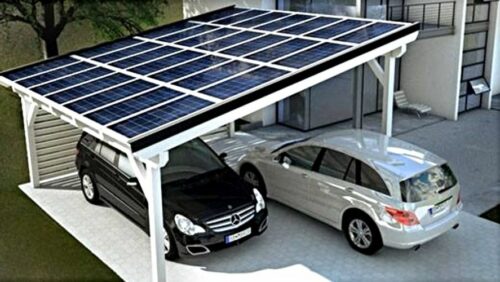 Washington steel carports are now an excellent substitute for garages. Solar panels carports are new trending carports loved by our ingenious and environmentally conscious customers in Washington. Our metal carports can withstand any of nature's elements and protect your vehicles from their direct onslaught, irrespective of the following:
The décor of your house
The number of cars you wish to park under the carport

Where do you want to install the carport
Shop the best metal carport kit that fits your specifications. 
Choose from several carport designs and materials available with us. 
Depending on the number of cars, Our 3-D estimator can accurately calculate your carport height, width, and length. We then deliver a perfect carport for your needs and carry out a free installation for you.
Our building specialist assesses the ground surface before installation of the carport kit. They are efficient in sturdy structures on sand, concrete, asphalt, and clay.
Please note – Confirm the Washington metal carports building codes with the authorities in your area regarding installing steel carports in your zone.
It's your carport, and you can choose your specific tastes and needs. With our nationwide reach, you can be sure that we'll deliver a carport to your doorstep for free no matter where you stay.
Benefits of Buying Metal Carports in Washington State from Steel and Stud
Washington State, the Evergreen State, is home to major cities like Seattle and Spokane. In addition to those populated cities, you'll also find some of America's most spectacular rural landscapes in Washington state.
There are multiple benefits to installing metal carports in Washington state. 
Due to the wide variation in topography and climate across Washington state, we find our customers love our customization options. We have options suited for both urban and rural areas, regardless of whether they're for commercial, residential, or recreational uses.
You can shop the high-quality metal carports from Steel and Stud, the largest independent carport dealer nationwide. We have been credited "A" rating by the Better Business Bureau (BBB), but are more excited with the response of our satisfied customers.
The steel carports in Oregon and steel building styles we sell include the following:
Customized Washington Metal Carport for Rural and Urban Areas
One of our most popular website features is our 3D online carport builder. Using this great tool, you can fully customize your next steel building to the minor details.
You instantly know the metal building prices for our range of steel carports and metal buildings.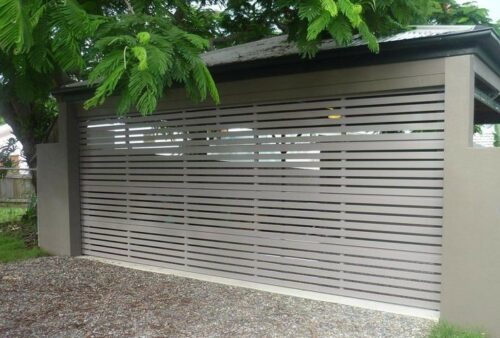 The tool allows you to choose how many sidewalls you want, whether or not you want full-height sides, and if you wish to have doors, rolling doors, windows, or flameouts. 
Your space might be limited if you're living in an urban area. Therefore, we offer metal carports as small as 10′ wide x 10′ long and 5′ tall that are fitting for small spaces.
If you live in Winthrope, Lynden, and Blaine, having abundant space for expansion, you are unlimited in size options. Our quality carports can be built as large as 61′ long x 30′ wide, with a leg height of up to 12′. For something more extensive, contact us, and one of our sales reps will gladly help you. 
We can go wider than a 100 feet clear roof span. 
We also have sidewall options, which allow you to choose from one side wall only, partial height sidewalls, or full height walls on both sides. Sidewalls are a great way to help keep your metal building's contents secure. For complete security, you may want to add at least one walk-in door and possibly windows and rolling doors.
You can have more than one access point to your steel building. Our friendly building specialists will help you select multiple rolling doors, walk-in doors, and frameouts on all four sides of the building.
But if security isn't an issue, an open-sided steel building can be a super convenient addition to your home or business. You'll have unrestricted access to your shed, and if you need to store an oversized item larger than your steel building's footprint, you can still accommodate it without any problems.
Commercial metal buildings WA
We find that our customers want to use the commercial metal building for large farm machinery, especially with larger buildings. And although the size of our rolling doors is limited, we can supply your metal buildings with frame outs, allowing you to install custom doors and windows.
We can install metal carports in Washington state and steel buildings on almost any surface — dirt, asphalt, concrete, clay, and sand — as long as it's level. All our steel carports in Washington state are easy to clean and maintain and are designed to be sturdy enough to resist all weather conditions.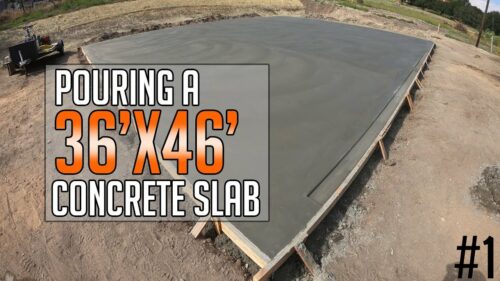 While we can install the best metal buildings in Washington state on almost every surface, we recommend that you include anchors in your custom build when you're not setting yours up on concrete. We utilize the same technology used in mobile homes for a secure finish, and we thoroughly recommend their use when installing on dirt, gravel, or grass. 
Depending on your specific build, you may require a minimum of four anchors.
Steel Buildings are Perfect for Residential Use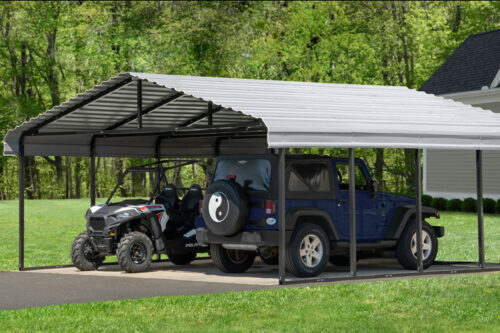 Customization is key at Steel and Stud to design steel carports for cars, trucks, boats, motorcycles, and ATVs.
Not only do we provide quality steel carports for smaller vehicles, but we also offer larger units capable of covering even the most giant RVs and fifth wheels.
If you've ever gotten a quote from a contractor for extensions on your home, you know how expensive that can be. At affordable prices, you can gain significant cover or even enclosed storage space with a metal carport.
For those looking to store more delicate items, our carports can be ordered fully enclosed, ready for climate-controlled insulation. This will help make sure you're prepared for all four seasons.
We've mentioned some of the more advanced requests we see from customers, but we also supply very simple metal buildings and metal barns. We can also provide basic shelters if you're looking for a small backyard solution to store your gardening tools.
Businesses in Washington Can Benefit from Steel Carports
There's a growing demand for Commercial metal buildings in Washington State, particularly in farming. Agriculture is a major contributor to the state's economy, with an annual contribution of almost $50 billion. Our steel buildings are long-lasting and cost-effective – these are two major deciding factors for those looking to buy a commercial carport. 
Fruit, alongside wheat and vegetables, make up the vast majority of Washington State's crops. We are proud to supply hard-working farmers with quality steel carports, ideal for keeping their expensive equipment and machinery in peak condition.
Forestry is another major Washington State industry that can benefit from steel carports. Our large shelters keep lumber products out of the wind, snow, and rain.
Seattle, WA, is widely heralded as the coffee hub of the world, both for roasting and supply. A Washington metal building could be perfect if you're in the coffee business and looking for supply chain storage or roasting facilities.
The craft beer industry is also booming in Washington State. Setting up your brewery in a steel building is a great way to take things to the next level.
A metal building provides plenty of space to brew, bottle, and ship your products.
One of the neatest things about our metal buildings is their color-customizable feature. We have 12 roof colors to choose from, so you can buy a carport that matches your brand.
Buying Metal Carports in Washington State: Things to Consider
We all know the weather in Washington State ranges from amazing to downright severe. From the coast to the mountains and everything in between, Washington also has almost every type of landscape imaginable, something you should consider when buying a metal building.
How Ocean Air Affects Steel
For those living on the coast, the salty air can pose issues for metal structures. Unprotected steel can rust and cause damage.
If you live within 3000 feet — about half a mile — of the ocean, you're in the prime corrosion zone and must use suitable materials for any metal structure you're planning. In areas like Puget Sound, there are even waterborne bacteria that can speed up corrosion.
Fortunately, our carports for sale in Washington State have a unique feature. They're available in 12-gauge and 14-gauge frames (14-gauge = 2-1/2" x 2-1/2″ galvanized steel, 12g = 2-1/4″ x 2-1/4″ galvanized steel). During the galvanization process, the steel is treated with a layer of zinc, designed to protect the steel from corrosion.
Climate Control and Temperature Regulation in your Metal Building
Washington State is a four-season state, meaning you'll have to deal with a greater range of temperatures than those in two-season areas. Winters are cold; summers are hot, and fall and spring are between.
Depending on the purpose of the steel building, you may need to consider an enclosed structure. This will allow you to control the internal temperature of the building.
Maintaining the building's internal temperature is very important if you use a metal carport for your business. If you're storing crops, lumber, or beer, climate control will help keep your products in peak condition and possibly help you avoid losing inventory.
To properly control the temperature in your metal building, you'll need to insulate the structure and install an HVAC system. This will cost more, but you'll have an incredibly efficient steel building that allows for year-round optimal storage.
If you live further inland, where the weather isn't as seasonal, you may only be looking to keep their vehicles out of direct sunlight or for lightweight protection against rain and snow. In this case, an open-sided metal carport may be all the building you need.
Metal Carport Roofs Made for Heavy Snow Loads
Coastal Washington may have sea air and rain to deal with, but snow isn't as common. However, residents from the Cascade Mountains to the Eastern border of Washington State experience significant winter snowfall.
We produce three roof styles at Steel and Stud: standard horizontal, A-frame horizontal(boxed eave), and A-frame vertical roof. Each roof panels have different functionality in different types of weather.
For Washington State residents in areas that experience heavy snow, we recommend the A-frame vertical roof style. On this roof type, the ridges run side to side, which makes it easier for snow to run off to the ground, reducing the weight load on the roof.
Avoiding a heavy snow buildup means you're putting less stress on your steel building's structure, and just as importantly, you'll avoid going up on the roof to clear it.
Washington State Steel Carport Pricing
Steel and Stud offer great prices on metal carports in Washington State. We also deliver and install your steel carport at no cost, wherever in the state you're located.
Please use our website's handy carport builder tool to design your metal buildings in Washington State. Check out online, and you'll pay only a 10% deposit, with the remainder due at the installation time. Once you've paid your deposit, we will be in touch to set up a delivery and installation time that's convenient for you. Our team will show up; you only need to show them where you'd like your carport installed. They'll take care of the rest.
To get an idea of our starting metal carport prices, please see the pricing chart below:
| Dimensions | Metal Carport Cost* | Steel Building Cost* |
| --- | --- | --- |
| | | |
*Prices based on standard features, including 7-foot leg height, roof style, and frame gauge thickness. Steel building estimates include one walk-in door and one roll-up door.
Permitting and Land Usage of Metal Carports in Washington State
Washington's municipalities and counties are subject to local permitting and land use regulations on a steel structure, as with all states. Depending on the specific design of your carport or metal building, you may be required to obtain permits to begin construction.
Before purchasing, please check the regulations for your area to ensure your design is allowed and ensure you get the proper permits. If you purchase a metal garage that doesn't meet the code requirements, you may not be able to install it.
Washington State's Leader in Carports and Portable Metal Shelters
We sell metal building kits and metal garages in Washington for boats and RVs across the state, including:
Adams, Asotin, Benton, Chelan, Clallam, Clark, Columbia, Cowlitz, Douglas, Ferry, Franklin, Garfield, Grant, Grays Harbor, Island, Jefferson, King, Kitsap, Kittitas, Klickitat, Lewis, Lincoln, Mason, Okanogan, Pacific, Pend Oreille, Pierce, San Juan, Skagit, Skamania, Snohomish, Spokane, Stevens, Thurston, Wahkiakum, Walla Walla, Whatcom, Whitman, and Yakima.