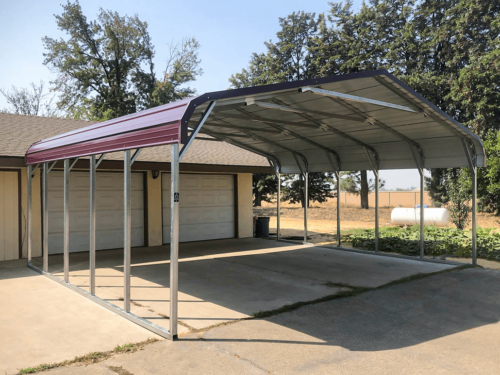 Thousands of West Virginians have been reaping the benefits of metal buildings and carports in WV for decades now. If you haven't discovered how much of a positive impact metal buildings like the ones from steel and Stud can have on your home or business, then this post should be of great interest to you. Our steel buildings and metal carports are a cost-effective answer for anybody seeking additional garage space, a place to run a business, or simply to keep vehicles out of the elements. Regardless of the significantly lower cost, a metal building can outperform a wooden or brick carport equivalent across almost every measure.
West Virginia metal buildings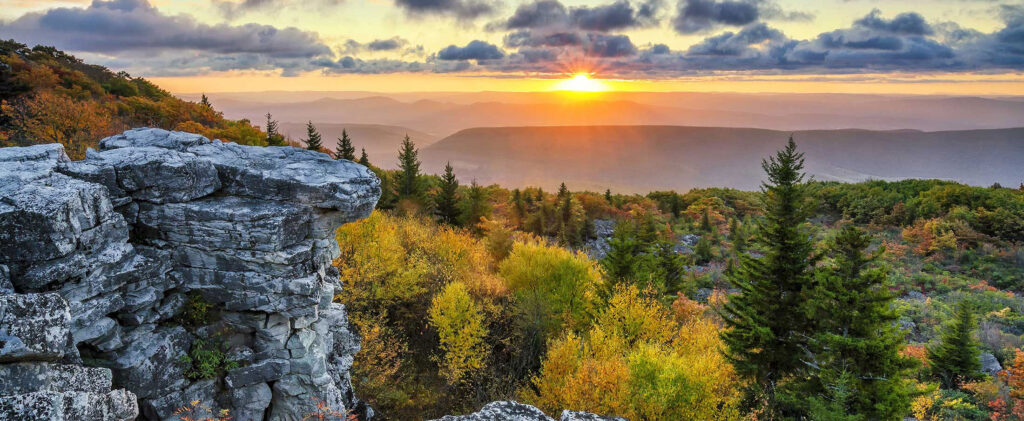 West Virginia isn't called 'The Mountain State' for nothing. Located within the stunning Appalachian Mountains range, this wild and wonderful place is almost entirely mountainous, meaning that West Virginia metal building customers have some specific needs. Whether your passion is hunting, off-roading, rafting, kayaking, fishing, or anything else, metal buildings in West Virginia can provide you with a safe and secure place to keep your equipment when it's not in use.
West Virginia is also home to some of the best camping anywhere in America, so if, like many others, you've invested in a recreational vehicle or RV to take in as much of this beautiful scenery as possible, a metal carport or RV shelter in WV could be the perfect solution to keep your rig safe and away from the elements all year round.
Affordable Metal Garages for Extra Storage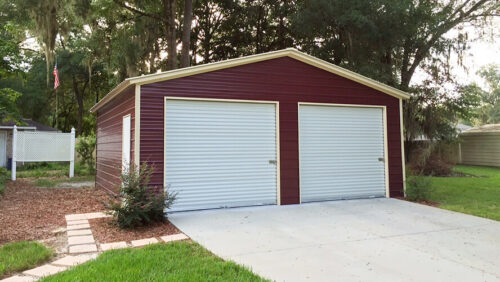 There are many older homes in West Virginia, and while beautiful, they were built during a simpler time and weren't built to cope with the storage demand of modern life. Adding an enclosed metal carport to your home is a low-cost method of significantly increasing your storage. Think of it in these terms – if you've been paying monthly fees for a storage unit within a year or so, that's like spending the whole amount for one of Steel and Stud steel buildings. Purchasing one of our products is a one-time cost with no ongoing fees; it could effectively pay for itself!
Fear not if you're worried that a metal building may require extensive and costly ongoing maintenance. Carports and More build our carports in WV with strong and corrosion-resistant galvanized steel. This special coating provides years and years of maintenance-free use; you'll barely need to lift a finger to keep your metal building looking as fresh as the day you bought it!
Metal carports and steel buildings from Steel and Stud are among the best you'll find anywhere in the country. As well as having products of superior quality, we also offer some of the best prices in the nation. We provide an enormous variety of styles, colors, and designs and an almost infinite number of dimensional combinations.
Why choose Steel And Stud for West Virginia Steel Buildings?
Do you own a car, car, truck, or maybe a fleet of them? If so, and if you are considering constructing a garage, you might want to reconsider that option. West Virginia metal garages introduced by Steel and Stud can serve you as well as garages and possess several other benefits over and above their traditional storage and parking function.
With an "A" rating with the BBB under our belt, and as the largest independent dealer of carports in the nation, we deal in quality, and you can rest assured that whenever you buy carport kits from us, you are dealing with the best.
If you've been shopping around for your metal carport, you've probably noticed many options out there, but folks come back to us for their steel building needs. We have thousands of happy customers across the state, and tens of thousands across the country. We provide everything from simple, open-sided sheds to enormous enclosed metal buildings, ready for conversion to whatever our client's needs are.
This post aims to provide our West Virginia Car Port customers with as much information as possible. We strive for a completely transparent process, and we believe sharing this information and educating our customers is vital for a good relationship. We will share details about the entire process and lend some suggestions when it comes to potential uses for our products for both home and industrial applications.
As well as all of this information about how our customers use our products, we're also going to share some advice about how you can design your own custom-made carport, unique to you!
Not quite as exciting, but just as importantly, we'll also share with you some information about the building codes and regulations for carports in West Virginia and how you can get started with applying for any building permits for a WV carport need.
We know this can be a lot to take in, and while relatively inexpensive, a carport is still a significant investment. If by the end of this post you still have questions or want to speak to someone about a specific detail, why not give our customer service team a call? They are standing by and waiting to help!
Why Should West Virginia Invest In Metal carports?
West Virginia is a wild and rugged mountain state. Most of the state is spread across the Appalachian mountain range, with the panhandle being nestled within the Blue Ridge Forest – it's easy to see why they say that WV is "almost heaven." While the majority of the state is built up of many small towns like Vienna, Bridgeport, and Dunbar, there are also some cities with larger populations, from the Capital, Charleston to other large areas like Huntington and Morgantown.
West Virginia doesn't fall victim to many natural disasters that befall other states in America, but that doesn't mean there aren't weather events that call for protection and shelter from the elements.
West Virginia frequently sees 'Supercell' weather events. These storms can throw dangerous hail, leaving the unprepared facing hefty repair bills for vehicles, with some even being totaled. In fact, the hail here can reach a diameter of 4 inches or more; that's like it is raining baseballs! A metal carport or metal garage protects your vehicles, giving you absolute peace of mind when the weather turns.
Benefits of Buying a West Virginia Carport From Steel And Stud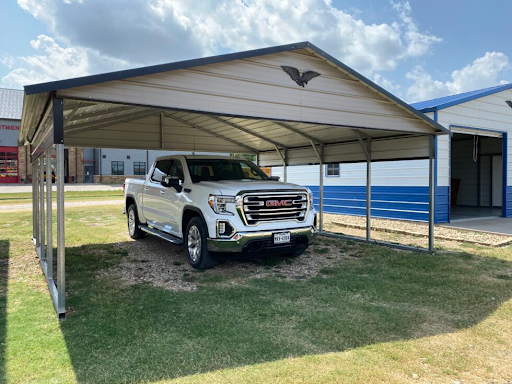 Steel garages for sale in West Virginia are suited to every resident of that state, irrespective of their needs. If you are looking for sturdiness in your car port, you might want to opt for a West Virginia steel carport, though all our products are very sturdy.
Carport designs of all kinds are available, and hence if you are someone who's spent a lot of time, effort, and money in creating a beautiful home and are worried about the carport spoiling the overall décor of your house, there's no need to fret.
Our metal carports are ideal for home and residential use, but did you know that many West Virginia businesses are starting to take advantage of metal buildings to grow their operations? Steel buildings are so versatile, they can be used as:
Warehouses
Assembly plants
Site offices
Workshops
Custom metal buildings in West Virginia
The above are just a sample of the many applications we know customers have put our commercial metal buildings to work for. Another area our metal buildings excel in in commercial use is the storage of large industrial equipment used for mining.
We can make any length steel carport in WV, and we can go up to a 100′ wide clear span (call us if you need it wider). We are one of the most experienced retailers of steel buildings and carports in the business – We've been operating in West Virginia for over a decade now.
We don't build to a price; we build to a standard! Our carports are constructed with the best materials available and made right here in the USA. Nothing is outsourced, so you can purchase with pride knowing that American labor built your steel building in WV.
If you are one of those who are constantly on the move, West Virginia portable carports are just the thing for you. Installation and uninstallation of these carports is very simple, and you can get them packed and ready to go just like all your other belongings when you relocate
Customizable Carports for Rural and Urban Areas
Without a doubt, Steel and Stud is one of the best-known names in the metal carport industry. We've spent 10 plus years crafting our reputation across both rural and urban areas in every corner of the United States. Our website has provided our customers with access to a unique 3D carport and garage designer tool. This fantastic feature will let you fully spec your new metal building to your own specific needs.
How many vehicles do you plan to house under the West Virginia carport?
Depending on the size and number of vehicles you wish to park under your steel carport, the width, height, and length of the carport kit you need will vary. Know your needs and measure these three parameters. Get in touch with us and let us know your carport dimensions, and we'll have a carport delivered to your door as per your specifications.
Custom metal carports for 1 car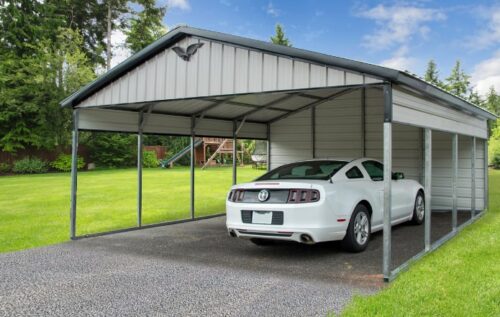 Of course, with the vast majority of the state being rural, West Virginia residents often have a lot of lands to work with. Our metal carports and steel buildings can be built to almost unlimited sizes, so whether you're looking for a one-car solution or somewhere to keep your fleet of vehicles, we can help. You might notice that the carport builder tool maxes out at 61' x 30' – if you need something larger, just call us, and we'll help you with your bespoke order.
West Virginia metal carports for Countryside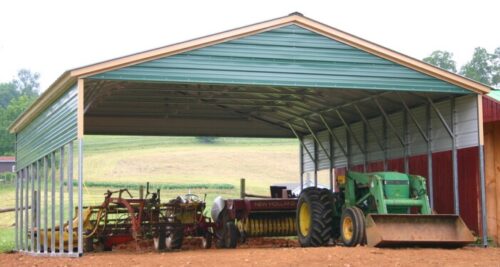 While West Virginia's cities aren't quite as bustling as others around the country, it doesn't mean that residents of those areas don't face the same struggles with storage as those in larger towns. Some of these issues encountered include a shortage of storage space in their homes, a shortage of space in attached garages, and a shortage of land to build a garage. We offer solutions for each of these problems, all in one metal package! If you're looking for a small carport to suit any of these needs, You can order our products in sizes as small as 10' x 10' with a leg height of just 5'.
Out in the West Virginia Countryside, our customers tend to have fewer security concerns, and that's why we see more open sided carports being sold in those areas. They provide plenty of protection from the sun's UV rays and allow unimpeded access – perfect if you're always coming and going.
Pre-engineered metal buildings in West Virginia For security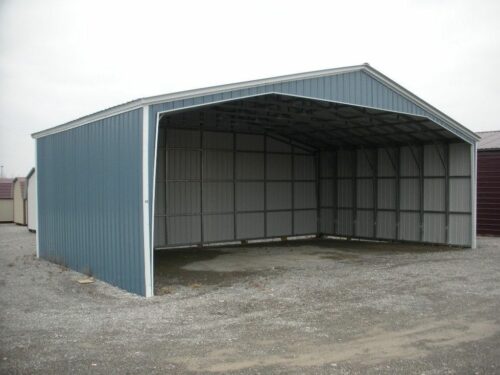 Security can be a concern for many, particularly in the state's bigger towns and cities. If you're looking for somewhere to keep vehicles safely locked away out of view, a fully enclosed steel garage is the solution you're looking for. The sturdy steel structures keep access restricted only to authorized people, and our 3D garage designer tool lets you choose from walk-in and rolling doors, keeping your access convenient at all times.
Commercial steel buildings in West Virginia
Even if you're using your carport for industrial purposes, our open-sided and partial-sided metal carports are perfect for basic shelter needs. Whether it's shade or shelter you're looking for, our dynamic buildings can keep your oversized equipment dry all year round.
Building one of our 12-gauge or 14-gauge frame carports in West Virginia is much less expensive and far faster than building a wooden or brick equivalent. The 12-gauge frame, made with 2 ¼  x 2 ¼  inches of galvanized steel, is twenty percent stronger than the 14-gauge. The latter comprises 2 ½  x 2 ½  inches of galvanized steel.
2023 Best Ideas for Metal carport's Residential Use
West Virginia Carports are not only practical, but the extra storage space can, in many cases, add real value to your home, too. Our customers often share precisely what they've used their new metal buildings for, and some brilliant ideas are out there.
#It goes without saying that a garage for vehicles is the most common use for metal carports. This is a logical fit; subsequently, our products are perfect for keeping cars, RVs, motorcycles, ATVs, UTVs, and even boats away from inclement weather, in the shade, and secure.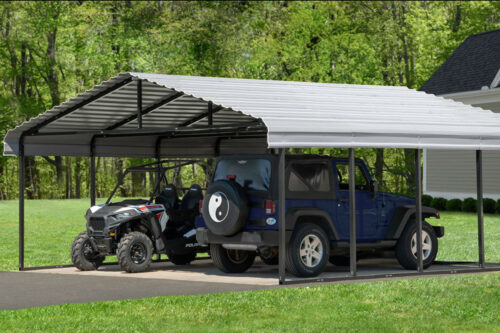 #Remember that storing your vehicles and Powersports toys in a secure facility like a metal building might save money on your insurance premium, another factor that can help offset the cost of your steel carport over time.
#If you're not looking for somewhere to keep a vehicle, our carports also make the perfect storage solution for things like garden tools. Another common use is as a location to maintain logs for wood-burning stoves dry and ready for use.
Another ingenious way customers are not only saving money but doing their part for the environment is by adding solar panels and even small wind turbines to the roof of their carport.
Quality metal building for Commercial Use
West Virginia businesses have been incorporating metal buildings into their operations for years now, so it should be no surprise that more companies are going this route when it comes to starting up or expanding operations. It makes perfect sense – costs are lower than other building types, and construction times are way shorter, getting your operation running faster than ever thought possible.
West Virginia's economy is diverse and comprises many industry sectors. Some of the major forces behind industry in this state are:
Whether you're an independent operator or run a large company in one of these industries, we'd love to tell you more about how a steel building can be used to improve your business.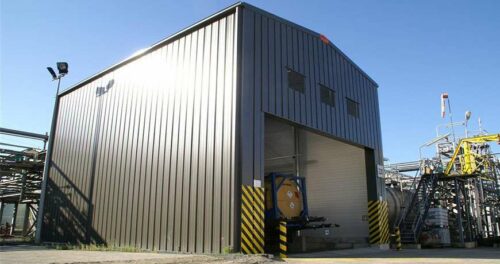 Chemical manufacturing is the biggest industry in WV. This State is a global hub in the Chemical industry. Many small businesses rely on this global trade with so many major players in the Chemical business operating from West Virginia. Even if your business isn't directly involved in chemical manufacture, a metal building could be used for warehousing, logistics hub, or even sales and distribution.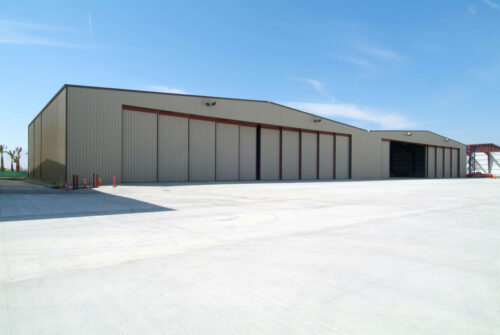 Energy, specifically coal mining, is a staple of the WV industry. Metal buildings are already widely used across this field and to great effect. Metal buildings are perfect for storage of heavy equipment or raw materials as they await transportation for processing. Our steel buildings can be ordered with frameouts, too. This is ideal if you're planning to be able to drive trucks right into the building to load up and drive right out again in controlled conditions.
West Virginia's exquisite natural beauty makes it a draw for tourists from the US and around the world. The State is home to world-class ski resorts like Snowshoe, and various outdoor pursuits like hunting continue to attract visitors. If you're running a business in the tourism industry in WV, our metal buildings can provide you with the ideal location for ski and snowboard rental storage or even set up a hunting lodge.
Of course, many West Virginia industries can take advantage of prefab metal buildings and car ports in WV from Steel and Stud. If you've got questions about potential use, give our customer services team a call, and they'll gladly go through the specs of our buildings and help you discover just how easy it is to improve your operation with a metal building.
Factors to Consider When Buying a Carport in Virginia
Before deciding on the design and setup of your Virginia Carport, you should bear a few things in mind. Business users, of course, have differing needs from residential carport owners, and of course, your geographical location within VA will also impact your design and layout.
Temperature Regulation Inside Your Metal Building
Temperatures in West Virginia are typical of a mid-latitude 4 season state. Spring and fall tend to be mild, while summers get hot and humid, and winters are cold. Especially when you're using your metal building for commercial applications, you're most likely to have people working inside for extended periods. To ensure that your employees stay comfortable and that you stay on the right side of any occupational health and safety rules regarding building climate, you need to consider a climate control system.
When you purchase a fully enclosed steel building from Steel and Stud you buy a product suited to industrial applications. With some minor modifications, you can install a full heating, ventilation, and air conditioning system to keep your business going, no matter the weather.
First and foremost, your building will need proper insulation. This will prevent waste of your cold or warm air being pumped in. Often this is done with fiberglass sheets or with spray foam. This will also help to make your HVAC system more efficient, saving you money on energy bills.
Metal Carport Roofs Made for Heavy Snow Loads
This mountainous state receives a significant snow load each winter. Snowshoe alone gets an average annual 159 inches of the white stuff. Knowing that there's so much snow falling each year before you build any permanent or portable carport, you should always consider the impact of dangerous snow buildup on the roof and how to mitigate it.
We offer our carports and metal buildings with a range of roof styles, including standard horizontal, A-frame horizontal, and A-frame vertical roof style. We always recommend the A-Frame vertical roof styles in areas with a lot of snow.
The A-Frame vertical comes with flush ends, trim on all four eaves, and a ridge cap. The ridges on this roof run side to side, allowing snow to slide off under its weight. It helps to passively reduce the snow build-up and also reduces the amount of time you need to spend in precarious situations on the roof, clearing it manually.
Drainage is a Key Factor in Keeping your Building in top Condition
West Virginia's rugged, mountainous landscape can present its challenges when it comes to construction. Especially in heavily forested areas, failure to ensure proper drainage can damage your foundations and, ultimately, the steel structure of the carport or metal building itself.
As well as the immediate risks to your building's structure, standing water can become a real hazard – from slips, trips, and falls to mold and dampness – all far from ideal.
To ensure proper drainage, the location of your carport installation is critical. Ideally, you want at least one downward slope to lead water down and away from your structure naturally. From a more active drainage management standpoint, you'll need to install guttering and, if possible, have it run off to a storm drain or municipal sewer system.
We are truly proud of our reputation as the nation's premier supplier of metal buildings and steel carports. This is in part down to our stellar customer service, as well as our top-quality products. We don't nickel and dime, the metal building prices you see are the price you pay, and unlike many of our competitors, this also includes shipping, handling, and even installation. We give our customers the option of building their own carport, but as we'll do it, including the price, you might as well take a break and leave it to us!
From Florida to California, to Washington to Maine. You still get the same top-quality service, no matter where you want your carport kits delivered or installed.
We always advise our customers to start with our website's 3D garage and carport designer tool. From there, you can get an accurate quote directly relating to the pricing in your state. So, log on, choose your required size and sidewalls, select your color, doors, windows, frameouts, and roof style, and our tool will show you exactly how your building will look.
When you've chosen your design and are ready to check out, you'll need to pay a small 10% deposit upfront. After this is paid, we'll contact you to set up a delivery and installation date. The final balance will be due upon delivery, but once that's taken care of, all that's left to do is show the team where you'd like it installed!
To get an idea of our starting metal carport prices, please see the pricing chart below:
| Dimensions | Metal Carport Cost* | Steel Building Cost* |
| --- | --- | --- |
| | | |
| | | |
| | | |
| | | |
| | | |
*Prices based on standard features, including 7-foot leg height, roof style, and frame gauge thickness. Steel building estimates include one walk-in door and one roll-up door.
Permitting and Land Usage of Metal Buildings in Virginia
Metal carports in WV have become incredibly popular for residential and business use, and it's easy to see why. These versatile structures allow you to do much more with your space. Constructing a traditional brick garage or wooden carport is an expensive and time-consuming process, so the fast construction and low cost of a metal building lend instant appeal.
The construction process is easier, and the ordering process is, too. It's almost as simple as any other online retail purchase. Our design and buying process is simple, though, it doesn't mean there aren't other steps to factor in. Before buying any carport, make sure that you research, and apply for, where necessary, any building permits required to construct a carport in your area.
Once you've been successful in your permit application and any paperwork has been filed and received, you're then OK to go ahead and make your purchase.
Buy The West Virginia High-Quality metal buildings from Steel and Stud
We've got you a head start on your research to get you going. Follow this link to the Charleston, WV building permits page. West Virginia handles permits on a local level rather than on a statewide level. We advise you to search online for "Building permits for Your City/Town WV".
Steel and Stud not only delivers West Virginia carports at your threshold, but we also install them for you for free. You can use the extra money you save to increase your metal carport's comfort level by buying a carport canopy or related carport product.
Our Customers are always highly complementary to our delivery and installation service. Our highly skilled building specialists will erect your metal carport wherever needed.
Wherever you stay in West Virginia and whatever the terrain of the site where you want to install the carport, We have the answer. Our carports are made such that they can be installed on any ground surface: sand, gravel, clay, concrete… you name it.
If you've decided that you want a West Virginia portable carport or metal carport and you are planning to place your order, you need to know two things before you pick up the phone:
You need to have the dimensions: the width, height, and length of the carport you wish to install.
It would be best if you found out whether the authorities in your area are fine with the carport construction.
Once that's done, get in touch with us, and metal building delivery and installation in West will be free!
Find our Metal Covers for sale shipped, and installed here
West Virginia Carport Barbour, Berkeley, Boone, Braxton, Brooke, Cabell, Calhoun, Clay, Doddridge, Fayette, Gilmer, Grant, Greenbrier, Hampshire, Hancock, Hardy, Harrison, Jackson, Jefferson, Kanawha, Lewis, Lincoln, Logan, Marion, Marshall, Mason, McDowell, Mercer, Mineral, Mingo, Monongalia, Monroe, Morgan, Nicholas, Ohio, Pendleton, Pleasants, Pocahontas, Preston, Putnam, Raleigh, Randolph, Ritchie, Roane, Summers, Taylor, Tucker, Tyler, Upshur, Wayne, Webster, Wetzel, Wirt, Wood, Wyoming