Steel and Stud are the first choices for pre-engineered steel structures and Alabama metal buildings. We have something for both homeowners, and hard-working local manufacturers, from metal workshops and steel garages to enclosed metal buildings project. Not only do we offer varied customization options at competitive prices, but every metal building kit we sell includes free delivery and installation. 
Metal buildings have past stories in the State of Alabama. It's been known that the first was installed in the Rosenbaum House in Florence County, the only steel building in the state designed by famous architect Frank Lloyd Wright. It was built in 1939. Of course, Alabama metal buildings have changed considerably since then, with the portable carport being the norm.
Steel and Stud is an industry leader and a go-to supplier for any permanent and portable Alabama metal building project. Our metal garages have transformed the shelter industry by providing a durable and cost-effective alternative to brick and wooden structures.
You might be thinking wooden structures or stick builds could do the same job, and while you can store things in a pole barn made of other materials, you'll also be saddled with ongoing upkeep and maintenance. If you end up with woodworm or termites, your building could become unsafe. But if you opt for a metal building, you'll have a storage solution that will last for years with low maintenance.
There are many metal building retailers online, but beware: not all are created equal. Many have hidden fees, upcharges, and charges for delivery and installation. Steel and Stud have been in business for over a decade now and have thousands of satisfied customers. Our pricing is fair and transparent. Whether you order a small shed or an industrial size building, our delivery and installation costs are always zero — that's right, it's completely free. Also, for custom designs, our general contractors are readily available.
Here we share how to decide on your new metal building project in Alabama. After reading, you'll know all about our fantastic online Carport and Garage Builder. Thanks to our loyal customers, our website is a one-stop-shop for designing and purchasing your new metal buildings in Alabama. We provide exceptional customer service, and our friendly building specialists assist with the proper building codes and regulations you must know to obtain building permits for your carport.
Don't worry if you still have questions after reading this page; Our knowledgeable building specialists are here to assist you personally. Please give us a call today.
Steel Buildings and Metal Buildings in Alabama We Sell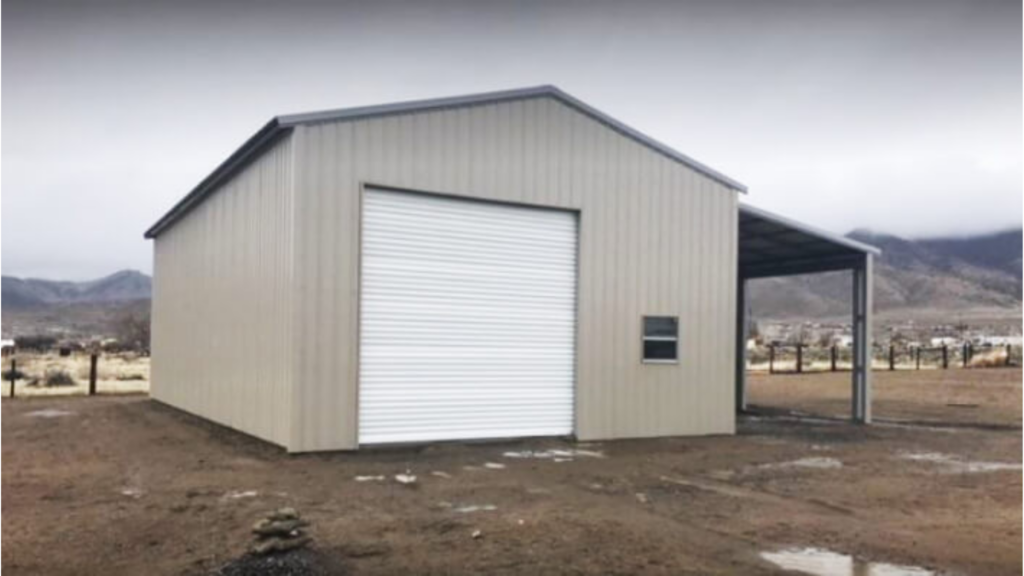 Our Alabama metal buildings span nearly every use, ranging from man caves to simple car covers; we can customize large enclosed structures with walk-in and roll-up doors and windows or vertical roof panels. The Alabama metal buildings we sell include the following:
Metal Carports
Steel carports are most commonly used as car covers, but they can also be used as outdoor storage shelters. We also sell carport kits, which are designed for do-it-yourself assembly. We also sell RV covers, boat covers, and portable carports, which are compact and easy to move.
LEARN MORE.
Metal Garages
Our prefabricated metal garages are fully customizable. No matter what size you need and what features you require, we can help you design a garage to fit your needs. We also sell garage kits, which are easier to install, and portable garages that can easily be moved.
LEARN MORE.
Portable Canopies
Portable canopies can be used in more ways than just about any other products we sell. Their lightweight construction makes them extremely easy to install, take down and even move. The wide variety of sun shelter options we stock makes it easy to pick the right one.
LEARN MORE.
Utility Carports, Sheds, and Buildings
The biggest selling point of a utility shed is that they're often designed to include both open and enclosed space — like a carport with storage. We also sell portable sheds, which are mobile, as well as a lean-to and loafing sheds, which are partially enclosed utility buildings.
LEARN MORE.
Solar Carports
Not every metal building vendor sells solar carports. But we do. It's one of our stand-out products, and it shows we're a leader in our industry. Solar carports cost more, but they'll drastically reduce your electric bills and help you recoup your investment over time.
LEARN MORE.
Accessory Dwelling Units (ADUs)
ADUs, also known as mother-in-law suites and granny flats, are gaining traction nationwide. They help control rental rates while allowing homeowners to supplement their income. Although they can be costly, metal ADUs are a great affordable solution.
LEARN MORE.
Barndominiums
One of the biggest trends in pre-engineered metal buildings, barndominiums — a combination of "barn" and "condominium" — are metal barns built on large plots of land in rural areas. Barn homes are more affordable than houses made of other costly materials, like brick or stone. 
LEARN MORE.
Shouses
Another home building trend, houses, or shophouses, are residential structures with a built-in shop. A house is also known as a shop with living quarters attached. These home styles are ideal for homeowners who require a place to work but don't want to build a detached workshop.
LEARN MORE.
Cold-formed Steel Framing
In addition to metal carports and steel buildings, we sell metal building materials, including cold-formed American steel framing and metal garage doors. We stock purlins, trusses, studs, and track framing. These frames can support any roof style from a regular roof, boxed eave roof, vertical roof style building, load-bearing walls, interior walls, and more.
LEARN MORE.
Benefits of Buying Alabama Metal Buildings From Steel and Stud
Alabama has a beautiful and varied landscape. The state is primarily rural, but Alabama residents believe in modernization. However, the state's location brings heat and humidity, which can cause severe damage to vehicles and other equipment and property left outdoors.
In addition, wooden structure buildings are prone to moisture damage, leaving cars, trucks, and other vehicles outdoors at high risk. Alabama's coastal region near Mobile is especially vulnerable to severe weather conditions like tropical storms, heavy rains, heavy snow, and hurricanes. But by storing your belongings under — or inside — a metal building, you'll reduce the risk of damage to your property caused by one of these dangerous weather events.
Whether you're a homeowner or a business owner in Alabama, Steel and Stud can supply metal buildings, Alabama needs at affordable prices.
Alabama Steel Buildings for the City and the Country
Steel and Stud offer some of the most customizable carports for rural and urban areas on the market today. With our 3D designer tool, all elements of your Alabama metal buildings are within your control, so you can ensure your entire process of steel building is perfect for your specific application.
Foremost we help you choose your steel building dimensions. Our metal garage builder tool lets you select the length, width, and leg height.
We offer the Alabama metal buildings in two different frame gauge options. There are metal buildings for sale in Alabama in different sizes:
14-gauge (14gauge = 2-1/2″ x 2-1/2″ galvanized steel)
12-gauge frame structures(12gauge = 2-1/4″ x 2-1/4″ galvanized steel)
They are easy to source in Alabama from Steel and Stubs, dealers in the best metal building kits.
We provide quality steel building kits, for pre-engineered metal buildings, steel garages, and metal carports AL. You can now order "A" rating with the BBB metal buildings from this quality provider.
Our customers take advantage of the ability to size their metal structure to their specific needs. They can be customized in increments of 1 square foot, so you're getting a genuinely tailor-made product.
Alabama metal building shoppers residing in the cities like Phenix city, Birmingham, Tuscaloosa, Montgomery, Mobile, and Huntsville are often limited by the amount of available space on their land. In these areas, a smaller footprint building is perfect. We offer our custom-designed steel buildings as small as 10-feet long by 10-feet wide and a leg height as short as 5 feet.
If you have a property in a rural area and aren't limited by space, you can design a larger metal building or steel carport. Order from our website, and we can supply you with a metal barn and building in Alabama as large as 30-feet wide by 61-feet long and with a leg height of 12 feet.
If this isn't large enough for your needs, call our customer service team for further assistance. Over the phone, you can order a metal building or carport as large as 100-feet wide and of unlimited length. We're happy to discuss your custom metal building specifications if you need something wider.
In urban areas and the suburbs, we find that the general preference is for enclosed buildings for homeowners and business owners. When you choose an enclosed building, you can properly secure it. Our enclosed metal buildings in Alabama can be fitted with regular garage doors, roll-up garage doors, custom frame-outs — if you want to install your doors — and even windows.
We strongly recommend considering an enclosed building if you're looking to use your metal building to store anything of value that could be quickly taken.
Those living in rural areas who are simply looking to keep their vehicles out of the sun or looking for basic shelter needs often find that open-sided carports are more than sufficient and need less maintenance. Our carports can be ordered in sizes appropriate for all cars and trucks and can certainly be ordered to accommodate large farm machineries, like tractors and other vehicles.
How Homeowners Can Use Alabama Metal Buildings
The most common residential use for Alabama metal buildings is a storage space for vehicles. You certainly don't want to risk your expensive vehicles getting damaged because they weren't covered or even stolen because they weren't secure.
Our steel buildings make perfect storage facilities for your cars and trucks and motorcycles, boats, ATVs, and more. By keeping your vehicles in a secure building like a metal building, you can potentially save money on your insurance, too. Tell your insurance agent when you renew that your vehicle is locked up in a secure metal garage.
A metal carport is also a great solution if your Homeowner's Association imposes restrictions on storing RVs, boats, or other trailers on your driveway. You won't want to give up your existing garage to something that could sit unused for months, and it will allow you to keep your camper or boat out of the harsh sun and increase its lifespan.
Steel buildings are a perfect choice if you've got hobbies that require workspace. Whether working on a vintage car or even carpentry work, our quality custom metal buildings can work for just about any setup.
Steel garage kits have long been a popular item with do-it-yourselfers. A metal building is used to construct boat and RV covers, recreation canopies, utility and heavy equipment storage, and other uses. Once the ground is level, we can install your steel carport on almost any surface – concrete, dirt, asphalt, clay, or sand. The best feature of these two-car garages is their easy construction.
Steel and Stud have been the best choice for installing steel or aluminium carports for thousands of satisfied customers every year!
How Businesses Can Use Alabama Steel Buildings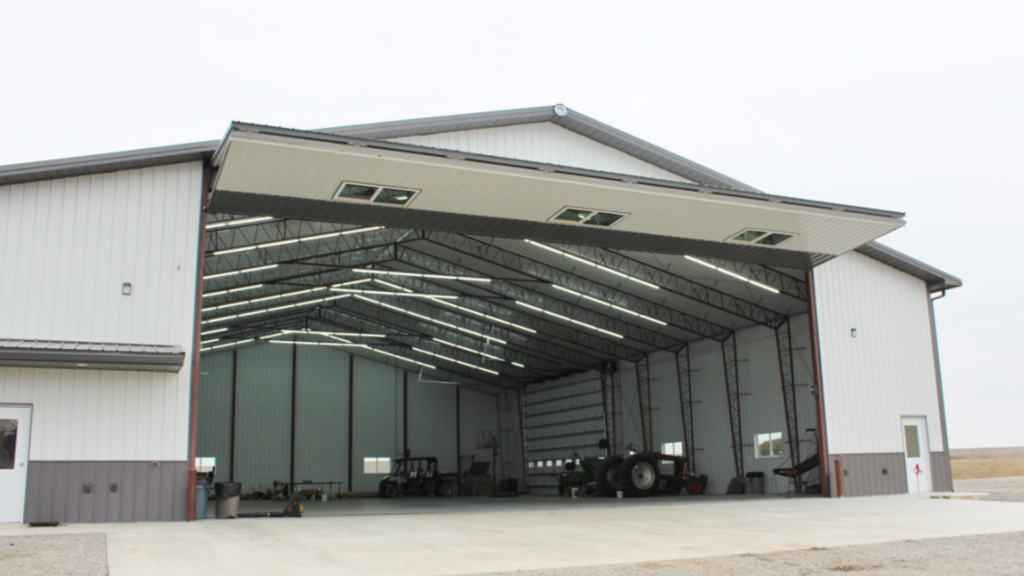 Are you an Alabama business owner? If you haven't already invested in a metal building or steel garage for your business or farm, there's no time like the present.
Alabama is historically an agricultural state when it comes to business. Still, other industry sectors contribute significantly to the state's economy, and all of them can benefit from buying Alabama metal buildings. The biggest industries in Alabama are:
Auto manufacturing
Chemical manufacturing
Forestry
Technology
Of course, given the historical importance of agriculture in the Heart of Dixie, we understand it's also important to cover farming applications for our products.
But while most people associate auto manufacturing with Detroit, Michigan, other states, such as Alabama, have become home to plants for some of the world's biggest automakers.
If your business is involved at any point in the supply chain for the auto industry, we can definitely help you expand your operation. Our steel structures are perfect for warehousing, distribution, and — in some cases — even manufacturing.
Chemicals are the number 2 export in Alabama's economy. Chemicals are a vital part of the United State's industrial infrastructure. Without the chemicals produced in Alabama, so much would not be possible. Not only that, but with $2.6 billion contributed to Alabama's economy in 2018, this industry is at the very centre of the state's financial backbone.
Alabama now has equipped workshops with the proper ventilation necessary for producing and storing chemical products with metal buildings.
Almost two-thirds of the Great State of Alabama comprises forest, and that's approximately 22 million acres of wooded land. Many of our existing customers are in the lumber industry, and if you're in the business of growing trees, we'd love to welcome you.
Our open-sided and enclosed steel buildings in Alabama are ideal if you're in the forestry business. They'll help you keep equipment sheltered and secure, keep lumber out of the rain and even provide shelter for pickups and deliveries.
Technology is another one of the largest industry sectors in Alabama, and it continues to grow year over year. Huntsville County, in particular, is one of the areas driving this industry; it's a popular area for the design and manufacturing of technology hardware.
Our metal buildings can be set up to support a production line for electronic components. If you're new to the sector, cost-effective metal buildings in Alabama can help you to maximize your revenue, as you'll spend less money and time setting up your operation than companies who choose to set up comparably sized brick buildings.
Farmers in Alabama are some of our biggest customers. Metal buildings in Alabama can be used for crop storage and processing and animal rearing and milking.
On top of this, our carports make an ideal place to house farm equipment when it's not in use. Our open-sided carports are perfect for oversized equipment. Also, our carports can easily be fitted with frame-outs and used as an aircraft hangar.
Our carport kits in Alabama have a lasting structure that will enhance your property for several years. If you don't have time to install it yourself: we offer no-cost installation in 48 states of the US. 
We are transparent with the cost for your steel carport, which cannot be manipulated once installation begins.
We also offer "buy now" utility carports with standard shapes and sizes, but we offer custom metal building kits up to a 100′ wide clear span interior space or any length.
What to Think About When Buying Metal Buildings in Alabama
Before you buy a metal carport in Alabama, you'll want to consider a few factors that could influence the style or size of the carport you need. There may also be additional environmental factors to consider when selecting where to install it.
Securely Anchoring Metal Buildings in Alabama is Extremely Important
Alabama has extreme weather, especially hurricanes and tornadoes. Don't let your cars and other vehicles get damaged during these events. Insurance companies are usually reluctant to pay for damage caused by severe weather.
Even though Alabama is not a Great Plains state, it's experienced more EF5 tornadoes than any other state since 1966. An enclosed metal carport is your best bet if you're looking to protect valuable vehicles from damage. If you're only concerned about keeping your belongings out of the rain or in the shade, an open-sided carport is likely sufficient enough for your needs.
A concrete foundation is the most reliable base for your carport and will allow for the most secure installation, allowing it to stand up to greater wind speeds than carports anchored to gravel, grass, or dirt. It will also prevent swaying and potential damage to your carport.
It's better to have a concrete slab to install your new metal building. But if you don't already have a concrete slab or you don't want to pour one, don't worry. The correct anchoring system will ensure your carport is appropriately secured, whether on clay, sand, or other soft surfaces.
Enclosed Metal Buildings in Alabama Must be Climate Controlled
If you're using a metal building for commercial purposes where employees will spend extended periods inside, you'll likely need to insulate and install heating and air conditioning.
Alabama's hot and humid climate will make working in a metal building uncomfortable; it may also be unsafe for workers. The Occupational Safety and Health Administration suggests maintaining a workplace temperature between 68 and 78 degrees.
If you insulate your building and install an HVAC system, you'll have complete control of the interior climate of the building. This has two positive effects. One: comfortable workers are happy workers. And two: by controlling the environment, you're keeping humidity within acceptable levels.
Buying A Metal Building in Alabama Requires the Right Frame
Choosing the appropriate metal frame is especially important for those who live in heavily forested regions, where there's a higher chance of trees falling. As we've already mentioned, we offer two different steel frame options: a 14-gauge steel frame and a 12-gauge steel frame.
Our 14-gauge frame measures 2 ½ inches thick, and our 12-gauge frame measures 2 ¼ inches thick. The 12-gauge frame is approximately 20 per cent stronger than the 14-gauge frame.
Although the 12-gauge frame is a bit more expensive than the 14-gauge frame, investing in a more durable structure with a better chance of withstanding a falling tree, especially if you're using your metal building to protect valuable vehicles and belongings, is well worth it. Think about the value of what's inside. Are you willing to risk losing those items? If not, a 12-gauge frame will give you peace of mind and offer better protection if something happens.
If you live near the coast, such as the mobile area, you may also consider how the salty coastal air will affect your steel building. You'll be happy to know all our steel frames are galvanized, meaning they're resistant to corrosion or, in this case, rust.
Intro Pricing for Metal Buildings in Alabama
Here at Steel and Stud, we offer quality products that we can truly stand behind. We sell and ship steel buildings across the country and are proud to sell the best metal buildings, AL Alabama.
When it comes to payments, we offer a transparent and straightforward procedure. Once you've designed your carport using our metal garage and carport builder, you can proceed to checkout. And at the time you place your order, we require only a 10 per cent deposit. Once you've made the down payment, we'll contact you to set up a delivery and installation date.
We also provide rent-to-own and financing options to our customers.
The amount and time involved in installation to assemble or erect utility carports depend on different styles and designs. Of time and help required.
To get an idea of our starting metal building prices, please see the pricing chart below:
| | | |
| --- | --- | --- |
| Dimensions | Metal Carport cost* | Steel Building cost* |
| 10×10 | From $1155 | From $3300 |
| 10×15 | From $1255 | From $3540 |
| 15×15 | From $1255 | From $3540 |
| 15×20 | From $1455 | From $3930 |
| 20×20 | From $1455 | From $3930 |
*Metal building prices are based on standard features, including 7-foot leg height, vertical roof style, and frame gauge thickness. Steel building estimates include one walk-in door and one roll-up door.
Permitting and Land Usage of Metal Buildings in Alabama
Depending on where you're located in Alabama, you may require building permits to build your metal building. We suggest designing your steel building on our website, and once you've chosen a layout and design, you can apply for the applicable permits.
Building codes are well enforced and vary by county, city, and sometimes even subdivision, so ensure the laws before completing your purchase.
Get started, with the help of Alabama Building Commission website.
We Sell Metal Carports In Every Alabama County
We sell carports across Alabama, including carports for sale in Autauga, Baldwin, carports in Barbour, Bibb, Blount, Bullock, Butler, and RV carports in Calhoun, Chambers, Cherokee, Chilton, Choctaw, Clarke, Clay, Cleburne, Coffee, Colbert, Conecuh, Coosa, Covington, Crenshaw, Cullman, carport canopy in Dale, Dallas, De Kalb, aluminium carports in Elmore, Escambia, Etowah, carports for sale in Fayette, Franklin, RV carport in Geneva, Greene, carport canopy in Hale, Henry, Houston, portable canopy in Jackson, Jefferson, portable canopy in Lamar, Lauderdale, canopies for sale in Lawrence, Lee, Limestone, Lowndes, Macon, Madison, Marengo, Marion, Marshall, Mobile, Monroe, Montgomery, Morgan, Perry, Pickens, Pike, Randolph, Russell, Shelby, St. Clair, Sumter, Talladega, Tallapoosa, Tuscaloosa, Walker, Washington, Wilcox, Winston.