North Carolina is undoubtedly one of the country's most beautiful regions. From the majestic Blue Ridge Mountains to the beautiful Outer Banks, the vast range of terrain makes for a beautiful place to call home, which also means metal building requirements vary drastically.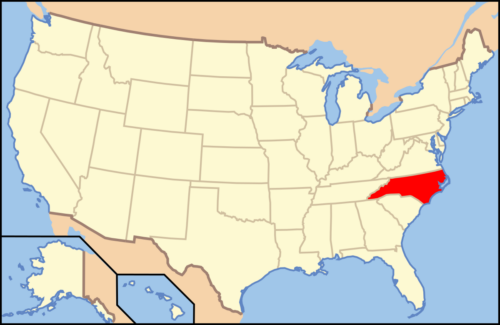 Metal buildings in NC are not just for homeowners, they also benefit business owners. Steel and Stud is a well-known nationwide retailer of metal building industry, selling steel carports, metal RV covers, metal barns, and metal garages For the last 10 years, we have been striving to deliver unparalleled quality metal structures nationwide.
Best metal carports are not only built to your exact specifications but available at the most affordable prices you'll find anywhere . On top of offering cost-effective metal buildings in NC, we include delivery and installation at no additional cost.
On this page, you'll find all the vital information you need about buying metal buildings in NC. You'll learn all about the styles, sizes, and colors available, and you'll find out how to design all types of metal carports, from simple storage sheds to complex workplaces for businesses.
Of course, this is a broad subject, and if this is your first time shopping for a steel building, you may still have questions. If that's the case, please reach out to our customer service team, who will be able to answer all your questions over the phone.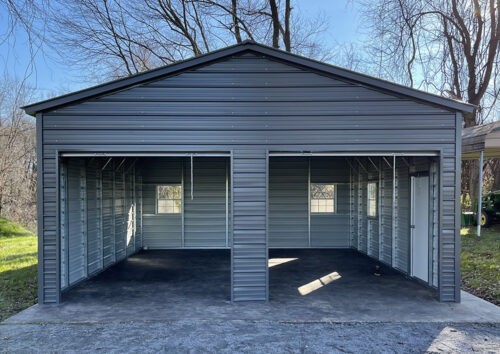 Steel Carports and Metal Buildings in NC We Sell
Metal carports in NC can be used for just about any purpose, from car covers to enclosed structures with windows and walk-in doors.
All options are available for our North Carolina Steel Carports:
Metal Carports
Metal Garages
Portable Canopies
Utility Carports, Sheds, and Buildings
Solar Carports
Accessory Dwelling Units (ADUs)
Barndominiums
Shouses
Cold-formed Steel Framing
We have single-car carports, open carports, RV carports to fit any motorhome, and utility carports that can be used for businesses. We also have carport-related products such as portable carport covers and carport canopies.
NC residents can now park their single car, two cars or other vehicles without getting them damaged by the extreme weather conditions. Steel and Stud make high-quality carports accessible in every NC county.
Our perfect carports are for anyone looking to keep valuable cars, trucks, RVs, motorcycles, ATVs, jet skis, and other vehicles safe from harsh weather conditions.
 But North Carolina Metal building is used for so much more than just storing vehicles. Homeowners can free up valuable storage space in their house and move their gardening tools, farm equipment, holiday decorations, and sports equipment into a metal garage.
You can also opt to keep your carport garage intact if you move residences. Install metal carports to increase the house's resale price.
You will also have to follow different regulations if your metal building is to be used for commercial purposes than someone who plans to install a steel carport at home. 
Benefit Of Buying Metal Carports in NC From Steel and Stud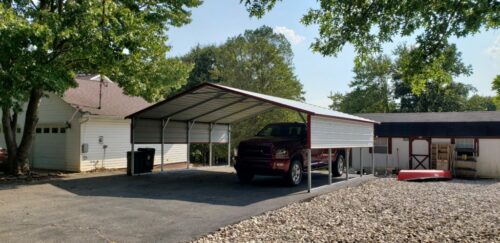 Steel and Stud is America's largest independent dealer for custom metal carports and steel garages. As the best choice for North Carolina carports, we are proud of our high-quality carport kits.
Steel and Stud is dedicated to delivering quality metal carports anywhere in North Carolina. With our continuous efforts to serve the best, we are accoladed with BBB's "A" rating.
Our experience in the industry spans over a decade, and thousands of satisfied customers all over the United States can vouch for our prices and quality. The secret behind this is that we stand behind all of our products.
The NC Carports we sell are installed free of charge on any surface, including concrete, asphalt, dirt, and sand. The money saved could be used to purchase carport covers or canopies to improve the comfort of your carports
If you currently rent or are looking into renting a storage unit and are still on the fence about a metal carport, stop and think about what your storage unit costs you each and every month. Our cost-effective metal buildings in NC are a simple one-time expense. Once you've paid, that's no more ongoing costs — and no rules and restrictions on what you can store.
You can also avail rent to own and other financing facilities with us. Call our toll-free number to know more.
Fully Customizable Steel Carports in NC for the City and the Country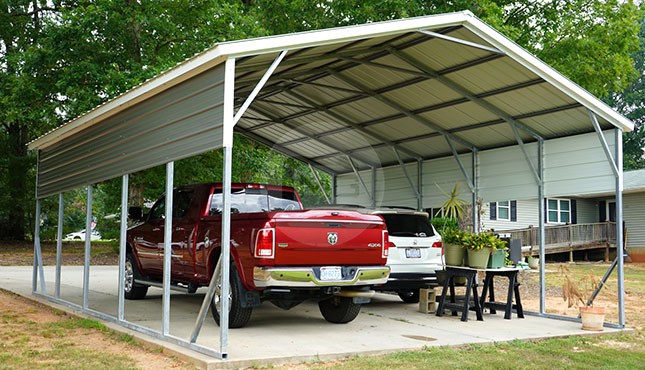 Steel and Stud is the first name in customizable metal buildings in North Carolina and across the United States. Our building specialist and Garage builder tool can help you with metal carports plan from the convenience of your home, any time. Our creative designer will show you exactly what your new carport will look like, and it will provide you with accurate pricing based on the size you've selected and the number of windows, doors, and frame outs you've added.
Another customization option we offer is choosing a 12-gauge or 14-gauge steel frame. The 12-gauge frame, made with 2¼  inches of galvanized steel, is almost 20% stronger than the 14-gauge. The latter is made with 2½ inches of galvanized steel.
Our Metal buildings in NC have virtually no size limits, but we require more details for larger building projects. Please call us directly if the sizes available using our online builder don't suit your needs.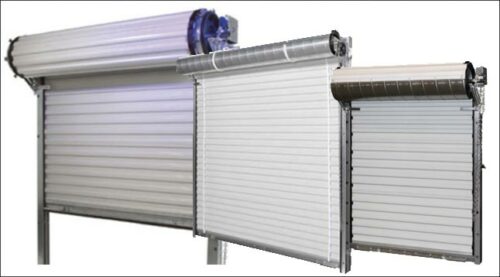 We can equip your metal building with rolling doors and walk-in doors for access, and even windows can be fitted for a more polished look and for extra light if you're planning on setting up a workshop or recreational area where you'd be spending a lot of time inside.
Other common residential uses for metal buildings include storage for sporting equipment — especially seasonal equipment like skis and snowboards.
And if you're planning to store temperature-sensitive items in your enclosed metal building, it's possible to insulate and air condition your carport.
Depending on what you're planning to store in your steel structures, you might want to consider a fully enclosed design — especially if you live in the city. This will enable you to securely store tools, other small items, and your vehicles.
Why Homeowners Need Metal Buildings in NC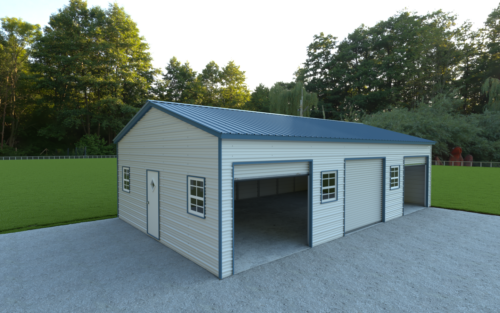 North Carolina weather is often beautiful, but the winters can get seriously cold in the mountains. If you don't have a garage and live in the mountains, you're probably used to scraping snow off your car or truck regularly during the winter. But what if we told you this could be a thing of the past? With a metal carport, it can be.
In North Carolina's major cities, like Charlotte, Raleigh, Durham, and Greensboro, it's well known that land isn't particularly easy to come by. In addition, many of the older buildings were built at a time when cars weren't widely owned, and people didn't have as many garage spaces.
As such, storage space in North Carolina residents' homes and garages can be scarce. But a metal carport can solve your storage issues with ease. If you need additional room but don't have a lot of land, we sell metal buildings in NC as small as 10 feet wide by 10 feet long and with leg heights as low as 5 feet.
Our metal buildings and carports are perfect for keeping your vehicles out of the snow. And not having to scrape snow off of your car means you can set your alarm a little later.
North Carolina residents who live in more rural areas, like Kitty Hawk, Pinehurst, and Asheville, are less likely to encounter the space limitations their counterparts in larger cities do.
Counting yourself amongst these residents means you're more likely to have space for triple-wide metal carports. Our online carport designer tool allows you to order steel buildings as large as 30 feet wide by 61 feet long and with leg heights up to 12 feet tall.
If you live in a suburban area, you likely deal with restrictions and regulations from a Homeowner's Association (HOA). If you're subject to any design and color restrictions from your HOA, take advantage of our Carport and Garage Builder to layout your steel carport design. 
If you're out in the country and have basic shelter needs without security, an open carport may be all you need. Steel carports in NC allow for easy access, which is perfect if you're coming and going a lot, and they provide great protection from the sun's harmful UV rays.
Our open-sided carports are perfect if all you need for your home is a small, basic metal shed. They're strong and sturdy and do a great job of keeping your small gardening tools and potted plants out of the elements when required.
How Businesses Can Benefit from Steel Carports in NC
We sell steel structures in NC to businesses small and large, including independent operators and national chains. The possibilities for use in business are almost endless.
Nearly every sector of North Carolina's economy can utilize metal buildings, but some industries stand out more than others. The three major pillars of North Carolina's economy are:
Aerospace and Defense

Furniture

Automotive, truck, and heavy machinery
North Carolina has arguably the most extensive history with aviation and aerospace in the country, if not the world. Ever since the Wright brothers took flight in the Wright Flyer at Kitty Hawk back in 1903, this pioneering state has never looked back.
A ton of NC businesses are involved in manufacturing aircraft components. If you're in the aerospace manufacturing industry and looking to expand, metal buildings in NC are perfect for setting up an R&D facility, a manufacturing line, and even warehouse space.
Furniture is one of North Carolina's more unique yet vital contributors to the economy. High Point, NC, is considered the Furniture Capital of the World. Although the industry is not as big as it once was, some of the biggest names still call North Carolina home, and many take advantage of metal buildings to manufacture their goods.
Steel buildings in NC can easily be converted into full-scale carpentry and upholstery workshops. Our buildings can handle both large- and small-scale manufacturing operations.
If you're involved in the supply of raw materials to the furniture industry, we can help you too. Our enclosed carports and steel buildings make perfect short- and long-term storage facilities.
Another one of the state's biggest industries is truck manufacturing, specifically trucks used for transporting goods. Manufacturers like Daimler and Freightliner are based in North Carolina. But you don't have to be one of the big names to be involved in the production process.
Many of our trucking and heavy equipment customers build smaller components or sell these behemoth vehicles. Fortunately, metal buildings from Steel and Stud can be built as large as you need them, so even full-size semis and big rigs can be stored or even worked on underneath or inside our steel carports and metal buildings.
Factors to Consider When Buying Carports in NC
If you're looking at buying metal buildings in NC, there are a few factors to consider. Due to the state's geography variety, where you're located will greatly impact how you design and build your steel carport.
Carports in NC Must Include Sufficient Drainage Systems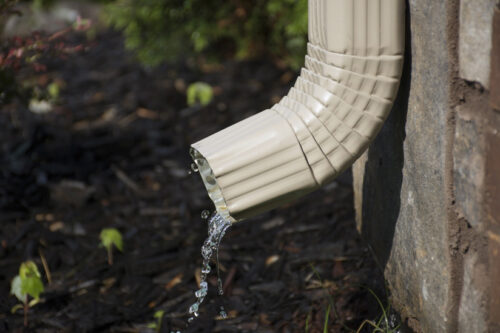 In North Carolina's coastal regions, heavy rainfall can be a real issue, especially during winter. Our metal carports offer a great way for you to keep your vehicles, tools, or other equipment safe and dry when the weather is less than ideal.
A steel building is much faster and less costly to erect than any comparable wood or brick building, but it still requires the same care and attention to detail regarding drainage.
If you fail to install the proper drainage required for your carport, you risk having rainwater runoff pooling inside. As a short-term hazard, this can cause slips and falls. But long-term, ongoing dampness can damage the items you're storing.
Moreover, any fault in the drainage system can damage the foundation. Combat this by calling a professional to install gutters that lead to a storm drain or your home's sewage system.
Another way to prevent issues with standing water is to strategically assemble your metal building so it benefits from a downward slope that naturally pushes water away from the area.
Steel Buildings in NC Coastal Areas Are Affected by Salty Air
Being near the coast presents another issue: salty air. 
When combining estuaries with North Carolina's ocean coastline, several thousand square miles of land are exposed to saltwater and the associated salty air. And, although there are plenty of benefits to living by the ocean, one of the few major drawbacks is the rust and corrosion that can destroy metal.
If you're within half a mile of the coast, you're in what's called the 'prime corrosion zone'. Fortunately, our steel carports and metal buildings in NC are designed to withstand the elements. The galvanization process ensures the steel we use is coated in a special zinc layer that protects the vulnerable steel from the oxidizing effects of salt.
And because our buildings are resistant to corrosion, they provide a great place to store your vehicles, beach furniture, and anything else you need to protect your belongings from the effects of the coastal air. But if you live near the coast, make sure to wash down your carport with fresh water on a regular basis. This will help to protect the paint and keep it looking its best.
Carports in NC Mountains Need to Withstand Snow loads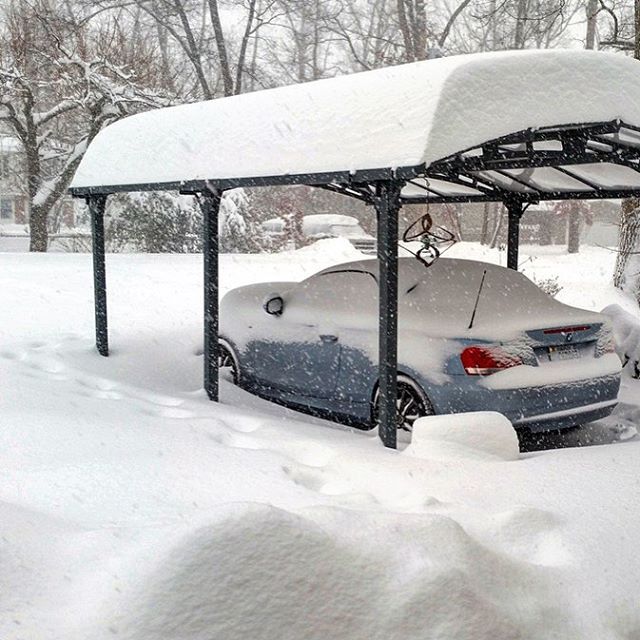 In North Carolina's mountainous western region, some towns see up to 57 inches of snow. As such, carport owners in these areas should be conscious of the effect of heavy snow loads on the roofs of their metal buildings. Fortunately, "Steel And Stud" offers metal buildings designed to cope with bad weather and heavy snow.
To get More Information, Check Out: How Much Snow Can a Metal Carport Hold
Our metal carports are available in three different roof styles; standard horizontal, A-frame horizontal, and A-frame vertical. We recommend selecting the A-frame vertical roof style if where you live receives a lot of snow. They're designed with flush ends, a ridge cap, and trim on all eaves. But the ridges are the biggest benefit of customizing metal buildings in NC with an A-frame vertical roof. They run side to side, which helps snow to run off naturally.
If snow runs off the vertical roof on its own, there's less buildup, and buildup is what causes dangerous overloading conditions. Plus, as a bonus, snow naturally sliding off the roof means you won't have to climb a ladder to scrape it off the roof.
Pricing for Metal Carports in NC
No matter where you live, in the mountains or by the ocean, from Asheville to Wilmington, we'll bring your carport to your home and assemble it at absolutely no additional cost.
We recommend that you start by designing a custom metal building using our Carport and Garage Builder tool. You can change the dimensions, walls, windows, doors, roof type, and more. With the tool, you can get a ballpark price estimate for your new building.
Once you've settled on a design, place an order via our website or call us if your design doesn't fit within the website parameters. We only ask for a 10 percent deposit during checkout, with the remainder due upon delivery. All that's left to do at this point is schedule the delivery and show the installation team where you'd like your building to be assembled when they arrive.
To get an idea of our starting metal carport prices, please see the pricing chart below:
| Dimensions | Metal Carport Cost* | Steel Building Cost* |
| --- | --- | --- |
| | | |
| | | |
| | | |
| | | |
| | | |
*Prices based on standard features, including 7-foot leg height, roof style, and frame gauge thickness. Steel building estimates include one walk-in door and one roll-up door.
Getting Permits for Metal Buildings in North Carolina
In some areas, you'll need to get approval for a building permit before you finalize your order. It all depends on the development regulations in your city or town. If you do need a permit, we recommend getting approval before placing your order, so you don't run into any issues.
Once you've received approval for your permit, you should go ahead and place your order via our website. You are ready to start construction by now.
Here's how to get a car port that can be used for storage or parking.
Check with your local authorities before you make a final decision about buying a carport.

After receiving the green signal, it is possible to decide on the carport's height, width, and length that you would like to decorate your establishment.

Give us a shout! Give us your requirements and we'll do the rest. We will complete your car port project.
We Sell Carports in NC in Every County
Alamance, Alexander, Alleghany, Anson, Ashe, Avery, Beaufort, Bertie, Bladen, Brunswick, Buncombe, Burke, Cabarrus, Caldwell, Camden, Carteret, Caswell, Catawba, Chatham, Cherokee, Chowan, Clay, Cleveland, Columbus, Craven, Cumberland, Currituck, Dare, Davidson, Davie, Duplin, Durham, Edgecombe, Forsyth, Franklin, Gaston, Gates, Graham, Granville, Greene, Guilford, Halifax, Harnett, Haywood, Henderson, Hertford, Hoke, Hyde, Iredell, Jackson, Johnston, Jones, Lee, Lenoir, Lincoln, Macon, Madison, Martin, McDowell, Mecklenburg, Mitchell, Montgomery, Moore, Nash, New, Hanover, Northampton, Onslow, Orange, Pamlico, Pasquotank, Pender, Perquimans, Person, Pitt, Polk, Randolph ,Richmond, Robeson, Rockingham, Rowan, Rutherford, Sampson, Scotland, Stanly, Stokes, Surry, Swain, Transylvania, Tyrrell, Union, Vance, Wake, Warren, Washington, Watauga, Wayne, Wilkes, Wilson, Yadkin, Yancey