Steel and Stud offer high-quality residential and business use carports in PA!. 
Metal carports can provide significant extra space for your home storage or even give a cost-effective space to protect your vehicle, RV, ATV, or store your tool sets or gardening tools. Here at Steel and Stud, we believe in offering only the best products at the best prices anywhere in the USA.
This post will provide all you need to know about carports in Pennsylvania. We will go into fine detail about the Pennsylvania metal buildings and steel carports we offer, and we will also provide you with some inspiration based on the most popular applications of our products.
Moreover, we'll also share some tips for getting the most out of your carport in PA and give you some insight into the procedure for applying for and obtaining the required permits to build your new steel carport.
You can now customize and order new steel buildings right from the comfort of your living room. With our 3D estimator, you can decide on the size and roof style of the metal garage you want. If you aren't ready to make the purchase or have questions, our customer service team can always help you by phone.
Pennsylvania Metal Garages: Overview

Pennsylvania is an outdoorsman's playground. All 20 of the State's Forests and 97 State parks allow hunting at various times of the year; that's 2.2 million acres of pristine land to explore. Getting around all that land is far easier with ATVs and UTVs, and what better place to store your off-road vehicles than in one of our metal carports? 
Steel Carports also make an ideal storage location for cars, boats, RVs, motorcycles, and any other wheeled transport you could think of!
We sell Pennsylvania carports that are used to create garage-like storage spaces for cars and other items. Buy your choice of carport from a wide range of portable and metal carports that are both functional and attractive.
Metal carports or Steel garages in Pennsylvania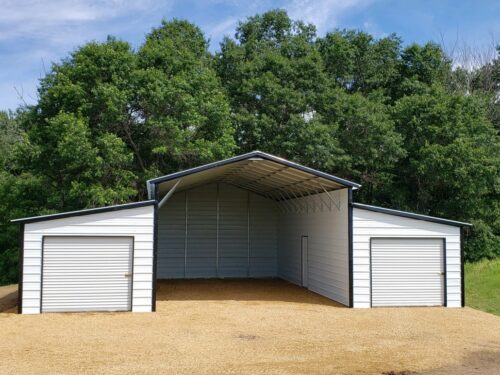 Metal Carports are cheaper than a steel garage and can be a great investment. Metal Garages are enclosed metal buildings, whereas carports have open sides. Pennsylvania metal carports are a great way to enhance the facade and store your vehicles and other outside items, such as gardening tools.
Although the first carport was invented in 1909, Frank Lloyd Wright used the term "carport" in 1936 to describe a house he built. The canopy attached to the house was an early version of carports. It did not have the flexibility that we now enjoy.
Versatile Metal Car ports for purchase in Pennsylvania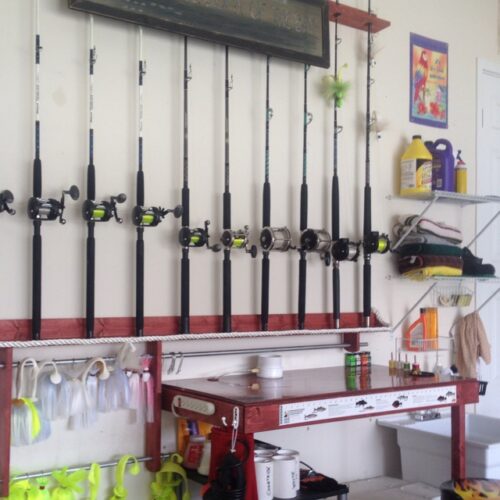 Pennsylvania metal building is great for storing hunting gear and vehicles. They can be easily installed for storage, especially if your garage is full or you don't own one. We recommend ordering one of our metal buildings if you are already paying monthly storage rentals. Our products are much more affordable and durable than a storage unit. We offer portable carport solutions that can be used even if you aren't planning to move to a new house soon.
It is easy to see why carports for purchase in Pennsylvania offer so much versatility. You have the option to move your carport from one location to another. This increases your home's value and allows you to take your carport everywhere. You have the opportunity to choose your carport that suits the home exteriors.
PA metal buildings have been growing in popularity. You'll see a lot more websites now claiming to sell durable products. Be cautious and choose the best vendors or contractors. 
Steel and Stud have been in succesful business for over a decade and have thousands of satisfied customers to show it!
Steel Carports from Steel and Stud have the added benefit of being almost entirely maintenance-free. If you've had experience with wooden sheds and carports, you'll be familiar with the regular pest treatment and painting required to keep the building in good condition. Our steel carports require no such maintenance; they are built with galvanized steel, making them corrosion resistant and ready to give you years of trouble-free use.
BBB also gives us an "A" rating, which means we provide high-quality products and services. 
Benefits of Buying a Pennsylvania Carport From Steel and Stud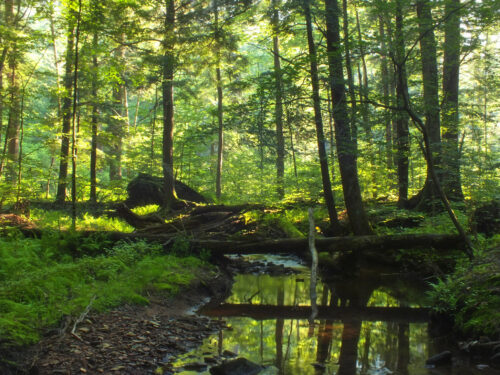 Pennsylvania, the Keystone State, boasts some simply stunning geography. More than half of the State is covered in forest, and almost all of it could be considered mountainous. Despite the outwardly rustic appearance, PA is home to some of the biggest and most famous US cities- Pittsburgh, Philadelphia, and of course, its capital city, Harrisburg. This is a historical state and, as such, is subject to extremely stringent building requirements and codes. Pennsylvania residents should research the requirements if they're living in any of PA's cities before committing to a purchase.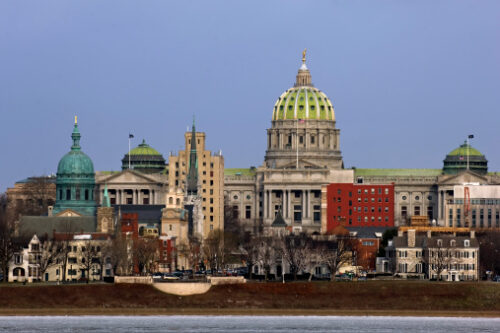 Pennsylvania is a state that sees extreme variations in weather, from the sublime to the extreme. Pennsylvania summers (particularly in the southeast) can be extremely hot and often humid, while winters can be brutally cold, bringing significant snowfall. As if those weather extremes weren't enough, PA is also a hotspot for tornado activity! So, what is the common denominator between their conditions and our carports? Of course, keeping your vehicles, tools and equipment, possessions, or goods safe from natural weather conditions is necessary.
We offer our Pennsylvania steel buildings as basic non-certified or certified metal buildings. Because of the possibility of dangerous wind conditions and heavy snowfall, we strongly recommend going with an accredited metal carport in Pennsylvania. No matter which you opt for, though, we offer free delivery, and if you want us to build it for you, that's free, too.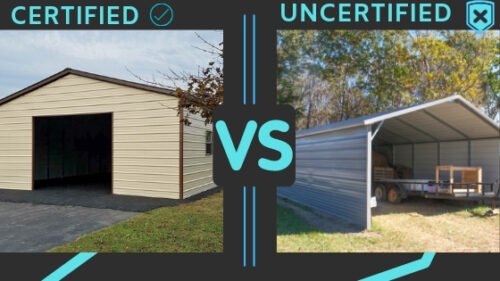 We are extremely proud of the steel carports we offer. Our product is 100% made in the USA, with no outsourcing whatsoever. We're confident that you'll love our products' quality and appearance. You'll have to share the choice of walls, size, colors, and, most importantly, the number and location of doors, windows, and flameouts with us to deliver the customized pre-fab metal kits.
With our ten-plus years in the business of building metal carports, we've become one of the most experienced companies in the nation. We have supplied our steel buildings to thousands of homeowners and businesses across the country, and we hope you'll join our list of satisfied customers.
Pennsylvania carport is delivered with free shipping. We also provide free installation to our specific kits. The money saved could be used to decorate your Pennsylvania carport with a canopy or other carport covers to enhance the style and comfort. You can be sure that our Pennsylvania metal carport kits will be of high quality and at affordable prices. Our growing customer base has made us the biggest dealer of carports in the US.
Customizable Carports for Rural and Urban Areas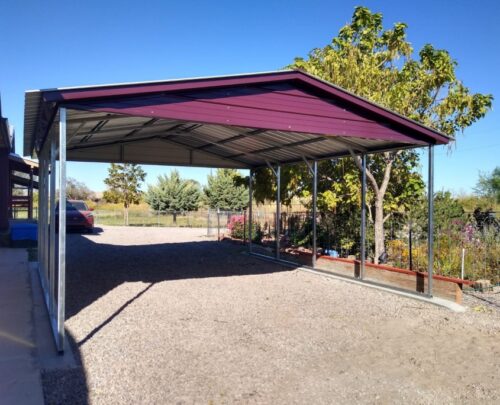 At Steel and Stud, customization of your metal carports and steel buildings is one of our founding principles. We allow total control over the size of your design, so no matter what your needs are, we can provide you with the perfect solution thanks to our proprietary 3D carport designer tool.
The limiting factor for most people regarding steel carport selection is the space available to install it. As we've already mentioned, size is completely customizable with our products. We can also modify sizes in all dimensions, including length, width, and height. Not only that, but we even offer our products in multiple gauges. We now offer the portable carport you're looking for, whether metal or lightweight. Each metal carport comes in a 14-gauge or 12-gauge frame (14g = 2-1/2" x 2-1/2″ galvanized steel) (12g = 2-1/4″ x 2-1/4″ galvanized steel). The 12-gauge is 20 percent stronger than the 14-gauge.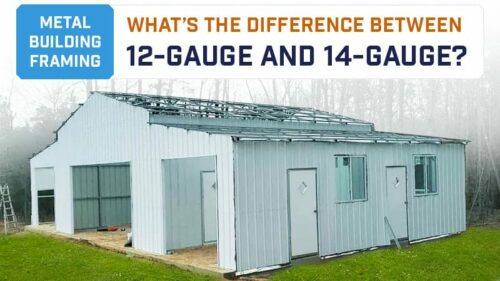 Our customers most likely to find themselves concerned with available space are those living in the big cities like Philly and Pittsburgh. These are old cities, and the area is often at a premium. Fortunately, our customizable buildings can be ordered with a minimal footprint. We offer our steel carports in sizes as small as 10′ by 10′, in heights as low as 5′. Even if you order in a smaller size, we can give you a choice of sidewall and eave options, as well as windows and doors.
With most of Pennsylvania being rural, we are pleased to offer our customers looking for more significant metal buildings a range of carports that are almost unlimited in size. Our designer tool on the website maxes out at 61′, but we can definitely accommodate larger orders. If this describes your needs, give us a call, and we can talk to you directly about your specific design.
In urban and suburban areas, our customers often ask us about security. Fortunately, we can offer superb protection by building our metal carports with fully enclosed sides with doors for entry and exit. We can offer our products with or without windows, so if you need to keep the contents of your metal building hidden out of sight, that's something we can help you with.
With almost 60,000 farms in Pennsylvania, we know that our customers in the Keystone State value the ability to keep their valuable (and large) farm equipment stowed securely in a metal building. To ensure ease of access, we offer our steel carports with frameouts. Rolling doors may work for you, but as they are subject to size limitations, we recommend knowing the dimensions of the gear you plan to store when ordering your carport and selecting doors or frameouts.
If security isn't a big concern for you, which is often the case in PA's more rural areas, we can provide our steel buildings with open sides. This is often more than sufficient for those only looking for shade or light protection from the rain. Another plus of open-sided carports is the ease of access that they provide.
Our Building specialist can install Pennsylvania carport kits on any ground surface, whether concrete, dirt, or sand. Even though we can install carports on this wide range of surfaces, you need to consider your anchoring system when choosing your building's location. 
Our rural customers often install directly on dirt and sand, and for this, we always recommend mobile home augers to ensure lasting stability. 
Our customers in the cities and suburbs mostly erect their metal carports on concrete and asphalt, both of which have their specific anchors, and of course, we can provide concrete alongside your carport. As always, feel free to give our customer service team a call if you'd like more advice on anchoring your metal building.
Perfect for Residential Use
With the ever-increasing cost of cars, trucks, motorcycles, boats, and anything else with an engine, it's never been more important to look after those investments properly. What better way to keep your vehicles safe from bad weather and potential theft and damage than with a metal building from Steel and Stud?
PA can suffer some particularly harsh weather conditions, especially in the winter. Some areas see an average of up to 113 inches of snow annually! If you don't have the benefit of a metal carport, you're likely to have to scrape all that snow every morning, which is a major inconvenience to many.
Residential customers often ask how we can help them meet the strict rules of their homeowner's associations. Rest assured, our designs are tasteful, and we offer our metal buildings in 12 beautiful color options. If your HOA also restricts you from keeping your boat or RV in your driveway, our steel carports can provide a convenient way to comply with the rules and keep your pride and joy safe and secure.
Pennsylvania Metal Buildings Perfect for Commercial Use
Businesses across PA have been taking advantage of commercial steel buildings from Steel and Stud for years. Our products offer a sturdy and reliable place to set up or expand operations. We've catered to large and small companies, both local and national. Although it is called a "carport," you can use it to store small cars or trucks in large numbers. You need to decide what you will be using your Pennsylvania portable carport for, and then let us know the length, width, and height of the metal carport you would like. The rest is up to us.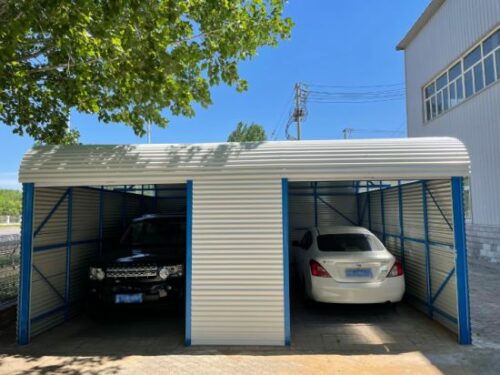 Pennsylvania's businesses are part of the very backbone of America's industry. As one of the original 13 colonies of the US, this State is well established as an industrial powerhouse. PA's economy is highly diverse, but the major industries of the State are manufacturing, agribusiness, tourism, and of course, the famous steel industry.
Manufacturing in Pennsylvania covers a broad range of products. PA manufacturing businesses fabricate everything from medical devices to nanotechnology. In these ever-changing fields, a business must retain the ability to evolve. Our custom metal buildings can provide any manufacturing business with all the space they will need to get established. Thanks to their modular nature, commercial metal structure from Steel and Stud can always accommodate extensions and additional annexes.
We already alluded to the vast number of farms in PA, but this is only a part of the Agribusiness picture. Of course, farmers can rely on our metal carports as a cost-effective way to house livestock, store crops, and keep equipment out of the elements, but our products are also perfect for those in the food processing business. PA is the nation's leader in food processing, and enclosed metal buildings can be used to house production lines across all areas of the industry, including for the canning of fruits and vegetables and even butter and cheese processing.
With Pennsylvania being one of the nation's oldest states, we can find some of the most treasured historical sites in the US here. 
Philadelphia is home to some of the world's most visited attractions, from the Liberty Bell in Independence National Historical Park to the famous 'Rocky Stairs .'Believe it or not, and tourism businesses can also take advantage of metal buildings and carports! Our large buildings can house fleets of tour buses, although if your business is smaller, we've got you covered, too. Our buildings are perfect for storing bicycles, Segways, and any other mode of personal transportation used in the tourism industry for showing people around beautiful downtown Philly.
Given that our products are made from high-quality steel, we are well placed to talk about it, which we have in common with the Keystone State. Pittsburgh, also known as "the Steel City," is home to some of the nation's biggest producers of this valuable material. If steel is your business, our metal carports can provide the perfect storage facility for finished products and raw materials destined for processing at the mills. Our buildings can also be used to produce finished steel products, for example, furniture and construction materials, and we've even seen our buildings become high-tech laser cutting facilities.
Factors to Consider When Buying a Carport in Pennsylvania
We strive to ensure that the process from purchase to installation is as stress-free as possible with all of our products, but this doesn't mean there aren't some factors to consider when deciding on your steel building purchase. Please keep reading to learn more about some of Pennsylvania's most important considerations for our customers.
Drainage is a Key Consideration for Metal Building Longevity
With each passing year, more records are being broken for the wettest year in PA state history. With that in mind, it's imperative to consider how you will keep all that rainfall away from your carport.
If you fail to equip your carport with the means to direct water away from the structure safely, standing water can become a natural hazard – from slips, trips, and falls to mold and dampness, and even potential foundation and structural damage.
Firstly, your choice of location for the installation of your carport is the most important decision you'll make. The optimum position features a downward slope for natural water runoff on at least one side.
On top of this, if available, you'll want to install permanent guttering from the roof to the ground level, with the pipes directly leading to storm drains or sewers. If you have no access to municipal drain systems, you should, at the very least, ensure that runoff leads downhill and away from your metal building.
Temperature Regulation Inside Your Metal Building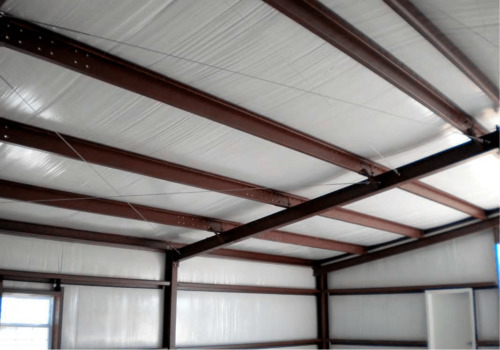 Pennsylvania is an actual four-season state, with mild and temperate springs and falls, hot summers, and cold winters. If you're planning to take advantage of one of our buildings for your business and plan to have employees working inside, you'll need to consider keeping temperatures within OSHA guidelines for worker comfort all year round.
We can insulate our fully enclosed metal buildings with fiberglass sheets or spray foam for ultimate thermal efficiency. Once the insulation is installed, you can also set up a whole HVAC system. This will keep temperatures warm when it's cold and cool when the mercury rises.
Metal Carport Roofs Made for Heavy Snow Loads
Snowfall across PA is particularly heavy in the winter, and the real advantage of metal buildings over wooden carports is their ability to withstand heavy snow loads. Please note that even with metal buildings, some are more readily able to cope with copious amounts of snow than others.
Part of the customization we offer with our metal buildings is the ability to choose different roof styles. We provide standard horizontal, A-frame horizontal, and A-frame vertical roof styles. We recommend A-frame vertical roof style when designing a metal building to cope with heavy snow. Vertical frame roofs are built with flush ends, a ridge cap, and trim on all four eaves.
A vertical frame roofs have side-to-side ridges incorporated into its design. This allows snow to run off easily on its own. The more able the snow is to slide off; naturally, the less dangerous accumulation occurs on your roof.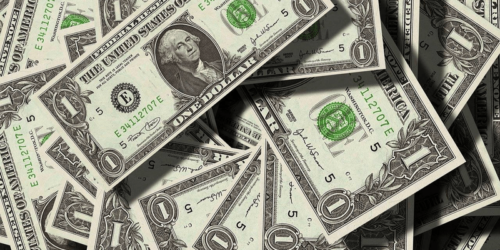 Here at Steel and Stud, we're incredibly proud of our products. Our metal carports and steel buildings in Pennsylvania are of the finest quality you'll find anywhere in the country. Not only this, but we're also proud of our top-notch customer service. A big part of our product is our commitment to ship and install the carports we sell for free,
From Florida to California, to Washington to Maine. You still get the same top-quality service, no matter where you want your carport kits delivered or installed.
We always recommend starting with our 3D garage builder tool to get an initial look at what your metal carport will look like. Our proprietary tool will show you a rendering of your design once you've picked your dimensions and equipped your doors and windows. Play around with your design until you've got the perfect setup and then simply add it to the cart.
Once you're ready to check out, we'll ask for a small deposit of 10%. The rest of the payment isn't due until the installation team arrives to set up your carport. Shortly after your down payment, we will contact you to set up a date for your installation. Once that's taken care of, relax, and wait for our amazing builders to work on your new metal building.
| Dimensions | Metal Carport Cost* | Steel Building Cost* |
| --- | --- | --- |
| | | |
| | | |
| | | |
| | | |
| | | |
*Pennsylvania Metal building Prices based on standard features, including 7-foot leg height, roof style, and frame gauge thickness. Steel building estimates include one walk-in door and one roll-up door.
Permitting and Land Usage of Metal Buildings in Pennsylvania
Because of the vast number of possible uses for our metal buildings, we've seen a huge rise in demand for our products in PA. Compared to any other type of carport, our metal buildings are much faster to build and much cheaper to produce, and we pass these savings on to you.
Bear in mind that metal buildings and carports, although easy to buy and simple to build, are subject to many, if not all, of the same code and regulatory requirements as brick buildings and garages.
These rules are strictly enforced across PA and require thorough research and due diligence. The good news is that the information is not difficult to find, and the process for permit applications is generally straightforward. However, your specific use (residential or business) will impact your required permit.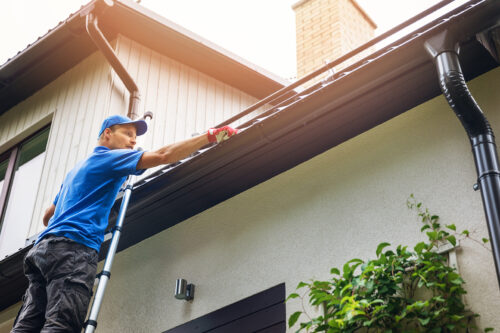 After you've applied for and been granted the required permits, your metal building project can usually begin immediately.
PA has a Uniform Construction Code, which helps keep things simple. We've included a link to the Pennsylvania UCC to point you in the right direction.
We understand that making a choice when it comes to your carport dealer can be a daunting task. Our mission is to simplify the process and provide you with a transparent and enjoyable purchasing experience. Steel and Stud have been in the business for 10-plus years, and we have thousands of happy residential clients to back this up!
Our metal building solutions offer much more than a place to keep your cars, boats, and other vehicles. Our products can be set up as home workshops, perfect for automotive hobbyists and amateur carpenters; we've even seen our metal buildings used as art studios.
We sell metal building kits and garages in Pennsylvania for cars, boats, and RVs across the State, including Carports Discount Pricing in these PA areas
Adams, Allegheny, Armstrong, Beaver, Bedford, Berks, Blair, Bradford, Bucks, Butler, Cambria, Cameron, Carbon, Centre, Chester, Clarion, Clearfield, Clinton, Columbia, Crawford, Cumberland, Dauphin, Delaware, Elk, Erie, Fayette, Forest, Franklin, Fulton, Greene, Huntingdon, Indiana, Jefferson, Juniata, Lackawanna, Lancaster, Lawrence, Lebanon, Lehigh, Luzerne, Lycoming, McKean, Mercer, Mifflin, Monroe, Montgomery, Montour, Northampton, Northumberland, Perry, Philadelphia, Pike, Potter, Schuylkill, Snyder, Somerset, Sullivan, Susquehanna, Tioga, Union, Venango, Warren, Washington, Wayne, Westmoreland, Wyoming, York