When you have horses, you need a place to keep them. A metal horse barn is a perfect solution for an animal lover who wants to keep their horses close without too much space.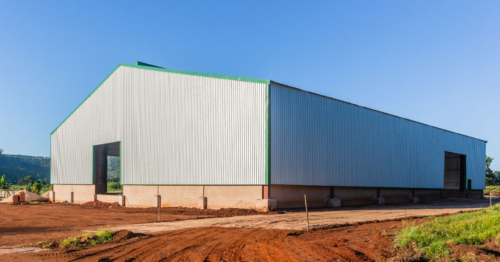 A horse barn is an important structure on any farm or ranch.
It provides shelter for horses and other livestock, protects them from the elements, and keeps them safe from predators. A well-built horse barn can add value to your property and be a source of pride for your family.
You won't need to spend too much money to get a high-quality, durable barn. Metal horse barns are a great option for those who want an affordable, reliable, and stylish barn for their horses. Horse stables are also cheaper than metal carports.
This blog post will discuss the benefits of having a metal carport horse barn and how to construct one. So if you're thinking about adding a horse stable to your property, keep reading!
A metal horse barn is a shelter specifically designed to protect horses from the weather. It has a roof and sides extending out over the horses, shielding them from the wind, rain, and snow. Many also include a front porch area where the horses can be fed and watered.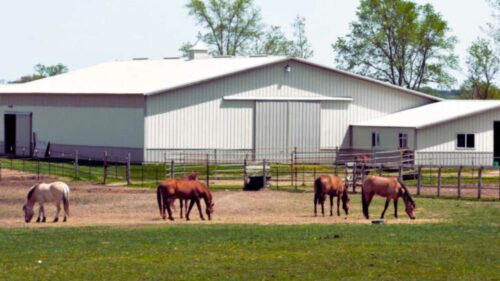 Horse steel barns are a popular choice for horse owners because they are affordable, easy to assemble, and provide good protection from the elements. They are also often favored over traditional barns because they take up less space and allow the horses to stay out in the fresh air and sun.
Benefits and Importance of Carport Horse Barns
A

carport

horse shelter offers sanctuary to your equines from unpredictable mother nature's elements. For instance, if rain or snow storms pour down heavily, the carport horse stalls act as a cosy space to keep them away from wetness.

If you own a horse, it might have sustained an injury. And it doesn't matter how safe your pastures are; still, horses get up being injured, and that's excatly where barns come into play as they provide a healing space.

A

barn-style

carport is also valuable for grooming your horses to ensure they remain clean before competition.

We know that horses are born to live an active lifestyle, and a horse barn made from a carport allows them to explore the pastures whenever they require freely and come to rest and recuperate.

A metal horse stable is an affordable option for any horse owner. They're less expensive than traditional wooden barns and easier to assemble and disassemble.
Why You Should Buy Carport Horse Barn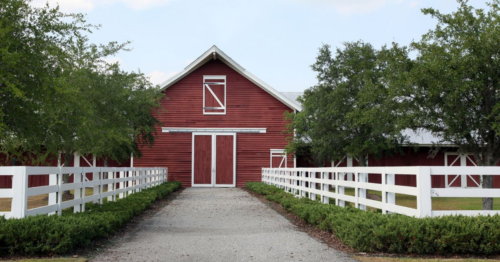 When you buy a horse stable, you get a product made of the highest quality materials. Steel carports are made of 14-gauge steel, much stronger than the standard 26-gauge steel used in most carports. This means that your carport can withstand high winds and heavy snow loads.
A metal carport provides a much more comfortable environment for your horses than an open barn or exposed shed. The metal carport will protect your horses from rain, snow, and wind and help keep them warm in cold weather. You can also use your carport for vehicle protection. And with our easy-to-assemble kits, you can have your new horse stable up in no time!
A metal horse house is a perfect option if you're looking for a durable, reliable horse stable with affordable prices. Order your new metal horse barn from Steel And Stud today!
Standard Size of Horse Barn
Horse barns come in all shapes and sizes, but some general guidelines can help you figure out what size is right for you.
The first thing to consider is the purpose of the barn. If you're just looking for a basic shelter to protect your horses from the elements, then a smaller barn-like 12×12 or 10×10 will do the trick. However, if you're looking to store hay and equipment or use the barn for other purposes, then you'll need something larger like 24×48.
Another thing to consider is the number of horses you have. A good rule is that each horse needs about 10-12 square feet of space inside the barn. So, if you have two horses, you'll need a barn of at least 20-24 square feet. And if you have four horses, you'll need a barn of at least 40-48 square feet.
Once you've considered the purpose and size of the barn, you can start to look at specific plans. Here are some other sizes for metal horse barns with cost and features:
| Size | Features | Price |
| --- | --- | --- |
| | It can accommodate two horses and gives an additional storage area. | |
| | It provides 3 full stalls and a tack room. | |
| | It provides 4 full stalls, a wash stall, and a tack room. | |
| | It provides 8 full stalls, a wash stall, and a tack room. | |
| | It provides 4-5 full stalls, a wash stall, and a tack room. | |
Design And Construction of Carport Horse Barns
At a glance, you might not see designing a complex task, but in actuality, there are endless minor considerations that you need to think about before constructing carport house barns:
One of the most important considerations is selecting the optimal materials that can strike the balance between its purchases and maintenance costs. Most horse owners prefer metal, brick, concrete, roofing, and insulation materials.
Choosing The Right Location For The Carport Horse Barn
Does your area allow you to build the metal house carport shelter? Is there any restriction based on the size you opt for? It's always important to align with your zoning regulation before erecting your horse barn.
Some additional considerations
Fire

is a major concern when it comes to barns. Make sure you protect your wires with rodent-proof metal.

Install enough outlets.

Go for a lightning rod.

Use solar panels and a rainwater-harvesting system.
Customizations options for Carport Horse Barn
Carport Horse Barns can be custom-made to fit your specific needs. You can choose the size, shape, and height of your barn, as well as the color and materials used.
Moreover, you can also choose to add to your horse stable:
Roof Style

: If you live in an area with a lot of snowfall, you might want to consider a barn with a pitched roof so that the snow will slide off instead of accumulating. You can also choose between a regular metal roof or a galvanized steel roof, which will better protect your horses from the elements.
Barn Type: You can choose between these barn roof style which is a gable-roof barn or an A-frame barn. The gable-roof barn is the more traditional option and is well-suited for larger horse barns. The A-frame barn is a more modern option that's becoming increasingly popular and ideal for smaller horse barns.
Height/Width: The standard height for a horse stable is 12 feet, but you can choose to have your barn made taller or shorter to accommodate your needs. You can also choose to have your barn made wider or narrower. The standard width for a horse stable is 24 feet, but you can opt for a wider barn if you need more space.
Additional Options: You can also choose to add on additional features, such as windows, gable ends, insulation, J-trim, extra bows, trusses, skylights, favorite colors, or vents, to your horse barn.
These features can help improve airflow and make your horse's barn more comfortable. No matter what your specific needs are,
"Steel And Stud" can create a custom metal carport horse stable that's perfect for you and your horses. We use only the highest-quality materials to ensure that your barn will last for many years, and our experienced team can help you design the perfect barn for your needs.
Features and Accessories of Carport Horse Barns
Steel And Stud's experts recommend never go with a small stall size, as you don't want to be with this unruly animal. So it's recommended to go with a

12'X12′ size

, which makes it comfortable for the horse to walk and turn around so that the unreached spots of the horse can be cleaned.
Feeding And Watering Systems
If you want your equine to have proper weight management, try installing

automatic feeders

in your horse barn carport to give them a proportioned meal.
Tack Room And Storage Space
Whenever you include a tack room, ensure it's adequately positioned (within the overall layout) and must be apart from the carport horse barn.
Lighting And Ventilation Systems
Adequate

metal building ventilation

systems are necessary to avoid stagnant air becoming a breeding ground for pollutants.

Go for multiple installations by including ceiling and portable fans on (top of) the natural ventilation system (

windows

).

Also, include natural lights to help you lower your heating and cooling costs.
Flooring Options For Horse Stalls And Aisles
Try incorporating

concrete

slabs; although they are expensive, they provide durability, which works well when you're scrubbing your horses.
Wash Rack And Grooming Areas
Here are some pointers you need to consider:
Ensure the location of rack and grooming areas is ideal, which can easily be reached out to by both horses and hostlers.

Go for non-slipping flooring like Equi-Turf.

Ensure you have adequately designated shelves

and cabinets to store your grooming tools.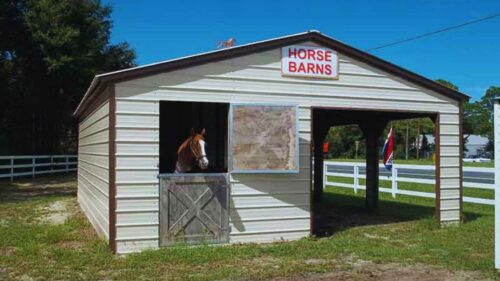 A metal horse barn offers so many possibilities! Not only does it shield horses from the scorching sun, pouring rain, freezing snow, and strong winds, but it's also incredibly versatile. You can use it as a convenient outdoor storage shed to keep your hay, straw, saddles, and other horse-related gear safe and organized. And here's the best part: it can even double as a fantastic workshop or garage where you can tinker away, repairing and maintaining all your precious horse equipment. Isn't that just amazing?
Moreover, there are more uses for a horse stable, including:
Metal carport horse barns are the perfect solution for keeping your horses clean and dry. They provide a large, enclosed area where your horses can stay out of the weather, and the metal construction ensures that your horses will be protected from the wind and rain.
You can also use a horse stable to store hay and straw, so your horses will always have access to food and bedding. A horse stable is a piece of essential equipment for any horse owner.
A metal horse barn can be used as a workshop if you need a place to repair and maintain your horse-related equipment. You can use the barn to store tools and supplies, and you'll have plenty of space to work on your equipment.
Metal horse barns can also be used as storage buildings for horse-related equipment. If you have a lot of hay and straw, you can store it in the barn to keep it dry and out of the weather.
Maintenance and Upkeep of Carport Horse Barns
Here are some pointers that may help you preserve the quality of your carport horse stalls:
Start by keeping your carport

horse stalls ventilated

by installing ceiling fans (make sure it has at least 12 feet of clearance) to extract moist and dusty air to shield your equines from mold and respiratory crises.

Use rodent-proof containers to ensure your equine's heaven is free from rats.

Make sure the saddles are stored appropriately in your carport horse barns.

Try to improve your horse feed storage to protect them from the elements.

It's crucial to keep your horse stalls moisture-free. Why? Because if you neglect this task, it can jeopardise your equine's life by exposing them to bacterial disease.

Never install electric sockets near water outlets.
If you're interested in one of our custom metal barns or other metal buildings, don't hesitate to call one of our friendly, perfect metal building specialists at 1-877-275-7048.
We can help you choose the perfect metal barn for your needs and budget, and we offer various financing options to make your purchase more affordable.
Give us a call today, and we'll help you get started on your new horse barn!
FAQs Related to Metal Horse Barn
What are the advantages of using a carport horse barn for horse care and management?
Metal carport horse barns have incredible durability.

Metal carport horse shelter provides a safe environment for equine.

It requires minimal maintenance.
What materials are commonly used in the construction of carport horse barns?
The most frequently used materials in the construction of carport horse barns are:
Wood

Concrete

Metal

Brick

Gravel

Popcorn asphalt

Rubber mats

Crushed stones

Stalls mats

Dirt
How much space do I need to build a carport horse barn for my horses?
Here's how you can calculate the space required to build a metal carport horse barn:
If your horse weighs more than or equal to 1000 lbs, then the standard recommended size is 12'X12′. If the size of your horses is small, go for 10'X12′.
How can I choose the right contractor to build my carport horse barn?
The best way to prefer the right contractor is through word of mouth, testimonials for his work, portfolios, and paying attention to their communication. You can also dive into our client's testimonials.
Are carport horse barns safe and secure for my horses?
Yes, carport horse shelters/barns are safe and secure for your horses.
Are there any specific zoning or building codes I need to be aware of when building a carport horse barn?
If you're planning to build a carport horse barn, please check out this pdf on zoning districts and standards provided by Quality Code Publishing to learn more about zoning & building codes.
Are there any financing options available for building a carport horse barn?