A carport gym is fundamentally a carport that encloses a gym or, say, a collection of exercise equipment inside it. Carport gyms are an excellent solution for everybody who doesn't have the space or money to get them installed inside houses.
Moreover, are you returning late from work, and going to the gym feels like a burden you cannot take? Now you have an affordable solution within your house, your very own home gym.
But converting your existing carport into a gym is no child's play. It would be best to consider various factors like privacy, bad weather, durability, etc.
Therefore this article talks about everything related to carport gyms, from carport gym ideas to their affordability.
Now that we have decided to convert our carport into a home gym, here are some essential modifications you must do before you start a workout in it.
You don't necessarily need a solid wall in your carport gym. However, reinforcing at least one of the sides is a good idea because it can serve you to hang some of your exercise equipment. And for that, the wall needs to be strong enough.
But an essential point here is to take the required permissions from the local county office. Often building a solid structure like a garage or filling in the sides of a carport can require a building permit.
Alternatively, if your carport roof hangs from the house side, you can instead use the house wall to hang the heavy equipment.
Similarly, if your carport is constructed beside the garage, you can use its sides for the equipment, given the side is sheltered by the carport roof. However, if your carport gym is in front of the garage, please consider whether the gym equipment is blocking the garage doors. If yes, you would better use the garage for the gym rather than the carport.
Lastly, you can hang a tarp or a side material from the roof or supports for weatherproofing from elements and giving some privacy. Also, these will need to be removable.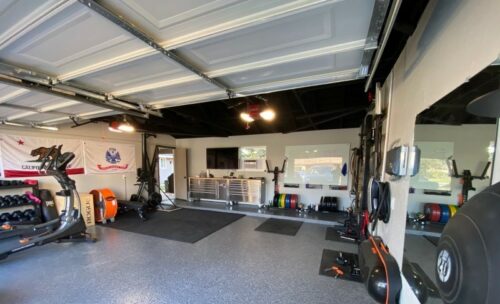 Flooring should be sturdy enough to bear the weight of your equipment and the car. Ideally, carports are constructed over concrete or even reinforced concrete floors. But it is perfectly fine to build them over compacted shingle on earth.
Whatever your case, giving support to your floor through a rubber mat or rubber tiles is a good idea. This small step will make the floor sturdy and easier to clean.
A popular pocket-friendly choice here is rubber horse stall mats. These are sturdy enough to take you exercising and the to and fro of the car. Also, they are soft enough to feel underfoot while exercising.
The roof is another critical part of your carport gym. It must be sturdy enough to hold the equipment you wish to hang from it like a pull-up bar.
But if you are unsure whether the roof can take it or not, consider a power rack or use a solid wall.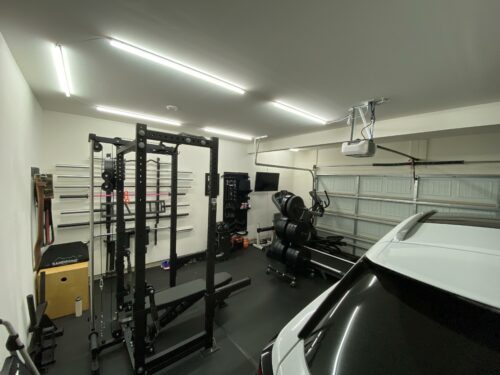 Lighting is essential, especially if you plan to work out at night. Thus, you must consider adding extra lighting to your carport gym.
So, this was all about the various modifications you could do with your carport gym. But carport gyms are not always covered from the sides. Thus are vulnerable to bad weather.
Let's see how to deal with bad weather in a carport gym.
How To Make Your Carport Gym Comfortable In Bad Weather
Protecting your home gym and its equipment from inclement weather is a priority. Different weather conditions demand different measures.
Rains: In case the carport is not yet covered, cover the sides of your carport with a tarp or canopy. Another measure can be to add some windbreakers down each side.
Winters: Dress accordingly. Employ heaters. And add insulation to the door, ceiling, and sides.
Summers: First of all, dress accordingly. Use air conditioners. And again, use enough insulation on the sides, ceiling, etc., to keep the insides of the garage gym cooler.
An additional tip is to use rubber flooring. Whether you have horse stall mats or any other custom-made flooring for your home gym, rubber is hands down the best insulation whatsoever.
How Much Space Do You Need To Create A Garage Gym
A standard home gym measures around 100 sq. ft., about 10×10 feet: such a home gym can contain a squat rack, a barbell, plates, and a bench comfortably while giving you enough space for walking around and lifting comfortably.
You can as well build a 50×60 sq. ft. big garage gym. But that home gym will only include a bench, some dumbbells, or a treadmill.
However, carport gyms can be as big as 500 sq. ft. depending on the size and number of equipment you have.
You must also factor in whether you need to make space for your car in it or not.
What Equipment Do You Require In A Home Gym?
The exercise equipment you choose depends on your personal preference and your workout regimen. Generally, one must invest in cardio equipment like a skipping rope and, if your budget permits, a stationary bike or a treadmill.
But for more strength training and other exercises, here is a complete list of equipment you can purchase for your carport gym safely.
1. Battle Ropes
Battle ropes, aka heavy ropes, are the pretty inexpensive and thus perfect equipment for a home gym. Plus, it tones your muscles better than any other gym machine.
They work your muscles in the back, body, and glutes, and when incorporated with movements like squats, lunges, and jumps, they can work your legs too.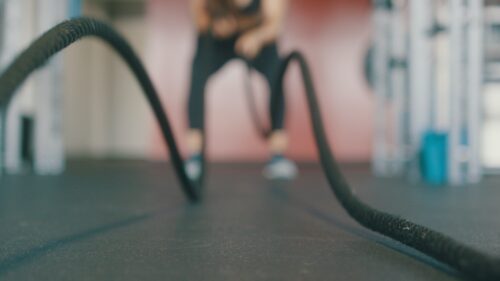 2. Tires
Tires are equipment you cannot get bored of. There are so many variations. And since the exercises use each muscle with the option to pay attention to a single area.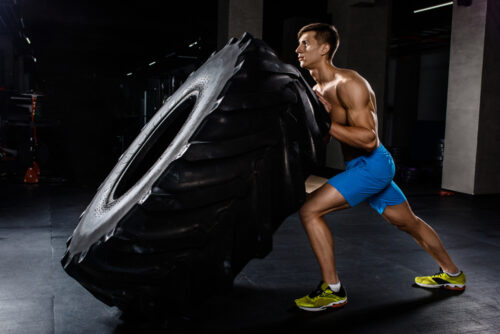 3. Barbells And Dumbbells Weight Set
Have you seen a gym without barbells or dumbbells? And why not? They tone your hands, chest, triceps, back, and shoulder muscles without hurting your pocket. They are cheaper than those complicated combination machines.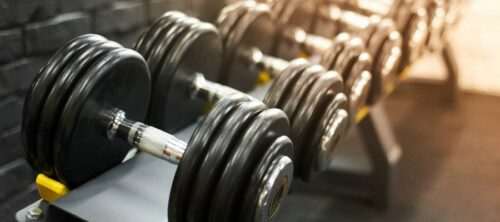 4. Yoga Mat
Fitness is not only about building muscles and body toning. It's also about a healthy mind. And yoga mats help you achieve that.
Furthermore, yoga mats can also be used for floor exercises like ab workouts and planks.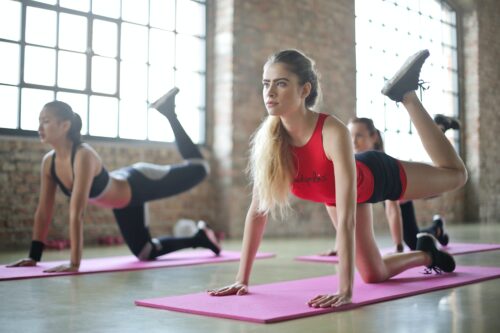 5. Punching Bag
The punching bag is not only a boxer's cup of tea. But it is an excellent core exercise for everybody.
But do take care of choosing a good pair of gloves.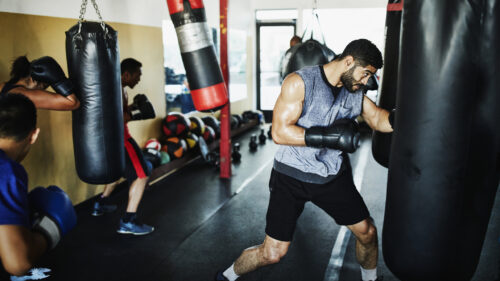 6. Marking Cones
Marking cones cost almost nothing but can be used unlimitedly to create CrossFit exercise regimens. Need inspiration? Try Youtube. It's full of great ideas.
7. Agility Ladder
An agility ladder converts your garage gym into a complete fitness center. It doesn't cost you much money. But it can be used in high-intensity workouts like sideways shuffles and other drills you do up and below the ladder.
Mainly used by pro athletes, it can now be your prized possession in your garage gym.
So, these were the most popular gym equipment for exercise. So, next, let's discuss the aesthetics.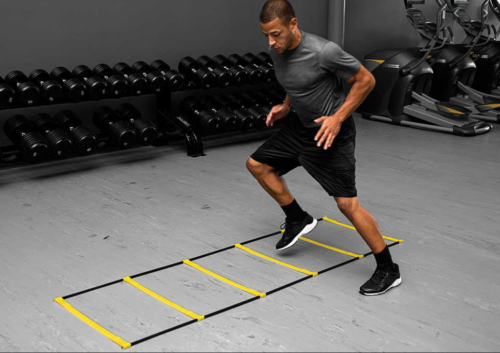 How Do I Make My Garage Gym Look Good?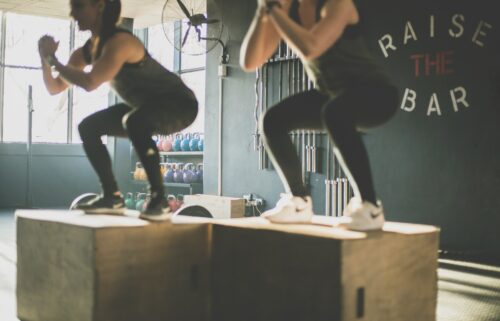 It is one of the most prominent queries because carports are usually not a very attractive space.
So what can you do?
Well, the answer is that most are colorless and dark rooms. Below are a few steps to pep up your garages.
Good Lighting: Most carport and garage gyms are windowless. Thus adequate lighting can turn around the entire space.
You can opt for an LED lighting option that mimics daylight like an LED panel light. Believe it. You will have a much more fruitful workout in good lighting.
Suitable Flooring: A lovely floor can work wonders for your garage gym. And you need not worry about how well the floor matches the room's rest.
Thus, go for a colorful floor with your choice of colors and admire the new appealing gym.
Storage Lockers: Storage lockers can uplift your garage gym look. Open shelves may be more straightforward, but purpose-built storage lockers will deliver and make the space look more professional.
How Much Will A Carport Gym Cost?
If you have an existing garage or carport, converting it into a home gym will cost anywhere between $100-$500.
Next is the cost of equipment. This will depend on your choice of machines and equipment. Essential equipment can come within $500-$700. However, expensive equipment can skyrocket to up to $2,000.
Wondering how to stock up your home gym within the $500 mark? Here's how:
Undoubtedly you can convert your existing carport into a carport gym, but in case you want to add electric wiring or insulation to your carport. Or do similar complicated work. You need the help of a professional. Steel and Stud is only a call away.
Give our customer representatives a call; they will guide you with the local permits and handhold you with the construction process. Steel and Stid deliver all materials and kits for constructing a carport gym. And the installation process and shipping are free!
Here, our unwavering focus is on your needs, convenience, and service.
Explore our carports and other services on our website!