The metal two car garage is an excellent addition to any home, regardless of its style or design. Not only does it offer a safe place to store your car, but it also provides extra storage space as well. You can use it to store tools and other items you may need for your job or hobby.
Metal garages are a great investment for anyone who has a car and wants to keep it safe from the elements. These structures are made from durable materials that help protect your vehicle from damage caused by the sun, rain, and other weather conditions.
There are many different designs available for metal garages, including single-car metal garage kits, double-car metal garages, triple-car metal garages, and more! If you have a larger vehicle than a standard car, these larger-sized kits will work perfectly for you! You may choose between having your metal garage painted or left unpainted so you can add your personal touch to it!
Metal garages are also easy to assemble and do not require professional assistance for installation purposes. Read on to find out more about a metal 2 car garage:
Metal 2 Car Garage is a metal garage made of high-quality materials to ensure durability and safety. It has a sturdy construction that can resist any kind of weather conditions. The metal garage also provides protection from insects and other animals.
You can use this metal garage as a storage space for your cars or as a metal shed. The product also comes with an attractive design that will enhance the beauty of your home's exterior. It is available in different sizes and colors so you can choose the one that suits your needs best.
The metal two-car garage is the perfect choice for a classic look that is both durable and practical. At Steel and Stud, our metal garages are made to last, with high-quality materials and construction. These garages are also easy to install and maintain, making them great for almost any homeowner. We have a wide variety of styles available in our metal garage collection, so you can choose the one that best suits your needs.
Whether you're looking for a two car garage with an attached workshop or an open-style metal garage with stalls for cars, we have what you need. Our metal garages come in several sizes and styles to accommodate your specific needs. If you need additional space for storage or parking, we also offer larger models that can fit multiple vehicles or other large objects such as boats or RVs.
Dimension of Metal 2 Car Garage
The next question people ask is what are the different dimension of Two car metal garage or how wide is a metal two car garage. The answer to this question depends on where you live and what building codes are in your area. In most places in America, there are building codes that dictate how wide a two car garage can be built based on the size of the lot where it sits. In some areas, these codes allow a width of 16 feet, while others may allow 20 feet or more depending on what type of lot it sits on and who owns it.
The metal two car garage is available in different sizes, so you can choose one that will fit your needs perfectly.
They come in sizes such as 12×12, 12×16 and 16×20 garage, just to name a few examples of the size options available. If you are looking for something bigger than these sizes, there are also larger sizes available, such as 20×20 metal garage and 24×24 metal garage just to name a few more examples!
However, the average size of 2 car metal garages is a minimum of 20 feet or a maximum of 24 feet wide by a minimum of 21 feet long. But the actual dimensions will vary based on the brand and model. A typical size for a metal two car garage is 24 ft wide by 24 ft long with a 9 ft minimum height.
Possible Applications For Metal 2 Car Garages
Garages are an important part of any home. They're where you store your car, tools, and lawn mower, or even as extra space for storage. But what are some of its applications?
The most common use for steel garages is storing cars and other vehicles. It is especially true if you have more than one vehicle. In fact, some people only have a garage because they want to store their cars in one place instead of having them parked outside the house. When used this way, a two car metal garage can be convenient and beneficial.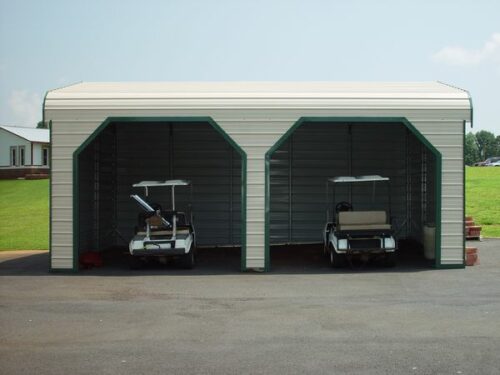 If you like to work on cars or other projects around the house but don't have enough space in your home, then a workshop may be right for you. You can also use it as a place to store tools and equipment so that everything is in one place when you need it later. This can make it much easier for you when working on projects around the house or doing maintenance work on your vehicle(s).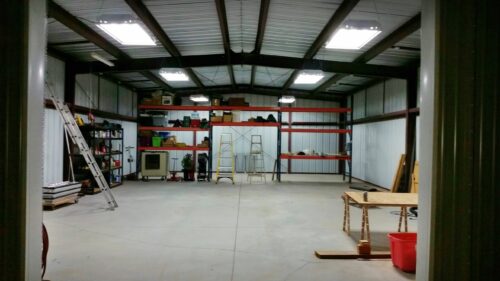 Another popular option when considering what to do with a two car metal garage is turning it into an office space or work area. Many people will build their desks and furniture out of wood and work beside their vehicles comfortably.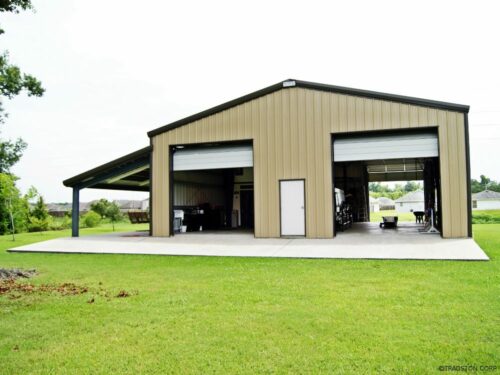 Your metal 2-car garage can prove to be an efficient guest house. The guest house has no huge door, and the garage perfectly caters to the needs. Furthermore, it has joints across, which makes it easier to expand in the future if you have more guests coming in.
The metal 2-car garage can be important in catering to the gaming and playroom area. They come with extra facilities, which enable them to add extra amenities and facilities. You can easily convert the metal 2-car garage to a gaming room or playroom for kids using the relevant kits.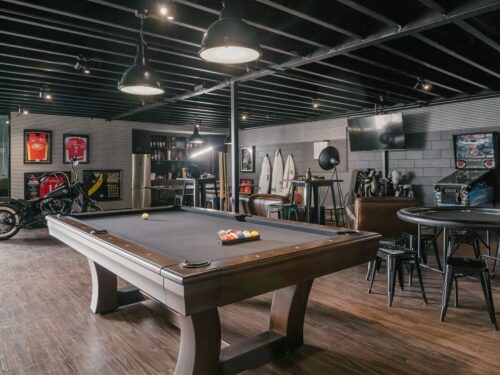 Having an entertainment area in your house is no less than a luxury. The metal 2 car garages can be easily converted into entertainment areas. This will play an important role in ensuring better ideals. Furthermore, they are easy to build.
If you have a pool at home, this is an ideal place for entertaining guests during weekends and holidays. You can transform this area into a barbecue area and serve refreshments while enjoying the view of the pool and pool accessories. It is also good for storing all the equipment you might need when cleaning up after using or maintaining your swimming pool.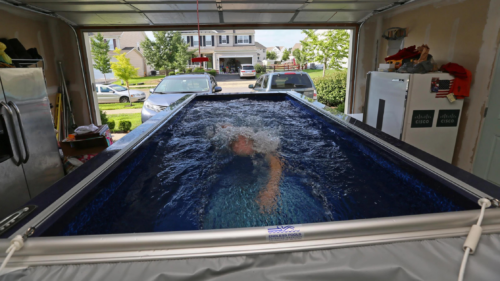 Two car metal garages are a great choice for an outdoor utility building because they are strong, durable, and affordable. The metal frame is made from galvanized steel that resists rust and corrosion. The metal roof is designed to withstand high winds and even snow loads. The metal siding is also very sturdy to protect your tools and equipment from the elements.
Metal 2 car garages by Steel and Stud are well suited to hold your lawn mower, leaf blower, weed eater or other lawn maintenance equipment during winter when they won't be in use. A utility building can also be used to store firewood or any other items you want out of the weather.
Available Roof Styles For Metal 2 Car Garage
Metal roofing is a great choice for your garage. This material is durable, weather-resistant, and energy efficient. It also comes in a wide range of styles and colors, which means you have many options when it comes to choosing the best types of metal roof for your garage.
Here are some of the most common roof styles for metal two-car garages:
A regular roof is the most common style and covers the entire garage. It's usually made with galvanized steel or aluminum and comes in a wide range of colors and textures. This style provides a classic look that fits well with any home's exterior.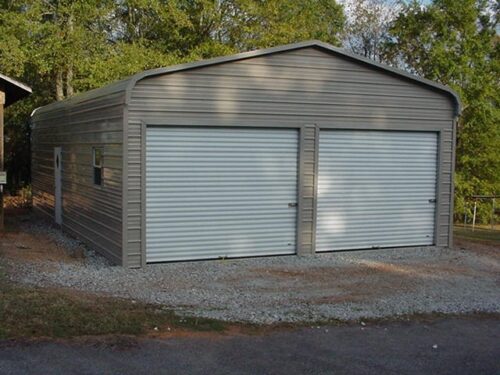 An A-frame roof has two sloping sides that come together at an angle to create a point. This type of design is used on two car garages, and it makes them easier to use as storage space or even as a workshop area. The A-frame roof also provides more headroom than other structures, which makes it ideal for tall cars such as SUVs and vans.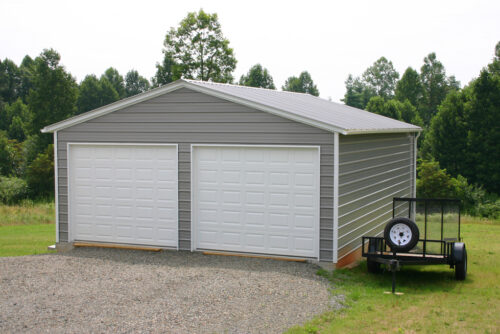 Another type of metal roofing is called vertical because it has vertical panels that go up all sides of your garage. This type of metal roofing is great because it provides more protection than other styles while still allowing plenty of sunlight inside your garage or workshop at all times during the day or night.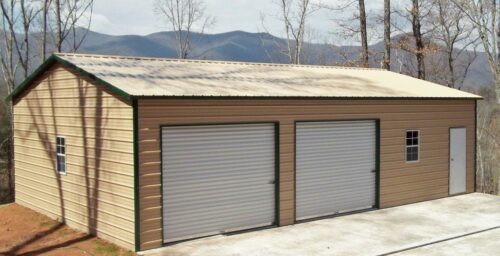 Advantages of Metal 2 Car Garages
A 2 car metal garage is a great way to increase your property's value and provide extra storage space. Metal garage kits can be put together in a matter of hours and provide a sturdy, reliable structure that will last for years.
Metal garages have advantages over other structures, making them more appealing to homeowners. These include:
Metal garages can last for decades without showing any signs of wear. The metal is strong enough to support large vehicles without bending or cracking under pressure.
Fire is one of the greatest dangers to homes and their contents, but metal garages offer better protection from fires than any other type of structure. Since metal does not burn easily, it offers excellent fire resistance and will not allow flames to spread quickly through the building as wood does.
Require little maintenance
A 2 car metal garage does not need much attention beyond the regular cleaning and maintenance work that all buildings need from time to time. You only need to paint them if they get scratched or dented over time; otherwise, you won't need much more than that!
While metal may cost more than some materials initially, it's usually much less expensive than its counterparts over time. The low maintenance costs mean that you'll save money every month on upkeep expenses such as repainting or repairing wood surfaces or painting vinyl siding when it starts chipping away due to wear and tear.
Standard Size And Cost Of Metal 2 Car Garage
There are several factors that determine the cost of a metal garage. The size of these durable structures and what kind of material you want them made from are two important factors that will affect the price of your garage.
2 Car Garages Standard Sizes
The most common size for a two car garage is 20'W X 24'L. It will give you enough room to park two cars and have space for some storage. If you have a pickup truck or SUV, it may not fit in a two car garage. You can get away with this size if you live in an area that does not get much snow or rain. In areas with harsh weather, you would need a larger two car garage.
Cost To Build A Metal 2 Car Garage
The cost to build your own metal two car garage will depend on what type of materials you use and where you live. For example, if you live near the manufacturer, the labor cost will be higher than if you live further. At the same time, materials prices may be similar due to delivery and installation costs. The final cost ranges from $15625-$38571 depending on factors such as size and location.
Steel And Stud Has Your Dream Metal 2 Car Garage
Are you looking to make your dream garage come true? Steel and Stud have got you covered. We specialize in steel building construction, so we'll work with you to create the perfect metal structure for your needs. We offer a wide range of metal building options, including garage buildings.
Whether you want a garage that can hold a few cars or one that can accommodate several vehicles, we have the perfect solution. Our metal garages are available in various sizes, shapes, colors, and styles to fit your specific requirements.
We are the leading manufacturer in the metal building industry and have plenty of garages for sale. If you need a two-car metal garage, don't wait anymore; contact us today!
Our team of professionals will help you with the design, construction, and installation of the perfect metal two-car garage for your home or business.
FAQs Related to Metal 2 Car Garage
What are the benefits of Metal Garage?
Having a metal garage can be beneficial in various ways. Some of the major perks of installing the metal garage are as follows:
These provide a huge design flexibility. 

The metal garages are convenient and easy to install. 

Having a metal garage is far more pocket-friendly than the usual one. 

Metal garages require less maintenance.
Tips on maintaining and caring for a metal 2 Car garage?
Some of the prominent tips to maintain and care for your metal 2-car garage are as follows:
If there are any minor issues, make sure to tackle them immediately. 

There are chances that the metal 2 car may have some damage due to dirt. Thus, it is advisable to repair it immediately. 

You must clean your metal 2-car garage regularly. 

If your area is prone to massive rain and snow, you must prepare the metal 2 car garage to manage the harsh weather conditions.
What is the installation process for the Metal 2 car garage?
You must follow the steps below to install the metal 2-car garage:
The first step is to level the foundation. 

You must get the approval regarding the

building codes

and approval from the authorities. 

The next step is to build the frame and assemble the buildings. 

You must install the sheathing and metal building roofs. 

Install the metal building windows and doors. 

After all, add the final touches.