Metal buildings are some of the most adaptable options on the market because they can be transformed to serve any purpose. Around 60% of all steel production globally is used for construction purposes.
When planning a metal building project, it's important to consider the three key dimensions: height, length, and width. This will save you time and energy in the long run. 
In this article, we'll discuss how to measure metal building height, how to build a two-story building, and much more. Let's get started!
Metal buildings, in general, are one or two-story "low-rise" buildings and the majority of them come 12-20 feet in height. But this measurement of 12-20ft height isn't that fixed. If you want to expand the height for your standard range building, it can go up to 40ft.  
There are two other significant factors that you must consider-
Leg height
Eave height
Leg height requires you to measure the size of items that you want to store inside your building. Because the center peak height can fluctuate depending on the leg height. 
And, the eave line is where the roof (roof line) and walls meet. So you have no way to overlook the eave height here. You must measure the eave height for the item's clearance you need to store. The horizontal distance, vertical distance, and sidewall columns are important here.
Usually, you're suggested to construct the eave height of your building at a minimum of 2 ft higher compared to the tallest frame opening.
Remember, the high height of commercial metal buildings requires additional concerns. You need to determine your building height based on your purpose. To do it accurately, ask yourself some "what if" questions, for example- "what if I raise the excavator arm for mechanical repairing purposes?" Or "what if I want to include a grain elevator or hay storage?"
So, consider the usage & purpose of your building and the way you leverage the building space to broaden your business. It will help you determine the accurate height of your metal buildings. 
Choose The Right Height For Your Metal Building
It's essential to choose the right height for your metal building. Because, having the wrong height measurement for a metal carport garage, or other industrial buildings can cause you to waste money and time. 
Think about what happens if the height of your building is too tall when you want it just tall enough to place your vehicle properly. Certainly Terrible! This wrong height measurement can render the building unusable. This is why you should choose the right height for your metal buildings.
How to Measure Steel Building Height
The height of metal buildings varies from type to type. The standard height of multi-story or single buildings is measured by local code. Therefore, you've to check out your local zoning code before you make an order for a metal building. 
Depending on your building style and type, you've to measure the steel building height. For instance, if you want to build an aircraft hanger, you've to measure it into a high roof structure. But, the standard height roof will be alright if it's a business office.
Generally, the height is estimated considering the building's peak which means the higher the roof pitch, the taller the building's peak will be. So, consider the height of the roof pitch before you finalize anything.
So, Just How Tall Can a Steel Building Be?
Well, there is no specific answer like how tall your building can be because you can choose the height according to your requirements. There are no maximum height restrictions which means you have got no limit on your building eave height.
Although the minimum height measurement comes to 12 ft while the maximum height can go up to 100ft in general. And, 40 ft is the standard eave height. 
What Do I Need to Know about Door Heights?
It is essential to determine the door size while picking the steel building height. You must determine the eave height at least 2 feet higher compared to the highest door height opening. For example, your building eave height should be 18 ft if you require a 16 ft tall door opening. 
How to Build a 2-Story Steel Building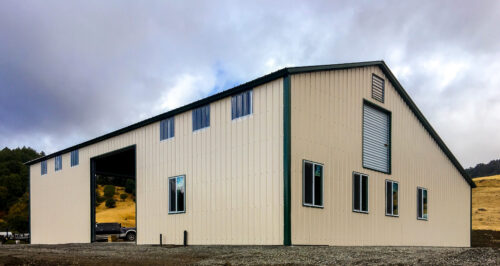 If these drawings meet the requirements of your 2-story building, the project managers will start fabricating the metal building kits. And, this is how you can proceed to build a 2-story building.
For a primary residence, the two-story buildings are highly accepted buildings. If you plan to build a 2-story steel building, contact a project manager of your zone and let him review the detail of your buildings. If the building layout is approved, he will make authorized engineered drawings. 
Steel And Stud Metal Building Sizes: Based on Your Needs
Metal buildings have become increasingly popular in recent years, due to their durability, flexibility, and low maintenance costs. And Steel and Stud can provide you with a custom metal building that is tailored to your specific needs. 
We can create metal buildings of any size or height, and our highly experienced team will work with you to ensure that your new building meets all of your requirements. Also,  our buildings are made with high-quality materials and construction methods, so you can be sure that your new building will last for years to come. 
Contact us today to learn more about our metal buildings and how we can help you create the perfect space for your needs.