The steel building costs usually range between $10 to $25 per square foot. The ballpark estimate for metal building concrete slab foundation costs from $4 to $8 per square foot, where owners spend between $5.35 to $6.17 per square foot or $113 to $126 per cubic yard for both materials and installation. But the cost per square foot can vary (be as low as $6 or as high as $120), depending on steel prices, the size and design of your building, the options you choose, and the customizations you choose.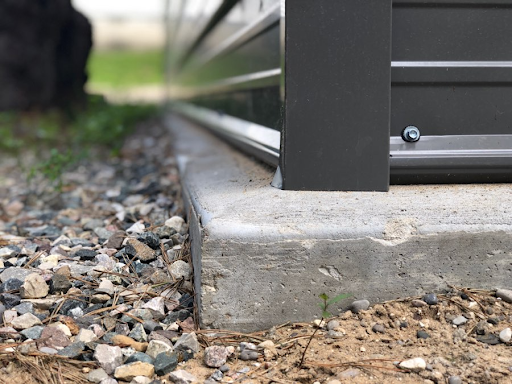 Just like any other material requires concrete for building foundations, steel structures also require concrete for metal building foundations. A concrete slab is ideal for a metal building with a solid and stable foundation. It will help your building last longer and provide a cleaner surface upon which to erect your steel building. It may seem like pouring a slab is a simple process. In fact, some people decide to take on this task themselves to prepare their site for the erection of a steel structure. But the truth is setting up concrete slab is a technical process and needs experts who understand the texture of the ground and the nature of steel buildings. Only then is a concrete base created that can withhold the steel building in harsh weather and natural calamities like earthquakes, heavy snow, high wind, etc.
Steel and Studs have been in the prefab metal building kits business for a long time and ship buildings to homeowners, government agencies, and commercial customers almost daily. We know the industry and provide industry-quality products at the most reasonable rates for the concrete foundation of metal building kits.
Pre-engineered metal buildings typically use one of three foundation systems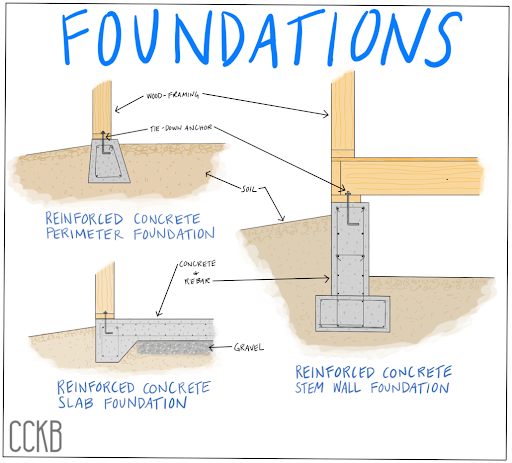 Let's review some primary foundation types
Often referred as "floating slabs" or "floating foundations" ,the average cost for a concrete slab can be assumed $6.60 per square foot depending on the slab's size and thickness. A finished slab may measure anywhere from 3-1/2″ and 5-1/2″ in thickness. It provides superior stability when the soil quality is poor.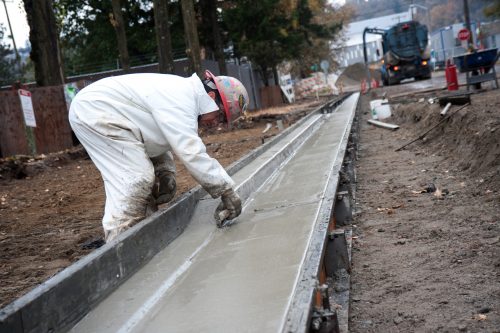 In this foundation, concrete is poured and reinforced around the perimeter where the structure will be installed. There is no concrete poured inside that perimeter. When construction starts on the main building, the walls are placed on the top of the curb. The footings are installed with the curb. If there are weight-bearing walls within the structure multiple curbs are included called "ribbon" foundations.
This foundation type could be good for you if you want to install a crawl space. It helps reduce costs over traditional basement design. This foundation type is unsuitable for areas prone to moisture and mold because a crawl space can create pest problems in such weather conditions.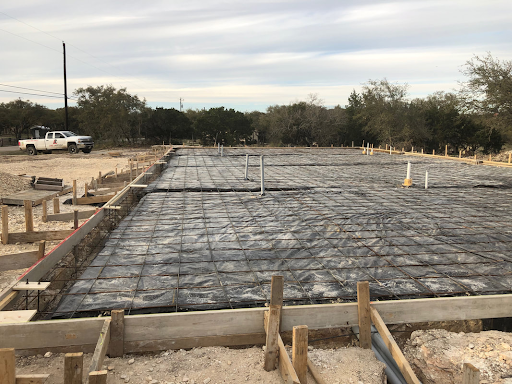 Floating Slab Foundation is a hybrid between a traditional slab and a curb design. Construction commences with the installation of a curb foundation. The builders pour the slab within the established perimeters once the curb and footings are in place. This foundation type is ideal when you want a slab foundation, but settling can result in damage. The hybrid design offers more "buffer" to the foundation that allows it to settle which compromises the structural integrity.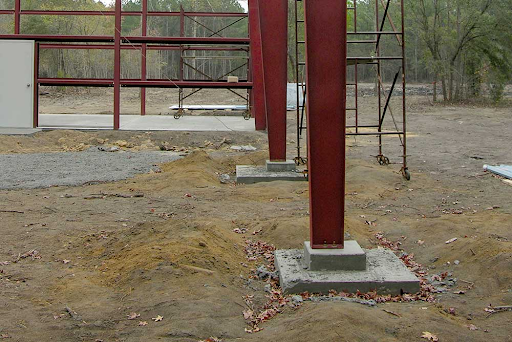 In this foundation, reinforced concrete piers are installed deep in the ground around the perimeter where the structure will be built. These piers support the building's vertical load. Builders integrate a grade beam wall to counteract horizontal load stresses. If your area has relatively dry, packed, stable soil and you're concerned about wind uplift, this kind of foundation might be right for you. Apart from the agricultural sector, people also use pier foundations for various other structures in diverse industries.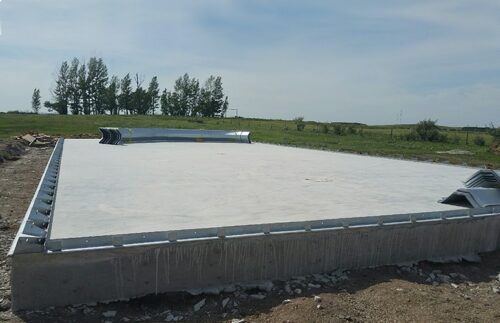 A portable foundation can be picked up and moved, just as its name suggests. If you are setting down a building that you may later expect to relocate, mainly if you do so frequently, then this foundation type is ideal for you. It also saves costs and can cut down on the time and labor required for installation.
After Foundation Understanding Types of Metal Building Concrete
After choosing the right foundation for your building, you have to choose the right base for your steel building. Here are the following prevalent steel building base options you have.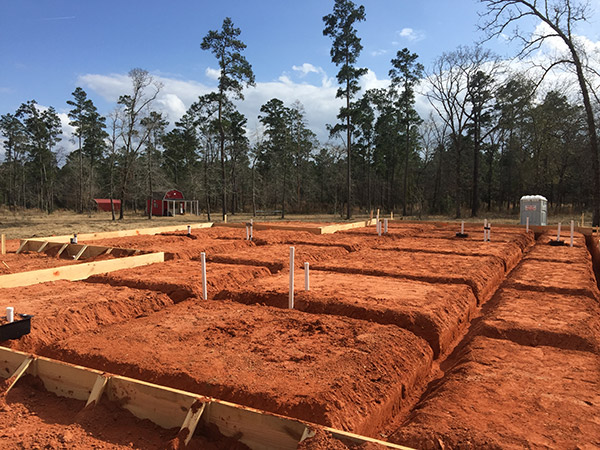 A ground foundation is nothing more than a leveled site, which is the most affordable option for a steel building foundation. It will be a ground-floor shed that you can use for agricultural purposes. Do not use it as a place to store something valuable that mud can spoil.
It is one of the best foundations as concrete floors provide a strong base that keeps your assets neat and intact. Dirt or gravel floors have too much mud, causing your valuables to suffer wear and tear. You can use this foundation for storage, parking, or recreational purposes.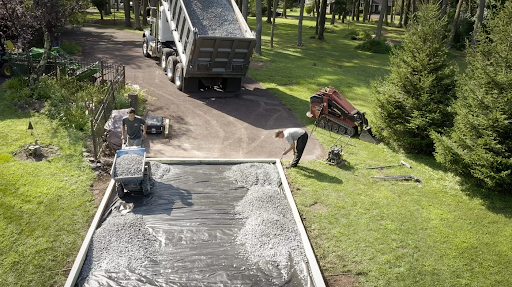 A gravel foundation is a good option if you are looking for a cost-effective way to make your steel building floor. To keep the floors uniform, you need to re-level them because gravel floors develop trenches over time. It is somewhere between the dirt and concrete foundation. Compared to the ground floor, you'll get better firmness and cleanliness, but not as much as a concrete foundation.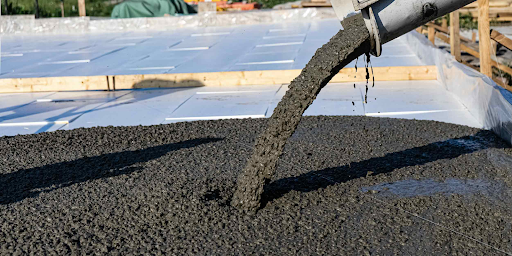 Asphalt foundations are suitable for the area with continuous damp grounds due to recurring rain. This foundation doesn't wash away and delivers a firm floor to store your valuables or perform your functions. It is as fine as the concrete foundation but needs more maintenance.
2023 Best Prices for Commercial Metal Building with Concrete Material
As we all know, construction projects require a hefty amount of investment. Still, commercial metal building kits are less costly than other options. But all the specifics should be lined up to estimate the final cost for your metal building. The average cost to erect a commercial metal building usually ranges between $10 to $25 per square foot. But the cost per square foot can be as low as $6 or as high as $120, depending on steel prices, the size and design of your building, the options you choose, and the customizations you choose.
Fluctuating steel market prices, location, building complexity, weather conditions in your locality, and construction costs all impact the final price of your commercial metal building.
Size Matters with Commercial Metal Buildings
Depending on the building size, the number of windows and doors, the insulation used, electricity, plumbing, and HVAC commercial metal building kit prices may range from $20,000 to more than $36,000.
40×40 foot, 40×50 foot, and 40×60 foot are some popular commercial building sizes that would cost under $20,000. The cost for larger buildings is around and above $36,000. For buildings of these sizes, you can expect to pay around the following:
32×40 foot building: $20,000

40×60 foot building: $36,000

40×100 metal building: $ 67000 to $78000

50×100 foot building: $80,000 to $90,000 on the West Coast and $70,000-$80,000 on the East Coast
Building height also affects cost. Taller the building, the higher the price. Favorable ceiling heights for most commercial buildings range from 20 to 40 feet.
Windows and Doors Cost for Commercial Metal Buildings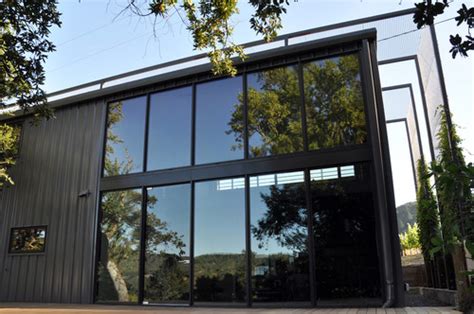 Windows and doors affect the building prices. The price will vary depending on what kind of door you have chosen for your building. Whether they are hollow metal doors, galvanized doors, commercial steel doors, or metal roll-up doors. Hollow metal doors are the most reasonable choice. The same goes for windows. Standard windows are most affordable for commercial steel buildings as they can be put anywhere. The price will vary if you choose from other options like metal-building-specific windows, single-hung, slim-line, and horizontal-side windows.
Insulating Your Metal Building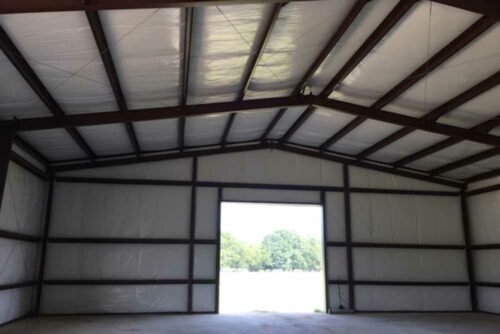 Insulating your metal building is necessary, and various insulation options are available for commercial steel buildings. The most popular insulation options are fiberglass, spray foam, double bubble, and prefabricated insulated panels. The cost of insulating the metal building will depend on what kind of insulation is suitable for your property and fits your budget.
The Average Cost Of Pouring The Concrete Slab and Footers for Your Metal Building
Not all concrete slabs are the same. They typically vary in price depending on thickness and other features. You will likely spend less if you choose a thinner slab or complete the project yourself. To pour a 20×20 concrete slab, the average cost of labor will vary between $1,600 and $3,200. You can cut labor from your total if you pour the foundation yourself.
The base cost for material is $3.57 per square foot for a six-inch slab. A four-inch slab costs about $2.83 per square foot. According to this, the price of the concrete slab for a 60″ x 100″ steel building ranges from $16,980 to $21,420.
You may add extra features such as the vapor barrier, thicker edges, and wire mesh. These features add another $1.90 per square foot to your total ($4.73 to $5.47 per square foot).
Other Metal Building Construction Costs
The other variable affecting steel building prices is roofing and standard assembly costs. There are various metal roofing materials available like:
Aluminum Shingles:

It is resistant to corrosion and saltwater damage, making shingles roof a good choice for buildings near the ocean. Additionally, it's relatively inexpensive, costing approximately $3.15 to $6 per square foot.

Copper Tiles:

It is extremely durable and lightweight and is also the most attractive choice for metal roof tiles. This roofing material costs range from $14 to $25 per square foot. 

Corrugated Metal:

It's not as durable as other materials but is one of the least expensive metal roofing materials. Their price ranges between $1 and $2.50 per square foot.

Standing Seam Panels:

Standing seam is a type of roofing panel rather than a material. The panels will cost between $4 and $6.50 per square foot, depending on your chosen material.

Steel Shingles and Tiles:

There are several common types of steel roofing, such as galvanized steel, galvalume, and stainless steel. Galvanized steel costs about $3.35 to $4.25 per square foot. Stainless steel costs about $10 to $16 per square foot.

Zinc:

It is a high-quality metal roof that's more durable than aluminum and affordable than copper. Zinc panels' price ranges from $6 to $10 per square foot. 
The cost of your metal building will depend on the roofing material you choose.
The Concrete Pouring Process for Steel Buildings Foundation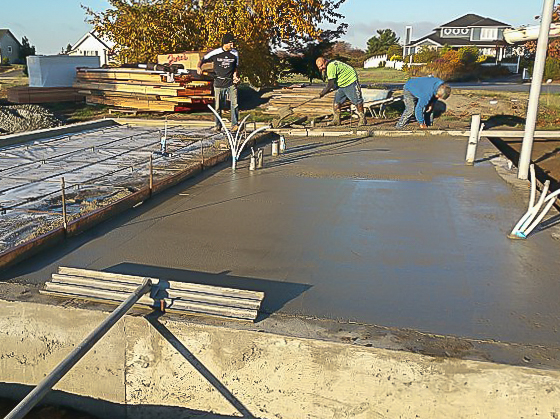 Clearing the site is the first step. When you remove large stumps, remove the root debris and fill the hole compactly to avoid cracking. It is always helpful to check with your local building department about permit requirements and to call 811 so that utility companies can mark the buried wires and pipes before you dig.
Use straight boards of size 2×12 for each side of the slab. You can also nail a 4′ section of 2×12 over the joint if you don't have enough boards to span the whole slab. Creating a firm base is crucial to help prevent cracking, and unless you have sandy soil, you should lay crushed stone or a layer of gravel to aid drainage under the slab. Take the advice of your local concrete supplier on what you should put down under the concrete. Solid foundations with good drainage are essential for preventing cracks. Use batter boards, also known as stakes and kickers, to help stabilize the foundation form around the outside perimeter of the trench. A reinforcing bar is a critical piece in the foundation plan and should be designed by a professional. Again, ensure to investigate the local building code for the depth of the footing along with any other foundation requirements.
Install the PVC Piping for the pipe to run through so it would be close to the sidewall. Hire an experienced professional to avoid plumbing and electric mistakes rather than trying to do it yourself.
Vapor Barrier – Polyethylene
Lay down a vapor barrier along with a conduit under the concrete floor. It prevents water vapor from condensing on walls, ceilings, attics, crawlspaces, or roofs, where it can grow mold or cause building materials to rot.
Use expansion joints to separate the slab into sections to allow for movement and prevent frost heave.
Once all the above steps are completed, then pour the concrete slab with finishing.
Let it cure for about 30 days, and the concrete will be ready to start erecting the building.
Tips on how to save cost on metal building with concrete slab
To save money on steel buildings with concrete slabs, you can take care of the following things while Mounting concrete slabs.
Slab sizing – When constructing a slab, you should make it the same width as your building but two inches longer. If your building is 15 feet wide x 25 feet long, then your slab should be 15 feet wide x 25 feet 2 inches long.
Slab thickness – The minimum thickness of your concrete slabs should be four inches. Steel buildings that are used to store heavy equipment such as garbage trucks, recreational vehicles, and so forth require a minimum of five to six inches deep concrete slabs. Using 4000-psi concrete is also recommended in these cases. Concrete can withstand friction, so cut the expansion joints in the slab. It is recommended that you complete sawing within six to eighteen hours after pouring concrete if possible; waiting more than 24 hours may cause cracks to form in your slab.
Footing requirements – Pour the perimeter footings simultaneously with the slab. In addition, perimeter footings should be at least 12″ deep and 12″ wide. If you work with a frost line, your might need to consider deeper perimeter footing. Remember that you can include your slab's four inches thickness as part of 12 inches of depth. Study your local building codes for other sizing requirements, as you might also need a rebar along the top and bottom.
Setting your Slab and Building Location
Property line and setbacks – To ensure that you don't unintentionally plan to construct on a space that falls outside of your property line, you will need to consult the plat map for your property. Additionally, most jurisdictions require that steel buildings have a setback of a certain distance from that property line. All these details will be given to you as part of the building permit process.
Grade or water control– You will need to have the land regraded if your building is installed at the bottom of a hill so that rainwater flows away from the building. Install your metal building on higher ground, if possible.
Accessibility to your building – As you now know what you will use your structure for and what size it would be, you will need to consider where and how people can have easy access to the building. Make sure that the entry point to the building is straight-on and that there is no landscaping in the way. Further, ensure that your facility is reasonably close to a main electrical supply.
How To Calculate Your Metal Building Construction Costs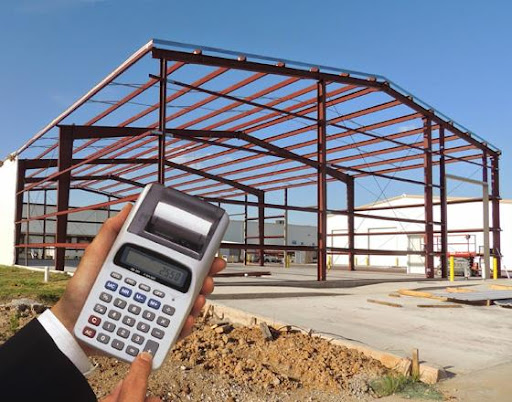 Many variables determine how much a metal building costs. Consider these few things before asking for a quotation for your general steel building:
BUILDING DESIGN: Determine the end use for your building. Do you want tapered columns, straight walls, modular framing, or clear span? Furthermore, how complicated is your design? The most economical structures are simple rectangular-shaped structures. Also, you will find a low-pitched gable roof costs less.
CODES and LOADS: Every area has its own building codes depending on its geographical conditions. Each area codes have specific snow, wind, and seismic loads required for the building.
BUILDING DIMENSIONS: Decide the building width, length, and height you want. When planning, remember that measurement of the steel buildings is done by the out-to-out dimensions of the steel framing. Also, metal building companies base their building heights on how tall the eaves are.
ACCESSORIES: Do you intend to add gutters, a mezzanine second-floor system, vents, insulation, reflective roof panels, or other add-ons? On average, customers spend about 15%-20% of the price of their basic kit on additional accessories.
FREIGHT: Steel building kits are shipped to job sites by truck from the nearest factory, which means that shipping costs are included in a detailed quote.
ENTRY POINTS: How many doorway openings do you want in your building. Steel building personnel doors and various overhead and hangar doors are available at Steel and Stud.
After determining all the points mentioned above and having a clear idea of what you want, go to your supplier and ask them for a quotation. Steel buildings cost around $12-$25 per sq ft for the building kit components. Choosing the right supplier and building partner is of utmost priority. Steel and Stud is the most reliable supplier in the USA. They provide high-quality supplies at the most affordable rate.
Choosing The Best Steel Building
To choose the best steel building, you must focus on your needs. Decide whether you are constructing a metal structure for residential or commercial purposes, as this is the most important factor that will help you decide on other building features.
You should first outline the type of steel building project that will meet all your requirements. The elevation of the slab will also depend on the usage of the metal building. The minimum thickness of your concrete slab foundation should be four inches, but if you use the metal building to store heavy equipment such as garbage trucks, recreational vehicles, and so forth, a minimum of five to six inches deep concrete slab is needed.
So if you have decided on all those things, it's time to find a metal supplier. No one is better than Steel and Studs. At Steel and Studs, we provide the highest quality material at great prices, and we, infact, install the structure for you. We provide a carport kit, metal carport & garage kit, prefabricated metal building kit, steel building kit, and much more. We also offer customization designs in all categories. Contact us for a free quote today at 1-877-275-7048.