Is Red Roof Correct Option For Your Metal houses and shop?
Metal roofing is one of the most crucial elements in residential and commercial metal construction to protect from catastrophic circumstances like heavy snowfall, scorching heat, heavy rainfall, and earthquake. Roofs also play an important role in illustrating your facade. And color choice can help you either stand out or be in the same hues of your neighborhood.
Red metal roofing is going to be a 2023 design statement. Go bold and order a red roof- the color of love and success and welcome the positive energy to your home or workplace.
Moreover, As per Fengshui, Red is a great color for homes and offices as it attracts positivity and luck in abundance. Steel and Stud have unlimited style, grade, and red color combinations for metal roofing.
Red Painted Roof for your Metal Structures
Red is a popular color associated with vivacity, boldness, and showiness. It's a highly well-liked shade for apparel, lipstick, and automobiles. But now, in this modern design trend, bold color like red is appealing to many for both the interior and exterior.
Other color choices like brown and blue are also available for metal roofs.
Red Roof Aesthetic Colour Combinations
Here we discuss different color combinations with red roof: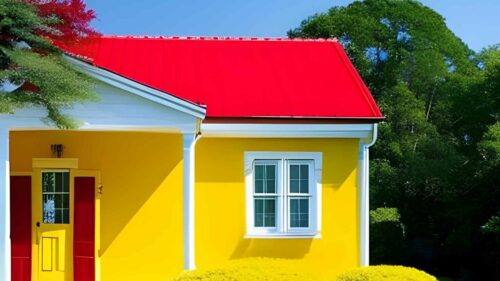 Yellow House Red Roofs are a great way to let your roof show its personality. The contrast plays well with white trim.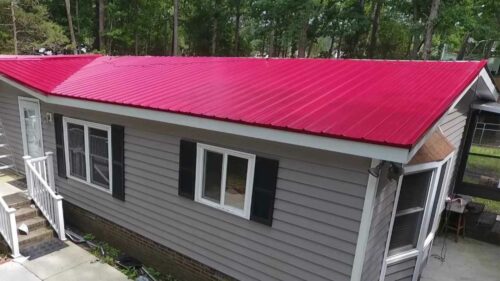 Grey House with a red roof is the perfect combination for barns and metal sheds. Come home to an innovative modern interpretation of American mid-century design that is sustainable and affordable.
Green House With Red Roof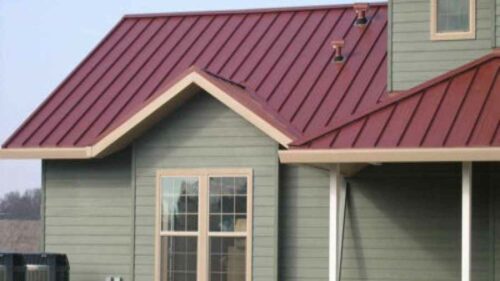 Green House Red Roof is a green building and construction firm focusing on sustainability and energy efficiency. Your home stands aloof in these beautiful color choices.
Yellow Brick House With Red Roof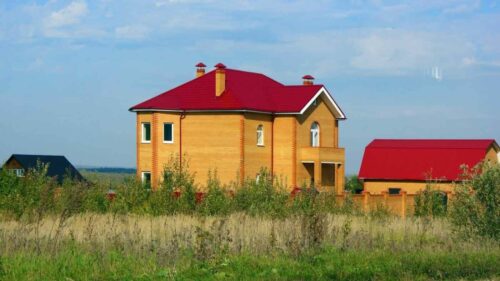 Yellow Brick House with Red Roof. A warm and welcoming blend of traditional brick-and-mortar structure and metal roof.
In case of roof replacement needs for your old building, consult our roofing contractors to help you with easy and cost-effective roof installation.
Other variations with yellow and red color combinations are:
Yellow Door Red Roof
Yellow House Red Roof Green Door
Red Metal Roof with Brown House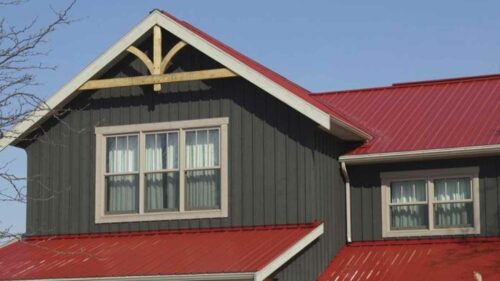 A brown house belongs to the darker shade. If you're painting your house brown with a red roof, it is advisable to use a lighter shade of brown.
Red Metal Roof with Blue House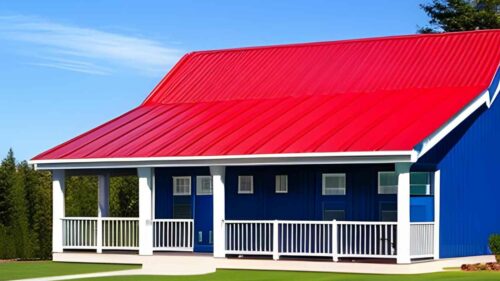 Blue comes in different shades, so why only stick to one while painting your house? The perfect combination would be a cyan house with a red metal roof. It will instantly make heads turn.
Red Metal Roof with Beige House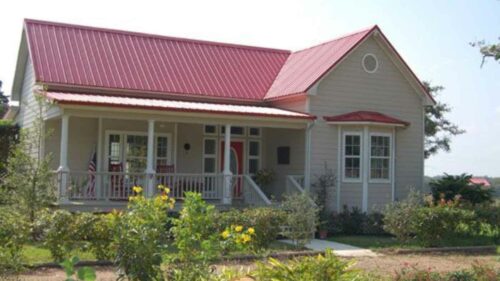 Not everyone wishes to have flashy and vibrant colors around the house. So toning down your exteriors to uplift your red metal roof helps catch the attention of people passing by. Therefore, a combination of a beige house with a red metal roof will immediately make people look at it. 
Red Metal Roof with Cream House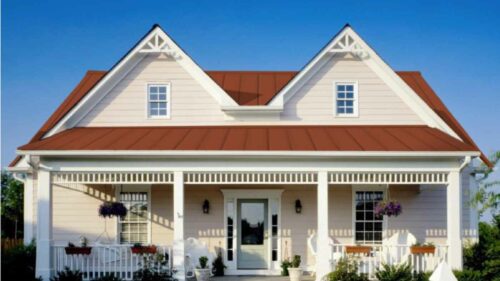 It's become a trend to prefer cream houses, for it can elevate the look of an entire house. The unique combination of the vibrant red metal roof with cream exteriors can make it stand out in the neighborhood.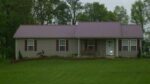 Creating a little difference in your home's look never hurts one. When you make the bold choice of having a Taj house, pair it with red metal roofs. This unique combination can leave people wondering about your marvelous beauty. 
Brick House With Red Metal Roof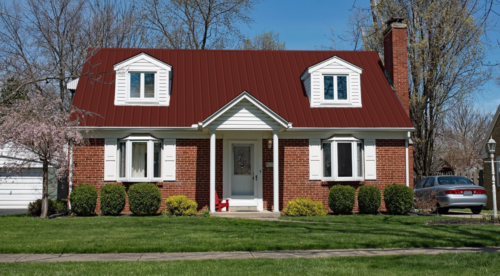 Not everyone in today's time opts for a brick house. However, it adds a rustic charm that goes well with a red metal roof. Since these two complement each other, it becomes an undeniable choice for many. 
White House With Red Metal Roof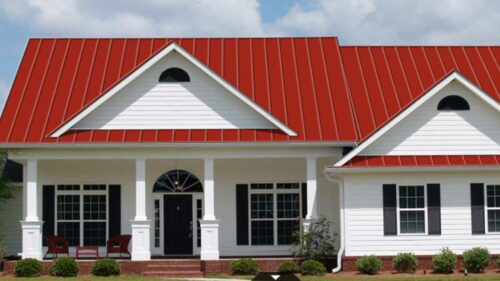 Time and again, we have seen how wonderful a combination of red and white has been. So, why not implement the same around our house? Red metal roof with white houses is such a beautiful combination that you couldn't resist it. 
Celadon House With Red Metal Roof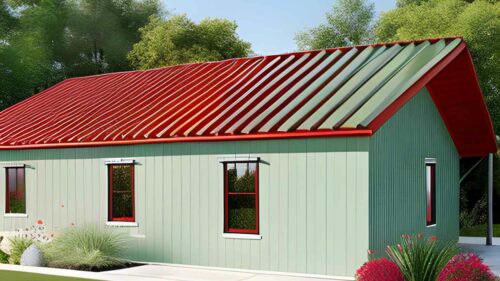 The modernistic approach to celadon houses needs something that blends well with its appearance. What else can be better than the vibrant red metal roofs? If you love experimenting, do give this choice a try. 
Orange House With Red Metal Roof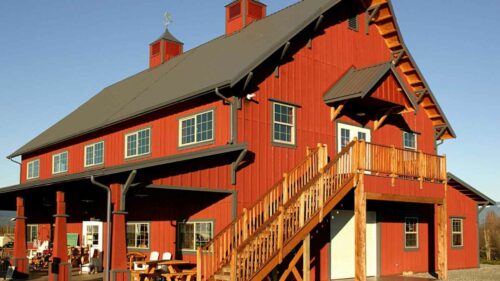 Although orange and red aren't good choices, they are. The fun, tangy appearance of orange blends well with vibrant red. This combination will surely give your house a vibrant look that everyone will love. 
Pink House With Red Metal Roof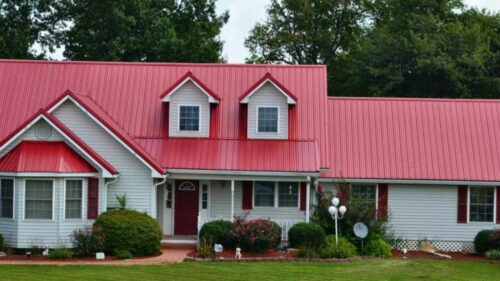 A subtle touch of pink around houses with red metal roofs adds so much beauty. You can check out the combination in samples and swatches and eventually get the house done with a unique roof and wall color combination.
2023 Highly Opted Red Roof Colour Options
Trending red roof color options: 
Crimson Red Roof
A timeless crimson-red color scheme. Crimson Roof works best with barn, sheds, and other agricultural metal roofs.
Rustic Red Roof
Rustic red is a very popular color for modern metal exteriors. Rustic red is always the best option against asphalt shingles.
Colonial Red Metal Roof
The reflectance and emissivity of the Colonial Red roof have ultra-Cool Ratings of 33.2% and.86, respectively. It has a 35 SRI rating. A 35-year finish guarantee is included with Colonial Red in 24ga. It has a 30-year finish warranty and is available in 26ga and 28ga.
Bright Red Metal Roof
The Bright Red Metal Roof will help bring a bold new statement to your metal structure. You can show off all the sunset colors with a red metal roof!
Red Zinc Roof
Z roofs can absorb carbon dioxide by enclosing the gas in a specific protective surface layer formed of zinc carbonate. The patina, created when zinc combines with air and water, preserves the metal by enabling it to heal organically after being accidentally scratched.
Why is Colour Important for Metal Roofs?
Your roofer will apply a coating to the surface of the metal roof you chose to give it color and further weather protection. Your roof's surface will have varying attributes depending on the finish, impacting its toughness and energy efficiency.
Your home's energy efficiency may be dramatically impacted by the color and finish of your metal roof. As was previously said, various coatings have various characteristics that reduce heat within your house. You won't need to turn on the air conditioner as frequently or as loudly as before as a consequence. Your energy expenses will be significantly reduced as a consequence.
Tips for Choosing the Right Color Combinations
The color combination you choose for the roof and house will enhance your aesthetic appeal. Since the house is one of our biggest investments, would it only be fair to make the best choice? Here are some of the factors you may want to consider:
Consider the Color Wheel

: The

color wheel

is of immense help when you want to make the right choice, especially in combination. When you look at the color wheel, you easily get an idea of what color compliments each other. This makes it easier to make the perfect combination choice. 
Determine the Undertones

: We often tend to ignore undertones, don't we? Nonetheless, you must note that it is quite an important factor. When you're working with colors, you must also have a fair idea of how the undertones would work so that you can make an aesthetically appealing choice. 
Use Samples and Swatches

: Often we need the help of visual appeal to understand what we're looking for. Nothing can serve the purpose better than taking a look at the samples. With the help of samples and swatches, you will understand how the colors look together. This makes it easier for you to compare and eventually handpick a combination that's eye-pleasing 
Consider the Amount of Light

: Is it extremely important to consider the lighting as well? Colors and lights go hand in hand, so once you get an idea of the light reflection, you'd have a clearer understanding of your preferences. 
Is Red the Best Colour Option for your Metal Roof?
The red roof tiles offer homeowners who want to increase their home's aesthetic, property value, and energy efficiency unrivaled personalization choices. Find the ideal metal roof color and finish for your house by consulting an expert in metal roofing.
Will a Red Roof Metal Fade Easily?
Red is a striking color that absorbs more energetic wavelengths, which speeds up the paint's chemical bond breakdown. Most reds are glossy, which can fade faster than matte finish ones.
Steel and Stud deliver roofing systems in a variety of red tones. Now, find out how a color looks in reality by requesting a free color chip. Visit our website for a more accurate representation of your home's appearance with color choice. You can also call or mail us for more details. 
From their many advantages, metal roofs from Steel and Stud include.
Longevity
Based on the different materials, metal roofs may last between 30 and 70 years. It is estimated that traditional asphalt roofing materials have a life of 15 to 20 years.
Lifespan
When constructed appropriately, certain metal roofs have the ability to endure wind gusts of up to 140 mph, won't corrode or break, and could even be impact-resistant. Additionally, unlike other roofing materials that regularly need care, metal roofs don't demand ongoing, expensive upkeep. They should be regularly checked to make sure no fixes are required.
Protection
Metal roofs won't catch fire and burn in the case of a thunderstorm or a fire.
Energy Usefulness
A reduction in cooling costs of between 10 and 25 percent can be achieved by using metal roofs to reflect the UV and infrared light rays from the sun that cause radiant heat on the roof surface.
Environmental Friendly
Metal roofs are recyclable after completing their role as a roof and, depending on the material chosen, include between 25 and 95 percent recycled material. However, the waste stream related to the building includes up to 30 billion pounds of shingle tear-off trash yearly.
Tips on Buying Metal Roof for your Steel Building
Investing in a metal roof can be a smart financial decision, especially in the long run. If you plan on staying in your house longer, metal roofs can serve the purpose perfectly. 
Now that you're planning to install the metal roof plan a little. Here are all the tips you need to follow for installing a metal roof across your steel building:
Insulating the attics can help you prevent the sound you may be prone to from the metal roofs during downpours or hailstorms. You must

contact Steel and Stud

professionals to help insulate the attics. 

In the initial phases, you must install larger metal roof panels. This provides enough space for the panels to expand and shrink during temperature fluctuations. 

Be mindful about installing the neoprene washers and insertion screws, as they can degrade over time. 

You must be careful with repairs across the

metal roofs

. It is advisable to get help from experts like Steel and Stud to find the perfect combination. 

Hiring professionals ensure that there are no major mistakes during the installation process. This can be extremely helpful in preventing any water seeping in and external damage to metal roofs.
Maintenance of Red Metal Roof
A red metal roof isn't like your regular roof. So, once you decide to install it in your house, you must commit to taking proper care of it. The more you take care of this element of your home, the more you will be able to increase its longevity and aesthetic appeal. 
But how do I take care of a red metal roof color? Now if that's lingering in your mind, here's all you must know:
You must check the red metal roof to spot any signs of the color fading away or chipping. 

Even if you're handling red metal roofs for the first time, conduct a normal inspection. This will give you an understanding of loose panels, missing ducts, or rust spots and leaks. 

If there are trees around the roof, it will be prone to dirt, debris, and leaves from those trees. Although it wouldn't cause major damage to your roof, get it cleaned soon to maintain the aesthetic appeal. 

Our general notion is that red paint is meant to protect against corrosion and rust of different

types of roof

. But does it do it? Even if it serves the purpose, applying corrosion-resistant paint is always a safe idea. At least, you can be assured that there isn't much external damage.

Expert opinion always works better than any other form of self-inspection. So, is it not a good idea to consult a professional? With

Steel and Stud

in the picture, you will be able to find out any form of damage that you may have overlooked. After all, under an expert's guidance, you can safeguard your property at its best.
Steel and Stud - The Best Partner for your Steel Building Components
Any property will stick out because of the vivid metal roof color red. Standing seam and exposed fastener red roof panels are both available. While PVDF paint is typically used for red roof hues, SMP paint, which is more reasonably priced, is also available for red metal panels.
Frequently Asked Questions
What colors go well with a red roof?
The following list of other colors complements a red metal roof exceptionally well:
Sand.

Taupe.

Gray.

Denim blue.

Muted Yellow.

White.

tan

beige
What is the most popular color for a metal roof?
We suggest using bright colors on metal roofing like yellow, red, orange, etc.
What color metal roof is the coolest?
Dark shades absorb sunlight into a structure more effectively than light colors like white, light bronze, and peach. The term "cool metal roofing colors" is frequently used to describe these pale hues.
Why is Red Colour a Hit for metal roofs in the US?
Because they go with any color or style of a home's siding. No roof color is more brilliant and striking than red, and more homeowners are choosing to make their roofs stand out by selecting a bold hue for their roof system.
Can I use more than two colors for my house with a red metal roof?
You're mistaken if you think that a red metal roof wouldn't look good with two colors. You can opt for this combination if the colors complement each other. 
What are some common mistakes to avoid when choosing a color combination for a house with a red metal roof?
Two vibrant colors together are a big no-no. Avoid it if you want to maintain the aesthetic appeal around the house. 
How often do I need to repaint my house with a red metal roof?
If you're taking good care of your metal roof color, you won't need to color it anytime soon. Well, coloring it once in a decade can serve the purpose perfectly.