An indoor riding arena is known in many terms depending on the region: a riding hall, indoor school, indoor horse arena and indoor arena (UK English). In the US, it is referred to as an indoor ring. Indoor riding arenas are buildings designed specifically for horse riding. There are large indoor arenas and smaller ones.
The large riding arena contains a "ring" or arena. The ring is for equestrian purposes. It also contains additional spectator facilities or horse barns. Smaller, private buildings are for riding purposes only. 
The indoor horse arena enables riders and horses to compete and train in dry conditions regardless of the weather. Indoor riding halls can be made in different designs that suit your horse. The most popular designs are timber-framed and steel-girder buildings. Roofs can be constructed in various materials, such as corrugated steel or sandwich panels.
Horse stables are often built by attaching them to the riding hall, sometimes sharing the same roof. Besides, tension fabric buildings can also be used as arenas. These textile buildings comprise a high-strength PVC-covered sheet roof, an aluminum frame, and wind protection netting in the walls. 
The Ideal Size of Your Indoor Riding Arenas
For an average horse arena, the minimum dimensions described by experts should be at least 60'for the width and the interior heights between 16′ and 18′, measuring from the ground up to the peak of the trusses. The recommended horse arena sizes should be 80′ wide by 200′ and 60′ by 120′ long, thus, the warehouse space is ideal according to the building system.
While constructing the indoor riding arenas, it is advisable to keep a clear span structure, meaning your horse arena should be free from posts and beams within the riding area. To achieve a clear span, from the horse arena kits, steel buildings are highly recommended. 
Steel and Stud is your leading partner for steel buildings.  
The recommended height for your indoor horse arenas should be 16 feet. You are at liberty to add 3 feet in the case of high jumping horse. Anything beyond is considered professional or commercial riding horse arenas. 
The doorways are also a very fundamental aspect to consider. They should ideally be 13 feet to 15 feet and at least 16 feet in width. 
Caution, although large buildings look good on paper, these buildings come with hidden costs, and sometimes, the unanticipated costs could make the owner fail to complete the building. 
Obtaining Building Permits
Before you can begin constructing your indoor arena, you must have obtained permits for construction from your local municipality. An engineer must also approve the construction plans. Getting the nod to proceed with the construction of the indoor arena is determined by several factors. These include environmental sensitivity of the land you are installing your building and zoning. 
Other crucial reports, such as water management plans and soil testing, must be availed in case of a storm. 
Approval processes take different times attributed to the laws from state to state. On average, the duration may take one to three months. Some of the typical restrictions that may arise may emanate from particular project scope requirements, zoning, and environmental issues. 
In some areas, permits for personal indoor arenas may not necessarily be subjected to permits and scrutiny, although this is not recommended. It is essential to acquire engineer-approved plans to ensure that your building has achieved the standard building recommendations. Engineer-approved plans to ensure that your building is safe and free from risks of crumbling down. The safety and health of the horse and the riders should be given priority, and as such, engineer plans will ensure safety. Besides, obtaining insurance for your steel building is very difficult if it does not have engineering plans. You ought to protect the safety of the riders, as well as protect your investment.
Arena Base and Footing Surface
While constructing your indoor arena base, cover the base with at least four inches of limestone screenings over clay, sand, or aggregate mix. The indoor arena footing can be locally sourced or brought from outside. As long as the arena footing provides sufficient traction, stability, and shock absorption, you can use locally sourced sand. Different types bring different characteristics to the base. The best-preferred mixture is prepared using grains of sand of different sizes. The most popular mixture is coarse sand which is washed and hard. Sand particles that are rounded or those that crumble quickly to create dust provide minimal traction, which ultimately results in a bad experience for both the horse and the riders.
Coming up with the final quality of sand to use on the base is challenging; thus, ensure that you engage your contractor and engineer in a constructive discussion to get the ideal traction for the participating horse. 
Types of Indoor Riding Arenas
Some of the major types of indoor riding arenas include:
Equine riding arenas

Horse riding arenas

Rodeo centers

Pony wall buildings
Equestrian or Indoor Riding Arenas building Advantage
Reduced risk of injury

: An indoor space for training your horse can always reduce the risk of injury. These arenas have safety buffers which prevent damage during accidental collisions. 

Calm and comfortable environment

: Indoor horse riding arenas help maintain a calm and comfortable environment for the horses to move around. 

Intensive training

: When you have a closed and covered horse arena, you can train the horse uninterrupted.

Increased property value

: The indoor horse riding arena cost is usually high for buildings. When you add such a precious addition to your property, its value will eventually increase.
Features to Include in Your Arena
Every horse owner of an indoor arena desires to create an attractive and professional indoor arena where the budget is not too high, but the result is a professional structure. Coming up with a professional indoor riding arena within a budget can be achieved with a good plan and knowing exactly what you want for your steel building. The following are very crucial features to include in your indoor riding arena. 
A single cupola or two of them will provide an aesthetic and attractive indoor arena while giving you adequate ventilation in your building. 
Doors are a must-have feature. For such a building, install large sliding buildings that will provide you with adequate space for mounted riders carrying massive equipment to go through. The secret is to make the movement in and out of the arena and stables easy and convenient. 
Protection from harsh weather
Weather can sometimes frustrate the sport and destroy the building at some point. Ensure that you protect high traffic areas from snow and water and minimize the risks of developing swampy holes. The roofing should also be slanting to allow rainwater and snow loads to slide off easily. Horses in the stables should also be protected. The space near the doors also should be dry.
Rider guards are beneficial since they provide the interior section with a finished look and safety in the riding arenas. Rider guards provide space between the horse's hooves and the vertical framing of the walls. This, therefore, builds up more distance between the walls and the horse, including the stirrups and the rider's knees. 
Lighting in the indoor riding arena is fundamental since the area has been used for activities that would be dangerous if there was not enough lighting. Side lights are proven to be an economical method used to bring in more light inside the riding arenas.
The side lights are easy to install and are cheaper compared to skylights. Besides, side lights can be designed to accommodate double the size of a regular skylight and, thus, bring it twice the amount of light a skylight would provide. 
Keeping the roof well insulated helps greatly with minimizing noise, brings an appealing outlook, and minimizes undesired things like condensation. It also helps prevent the hothouse effect. 
Although not a very important feature, wainscoting can improve the aesthetic appeal of the arena, wainscoting is applied by adding it halfway up in the indoor arena. After adding the wainscoting, the rest of the area is painted with the paint of the owner's choice.
Choosing the Ideal Location
This is a fundamental step that needs to be decided upon before the construction of the indoor arena begins. Several factors must be considered to decide on the best location to put up your indoor riding arena thus serve the intended use
Select a site whose level ground is the smoothest within your property. This choice will help you minimize costs related to preparing to level the ground. Sites that are not level will require a lot of work, like clearing, excavating, and compressing the soil—choosing a naturally level ground to eliminate the risk of water runoff from raised areas around. The general rule is that; if there has been an accumulation of water in a particular area before construction of the steel building began, it is likely to happen again even after construction has been completed. 
Another alternative method that can be implored is elevating the ground that you have selected to install the indoor arena. This method is effective as long it helps to divert water away from the arena. 
Notably, the ideal method of removing moisture from the building is by percolation under the footing of the indoor riding arenas into the ground. Every single inch of rain that gets inside the arena may need at least 24hrs for all the water to filter through into the ground. Once the water has sunk away into the ground, riding becomes safe again, and horses can participate in the sport, or practice can proceed. Once again, it is essential to research other aspects like dust and mud that can affect the sport or damage the building. 
Choosing the Right Structure
For your indoor riding arena, the correct type of structure cannot be dictated which best suits you. The type of structure that you may deem suitable for you will depend on various reasons, such as your budget and your preferences, including the size of the arena and load requirements for harsh weather conditions like snow, storm, wind, and rain. 
Such arenas are covered by translucent fabric roofs, supported by steel frames. The most commonly preferred material for the translucent cover is polythene, which must be replaced every 15 to 20 years of service. The prevalent design choices are peaked roofs and dome-shaped roofs.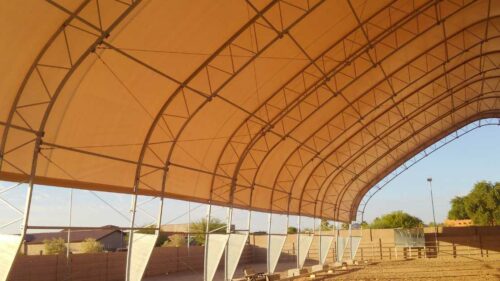 The maximum construction span for this type of building is up to a width of 200′, although this figure depends on the manufacturer's design. 
Fabric covered structure is preferred because it offers the building more natural light and gives the users an open feeling, since they are not totally covered riding arenas. More natural light is fundamental in reducing lighting costs Insulating such structures is challenging.
The wood post frame type of indoor arena building is supported by a wooden frame which affords more flexibility to architecture during the choice of an overall design. The wood post frame does not call for a continuous wall foundation. The associated limitation with this type of frame is that its maximum width cannot go beyond 90 feet.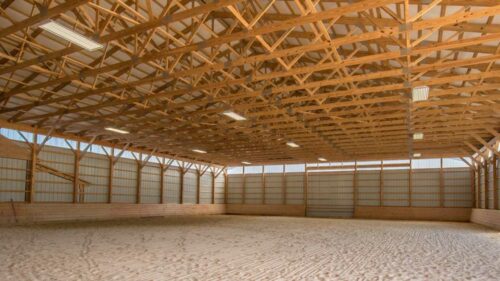 Indoor arenas made from steel frames are more versatile compared to wood-framed ones. They are sturdier, and since they are anchored firmly into concrete piers, they are stronger and better resistant to strong winds. Steel is a better material since it can be used in winter and summer. Temperatures inside the steel frame indoor arenas can be adjusted easily, making the building useable around the clock.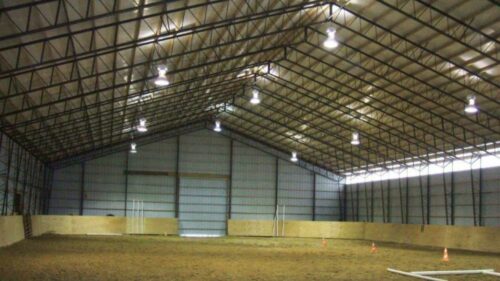 Steel Frame Arenas vs. Wood Frame Arenas
The construction of indoor arenas has been revolutionized with the invention of steel buildings. Steel structures have thus replaced traditional building materials like wood.
But what makes steel frame arenas so different from wood arenas?
Steel frame arenas are more durable than wood frame arenas. The peculiar characteristics of steel make it more durable than wood. Steel is resistant to corrosion. Hot galvanized steel, in particular, is resistant to salt and such chemicals that would make metal corrode. Red iron, basically steel, is also resistant to rust, unlike wood.
Resistant to insects and rodents
Steel is resistant to rodents and termites, making it endure in outdoor areas. Unlike wood which is a favorite "meal" to termites and insects, steel is a hard substance and not a favorite of either of the animals. 
Steel is incombustible, unlike wood. Fire is a menace that has undoubtedly caused loss of wealth, materials, and lives, especially if the fire breaks like an accident. However, some materials do not get destroyed in fires, and they are, therefore, resistant to fire. Steel is one such fire-resistant material. Being a metal, steel will only be destroyed by fire under extreme conditions, which are factory-controlled environments. Wood, on the other hand, is easily burnt to ashes. In fact, wood is a fuel, and if exposed to fire, it will be damaged.  
Steel buildings are cheaper to construct compared to wood buildings. Materials account for at least 15% of the total cost of construction. However, using steel as your material brings down this cost to 6%. 
Steel frame arena takes less time to construct than wood frame arenas. Steel is brought in as a prefabricated material. This technique brings down the total time used in building construction. The less time takes to construct a building, the lower the construction cost. 
Steel And Stud's Indoor Riding Advantages
"Steel and Stud" become your construction partner when you order or consult on how to install your indoor arena. That's not all. Getting Steel and Stud's indoor riding arenas have various benefits:
We are experienced in the field, completing numerous projects and overseeing others. 

Our material is of the best quality, manufactured in a factory under controlled environments. 

We do not mix materials but give you a singular brand to work with. 

Our process eliminates compatibility issues and increases the lifespan of your steel building.
Factors Contribute to the Overall Indoor Riding Arena Cost
Various factors contribute to the overall indoor riding arena cost. These factors include:
Structure type of arena

: The structure for the indoor riding arena can be of three kinds- fabric-covered, wood-framed and steel framed. Out of all, the steel indoor riding arenas are the most durable.

Size of the arena

: The arena's size will determine the overall indoor riding arena prices. The bigger the area, the higher the cost will be. 

Location

: The place where you want to set up the riding arena will determine the pricing. This is mostly because you will have to take care of various things like permits, local codes and utility setup.

Footing

:

Since you will use the space for riding, it is important that you choose the right material for footing. You can choose three types of footing: rubber mulch, fiber footing and whoa dust. These materials should have good traction.
However, on average, the prices of the material may range between $5 to $50 per square foot.
As a buyer, you are responsible for proving the ground, clearing any debris on site, and leveling the ground. However, Steel and Stud discuss the options available with you to make a more informed decision.
Maintenance Tips for Indoor Riding Arenas
To keep your indoor horse riding arena in its best condition, you must maintain it once a week. Some of the major metal building maintenance tips to follow are:
You must check the surface compactness and then tighten or loosen it accordingly. 

It is important to maintain an equal level of the surface. 

Always clean the drainage to prevent any damage. 

The footing products and sand particles must be mixed. 

If there are ruts in high-traffic areas, you should get rid of them.
An indoor riding arena is easily achievable using steel rather than wood. Steel is a safe environment material. Getting the best company to work with is fundamental to achieving the desired end result. Steel and Stud outstand as the most preferred company for your steel construction due to its many projects completed and the customer-centeredness expressed to all the customers. 
FAQs Related to Indoor Riding Arena
What is a good size for An Indoor Riding Arena?
The interior height of an indoor riding arena should be around 16 to 18 inches. A good size of an indoor riding arena includes 80′ width x 200′ length and 60′ width X 120′ length.
What is the indoor riding arena cost?
The indoor horse arena should cost around $2500. However, this can vary depending on the material and area.
What things should you know before building your arena?
Before building the indoor horse riding arena, you must know the local codes and permit requirements. You must also discuss the price of steel riding arena kits.
How much land do you need for a horse arena?
For a standard-sized horse arena, you will need a 100×200 feet area. However, if you use the space for competition, you will need around 600×600 feet.
How often should I inspect and repair my indoor riding arena?
The horse indoor riding arena requires constant maintenance to keep it in its best condition. Inspecting it at least once a week for damages and repairing them is advisable.
What safety features should be included in an indoor riding arena?
You must install the right footing and maintain airflow and fire safety features to make your indoor riding arena safe.
What type of footing is best for an indoor riding arena?
Stone dust and rubber are the best footings for a horse riding indoor arena.