Building codes are a set of specific rules that determine that the structure of a building is suitable for that region. The International Code Council (ICC) constructed an International Building Code(IBC) that ensures a building meets basic qualities to sustain in a particular region and also be safe for the public.
The international building code varies with location, building size, loading requirements, safety, etc. After verifying the design you submit, the office permits you to start your construction. In addition to basic building codes, there are specific building codes for steel buildings only. 
It's because a steel building needs to stand against natural catastrophes, adverse winds, storms, fire, etc. Even pre-engineered steel buildings also need to meet local building codes. Scroll down to know what these codes are and how Steel and Stud will help you to meet building codes easily.
Building Codes For Steel Buildings
Generally, the building code consists of some regulations. The regulations vary considering the zone, material of the building, climate of the state, loading capacity, and so on. 
The local building office analyses your structure's floor plan, foundation plan, and material to assess if it is free of any risk. They also check if your structure is hampering watersheds, sewer lines, or other metal buildings in your neighborhood.
Whichever steel grade you choose, it will need to match the loading capacity. Again assessment of large-scale commercial structures is different from structures for personal purposes. After all the requirements are met, you will get a building permit.
To pass the verification, you need to choose the right type of material and prepare a solid plan with the help of a state-certified engineer.
As the process is time-consuming, you may wish to proceed with your construction without getting permits. Don't do that as it will later cause you severe legal problems.
What Are Building Codes and Why Do They Exist?
Building codes were once different for each region. The ICC tried to provide a general code for all the places alongside some region-specific codes. There are various codes. Some of the important codes for steel building are:
Structural code determines whether the structure can bear wind loads. The structure needs to endure wind loads from "100-year wind storms " and snow loading according to region. Loading requirements for your building would depend on the climate and weather type of the place you live.
The energy code measures the insulation required. As steel is a heat conducting material, a temperature difference can occur between the interior and exterior. The interior can get too hot or too cold which is harmful to humans and animals. The energy code determines how much insulation is needed to maintain the temperature level.
There are several codes in different states. For example, mechanical codes, plumbing codes, electrical codes, fire codes, and so on. Contact your local office to know more about the codes that your state imposes.
Requirements for Metal Building Permit
The process of getting a metal building permit is easy but can be quite lengthy. Make sure to have adequate time (even several months) and money in your hand.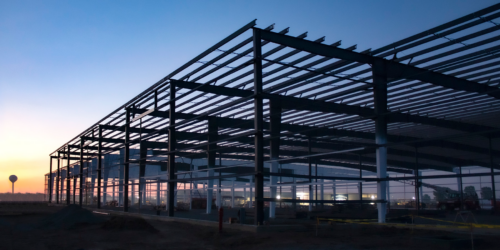 To start the process, contact your local building office or website of the state. They will guide you through the next steps. In general, you will need to meet the following requirements:
Fill out the permission form with necessary details about your project 
Submitting a legal description of the property
Submitting a stamped structure plan of your building. It must be certified or stamped by a licensed engineer
The size of the building and its purpose of use
The location of the steel structure at your property 
Pay required fees and wait with patience
It can take a few weeks to receive approval. Sometimes it can take a few months depending on how large your project is. The approval procedure also differs from state to state. 
Once you get a permit, you can start construction. An inspector may visit your worksite if the office says so. Follow their guideline. If everything is okay with your project, it should get a permit without much delay.
Special Considerations for Steel Buildings
Metal buildings are supposed to be strong structures so there are some specific codes to determine their durability. Even steel structures are considered eco-friendly as they follow certain codes. 
As there are different types and grades of steel available in the market, steel specification is one of the things that should be considered. Again climate control is also very important when choosing steel grade. 
Choosing the right steel grade for your project is very important. The choice should be made based on the scale of your project such as how large it is, what purpose it will serve, where the structure will be placed, etc. Choose a steel grade that has the expected load-bearing capacity. Otherwise, it will not receive a permit.
Steel buildings need to have proper insulation. As steel is a great conductor of heat, there is a huge difference in temperature between the interior and exterior sides. 
Increased temperature in the interior can harm both human and animal health. This difference in temperature leads to condensation on the inside causing rust or the growth of mold. Proper ventilation and insulation are needed to prevent this.
The climate varies in different states. If your location faces heavy snow loads or strong wind, you will need to choose a steel grade that can endure this type of load. So, it is very important to choose the proper steel grade for your structure to meet the building code of your region.
How Does Steel And Stud Aid the Permitting Process?
While the task of receiving a building permit is up to the buyer, Steel and Stud will make it ten times easier for you. We provide pre-engineered steel structures of different sizes that are certified by our expert engineers.
As you will get a letter of certification from us, you have already passed one step of the procedure. Our building professionals are always there to help you. They will provide you with a perfect plan for your project maintaining all the specific codes of your state. 
This plan will let you pass the verification quickly and achieve metal building permits without any delay. Steel and Stud use the best steel grade that can withstand heavy snow to windy storms. They are fireproof also.
Our team designs the structure of a metal building according to your purpose of use. Let it be a metal carport, workhouse, garage, or anything you want, we have the perfect structure ready for you. Just follow our buying guide to choose the one that suits your need.
So there is little to no chance that you will face any obstacle in achieving metal building permits. Steel and Stud's well-planned steel structure will aid you to construct your dream project with no obstacles at all.
Other Building Permits and Fees Procedure For Steel Buildings 
You may need to obtain a zoning permit alongside building permits for steel buildings. The local building division will provide you with up-to-date information. 
The application fee generally costs $50-$150. There may be additional charges. If an inspection is required, there will be an additional fee for that. You will get to know about that from your state's office.
You will need to obtain building permits not just for new structures, but also for rehabilitation of existing structures or any massive change in electrical or plumbing lines and serious alternation like this. Constructing without building permits will be considered a violation of law resulting in penalties of up to $10000.
While obtaining a building permit seems tiring, it is essential to prevent your structure from causing any accidents, health risks, or safety issues. If you maintain all the requirements in your structure, the process of getting a permit will be smooth for you.
Building codes are for your safety. So, don't ignore it. If you face any problems regarding the permit, reach out to Steel and Stud support.