Galvanized steel purlins are manufactured by adding a coating of zinc to the steel. This is done to offer protection to the steel from rotting or rusting.
Several processes are involved during the galvanization of the steel, with the most common method being hot-drip galvanizing.
Red oxide steel makes it a very popular material because it has extended durability offered by the zinc coating, corrosion protection, and has the strength and formability.
Galvanized purlins are building resources that are installed horizontally on the roof and wall of a building to offer support to the roof and wall sheets also.
Red oxide steel purlins are manufactured from galvanized steel. 
Moreover, if we talk about the used purlins for sale near me's importance, then:
Galvanized purlins are ideal for any kind of structure, especially pre-engineered buildings.

They are easy to install and carry, allowing you to focus on more critical aspects of construction.
Apart from their significance, galvanized purlins are also packed with a bonanza of benefits, for instance:
Galvanized purlins help keep a structure safe against heavy winds, snowstorms, and tornadoes and improve insulation.

It protects roofing materials, which increases their lifespan.

These purlins guarantee a sturdy and more well-built structure.

Galvanized purlins are non-combustible.

It also adds extra support between the two adjacent columns.

They are lightweight and stable.
Galvanized Purlins for Sale
Galvanized purlins are building resources that are used in support the weight of the roof and the wall sheets. They are strong, giving your building efficient, sturdy makeup.
The purlins are cold rolled from steel that has high strength and is zinc-coated thus, the term galvanized.
Red oxide purlins are also ideal for the manufacture of shelves and frames.
The red oxide metal purlins are manufactured into two different designs. The Cee purlins and the zee purlins.
Galvanized steel purlins are in two types. They are;
C purlin also referred to as C section purlins or Cee purlins.
Z purlins also known as Zee purlins or Z section purlins.
The two different types of purlins derive their names from the shapes of letter "C" and letter "Z" making C purlin and Z purlins respectively.
C-section purlins or galvanized C Purlins are a type of purlins manufactured in the shape of the letter "C".
They have flanges whose dimensions are equal and are mainly used in the support of wall joists and roofs.
The C-section purlins are used in single spans.
Due to their makeup, C-section purlins are used in construction as unlapped continuous spans, especially in multi-bay buildings.
Storage and delivery of C-section purlins are easy. C-section purlins can be used in small and medium-sized buildings due to their ability to hold structural structures.
Sizes of C section purlins
Steel and Stud has a significant stock for different gauges for C-section purlins.
The galvanized C purlins are manufactured to the precise request of our customers, going up a distance of 8m also 26.25 feet.
These lengths give our materials an adaptation technique, thus used in different-sized buildings.
Steel and Stud offer both drilled and undrilled galvanized c purlins for sale. We offer the two varieties depending on the request of the customer.
The holes are pre-drilled with diameters of 18 mm. Smaller holes can be drilled upon request from our customers. 
The thickness of the Cee purlins comes in varying ranges. They include;
Thickness ranges of C purlins
1.2mm
1.3mm
1.4mm
1.5mm
1.6mm
1.8mm
2.0mm
2.5mm
The thicknesses can be achieved with the following heights
  C Section varying heights
Purpose and use of Cee Purlins
C purlin is remarkably used for a number of functions. The C purlin for sale protect the roof from caving in.
They also hold together the rafters, reinforcing and stabilizing the rigid framing.
C Purlin also provides additional support between the spans of the individual framing bays.
Cee purlins for metal roofing
Purlins take in the roof's sloping shape, increasing the roof system's resistance to excessive rainfall and snow. 
Cee purlins also support the metal roofing from caving in.
C-shaped purlins are easy for installation and drilling of holes. 
They come in different dimensions, giving the owner a variety of options to choose from.
C purlin has a thin wall, is lightweight, impact resistant, and has excellent cross-section performance. 
They are used for simple span construction.

Galvanized c purlins are easy to assemble.

They are durable, versatile, satisfy implied needs and have a high stability factor.

Due to its lightweight, individuals can experience the perks of low transportation costs.

It uses less steel per meter in contrast with an enclosed purlin.

There's no need for side drilling or cutting for galvanized c purlins.
Zee purlins, also referred to as Zee Purlins, are named from the letter Z. They are Z shaped and have a significant difference from C purlins.
They are stronger compared to C-section purlins. Unlike the C-section purlins, the flanges are not the same.
One flange is broad, while the other is narrow. This difference allows the purlins to overlap. 
In terms of usage, Zee purlins are ideal for large buildings and also smaller or light buildings and projects such as carports and garages.
Size and Lengths of Zee Purlins
Steel and Stud manufacture Z purlins with dimensions of 1.6mm and 2mm. The size can be customized to achieve the following;
With our state-of-the-art machines, Steel and Stud can produce Zee purlins of lengths up to 10 meters. Customizable heights are achieved as follows;
Z Section varying heights
Our expertise in manufacturing Zee purlins can achieve a size with depths of 140mm, 175mm, and 200mm.
Purpose and Use for Z purlins
Z purlins are stronger and sturdier than C-section purlins. They are lightweight and highly versatile.
Due to this property, Zee are ideal for use in industrial, agricultural, stadiums, and large buildings.
The overlapping nature of the Z purlins gives them a more robust connection, thus ideal for large loads and heavy-duty projects. They can also be used for smaller buildings.
Zee Purlins for metal buildings
Steel and Stud's Z purlins consist of a compatible range of Z section profiles that are commonly made from cold rolled steel.
They offer support to metal buildings. They are commonly chosen for large buildings and smaller ones.
Since the purlins can overlap, they are stronger and offer a more rigid roof by acting a secondary steel framing members.
The Zed purlins are made from pre-hot-dipped galvanized steel. The coating offers a minimum yield strength of 450N/mm².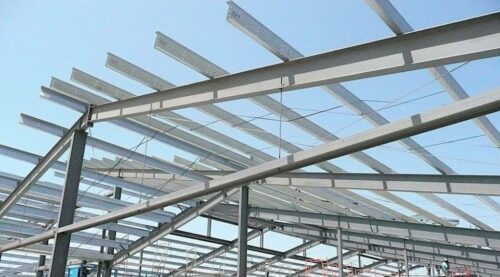 40% saving in steel and 30% saving in construction cost and price
Easy handling and fast to erect 
No cutting or side drilling is required
Assured straightness and dimensions
Ability to span length
High durability versatility and uniform quality
Low transportation cost due to decreased weight
Saving on 40% weight and 20% construction cost compared to hot rolled purlins

Because of their cold roll forming process, galvanized z purlins have precise dimensional measurements.

Galvanized z purlins are efficacious in keeping water out of your metal building structure, ensuring your roof is fastened.

These galvanized z purlins for sale are able to withstand extreme elements like snowstorms, tornadoes, floods, and scorching heat.

They are low maintenance and require significantly less upkeep.
Applications of Galvanized Purlins
Galvanized purlins are used in a plethora of applications, such as:
When it comes to roofing or construction application, we always require a material to keep everything in place. 

And there's no other material better than galvanized purlins (in the context of roofing) that not only delivers a support structure for a roof but also provides a sturdy platform for roofing materials.
Galvanized purlins allow you to safely attach wall cladding sheets to any metal building structure. 

And the reason why they are preferred is that they provide strength and rigidity to the walls, which prevents sagging and sudden change in the shape.
Apart from just providing a strong and stable platform, galvanized purlins also supply a spacious space under barns, stables, and farm sheds, making it easier for farmers to stow their livestock, equipment, and essentials.
Industrial buildings such as warehouses, factories, and storage facilities usually require an enduring and robust support system. And that's where purlins come in. 

The inclusion of galvanized purlins in constructing these buildings helps them with the support they need against unpredictable weather conditions.
Galvanized Purlin Installation
Keep the following pointers in mind before installing galvanized purlins:
Begin by noting down the location where you want your purlins to be installed; for this, start by mapping down the position of purlins on the trusses at the preparation site.
Expert tip: The key to a firm structure is the even spacing of purlins throughout your metal building structure.
Once you have noted the installation details, it's time to trim or cut the purlins to the required measurement.

The next step is to attach your purlins with trusses or rafters securely. This can be done by employing nuts, bolts, and screws or wielding them at your preparation site. 

After fastening your Z or C purlins, lay down your plywood or decking material on your structure's roof.

Once you have installed your deck (roofing) material, you can add other roof materials like shingles and tiles as per your requirements.
Maintenance of Galvanized Purlins
Don't let your galvanized purlin come in direct contact with other dissimilar metals & alloys like brass, steel, copper, and acidic foods such as tomatoes or grapes.

Make sure you don't use aluminum cleaner.

Never store your galvanized purlins in poor ventilation areas.

Avoid using bleach as an alternative cleaner to clean your roof because they are corrosive with galvanized steel.
Get your Quote from Steel and Stud
Installation of steel purlins is technical, but all that is made easy by choosing Steel and Stud as your construction partner.
We supply both Zee purlins and C section purlins that come in a wide range of thicknesses and lengths.
The purlins can be manufactured with the exact dimensions that you need. With the help of our quality machines lengths of up to 10 meters are achieved.
We also offer quality galvanized steel purlins, thus assuring you of durability. 
Our team is approachable to contact, and you can get consultation help anytime you need it. You can also go through our stock, signup, and browse our site at any time. Our galvanized c purlins price and z purlin's price is affordable and our availability is in many locations
If interested in Z or C Purlins for sale near me, you can place an order from us, but first, subscribe to our site [steelandstud.com], or visit our physical address. You can also leave us a message and we will message back or call. We will offer you with technical assistance, and consultation until your project is successfully completed.
FAQs Related to Galvanized Purlins
What is the purpose of Galvanizing Purlins?
The purpose of galvanizing purlins is to provide additional support to the roof. They make a horizontal diaphragm that holds up your building roof deck weight.
What are the different fastening methods for Galvanized Purlins?
Hex head fasteners

Swage fasteners

Clamping

Cleat fasteners

Clip fasteners

Bolting
What is the proper spacing for Galvanized Purlins?
The purlins should be placed not more than 1.2-1.5 mm.
How do you determine the appropriate size of Galvanized Purlins?
The appropriate size of galvanized purlins is determined by the bases of the run system and the required section modulus.
What is the lifespan of Galvanized Purlins?
The lifespan of galvanized purlins is more than 30 years.
What is the risk of galvanic corrosion with Galvanized Purlins?
It can risk the structural integrity of purlins.

And can compromise the entire roofing structure.
How do Galvanized Purlins perform in high-wind areas?
By increasing your metal's structure's resistance.
What are the weight differences between C and Z purlins?
Let's understand it by an example. C purlins with 80mm height, 40mm section width, 20mm crimping width, thickness of 2.5mm, and length of 6m weigh around 112.32 kg/m, whereas Z purlins with the same dimension weigh about 226.08 kg/m.