Any roofing system composed of metal pieces, tiles, or panels is simply referred to as a metal roof. 
A metal roof in a steel building is a roofing envelope component designed to offer resistance to air, water, heat, and sound, which serves as the physical barrier separating the interior from the structure's exterior. 
A roof contributes as a substantial component to the building that elevates the overall structural support and its aesthteics.
The roof makes a substantial contribution to a building's overall visual appeal as well as structural support.
Steel and Stud provides a metal roofing system where all components are of the best quality.
Existing Single Roof
Ridge Cap
Metal Roof
Vertical wood Strapping
Horizontal Wood Strapping
J-Trim
Gutter
Existing Shingle Roof
Breathable Roof Membrane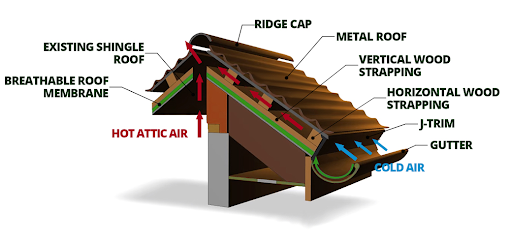 Here are different types of metal roofing styles provided by us,
Tile Metal Roof
Shake Metal Roof
Slate Metal Roof
Shingle Metal Roof
Standing Seam Metal Roof
Corrugated Metal Roof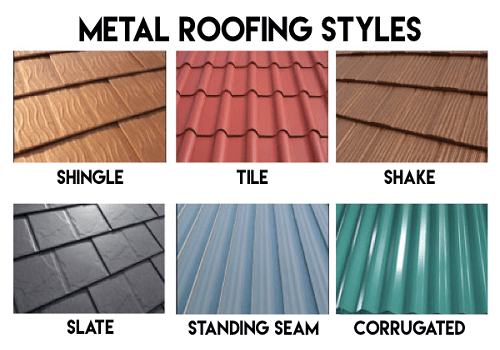 Different  Metal Roofing Layers Available With Us
Since we began producing metal roofing and siding panels more than 20 years ago, Steel ANd Stud have assisted hundreds of clients in selecting the perfect metal roof for their homes. 
Over time, we've learned that the term "metal" is used to refer to a variety of different materials, which can be perplexing.
Although each material is technically a sort of metal layer, the roofs we'll talk about in this post are all made of various materials.
The metal sheet is rolled into corrugated metal roof panels, which are made of metal. Following that, screws are used to secure these panels to the roof. 
Having each fastener visible on the panel's surface, corrugated metal is a type of exposed fastener panel.
Types – Galvanized Steel Sheet, Polyester Painted Sheets, PVC Plastisol, Bitumen
Best For – Both Commercial & Residential
Life Span – 30 – 35 years
Average Price – $3.50 – $6.50 per square foot
Colour Available – 50+ colours
To remove water quickly, building a corrugated metal roof system on a slope is essential. It's possible that you believe that certain materials make noise when it rains, but this is untrue. If your roof was built of clay or asphalt, you would still hear the same amount of noise.
In some situations, a corrugated steel or aluminum roof can last up to 100 years. Additionally, materials like steel, metal, or aluminum are resistant to termites and other burrowing insects and won't corrode or fade with time. To stop algae development, these materials are often treated with specialized chemicals.
Since metal corrugated roofs cannot be produced locally, mining, refining, and transportation processes can be costly. 
However, some producers employ repurposed materials to reduce waste and pollution.
A corrugated roof is not more expensive than other forms of the roof, despite the fact that the cost may be an issue in the near term, given the long-term advantages of this style of roofing.
Standing Seam Metal Roofing
Standing seam metal roofing is a type of metal panel system with hidden fasteners that have vertical legs and a big, flat region in between them. 
Additionally, Standing seam metal roofing is said to have vertical legs or elevated seams that protrude above the panel's smooth surface. Metal roofs and metal walls both benefit from standing seam systems.
Types – Snap-lock, Batten Panel, Mechanical Seam, Fastener/Nail Flange
Best For – Commercial & Residential
Life Span – 50 years
Average Price – $6.50 – $10.50 per square foot
Colour Available – 50+ colours
Should Be No Exposed Fasteners
Alternative for Engineered Systems that Pass
High-Performance Standards Tests
Allows for Thermal Movement
Consistent, Sleek & Modern Aesthetical Look
Lifecycle & Longevity
Architectural Freedom
Different Options for Material.
Energy-Efficient
Options for Mounting.
Higher price.
Standing Seam Roof Installation Experience is Limited Among Qualified Contractors.
The installation process demands extensive labour.
Not to be ideally used on Structures with flat roofing.
Replacing or repairing may be more difficult.
Insulation For Metal Roofing
Modern homes and businesses both need metal roof insulation to increase their energy effectiveness, acoustics, comfort, and living standards.
Insulation is crucial since the roof is where most heat transfer occurs in an uninsulated building.
Stone wool insulation is a strong option for fire safety since it is non-combustible. 
However, it is the material's outstanding sound absorption that makes Steel and Stud's metal roof insulation solutions the best option for built-up applications.
Types – Fiberglass Batts, Rigid Foam Board, Spray Foam Insulation
Best For – Commercial & Residential
Life Span – 40 year
Average Price – $4 – $11 per square foot
Incredibly durable
long-lasting
It ranks among the market's greenest options.
It's aesthetically pleasing.
High thermal conductivity
Since they can be recycled, metal roofing sheets are an environmentally responsible option for roofing. 
Tin, zinc, aluminum, and copper are often the materials used to make them. While there are fewer bends in metal roof sheets, their composition is comparable to that of corrugated roofing sheets. 
With this category of roofing sheets, you may choose between modern and classic designs for your home from a wide variety of styles, textures, and colors.
Types – Copper roofing, Zinc roofing, Steel roofing, Aluminum roofing
Best For – Garages, Backyard Sheds, Garden Buildings, Household Cladding,
Life Span –  40-70 years
Average Price – $8.50-$16 per square foot
Colour Available – As Per Your Choice
Metal Roofing Lasts A Long Time
Metal Roofing Is Lightweight
A Metal Roof Installs Fast
Metal Roofing Materials Doesn't Catch Fire Like Other Roofing Materials
Metal Surfaces Reflect Heat
Metal Panels Can Go On Low-Pitched Roofs
Metal Is Great At Shedding Snow & Rain
Steel Roofing Materials Are Environmentally Friendly
A Metal Roof systems Stand Up to Tornadoes & Hurricanes
Metal Can Dent
You Should Avoid Walking On Metal Roofs
Modifying Panels Can Be Difficult
Installation Is Not Foolproof
Metal Expands & Contracts
Difficult for Firefighters
Metal panels are fastened to the building framework, whether it is made of steel or wood, using metal roofing screws. 
Each one was made with a particular function in mind and the desired consequence for the builder and building owner, and they come in a range of shapes, sizes, and materials.
Type -The metal roofing project calls for the use of a 1 1/2-inch screw, which has a 1 1/4-inch penetration. We consider being a normal size for metal roofing, this screw size. It firmly secures the metal roof system paneling in place.
Life Span – 20-30 years
Average Price – $0.031/Piece
Colour Available – Silver
Cheap in price
Good life span
Easy to install
A screw that is half as long as the substrate will not adequately attach, and one that is twice as long as the substrate runs the risk of destroying the side on the other.
This particular style of edge metal flashing may be installed on slate, shingle, rubber, or metal roofs. 
The purpose of drip edge material is to divert water away from the edge of a building structure, safeguarding the fascia board and rake.
Type – Angled drip edge for metal roofing systems, Drip edge for shingle roof and slat roofing, Straight drip edge for metal roofing systems.
Life Span – 40-70 Years
Colour Available – As per your choice
Ridge Cap extends the whole length of the roof ridge and joins nearby roof planes. Its purpose is to offer a waterproof covering that safeguards the structural integrity of the roof panels' edges and the roof decking underneath them. 
The Ridge Cap serves as a vent to let the hot air escape, allowing the roof to breathe. 
Life Span – 40-70 Years
Average Price – $4-$16 per square foot
Colour Available – As per your choice
Ridge caps for metal roofs are produced using the same gauge steel, tensile strength, and color of the metal as the roofing panels. These ridge caps are created using the same technology that shapes roofing panels, and they are then shaped to shape the metal product's contour.
Ridge caps attach to metal roofing panels using self-tapping screws to provide a snug fit. A water-resistant barrier is created between the metal panels and the ridge cap by using high-quality tape sealant. The outcome is an attractive metal building with a well-sealed metal roof and a building that will provide years of trouble-free operation.
The flat ridge cap is a typical ridge cap used by various metal contractors. Metal roofing panels are not flat; they are ribbed. Consequently, flat metal roof ridge tops could not completely seal.
Wind-driven rain pushes below the flat metal ridge cap while air movement beneath it pulls draughts into the building. Rain will seep inside the building, soaking the insulation and the contents.
Mice, rats, birds, and insects can pass through the roof panels and flat ridge tops.
Metal strips called roof flashing are a crucial component of your roofing. At roof junctions, such as the tops of dormers, flashing is installed. 
In order to avoid water damage to your roof, metal roof flashing helps guide water onto the shingles instead of the seams and roof deck.
Type –  Continuous, Base, Counter, Step, Skylight, Valley, Drip, Kickout
The purpose of installing flashing and using a good sealant is to shield your roof's problem areas from water and other harmful factors. The life of your roof depends on having flashing that will expand and contract with the weather and redirect water off the roof. Without adequate flashing, those difficult-to-reach locations may be the first to fail.
Life Span – 20-30 years
Average Price – $8.50-$16 per square foot
Colour Available – As per your choice
Longer Lifespan
Ease of Installation
Fire Resistant
Energy Efficient
Low Maintenance Costs
Modern Look
Expensive Roofing Materials
Noisy on Contact
Expansion and Contraction
Prone to Denting and Marring
Not Corrosion Resistant
Modification Issues
Types of Metal Roof Flashing
Roofers install roof flashing, a thin metal sheet, to guide water away from certain portions of your roof (such as walls, chimneys, and roof valleys). 
It's one of the most essential roofing material that every roof need, as we just explained.
Typically, step flashing is used on chimneys and the sides of walls. 
In order to stop water from draining into a wall, it works by placing a metal piece (flashing) beneath each shingle that is placed straight up against the wall.
Counter flashing, like step flashing, is applied to walls and chimneys. As opposed to step flashing, the flashing is sawed into an existing mortar joint and extends over the brick.
At a wall's or penetration's base, apron flashing is utilized. It has an L-shape and may be up to 14 feet long to accommodate the penetration's base. 
In order to keep water from entering your windows, it is often utilized around dormers.
Our Top Selling Metal Roofs In Florida
Metal Roofing Panels
Corrugated Metal Roofing
R-Panel Metal Roofing
Architectural Standing Seam
Metal Shingles
Different Metal Roofing Exterior
Keep in mind that the phrase "metal" may refer to a variety of materials, including aluminum, copper, steel, and zinc roofing while discussing the many types of metal roofs.
Particularly lightweight, corrosion resistant, and appropriate for coastal settings is aluminum roofing. 
The minimal weight of this metal roofing material is one of its most notable features. 
But aluminum roofing materials are quite strong. Compared to other widely used metal roofing kinds on the market, the aluminum roofing system offers a better strength-to-weight ratio. So, without selecting a heavier, more challenging-to-work-with material, you may anticipate the same strength (or more). 
Additionally, aluminum roofing provides varied looks, an excellent lifespan, and ease of care.
Copper roofs are renowned for having a very long lifespan. 
Additionally, copper roofing material forms a colored protective coating over time. But the price might be high. 
Due to their stunning, distinctive appearance, copper roofing is immediately recognized. After some time, the copper's hue changes from that of a brand-new penny to a brown or blue-green patina. 
Remember that the environmental conditions copper roofing material are exposed to will affect the color of the patina.
For its distinctiveness, a copper roof is popular among homeowners. You'll have a roof that stands out from the others since it naturally changes color over time! 
And last, copper roofing is renowned for outlasting the majority of other roofing materials. It can therefore endure 60 to 100 years longer than its competitors. 
A copper roof will last a long time, and you can rely on that.
The most popular form of metal roofing that comes in a variety of finishes is metal or steel roofs. 
Typically, steel—a substance that is heavier than aluminum—is used to make metal roofs. 
Metal roofs, which are built of various materials, are sometimes referred to by some homeowners as "steel roofing."
Its overall performance and durability may be impacted by the gauge steel. It is fortunately offered in many gauges. 
For inexpensive corrugated and ribbed metal roofing panels, thin gauges are employed since they are more cost-effective. Commercial buildings were the only ones to employ steel roofing for a very long time. 
Today, however, metal roofs are a common alternative for houses as well.
Like copper, zinc metal roofs are similarly expensive, but they are renowned to be durable metal roofing materials. Additionally, it will eventually acquire a patina that changes hue. 
As it has a beautiful look and, with time, takes on a patina and changes color, zinc roofing is comparable to the copper roof.
These days, zinc roofing panels have already been pre-patinated or are in the process of doing so. 
This process alters the appearance of the zinc. In Europe, zinc roofs are more prevalent because of their outstanding aesthetic value. 
The majority of American homeowners choose to look into less expensive varieties of metal roofing.
Today, tin roofs are no longer in use. When "tin roofing" is spoken, steel roofing material is often meant. 
The tin roof is no longer in use, but we've included this metal roofing style anyhow for your convenience.
As early as the 1970s and 1980s, the material was being utilized for roofing. Its lightweight characteristics, which make it simple to install, helped it become a popular metal roofing alternative. 
However, the popularity of tin roofing gradually began to wane as a result of the development of aluminum material. 
However, the tin roof is now rather uncommon. The next time someone mentions considering installing a tin roof, they are likely referring to a metal or aluminum roof.
Different types of metal roofing materials Available with Steel and Stud
Our steel roof trusses are the strongest and most resilient available. Our products, which are made for commercial, industrial, and agricultural buildings, provide the best combination of quality, price, and performance.
We're proud to offer metal roof seams, a reliable & sustainable solution in the construction industry.
We use our expertise to create innovative roofs that stand out in their class. Our standing seam metal roofs are strong, durable, and affordable.
Our metal roof coatings are attractive and long-lasting. They can aid in defending your roof from ice jams, snow melt, and sun damage.
No matter where you live, these steel roofs can provide a healthy and sustainable environment for your home.
Our metal roof ridge cap is an attractive, low-cost way to finish off your roof.
From the inside out, our metal roof colors help make your home feel fresh and happy.
Do you want to add some rustic flare to your home? Our steel roof decking is the perfect solution!
Metal roof fasteners are available in a variety of sizes and styles. Find yours today!
We are steadfast in our support of metal roofing. Our metal shingles are designed to resist weather conditions in Central Florida and are produced using the best materials available.
Now that winter has arrived, we are deploying snow guard metal roofing to shield our consumers.
The best roofing option is the one that you can install yourself. We have metal roof tiles made to fit your budget and needs.
Keep your roof out in the way of having fun. We're here to ensure you can take advantage of it all year long.
Metal roof trim is available in a variety of colors and finishes to add a touch of sparkle to your home or office.
Frequently Asked Question