Introduction
Pre-engineered metal buildings have been around since at least the 1960s, and they are often considered a cost-effective and easy-to-install alternative to traditional construction structures. Pre-engineered buildings are primarily used in commercial structures, but they can be as easily modified for use in residential buildings, universities, hospitals, etc.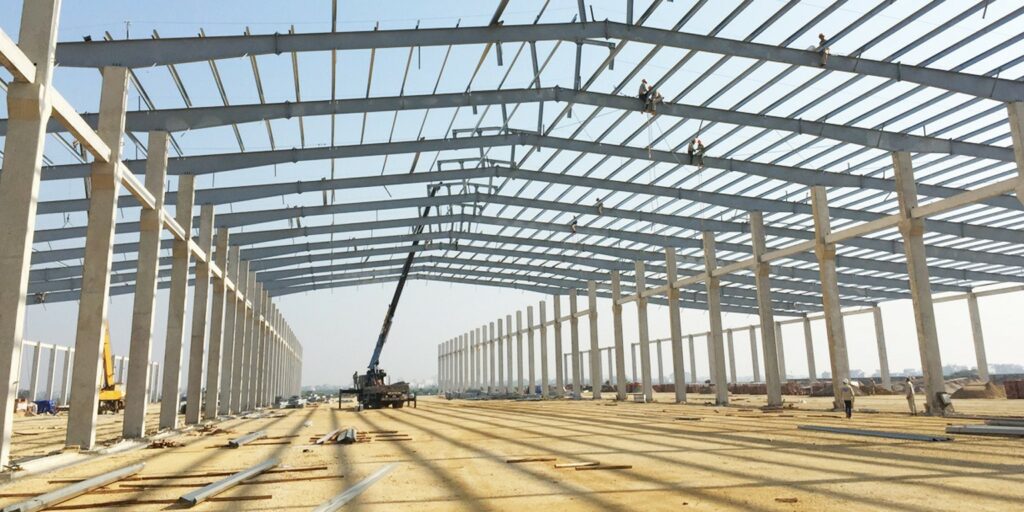 One of the main advantages of pre-engineered buildings is that they are highly customizable and can be made as per the exact size requirements of a builder. Various components of a pre-engineered building are usually constructed at a factory and then transported and assembled at the job site.
What is a pre-engineered metal building?
A pre-engineered building is simply a structure usually made of components fabricated in a factory and often includes a metal roof and metal walls. Sometimes, only steel girders are used as beams as steel girders are known for their strength and can shoulder the weight of the building.
Pre-engineered metal buildings are designed according to precise dimensions prepared by a civil engineer or an architect. Many buildings use a combination of pre-engineered metal structures and traditional building materials to achieve the best results.
Steel is often the primary material used for constructing metal building systems. The steel used in the frame of a building makes it extra strong compared to buildings that only use concrete, bricks, or cement, as steel is one of the most robust metals available to mankind.
Steel can resist pests, termites, corrosion, and pre-engineered steel buildings are also known to withstand natural disasters such as earthquakes, cyclones, tornadoes, and tsunamis in a much better way.  
Frame components of a pre-engineered metal building are often constructed at a factory and then shipped to the job site, where they are assembled in the desired structure/shape.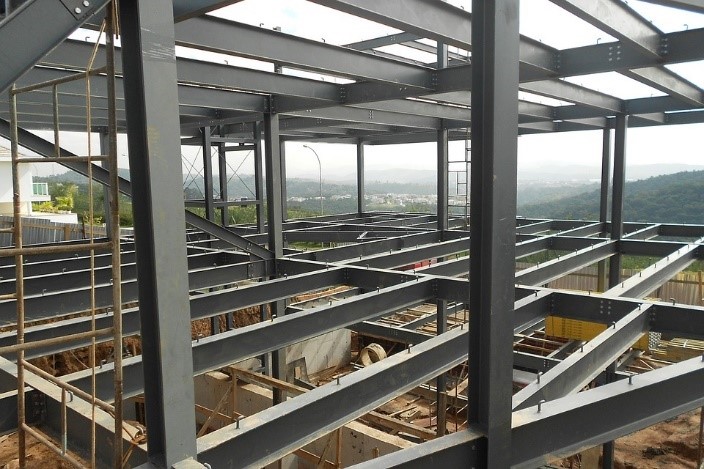 Pre-engineered steel buildings often use I-beams created using girders or plate girders, and these I-beams are used to provide extra support to the structure of the building.
How are pre-engineered metal buildings designed?
Metal building manufacturers need to consider several things to accurately design a metal building system. Here are some of the main things that one should consider before designing a metal building system:
The slope of the roof
Load (collateral, live, and dead load of the structure)
Deflection criteria
Wind uplift
Bay spacing
Space between bearing points
Maximum size and weight of the engineered components without compromising the integrity of the structure
One also needs to carefully study the local building codes as building codes vary from city to city and may have different guidelines for using metal as the primary frame of a building.
Pre-engineered building's external design
In addition to steel, a pre-engineered metal building uses several other construction materials for external design. These materials are generally used for the exterior cladding of the building, and their choice largely depends on the visual appearance and aesthetic appeal that one wants.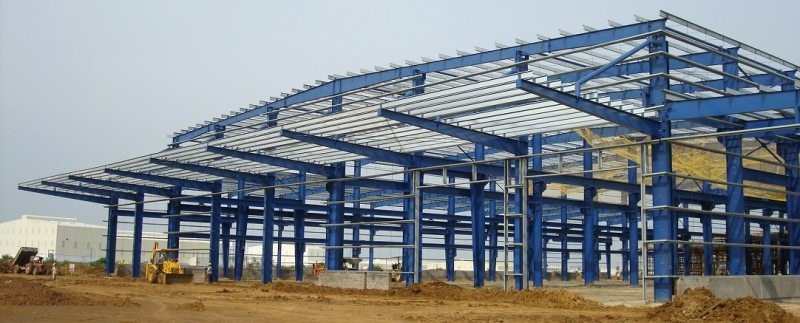 Wood, glass, concrete, metal sheets, masonry block, tensioned fabric are among the most common building components used as external cladding in pre-engineered steel buildings.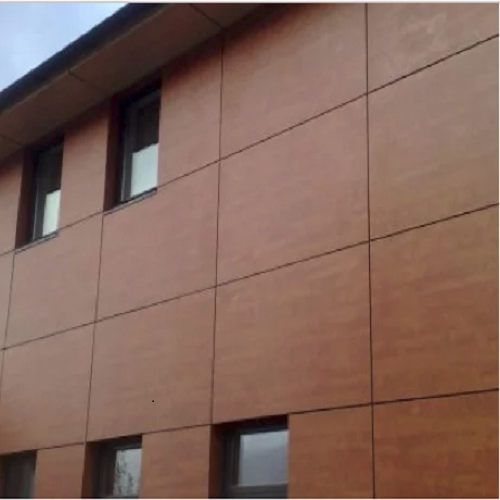 The above image shows wooden tile cladding used for the exterior of a building. Steel can work with several other cladding materials, and one can choose the external cladding material as per their needs.
It should also be noted that the material used for external cladding may not have the properties of steel. For example, wood is prone to termites and pests, and if you decide to go for wood as an external cladding material, you are making your building susceptible to damage caused by termites and other pests that feed on wood.
So, one should almost always carefully study the properties of the cladding material, as choosing the wrong material can often negate the benefits of the steel structure.
Benefits of prefabricated metal buildings
Construction time: Pre-engineered metal buildings can be constructed in much less time than conventionally built buildings and are thus the preferred choice for time-constrained businesses and other establishments.
Most components of pre-engineered metal buildings are constructed at a factory and are then assembled on-site, thus reducing the time required to build a building significantly.
Endless design options: Steel is a versatile metal that can be molded into any given design, and pre-engineered metal buildings inherit this property in their designs from steel.
You can enhance the aesthetic appearance of your building by choosing a pre-engineered metal structure as such structures offer endless and flexible design options.
Cost-Effective: Pre-engineered metal buildings can cost 50 to 30 percent less than traditionally constructed buildings. This tremendous cost-saving results from automation as most pre-engineered building components are built at a factory, using automated machinery that reduces labor costs.
Strength and Durability: It's a well-known fact that metals are much stronger than concrete, cement, and other construction materials. A steel building is thus far more durable and stronger than conventional construction.
Pre-engineered metal buildings can resist pests, termites, harsh weather conditions, and natural weather calamities such as earthquakes in a much better way.
This inherent durability of pre-engineered buildings also ensures a higher lifespan for these structures, and it's not uncommon to come across pre-engineered metal buildings that were designed in the 1950s or 1960s and still retain their fresh and new look. Low Maintenance: Steel is the primary material used in prefabricated metal buildings, and by its very nature, it is resistant to corrosion, termites, and rust and can also resist harsh weather conditions. Steel can also be painted or repainted to meet your design or interior needs. As most pre-engineered buildings are mostly made of steel, these structures require very low maintenance due to steel's inherent strength and properties.
Typical uses of a prefabricated metal building
Pre-engineered metal buildings have several advantages over conventional construction, such as durability, lower cost, and low maintenance, and are used for various purposes.
Steel buildings are commonly used for business centers, convention centers, departmental stores, power plants, factories, cold storage, warehouses, exhibition halls, stadiums, aircraft hangars, shipyards, etc.
Farmers and agriculturists have preferred a steel building over other traditional construction due to their cost-effectiveness, ease of maintenance, and resistance to pests and termites that are often an issue for businesses that need to store grain or other farm produce.
Several developers and builders have also started using them for residential purposes in recent years. One can now find several apartment blocks and staff housing quarters built using pre-engineered metal buildings.
Conclusion
Steel buildings have been in use for at least half a century. Their popularity has only increased with the advent of computer assisted design as CAD software has made designing a pre-engineered metal building relatively easy.
Due to the apparent benefits, cheaper costs, and less time required, more and more people are turning to pre-engineered metal structures for constructing their warehouses, storage, garages, stores, etc.
FAQs
Are prefab metal buildings good?
Yes, prefab metal buildings are pretty good and even better in most aspects than conventionally constructed buildings.
What are the advantages of pre-engineered buildings?
Low cost, less time required, design flexibility, durability, strength, and resistance to harsh weather conditions are some of the main advantages of pre-engineered buildings.
What are the advantages of pre-engineered steel structures?
Pre-engineered steel structures are known for their extreme strength as steel is one of the strongest metals on the planet that is known for being highly resistant to heat, cold, earthquakes, and extreme weather events, and is also termite and pest proof.
Steel structures are also cost-effective as compared to conventional construction.
Where are pre-engineered structures best used?
Pre-engineered structures are best used for agriculture, commercial, residential, warehouses, storage, and sports facilities.