A steel building is the most affordable, durable, easy-to-install metal building with high tensile strength.
Metal buildings are more about function than form. Prefab metal buildings used for offices, garages, or storage are used daily, and it is easier to overlook basic maintenance tasks until a critical structural problem arises.
Consequently, if the metal sheds or barns remain unused for a more extended period of time-bacteria growth with other undesirable microbes makes the place stinky.
The daily wear and tear are reasons for issues including water leakage, rust, or corrosion, which may weaken the structure, reducing the overall strength of steel buildings.
As rightly said, Ignore your steel building for a while, and you will end up with a larger maintenance dilemma.
When you buy your steel building kit from professional contractors, ask them to share metal building maintenance tips. For now, we can help you with six preventative maintenance ideas that will extend your prefab metal buildings' service life and save extra money.
Low Maintenance For Commercial and Residential Metal Structures
The low maintenance cost of the commercial metal building is what makes it popular across the nation. The reason for low maintenance is certain components of prefab steel structures need minimum care for upkeep.
Roof panels, doors, windows, and other metal building accessories can easily be cleaned by washing them with a soft-bristled brush and mild laundry detergent.
Other prefab metal buildings parts can be well maintained by following these easy cleaning processes:
Common Problems That Arise From Lack Of Steel Building Maintenance
Your steel building is one of your best investments that would only sometimes demand you to pay attention to it. However, keeping a regular check on your steel building is still advisable to prevent major damages. Lack of steel building maintenance will reduce its lifespan. If you're not keeping a check on your metal building, you may be missing out on the structural damages. 
Lack of timely metal building maintenance may result in significant repair issues. Moreover, if you live in a weather or temperature-fluctuating area, you must keep an eye out for rust and corrosion. These lead to the reduced aesthetic and visual appeal of the building.
6 Expert Tips for Steel Building Maintenance
If you notice minor problems creeping up every passing day, these metal building maintenance tips will prevent possible damage to the steel structure.
1. Thorough Cleaning of the Structure
Washing buildings with warm water every 3-4 months with a cleaning solution will remove the chalk-like dirt, preserving the steel frame's original color, shine, and overall look.
If your structure is in a heavily-industrialized area, consider power wash three times a year.
Follow the list of preventive measures to ensure maximum safety-
Mold -and- rust increase with moisture, so exercise extreme caution while washing the building; close all the windows and doors tightly.

Cover plants and bushes with traps while washing the structure for added protection.

Shut off all the power supply sources in the structure, especially all the external electrical sockets and lights.

Cover all the utility boxes, exterior lights, power outlets, and other open sources that may penetrate the building envelope.
It can be a great DIY project if you know all the preventive measures and can clean the metal building yourself.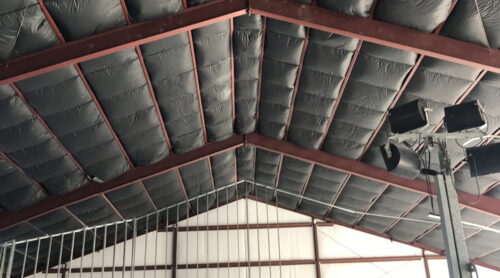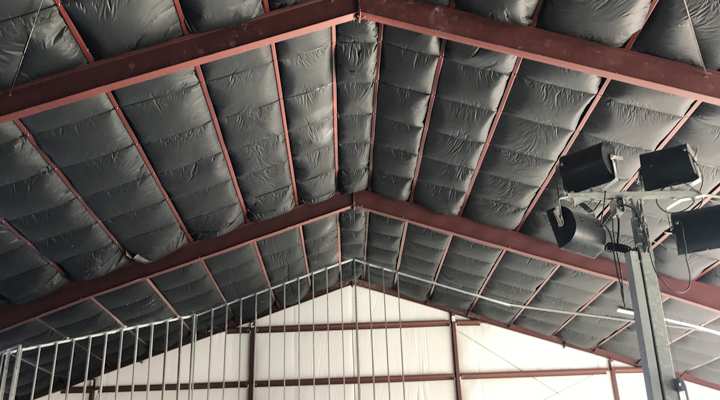 Prefab steel building is insulated to control moisture, temperature, and noise. Falling insulation or ignoring regular maintenance checks can create tremendous energy loss and restrict airflow. It's common for insulation blankets to fall off due to external factors, including adjacent building components.
When you check the insulation system, make sure to do the following task:
Replace Insul Bands

Modernize or upgrade the insulation system

Secure with friction washers or glue insulation pins- If necessary, clean the steel panels for adhesion and secure 1 pin per square foot to fill the open space.

Lace banding overtops purlins- Leave the steel banding open to feed the insulation blanket through the lacing.
Insulation check is a technical task, and it is advised to call the experts if you notice any damage to the insulation blanket.
3. Check for Loose Roofing Fasteners and Rust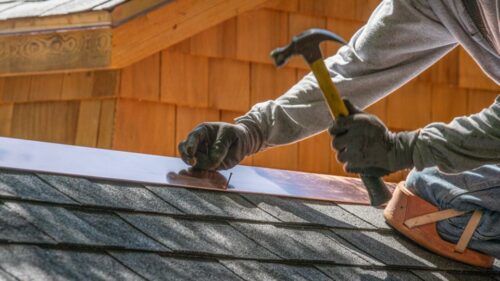 The periodic roof inspection will prevent critical structural problems caused due to weather, loosened or damaged fasteners, physical damage from external objects, or corrosion. Moisture can easily penetrate the roof and weaken the surface materials.
If you notice corrosion on the fasteners, remove the surface rust with a scraper to see what's below. The fastener is exemplary if the clean metal is visible after wiping it. If the bolt shows any deterioration, replace it with a new one before the problem worsens.
One wrong placement for the bolt or missing screws can affect the full tensile strength of the structure. However, consulting your steel building company for the next inspection will help determine the proper course of action.
4. Check Gutter and Drains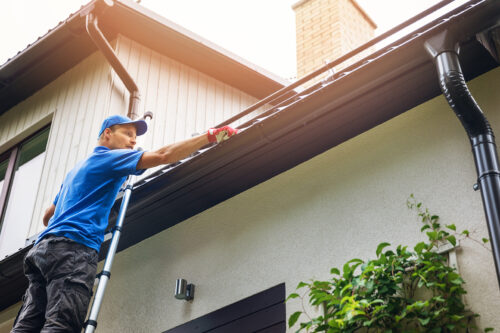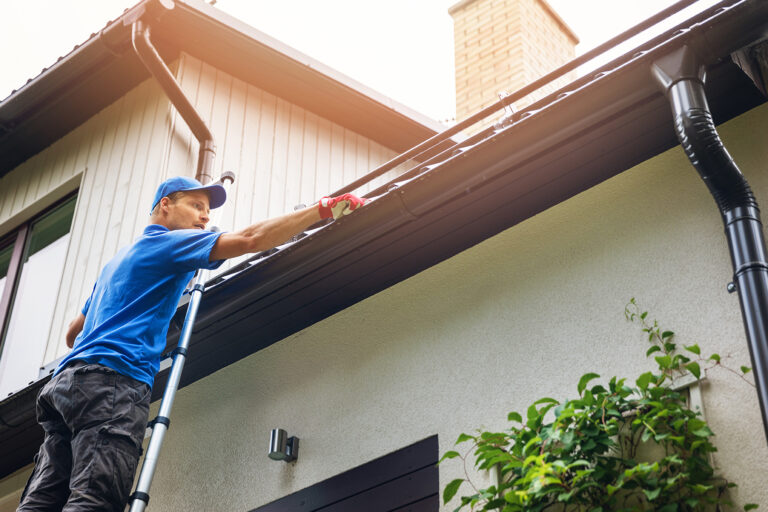 The drainage pipe ensures that the excess water in the building is unimpeded.
If drains are clogged, water will overflow in the other undesired path or stick around, indicating the signs of leakage at all joints. Anything it comes in touch with will destroy slowly, leading to rust, mold, and corrosion of the brackets. Incorporating drains and gutter checks in your periodic inspection will keep it clear from leaves, dirt, and sticks.
If you find any unwanted external item preventing the normal function of drain pipes, remove the blockage manually with rubber gloves and flush the drain with a power washer. It will eliminate all the smaller elements, leading to proper drains functioning.
Professionals at "Steel and Stud" for the cleanliness of guttering will inspect all the areas, including the back of the gutter and bends in plastic guttering that you may skip in DIY projects.
5. Oil the Hinges and Doors
Check for tightness of closure hardware, locksets, and hinges. They must open and close naturally without any pause or noise.

Make sure that all the hinges are oiled and do not show any sign of damage.

Check the seal and the door frame and repair the loose fasteners on the doors. If it shows any signs of mold, clean it with a soft scrubber and disinfect the mold. If it still appears damaged, replace the sealing and fasteners to prevent water leakage.

The same applies to windows as well. Ensure it maintains an optimally firm seal that hasn't deteriorated. Check the normal opening and closing mechanism and lubricate when needed.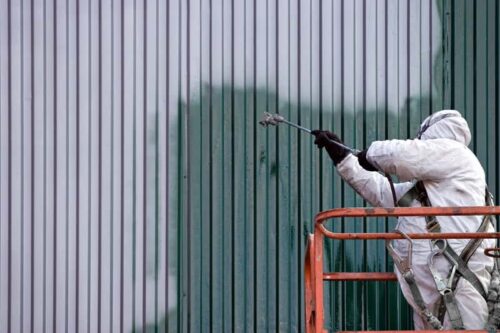 The high-quality paint on metal structures maintains their protective value and appearance for a longer time if properly maintained. If not inspected periodically, the panels will accumulate dirt over time, losing their original appearance and showing the wear and tear signs. It's important to ensure that no aspect of metal substrate ever gets to breathe.
Find all the minor scratches and clean the dirt, grease, and other foreign matter residing in these scratches or drill holes. After cleaning off the surface, apply the layer of prime followed by paint on the spot and leave it dry.
Paint comes in a range of environmental exposure thresholds, and you sometimes may be unable to find the correct paint shade or match the levels. Call your steel building company for professional assistance. They have the records for the paint shade and primer used, delivering the same finish as a newly installed structure.
Factors Affecting Maintenance of Metal Buildings
You cannot blindly jump into the pool of maintaining your best metal buildings. You may ask why so? Well, because you have a lot of other factors to take care of, such as:
Weather Conditions

:

You must be very careful about the weather conditions of your area before performing the metal building maintenance. Frequent rains can pave the way for

corrosion

and rust on your building. Moreover, strong winds can also cause significant structural damage.

Age of the building

:

The age of the building affects how frequently you should be maintaining it. Compared to other structures, metal buildings need minor care. You must know when the

metal building was built

. Therefore, if the building is too old, you can conduct maintenance every three or four months. If the metal building is new, maintaining once or twice a year would suffice. 

Usage of the building

:

The metal building maintenance top will also depend on your use. Whether for commercial or residential purposes determines how much care it needs. Commercial metal buildings need more maintenance than residential ones.

Location and surroundings

:

The surrounding environment also affects care and maintenance. If you're located on a construction site with dust, dirt, and debris regularly, you need to take care of your metal buildings properly. 

Building design and materials

:

The materials from which the metal buildings impact your maintenance strategy too. Metal buildings need care only in terms of rust and corrosion.

Maintenance history

:

Have you been very keen or careful about the maintenance? How often you maintain your

metal buildings interior

and exterior will impact your upcoming maintenance strategy. You can either conduct bi-annual or annual maintenance for your metal buildings. However, this may be frequent if the building is old.
Metal Building Maintenance Safety Tips
While maintaining the metal buildings, it is essential to follow the safety tips. These metal buildings can be slippery structures, so you must adorn proper maintenance gear. At "Steel and Stud", useful safety tips must be followed for maintaining the metal buildings. Therefore, we help you with using the right tools and equipment. At the same time, we also wear proper gear and glasses to prevent chipping metals from hurting. If maintained properly, these steel buildings last for more than 50 years. 
Cost-Saving Benefits from Periodic Metal Building Maintenance
Sustainability has become a crucial point to consider while constructing or designing a new building. Metal and steel have become the material of choice for most commercial steel buildings that need sturdy design and energy efficiency.
One of the benefits of owning a metal or steel building is the ease of maintaining your structure. Metal buildings are durable and can withstand external elements, requiring little maintenance and repairs. Moreover, the recyclable and versatile structures typically have lower overall costs in their lifetime due to the high tensile strength and slow decomposition period.
Benefits of Steel Buildings
Durable
Steel buildings can withstand strong weather conditions and constant use. These structures are not likely to rot like wood and can protect against seismic events, rain, wind, and snow.
Low Maintenance
Unlike structures made from traditional building materials, steel buildings are easier to clean and maintain.
Pest Resistant
Metal does not attract termites and is not susceptible to other destructive pests.
Energy Efficient
Energy efficiency and proper insulation of metal buildings help save cooling and heating costs.
Fire Retardant
Steel is not suspectable to fire hazards.
Low Insurance Costs
Steel is highly resistant to fire and other natural disasters. Durability and superior tensile strength further decrease the insurance costs of the building.
Hiring Professionals for Your Metal Building Maintenance
When indulging in metal building maintenance, you need the expertise of professionals like Steel and Stud. Since these professionals know the in-and-outs of care, they can carry out the maintenance with precision. Moreover, the professionals know how to differentiate between the building sections and perform cleaning and maintenance to ensure longevity. 
The proper maintenance provider can greatly affect how the metal building looks. There will be a huge difference between the present and past appearance of the building. While you're working with a maintenance provider, it is advisable to collaborate with them closely. You must provide them with all the necessary details of the property construction. This plays a vital role in ensuring they follow the most appropriate maintenance procedure for your requirements. 
At Steel and Stud, we understand your requirements and expectations of maintenance. We carry out the maintenance thoroughly regarding the information you provide us. Moreover, if necessary, our team of professionals also inspects the property to avoid any major mistakes.
Frequently Asked Questions
How often should I maintain my metal building?
If you own a metal building, it is advisable to maintain it thoroughly once or twice a year. 
What are the benefits of regular metal building maintenance?
Aesthetic appeal, improved lifespan, and better strength are all the results of regular metal building maintenance. 
What are the different types of metal building maintenance?
A professional would perform the gutter check, structure cleaning, insulation check, roof fastening, and rust as some of the most common metal building maintenance. 
How do I inspect my metal building for maintenance issues?
You need the help of professionals to inspect the metal building for any maintenance. 
How do I clean my metal building's walls?
The metal building walls must be cleaned thoroughly using the metal cleaning solution and warm water every three to four months. 
How do I maintain my metal building's HVAC system?
Replacing the bands and upgrading as per the latest standards will help to maintain the HVAC system. 
How do you prevent moisture in a metal building?
It would help if you regularly sealed the gaps and cracks to prevent moisture from seeping in. You should get a good quality cover to prevent rain from damaging metal buildings.