We cannot stress the importance of high-quality metal building components enough. Apart from enhancing durability, they guarantee sturdiness and provide a nice finishing touch after construction. The leaking, rusty corrosion of wall panels, and interrupted ventilation result from choosing the wrong components and accessories while installing a metal building.
If you want to replace, repair or even construct a metal building, you should be well aware of necessary metal building components and accessories available in the market. By choosing the right components, your Pre-engineered metal buildings will be able to withstand even the harshest of weather conditions for a long time to come. You can thank us later for having a reliable and high-strength grade of a steel building as sustainable as any other concrete structure.
Major Component of Metal Building Kit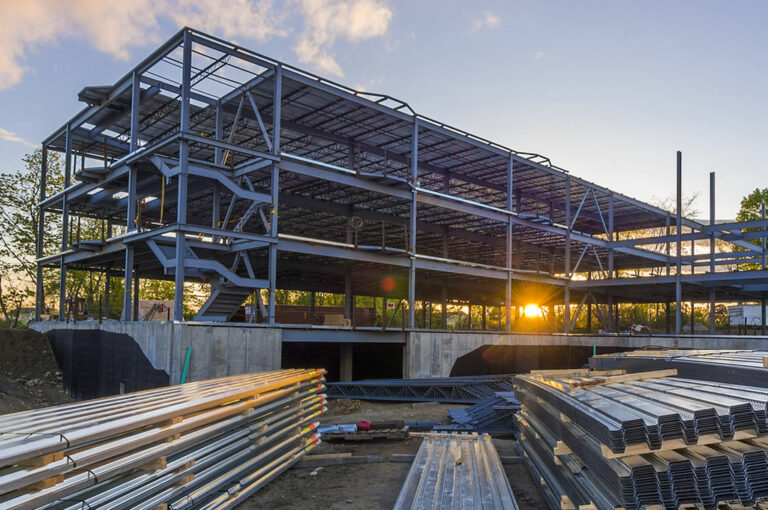 The metal building components can be broadly discussed in two main framing categories:
Primary Framing is comprised of fabricated rafters and columns bolted together. These heavy members are primarily responsible for taking the brunt of applied loads and weights. Primary framing members of a metal building can be tapered, unlike other steel construction methods which utilize hot-rolled sectional members.
Secondary Framing comprises cold-formed members, including eave struts, purlins, and girts. These usually bind the main frames together, provide stability in the weak axes, and can bear weight and resist applied loads. Secondary framing is created by rolling a flattened steel sheet into a functional profile.
Structural Component Used For Primary Framing
Standard projects use steel beams to create columns. Once you decide on clean span framing or I- beam perfect, choosing the correct beam will facilitate the construction of environmentally-friendly buildings with enhanced air inflow. Standard rolled beams are your one-size-fits-all metal building components that steel beam manufacturers engineer by heeding a certain set of universal standards. These are useful if the project doesn't have specific needs.
Rafters are structural components that play a vital role in metal roof construction. They are typically placed such that the roof structure conceals them.
Girts, purlins, and eave struts — Secondary Framing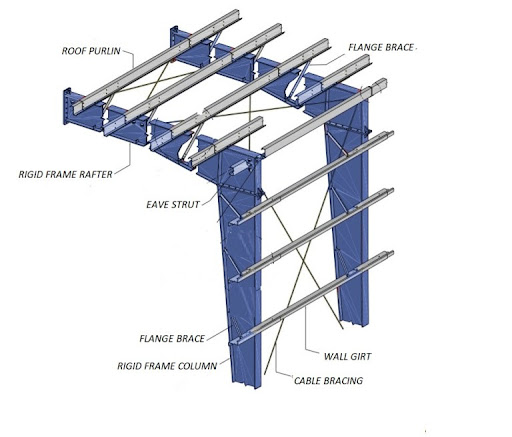 Purlins are horizontal bars or beams shaped like "Z" and are particularly associated with roofing, attached by either building walls or rafters. Purlins also carry loads to the primary frame.
Also shaped like "Z," girts are meant for wall panels. These horizontal structural members are primarily affixed to endwall columns or sidewalls. Girts additionally support panels. One may get confused between purlins and girts as they look identical and have uneven legs for lapping, but grits have arrows that point towards the larger leg or flange.
Eave struts are similar to girts and purlins, but these are "C" shaped. They primarily support roof and wall panels and are thus located at the eave of metal buildings.
Customized Accessories Play an Integral Role in Promoting Architectural Appeal
Metal roofing is incomplete without metal panels. When picking metal panels, the weather conditions and the environment of your residence should sway your decision to a great extent.
Hidden fasteners are used with standing seam, and exposed fasteners are generally seen in corrugated roofing.
Metal building kit clips secure two pieces of metal building components. They can either be fixed or floating. Search for one that offers a lifetime warranty so that it develops no red rust.
Underlayment functions as a layer of protection. It is located underneath the precision roll-formed panels. It offers protection against ice, moisture, and extreme temperatures.
Sealant makes the roof weather-tight and protects the building from moisture. It is applied during the building project's installation stage, so dirt, water, wind, and debris get sealed out before they enter the small spaces.
Trim adds to the aesthetics of your metal roof. They polish your building project, give it a nice finishing touch, and add subtle texture or details to the roof.
Ventilating foam and panel closures are key metal building tools that help prevent the entry of insects and animals. Closures ensure proper airflow for your building and can be installed after customization.
Most people might opt for flat roofs, but those who plan on getting a traditional design can go for a high-pitched or sloping roof for your building.
Gutters are pipes that direct the water flow from the roof and wall of your metal building. Modern gutter pipes come in several types and can lend your building a classy look.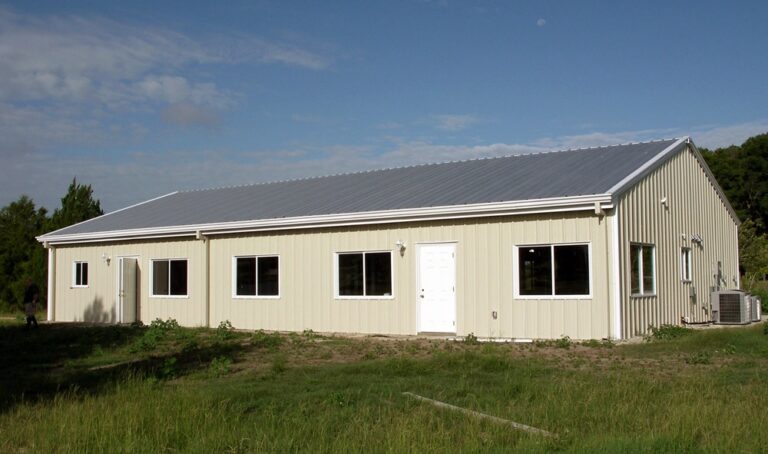 Doors and windows are must-haves, but you can pick the ones that will make a grand statement. This will make your steel building stand out, especially when style doesn't hamper functionality.
These door types come in insulated and non-insulated variants and are perfect for your garage or business. You can customize them as per your needs. Overhead door lift types include standard lift; standard follow roof pitch lift, low headroom lift, and thigh lift.
A roll-up door is similar to an overhead door, but the roll-up doors feature a roll-coil at the top. Thanks to its design, you wouldn't have to find space to accommodate an overhead door track.
A self-storage door can feature a swing or roll-up design. Since these are meant for daily usage, this product is constructed using high-quality components.
This accessory can be customized depending on whether you wish to add lever locks, keyless entry locks, closures, deadbolts, and panic exit devices.
You can get these pre-hung in the door frame and pick from the single pane, and double pane tempered varieties.
Steel and Stud offer field-located window types, which can be lodged on that section of the wall where you deem fit after the building work is complete. They are also of the self-flashing variety, with fins that match the wall panel profile. The Steel and Stud online system is designed to add a framing kit to the window that is picked for those buildings with a wind load of over 100mph. Also, the building layout promotes natural cross-ventilation windows that add the following advantages:
Lower Energy Bills

Reduced Maintenance

Improved Air Quality

Consistent Temperatures

Reduces Carbon Emissions
Louvres

Framed Openings

Turbine Vents

Ridge Vents

Supply/Exhaust Fans

Dampers

HVAC Systems
Insulation & Translucent Panels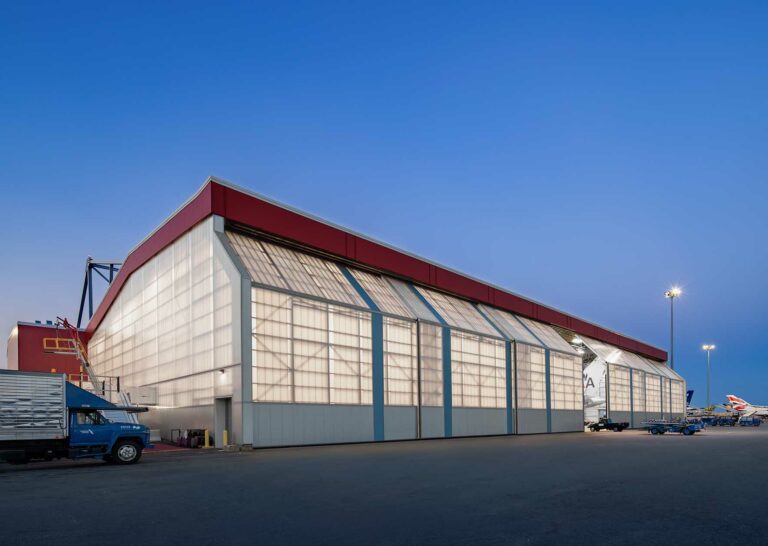 Structural insulated panels are used to construct ceilings, walls, and floors. Unlike traditional insulation methods, these provide a strong, highly durable, and energy-efficient building option. Translucent panels are gaining wide popularity and are increasingly used in curtain-wall and skylight projects. The light-transmitting panels possess an aluminium-grid core and robust fibreglass skin. The sandwich panel design of the frame lends it superior insulation levels and high flexibility. Their commendable strength and lightweight nature allow soft, natural lighting to light up the interiors.
How Steel and Stud Help you with Your Metal Buildings Projects
Steel construction offers an endless list of options when it comes to customization. A steel building is also accessible on the pocket and turns out to be a secure and sturdy construction that can benefit you for a long time to come. We are hardly what you'd call a metal building components company, but designing and delivering top-notch structural components are part of our deal. Our building consultants with a wealth of experience can help you decide how to bring your steel building ideas to light. We align our services perfectly with your size, code, and design requirements.
We offer 20-year panel warranties, a comprehensively engineered bracing design, and certified roof and wall products. We don't just provide components that can make buildings; we provide components that can make buildings stand tall for years to come. Get in touch with us for an obligation-free consultation right away.
Metal Buildings Size Chart
Here are Steel & Stud Most Popular Customized Sizes for metal buildings. We can also get them customized as per your requirements:
Metal Building Sizes

Metal Building Sizes

Metal Building Sizes

Metal Building Sizes
Frequently Asked Question