Whether you're looking for metal garages for sale for six cars or metal buildings with living quarters, our 100 x 100 galvanized and red iron steel metal buildings have the perfect plans for you. Highly durable and cost-effective, these 100′ metal buildings are the perfect choice for commercial spaces and residential storage, making to fit about 2,400 square feet of area. 

Metal buildings have become an increasingly popular choice for a wide range of commercial, industrial, agricultural, and personal uses. With their durability, customizability, and cost-effectiveness, it's no wonder many businesses and property owners are choosing steel structures over traditional building materials. One exceptionally versatile option to consider is the 100×100 metal building. With 10,000 square feet of clear-span interior space, these structures provide ample room for large and small projects.

We've proudly brought clients' visions to life with 100×100 metal buildings since 2002. Our team of experts cares deeply about every project, no matter the size. We manufacture all our steel buildings in our U.S. factory. This enables us to double-check each and every order before it's loaded onto the truck. Our 100×100 steel buildings are engineered to the highest standards. They can resist wind speeds up to 200 miles per hour and bear snow loads up to 57 lbs per square foot. The heavy-gauge steel construction provides unparalleled strength and durability compared to other building solutions.

In 2023, it's expected that the demand for sustainable and cost-effective metal buildings like our 100×100 metal building is likely to increase. As businesses and property owners prioritize environmentally friendly and energy-efficient structures, our steel buildings make a perfect choice. Additionally, rising construction costs make our value-driven steel building solution stand out even more.

So whether you need wide open storage space, industrial workspace, or something in between, our 100×100 metal building provides the versatility and strength to suit your needs. Get in touch with one of our friendly sales representatives today to learn more and get a custom quote tailored to your project requirements. We're here to bring your vision to life!

What Can a 100x100 Metal Building Be Used for?
Our pre-engineered 100×100 metal buildings make ideal utility structures for storing equipment, vehicles, and inventory.

The clear-span interior space allows you to optimize the layout for your specific needs.

Whether you need storage for construction tools and materials or farm equipment, our 100×100 steel buildings offer durability and versatility for utility applications.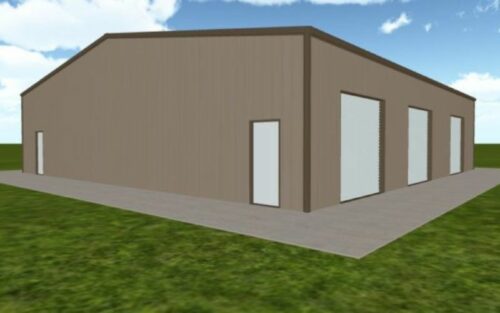 Metal Building Factories and Warehouses
With their wide-open interiors, our 100×100 metal buildings are perfect for industrial applications like manufacturing, processing, and warehousing operations.

Our steel buildings enable you to consolidate operations under one sturdy roof.

The energy-efficient building envelope helps reduce HVAC costs as well.

With ample space for inventory, equipment, and assembly lines, our 100×100 steel buildings provide industrial strength at a fair price.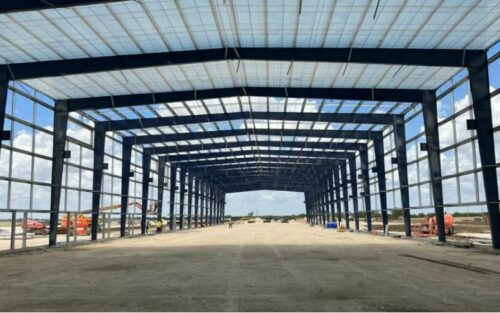 Our 100×100 metal buildings make spacious and secure garages to store vehicles, boats, RVs, and other valuables for personal use.

The steel construction provides superior durability against weather and attempted break-ins.

For maximum security and protection from the elements, choose our 100×100 steel buildings for your residential garage.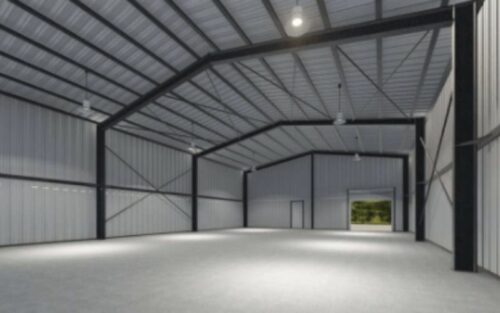 Our customizable 100×100 steel buildings are ideal for indoor recreational facilities like gyms, sports courts, and training areas.

The wide-open interiors provide usable space for equipment, workout stations, courts, tracks, and more.

Our steel buildings create comfortable, inviting workout environments with insulation, lighting, and climate control systems.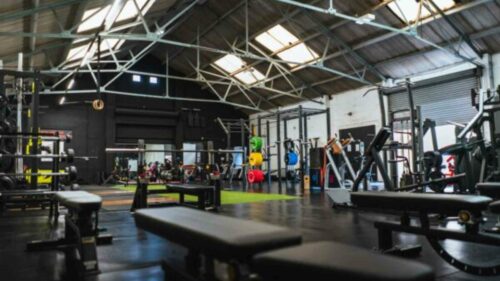 100x100 Commercial Metal Buildings
Our 100×100 commercial metal buildings enable you to customize affordable, durable structures for retail, restaurants, offices, and mixed-use spaces.

The clear-span interiors adapt to open floor plans with minimal columns.

Our steel construction withstands high traffic and wear while providing fire resistance.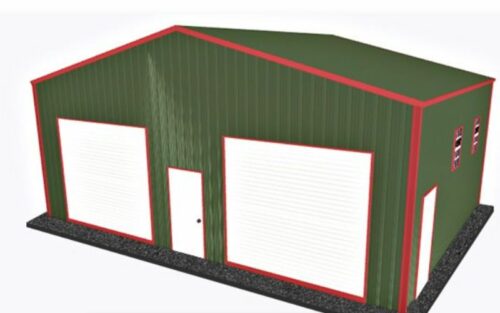 Government 100x100 Steel Solutions 
We offer secure and versatile 100×100 metal buildings suitable for government facilities like offices, maintenance buildings, equipment storage, and more.

Our steel buildings meet Buy American standards and include American-made components.

We can accommodate LEED certifications and other green building standards as well.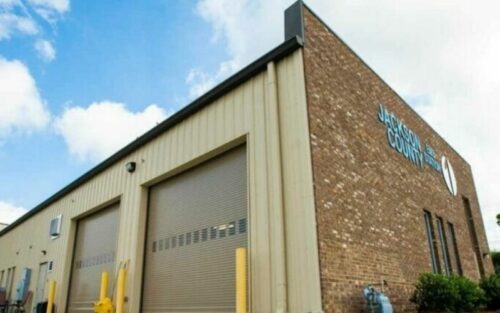 Institutional Metal Buildings
Schools, religious centers, healthcare facilities, and other institutions will benefit from the versatility of our 100×100 metal buildings.

We can engineer our steel buildings to suit educational spaces, auditoriums, recreation centers, and cafeterias.

Our team helps you meet building codes and accessibility standards for institutional projects.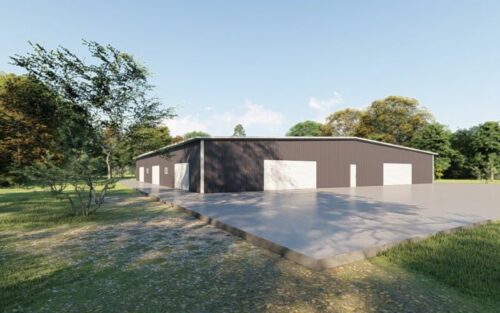 Horse owners can provide their companions with an ideal environment with of our 100×100 steel equestrian arenas.

The clear-span interiors accommodate indoor riding arenas, stalls, and storage.

For optimal horse comfort and care, our 100×100 steel buildings make excellent equestrian arenas.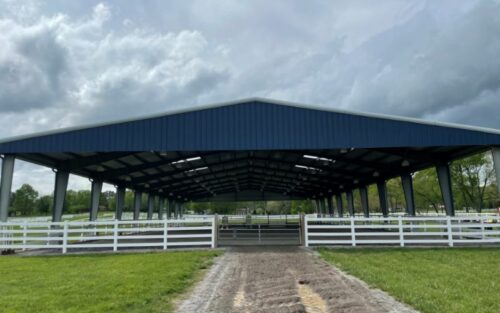 Customizable 100×100 metal buildings from Steel and Stud make excellent protective shelters for outdoor dogs.

The steel construction stands up to weather and wear from your pets.

Give your dogs the protective shelter they deserve with one of our versatile 100×100 steel buildings.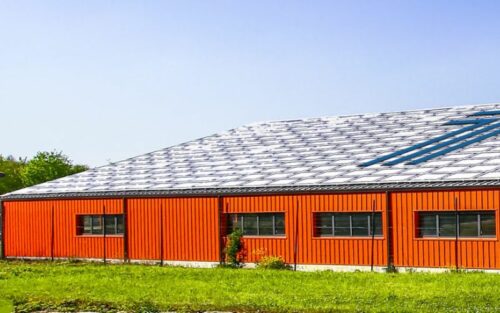 For private pilots and aviation businesses, our pre-engineered 100×100 steel building kits create ideal hangars and workspace.

The wide-open interiors fit small aircraft with room for offices, maintenance areas, and storage space. 

Protect your investment while providing space to pursue your passion with our 100×100 steel aviation buildings.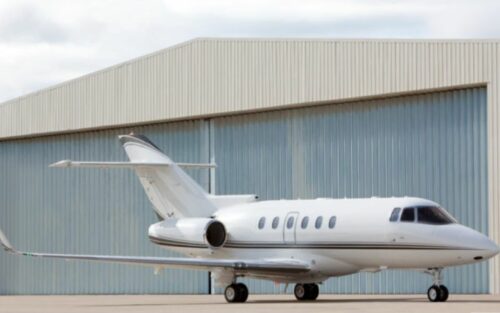 Our 100×100 steel buildings provide an excellent blank canvas for designing versatile new worship spaces.

The customizable open interiors adapt to seating, staging, and audio-visual needs.

You can incorporate enhanced acoustics, theatrical lighting, and environmental controls to create an inviting worship atmosphere.

Our buildings also accommodates classrooms, offices, and prep areas with partition walls.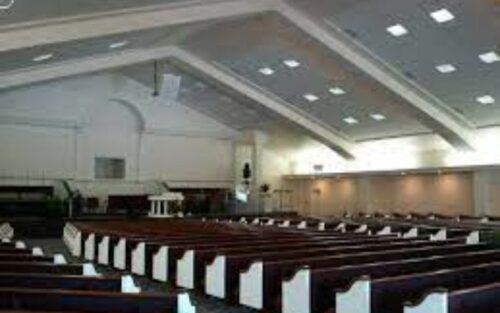 Community Building & Gymnasium
Recreation centers, camps, and other organizations will benefit from our versatile 100×100 metal buildings designed for community use.

Ideal for gymnasiums, auditoriums, dining halls, and more, our steel buildings provide durability for high-traffic areas.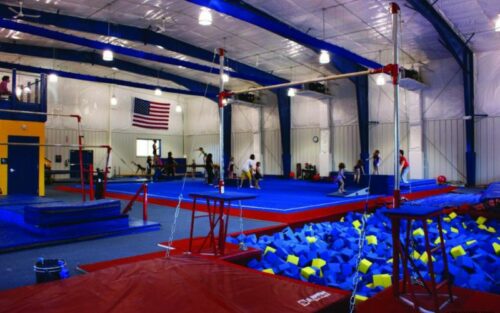 At parks, our 100×100 municipal buildings make great pavilions and maintenance structures.

You can also incorporate concession space, restrooms, ticketing areas, and fairground storage.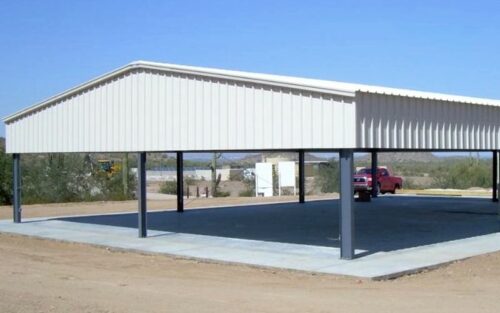 RV owners can protect their valuable investments with our secure 100×100 steel buildings for vehicle storage.

The spacious interiors accommodate multiple large RVs with room to spare.

Custom doors and drive-through bays simplify access and parking.

Keep your RVs safe from weathering and ready for adventure with Steel and Stud's heavy-duty 100×100 steel RV storage buildings.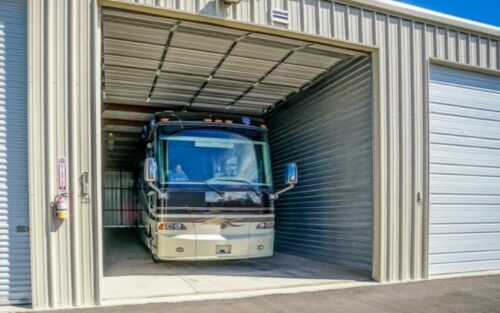 Why Our 100 x 100 Metal Buildings Are Best for You
Our 100×100 metal building is primarily made out of heavy-duty steel. These prefabricated metal buildings are a great option for quickly building a secure and reliable structure. When you're looking to build a new building or improve the facade, you can have us as your reliable contractor to get the job done right the first time and do it to save you money. 

When you choose one of our 100×100 metal buildings from Steel and Stud, you gain the ideal structure tailored exactly to your needs. Our steel buildings deliver advantages you won't find with other building solutions. For the best combination of strength, simplicity, and customization, choose one of our industry-leading 100×100 metal buildings.

Meanwhile, here are the reasons as to why you should use our 100×100 metal building:
We have Unlimited Building Designs
A metal building can be used for just about anything, from a garage to a house to an industrial warehouse or enclosed space to store your tools.

Steel structures are highly durable and offer various benefits for various uses, including Metal Garages, Utility Carports, Farm Buildings, Utility RV Covers, Warehouses, Retail Stores, Office Buildings, temporary facilities, etc. 

Steel building systems are perfect for industrial or commercial applications and are available in different standard configurations.

With custom steel structures, you can enjoy the aesthetic benefits of your buildings and still receive the strength needed to withstand wear and tear. 

Designing a functional and beautiful building is our ultimate goal. We design metal buildings that are functional, comfortable, and visually pleasing. If you need a custom steel building other than a wood structure, look at Steel And Stud.
The average cost of a 100×100 metal building is competitive in the market. Our cost includes the base building kit package, but turnkey installation and construction costs will vary depending on the project. We don't use traditional installation methods; instead, we use new lifting equipment that helps us work in detail constructing. For turnkey installation, add $5-10 per square foot for construction and $5-10/sq ft for foundation costs.
Our prices are subject to many factors. For a 'ballpark' estimate, consider this.
Roof styles including standing seam, regular horizontal, A-frame horizontal, and vertical roofs.
Metal buildings have concrete, asphalt, or rebar anchors.
Current steel prices
Color options available: white, beige, brown, and burgundy.
Doors sizes may range from 72 to 80 inches, and types may include roll-up doors sizes of 6×6, 8×7, 9×7 to 10×10.
Rigid Frame' or 'Quonset Hut' style Kit
100×100 Concrete Slab Cost
Construction Costs
Metal buildings are Durable, Energy-Efficient, and Environmentally Friendly.
Our 100×100 Metal buildings are made from heavy-duty certified galvanized Steel. Also, we use only top branded, high-quality accessories for robust structure.
Our steel building structures offer the best protection against heavy snow, tornadoes, hurricanes, and high winds. They are also fire-proof and termite-proof. In addition, they are resistant to rusting, rotting, and warping.
You can also choose from various metal building colors for better aesthetics.
We Provide Flexible Solutions
Steel and Stud offer a wide range of commercial and residential construction options. From single-story buildings to high-rise apartment complexes, 100'x100′ steel buildings are versatile, sustainable, and cost-efficient for any size project.
Our 100'100 customers come from various industries, including healthcare, education, office buildings, retail stores, etc. Also, our speed of construction, energy efficiency, and safety is unmatched by any other building system.
Our ability to customize metal buildings can reduce construction time and cost while providing occupants with a comfortable, attractive, and safe environment.
The heavy-gauge steel and industrial-grade finishes used in our 100×100 metal buildings resist wear, rust, and degradation over decades. You'll avoid constant upkeep and repairs.
With completely customizable interiors, our 100×100 metal buildings adapt to practically any commercial, industrial, or personal application you have in mind. We've designed metal buildings for gyms, warehouses, hangars, and more.
Our non-combustible steel construction provides natural fire resistance.

This added protection isn't possible with wood and other building materials.
Steel leaves no gaps for pests to enter or nest inside your building.

With 100×100 metal buildings from Steed and Stud, you won't deal with termite damage or rodent infestations.
With their robust steel construction, our buildings are designed to stand up to the harshest elements, high frequency use, and long-term wear.

Consider it a lasting investment.
Steel is 100% recyclable. If your needs change and the steel building must come down, the steel can be repurposed again and again.
With metal building insulation, heat-reflective coatings, and solar-ready options, our 100×100 metal buildings can be engineered for maximum energy savings. This saves you money in long-term.
Our buildings, made of pre-cut and labeled steel components, offer a quicker, simpler, and more cost-effective solution compared to standard construction methods.
Built with unparalleled steel strength, our constructions promise to defy hurricane winds of up to 200 mph, safeguarding your peace of mind in stormy times.
Simple Steps To Order Your 100x100 Metal Building With Steel And Stud
Getting your own customizable 100×100 metal building from Steel and Stud is a straightforward process from start to finish. Follow these simple steps:
Determine your needs – Decide on the purpose and type of your metal building and the preferred location on your property. This guides important factors like the layout, size, and components.
Prepare the site – Ensure the land is graded, level, and meets regulations for metal building foundations. Complete any necessary excavation or soil work. 

Design your building – Based on your needs, map out details like the dimensions, layout, finishes, doors, windows, insulation, accessories, and budget. Submit plans for approval.

Pour the concrete slab – Once your blueprints are approved, pour a concrete slab to the specification where your metal building will stand.

Customize your order – Select from our wide range of sizes, materials, colors, trim, and accessories to create your ideal metal building.

Provide a 10% down payment – We require a 10% down payment to begin producing and delivering your customized metal building kit.

Delivery – We'll ship your order within 2-10 weeks as soon as we receive your down payment. It arrives onsite with all necessary materials, tools, and an instruction manual for simplified DIY assembly. 

Quality assurance – Our experts oversee the straightforward installation process while meeting building codes, quality benchmarks, and safety procedures. 
You can count on end-to-end quality control with Steel and Stud. All metal components arrive pre-cut and ready for efficient assembly. Post-installation inspections ensure your satisfaction.
Note: Our return policy is simple and transparent. All requirements should be resolved before ordering because if a permit is denied for reasons other than your plans, your deposit will not be refunded. We have different payment gateways for easy transactions. We accept payment through Paypal, Visa, and Mastercard.
Customizable 100x100 Steel Building Solutions
With Steel and Stud, you can customize your 100×100 metal building to suit your needs perfectly:
Choose from standard widths in 25′ increments up to 100′ wide. Length is customizable up to any length required. Taller sidewall heights for steel building are available for extra interior space.
Besides this we also offer diverse framing options, ensuring your structure meets specific requirements, be it height, load capacity, or specialized equipment needs.
Incorporate heavy-duty steel shelving units to optimize interior storage capacity.

Customize shelf dimensions, locations, and load capacity.
Select from the gable and single slope roof styles. Specify the pitch from 1:12 to 6:12.

All our roofs are certified to withstand heavy snow loads up to 60 lbs per square foot.

Sturdy steel rafter construction prevents roof collapse from heavy snow – Optional roof coatings, insulation, and liner panels are available.
Include custom cabinetry for specialized storage needs, such as parts, tools, office supplies, and more.

Specify the materials, sizes, layouts, and accessories you have in mind.
Our buildings meet all International Building Code requirements. Custom certification for wind, seismic, snow load, and other factors are also taken into consideration.
We offer heavy-duty steel hooks spaced every 2 ft for hanging tools, bikes, hoses, and equipment.

You can also opt for steel mesh pegboard panels for adjustable hooks and storage.

We offer overhead storage racks and platforms for large inventory. 
Doors, Windows, and Panels
Customize access, daylighting, and aesthetics with our metal building window, door, and panel options.
Choose roll-up doors that coil into a compact roll above the opening, ideal for areas with limited space.
Sectional doors offer insulation options, making them energy-efficient choices for various climates.
Rapid doors for high-traffic areas open and close swiftly, enhancing efficiency and security.
Add natural light with skylights or glass panel sections.
Windows are available in fixed, sliding, or hinged configurations in different sizes.
Size can vary from small openings for ventilation to larger, transparent panels for natural light.
Choose commercial-grade steel slide locks or deadbolts on all exterior doors, or keypad, fingerprint, or RFID scanner locks for managing access and remote or app-enabled locks to control and monitor entry.

We have integrated automatic door openers.
Trim, Anchors, and Gables
Enhance the look and function of your building with our trim, anchor, and gable options.
Colored trim pieces and corner accents in more than 20 colors allow you to accentuate or blend with your wall panels.
Steel base trim secures the bottom of wall panels and provides a straight, clean edge.
Specify custom anchor bolt layouts to connect your steel building to new or existing foundations and slabs.
We pre-engineer anchor placements for simplified assembly.
Functional gable vents improve airflow and ventilation.
Or choose decorative finishes like wrought iron or curved glass for an upscale look.
Add roof overhangs up to 5 ft deep to shelter exterior doors, protect against weather, and provide a covered outdoor space.
Choose from HD security cameras covering the interior and exterior or motion-activated spotlights and sirens to deter intruders.

We have door sensors, glass-break detectors, heat/motion sensors plus cloud-enabled remote monitoring and notifications. 
Get early warning heat and smoke detection throughout the interior.

You can choose ABC fire extinguishers plus emergency fire blankets.

We offer illuminated exit signs over all doors with emergency lighting.
Get sealed concrete flooring graded for drainage plus interlocking rubber mats for shop areas.

We also offer commercial-grade vinyl composite tile (VCT) in offices and epoxy floors resistant to chemicals and impact.

Get custom drainage systems below the floor as needed.
Smart Garage Technologies
Make your steel garage building high-tech with integrated smart home features.

We can install touchscreen wall controls to manage lighting, temperature, music, and more.

With built-in ports and pre-wiring, our steel garages make it easy to incorporate automation and technology.
While steel buildings are valued for durability, we can also enhance aesthetics with architectural details.

Mix horizontal and vertical steel wall panels for visual interest.

For a unique look, upgrade to standing seam roofing or incorporate glass garage doors.

Custom awnings, exterior paint or finishes, and architectural trim complete the upscale appearance.
Bring your hobby to life inside your garage with fun-themed décor.

For car lovers, paint racing stripes, hang signs or neon, and display memorabilia.

Make your garage a showcase for your passion with customized flooring, wall graphics, lighting, and accessories.

Let us know your theme, and we can incorporate décor elements into the steel garage design.
Choose from a variety of metal building color finishes for your steel building's exterior walls and trim for a customized, eye-catching look.

Contrasting wainscoting adds appealing visual interest to the lower wall areas while protecting against scuffs and wear.

The interior can get colored panels, paint or wall graphics to match your style.
Financing Options For 100x100 Metal Building
Financial constraints should never hinder your plans when setting up your 100×100 metal building. At Steel and Stud, we understand that finances can be challenging. That's why we offer a diverse range of affordable financing options designed specifically for your budget and needs.
Our team of experts is committed to simplifying the financing process. We recognize the complexity of the options available and are here to guide you. We can match you with an ideal metal building loan or payment program by understanding your budget, purpose, and financing preferences. Transparency and affordability are our core values, ensuring your dream of a spacious and functional metal building materializes without financial strain.
Choose from a variety of metal building financing solutions, including:
Private Loans

Personal Loans

Business Loans

Credit Card Loans

Specialized Metal Building Loans

Government-Assisted Loans
We believe in making your dream of a spacious and functional 100×100 metal building a reality without financial stress. Don't let financial worries stand in the way of your dream 100×100 steel building. We're here to assist you at every step. Contact us now, and let's turn your vision into a tangible, enduring reality. Your dream metal building is just a call away!
Safety Codes For 100x100 Metal Building
Ensuring the safety and structural integrity of your 100×100 metal building is paramount. At Steel and Stud, we prioritize adherence to rigorous safety codes. Our construction standards align meticulously with relevant US building codes, guaranteeing your custom steel building is secure and compliant.
When constructing your 100×100 metal building, we must meet the following codes:
At Steel and Stud, we not only comply with these codes but also exceed the minimum requirements to guarantee your safety comprehensively. Our experienced teams handle all permitting, inspections, and code documentation throughout construction, providing you peace of mind.
When you choose Steel and Stud, you're not just getting a metal building but investing in unparalleled safety and quality. Our meticulous adherence to safety codes, coupled with our commitment to exceeding industry standards, ensures your 100×100 metal building is compliant and built to endure. Contact us today to experience safety and quality seamlessly integrated into your dream construction project.
Essential Maintenance Tips for 100x100 Metal Buildings
Proper maintenance is crucial for ensuring the longevity and functionality of your 100×100 metal building. Regular upkeep preserves its structural integrity and enhances its overall performance. Here are some essential metal building maintenance tips to keep your metal building in top condition:
Conduct frequent inspections to identify signs of wear, rust, or damage on the exterior and interior components. 

Clear debris from gutters, roofs, and around the foundation regularly. Blocked drainage systems can lead to water damage, so keeping them clean is vital.

Repaint metal surfaces as needed to prevent corrosion. Apply sealant to maintain the building's protective coatings and overall appearance.

Inspect doors and windows for proper sealing. Lubricate hinges and replace weather stripping if damaged to ensure energy efficiency and security.

Service heating, ventilation, and air conditioning systems regularly is a must. 

Check the foundation for cracks or settling. Promptly address any issues to maintain the building's structural stability.

Inspect and maintain fire extinguishers, emergency exits, and other safety equipment regularly. Ensure they are functional and easily accessible in case of emergencies.

Schedule professional roof inspections periodically. Identifying and repairing leaks or damage early can prevent costly repairs and structural issues in the future.
By following these maintenance tips, you can preserve the integrity of your 100×100 metal building, ensuring it serves its purpose effectively for years to come.
100 x 100 Metal Buildings for Sale
Steel And Stud is a leading supplier of steel building kits and materials in the US. We provide an extensive range of metal building solutions, including custom steel garage buildings, pre-engineered steel buildings, commercial warehouse buildings, and all needed steel components.
100 x 100 Metal Buildings Kit-Features
The biggest advantage of 100 x 100 steel building kits is "that it is cost-effective ." These metal buildings are built to last snow loads or high winds and come with a long-term warranty. Steel buildings are also much more affordable than traditional wooden structures, so if you're on a budget, they can be a good choice.-
All Our 100'X100′ steel building kits are shipped with a 20-year steel frame warranty. Our steel building kits will include materials as per the customized order: 
Galvanized steel tubing framing for tubular 100'x100′ steel buildings.

Galvanized purlins and grits for cold-formed steel framing.

Industrial grade steel coated with red oxide, I-beam or channel, purlins, and grits for red iron 100×100 steel metal buildings.

All steel sheeting for roof and walls in chosen colours.

Door frame and trim

Insulated window frames, 

Complete insulation and vapour barrier for roof and walls with proper electrical wiring.

Fasteners, bolts, brackets, coloured screws (no nails), socket for coloured screws.

Matching sealing strips 

All painted steel flashings, trim, ridge caps, and channels with our 20 year-warranty colours.

Steel anchor bolts 

Two sets of custom and wet-stamped engineered plans and calculations for your state, including foundation drawings. 

Detailed instruction manual and detailed video instructions for smooth installation.

100'x100′ base trim standard on all buildings.

Double-sided flange bracing with extra bolts.

Extended die-formed corrugated ridge cap.

Girt & purlin overlap with bypass application.

100'x100′ portal frames for added structural support.

Certified material meeting local codes.

Best anchors and braces for high wind and snow load resistance.
100 x 100 Steel Buildings Warranty Details:
Frame Warranty-20-Year Limited + Product Pledge

Sheet Metal Warranty-20 Year Paint Finish

14 Gauge Frame Warranty-30 Day Workmanship 

12 Gauge Frame Warranty– 30 Day Workmanship

100'x100′ Shipped Dimensions

Manufacturing Source –we manufacture all diy frame kits In the Usa using American Sourced Materials.

40′ -Wide Metal Building Certification Details
We provide certified material as per your area local codes ratings when needed. . When you share your details with us, we ensure to use the best anchors and braces for the steel building kit holding the structure against high wind and snow. 
Call us to discuss exact certification details.
Steel and Stud is Your Trusted Partner in Metal Building Solutions
Welcome to Steel and Stud, where your construction aspirations meet unparalleled expertise and efficiency. We are more than just a metal building provider; we are your dedicated partners in transforming visions into robust, enduring structures. But why us?
Faster Installation- With our streamlined processes and expert teams, we ensure swift and efficient installations, saving you both time and hassle.

No Hidden Costs- With us, what you see is what you get. Say goodbye to surprises and hidden expenses, ensuring a smooth and straightforward experience.

Premium Quality- Our materials, craftsmanship, and attention to detail guarantee premium-grade structures that stand the test of time, reflecting our commitment to excellence.

Fast Service- Experience prompt, responsive service that caters to your timelines, allowing you to move forward with your projects without unnecessary delays.
At Steel and Stud, your dreams and ideas are not just possibilities but projects waiting to flourish. We are dedicated to bringing your vision to life with precision, efficiency, and a touch of expertise that sets us apart.
Your dream metal building is just a conversation away. Get in touch with us, and let's embark on this construction journey together. Experience the Steel and Stud difference, where quality, speed, and your satisfaction converge seamlessly.
Our Convenient Locations to Serve You
We help design and construct metal buildings or red iron buildings for more space. We install in 48 states, including Alabama, Maryland, and California. Expect installation within four weeks from the order date. Deliveries of 10X40 metal building kits may experience slight delays, but we endeavour to serve you as fast as possible with the shortest possible delivery time.
At Steel and Stud, we contact our customers within 60 days of receiving their orders. Customers may experience delays when ordering metal buildings wider than 24 feet, as they need longer manufacturing time. 
If you're in the market for an Arrow, Versa tube, or ShelterLogic 100×100 metal building near me, then Steel and Stud long-lasting is here for you.
These are our current installation locations: Alabama, Montgomery, Birmingham Huntsville, Tuscaloosa, Ozark, Eufaula, Florence Clanton, Semmes Selma Decatur, Dothan Gadsden, Andalusia Anniston-Oxford-Jacksonville Gulf Shores-Orange Beach-Fairhope, Troy-Hayneville-Fayette-Elba Heflin-Greenville-Macon-Enterprise-Daphne Fultondale-Montevallo-Gadsden Hamilton-Jefferson County-Selma Trussville-Pinson-Clayton-Hoover Vicksburg-Jackson (excluding Jackson County) Montgomery County, Jackson County, Lauderdale County, Dixie County, Butler County, Crenshaw County, Monroe County, Clarke County, Coffee County, and Wilcox County) Maryland
I decided to build a pole barn for my home, and Steel and Stud was the best decision I made for it. Only after I mentioned the city limits did they start designing the size and shape of the building. Their engineered drawings are easily comprehended, and you get a clear view of what you will get. They only use premium quality, are available at all the locations, and have affordable labour costs. Just decide your specific residential or commercial space; Steel And Stud will do the rest for you–Jimmy.
I ordered a pre-made 100×100 Metal building kit from Steel and Stud and got it delivered and installed in a matter of days. The pre-engineered metal building had high-quality galvanized steel frames, making them very sturdy. There are many pre-made building kits available, including barns, residential homerooms, commercial buildings, industrial warehouses, and garages. I recommend Steel and Stud for their professional and continuous support.
They have a team of professional engineers and designers ensuring sustainable design, installation, and insulation of 100×100 metal buildings in the US.
Other Metal Building Sizes Available
Here are Steel & Stud Most Popular Customized Sizes for metal buildings. We can also get them customized as per your requirements:
Metal Building Sizes

Metal Building Sizes

Metal Building Sizes

Metal Building Sizes
Frequently Asked Questions (FAQs)
What is the exact specification of a 100x100 metal building?
A 100×100 metal building, measuring 100 feet in width and 100 feet in length, making it fit about 2,400 square feet of area.

It includes galvanized steel tubing framing, steel sheeting for roof and walls, customizable options for doors and windows, insulation, and various finishing touches tailored to your needs.
What are the factors affecting steel building costs?
Steel building costs are influenced by factors like building size, customization, location, additional features, and current market steel prices.
How long does it take to erect a 100x100 metal building once all materials are on-site?
The installation time can vary but it will be ready within 2-10 weeks, depending on the complexity of the design and weather conditions.
Are there energy-efficient or eco-friendly options available for 100x100 metal buildings?
Yes. Energy-efficient insulation and roofing options are available. Additionally, using recycled steel and implementing energy-efficient designs can enhance eco-friendliness.
How do weather conditions affect the durability and longevity of a 100x100 metal building?
Properly designed metal buildings can withstand various weather conditions. Regular maintenance helps ensure longevity, especially in harsh climates.
How do 100x100 metal buildings fare in extreme weather conditions such as hurricanes, earthquakes, or heavy snow?
Steel buildings are resilient. They can be engineered to meet specific codes, making them suitable for regions prone to hurricanes, earthquakes, and heavy snow.
Can I install solar panels or other renewable energy sources on my 100x100 metal building?
Yes. Metal buildings can support solar panels and other renewable energy installations. Coordination with solar providers and proper engineering is necessary for successful integration.
Can I expand my 100x100 metal building in the future if I need more space?
Yes. Metal buildings are easily expandable. They can be extended lengthwise or by adding additional sections as your needs grow.
What kind of insurance will I need for a 100x100 metal building?
Insurance requirements vary, but typically, property insurance covering the building's value and liability insurance are essential.
How are 100x100 metal buildings delivered to the site, and are there any logistical considerations I should be aware of?
Metal building components are delivered and unloaded using specialized equipment. Site accessibility and clear space for unloading are vital logistical considerations.
What kind of warranty comes with the purchase of a 100x100 metal building?
Steel and Stud

offers a 20-year warranty for its steel building solutions.

The warranty for the 100×100 metal building also incudes a sheet metal warranty of 20 years for the paint finish, 30 days for the 14 gauge frame, and the 12 gauge frame.
Are there any tax benefits or deductions available for constructing a 100x100 metal building for commercial use?
Tax benefits and deductions can vary by location and business type. Consult a tax professional to explore potential tax advantages.
How do I handle ventilation and insulation in a 100x100 metal building?
Properly placed vents and insulation are crucial. Consult with Steel an Stud to determine the appropriate insulation materials and ventilation options for your specific building design.