Whether you're looking for metal garages for nine cars or Metal Buildings with Living Quarters, Our 30 X 60 galvanized and red iron steel metal buildings have the perfect plans for you. Highly durable and cost-effective, these 60′ metal buildings are the perfect choice for commercial spaces (dispatch offices, security rooms, conference rooms, foreman's offices, and ticket booths) and residential storage (living rooms, gym, and garage), making to fit about 1,800 square feet of area. 
30 x 60 Metal Buildings For Sale
Steel And Stud is a leading supplier of steel building kits and materials in the US. We provide an extensive range of metal building solutions, including custom steel garage buildings, pre-engineered steel buildings, commercial warehouse buildings, and all needed steel components.
Call us now to get a free quote on the most popular sizes of storage buildings.
2023 Best 30 x 60 Metal Buildings Package Plan Available For Sale
There is an upsurge in the growth of metal buildings worldwide, especially in the US. Pre-engineered buildings market has been acknowledged as one of the contributing factors to the rapid industrialization in both developing and developed nations. 
There are varieties of metal building plans which include the 30×60 metal building plan. Buyers prefer the 30×60 metal building plan because of its versatility. It is versatile enough to be used for individual or commercial purposes. The 30×60 metal building can function effectively as a golf cart storage, an outbuilding, or even a school building by adjusting certain components. 
The 30×60 metal building plan is experiencing rapid growth because of its size and quick construction time. 30×60 metal buildings can be installed in a short amount of time and sometimes within a few weeks.  
Read: The Price and Installation Process of Metal Buildings With Concrete
A 30′ x 60′ metal building kit with ample space of 1,800 square feet is the sought-after size because it is versatile for commercial and residential use. In general, a 30 by 60 metal building kit can be used for a wide variety of purposes, such as: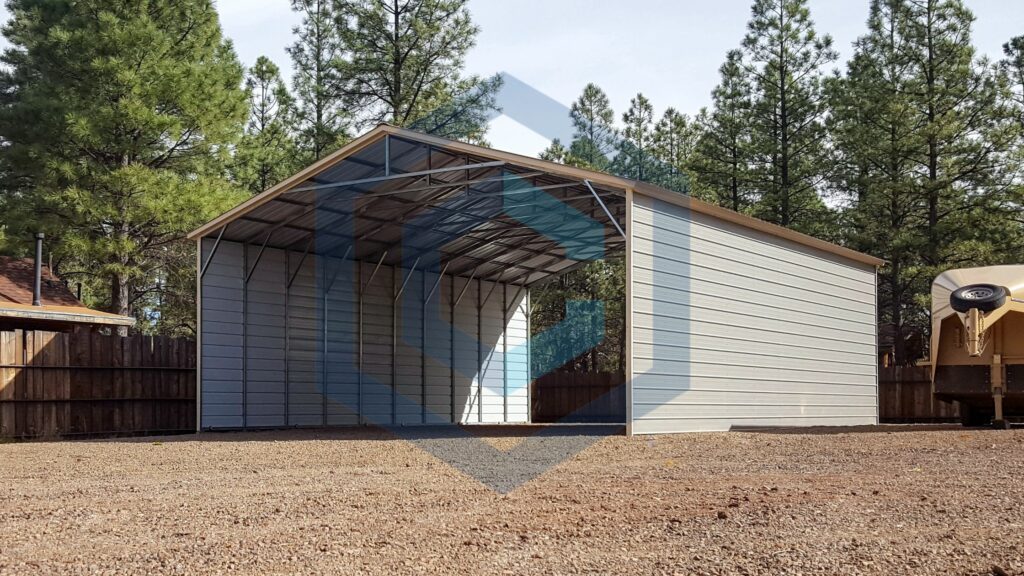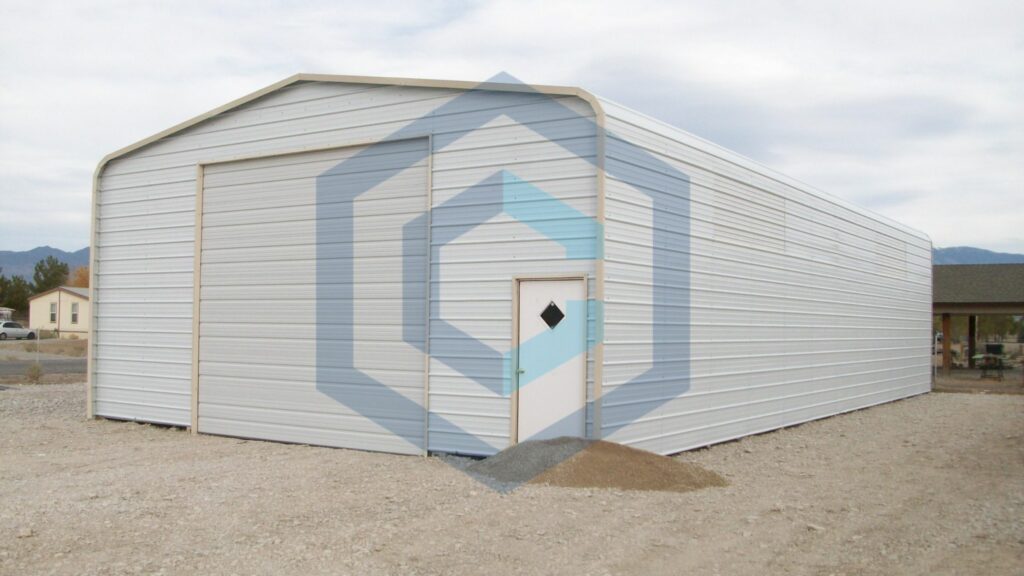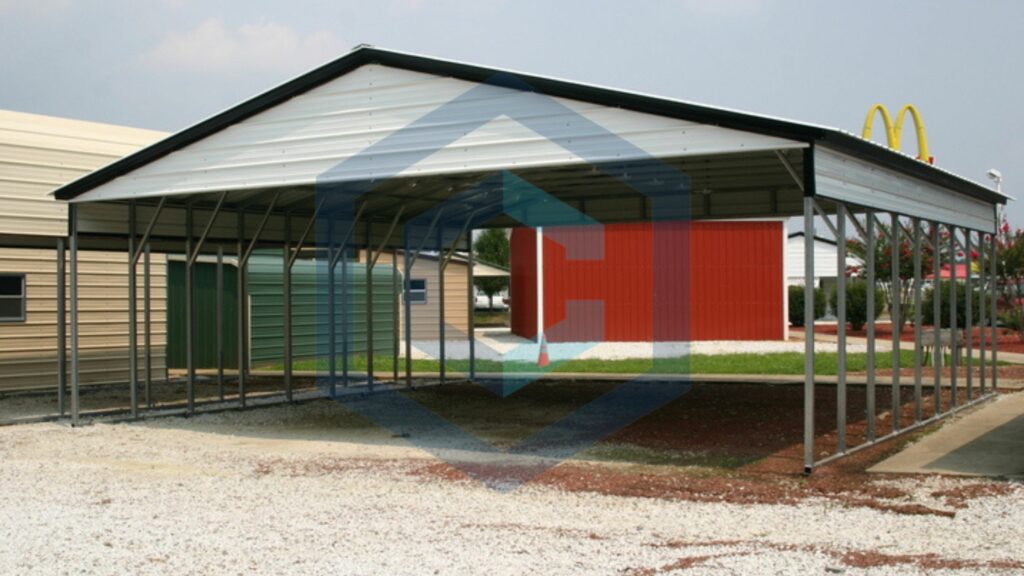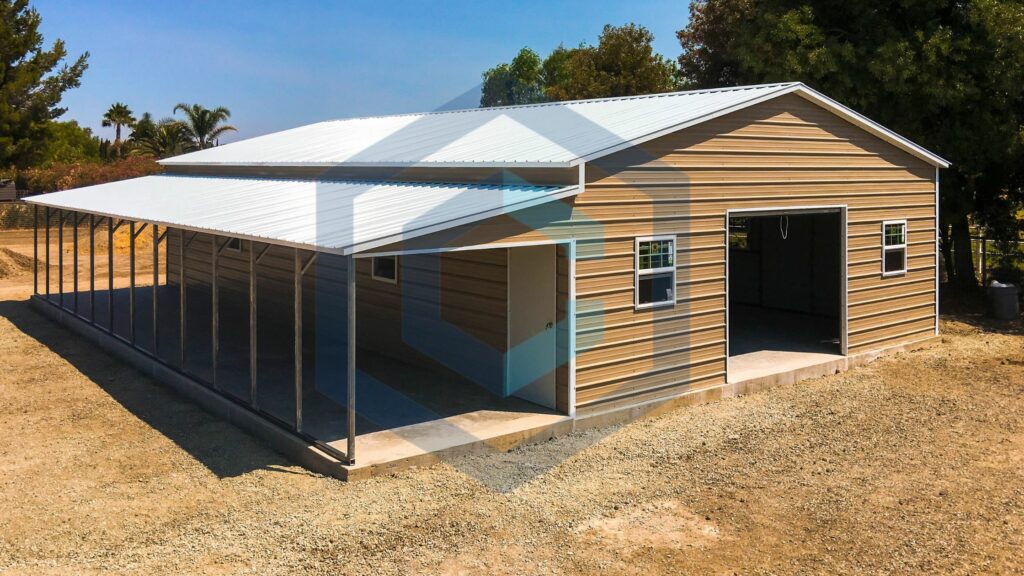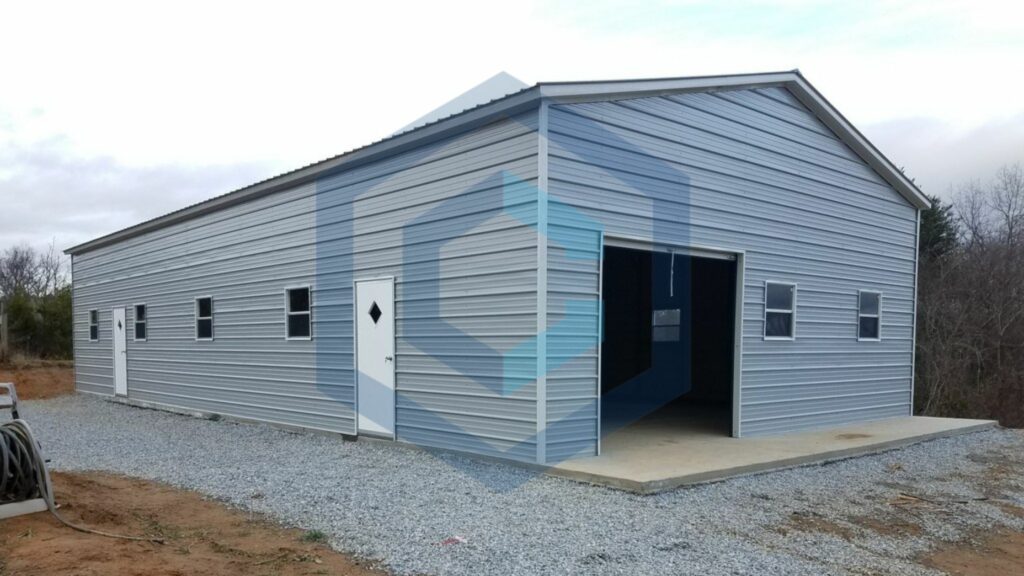 30'x60′ Steel Buildings Available For Sale to Cater to The Following Purposes:
30 x 60 Metal Building Kit - Features
A metal building is a prefabricated, non-load-bearing structure built with steel. These structures are customized as per need. For steel building kits for various uses, 30 X 60 metal building kits are the most frequently purchased. It is not the only standard size of metal building kits; the prices for 30×60 metal building kits are also affordable.
The biggest advantage of 30 X 60 steel building kits is "that it is cost-effective ." These metal buildings are built to last snow loads or high winds and come with a long-term warranty. Steel buildings are also much more affordable than traditional wooden structures, so if you're on a budget, they can be a good choice.-
All Our 30'X60′ steel building kits are shipped with a 20-year steel frame warranty. Our steel building kits will include materials as per the customized order: 
30 x 60 Steel Buildings Warranty Details
Year Limited + Product Pledge
30'x60′ Shipped Dimensions

Manufacturing Source –We Manufacture All DIY Frame Kits In The Usa Using American Sourced Materials.

40′ -Wide Metal Building Certification Details
We provide certified material as per your area's local codes ratings when needed. When you share your details with us, we ensure to use the best anchors and braces for the steel building kit holding the structure against high wind and snow. 
Call Us To Discuss Exact Certification Details.
Customize 30x60 Metal Buildings
30×60 Metal buildings are quite versatile and offer a greater degree of customization than 36X50 metal buildings (which offer a narrower range of customization). It is used for different construction designs. Ranging from carports and garages to outdoor workshops and private offices, people also live in them. Given the spacious advantage of a 30×60 metal building and the flexibility of a metal building, conversion into a new design is possible.
Pre-engineered Metal Buildings In Standard Sizes With The Cost
| Metal Building Kit | Cost |
| --- | --- |
| 30 x 50 Metal Building Kit | |
| 30 x 20 Metal Building Kit | |
| 60 x 40 Metal Building Kit | |
| 60 x 50 Metal Building Kit | |
| 60 x 20 Metal Building Kit | |
| 30 x 30 Metal Building Kit | |
| 50 x 60 Metal Building Kit | |
| 30 x 70 Metal Building Kit | |
How Can Extend Your Existing Metal Building?
One of the most efficient ways of extending or converting metal buildings is to have an end or side wall removed and add it to the addition. It is much easier in cases where the metal building does not have an end wall. Also, a new metal building can be attached to an existing metal building to allow for a larger structure and space.
To use this method, there is a need for an upright, and in the place of an extended roof, an extended overhang might also work. However, a contractor must be contacted to know the extension overhang limit. In the case of a 30×30 or 30 by 50 metal garage is to be converted to a larger workspace or a home gym, an extension by removing the roof is possible. The metal buildings can also be converted by raising the metal building height to permit more space. For example,  a garage's height can be raised to allow for taller vehicles.
Lean is one of the easiest ways to extend metal buildings and add storage to existing metal buildings. It's affordable and quite easy, all you need to do is attach lean to both sides, which can either be open-ended or fully enclosed, depending on the individual's desires. 
The metal garage area can be expanded by adding a second-story or loft. However, it requires some planning and construction. First, there will be an inspection of the garage by an engineer. After that, the frame and foundation of the metal garage will show if it supports an additional extension.
Also, a 30×60 metal garage can be turned into living quarters or a kitchen extension. While these conversion procedures vary from place to place. There are certain regions where a permit is required for the extension of a metal garage.
DIY Process For 30X60 Metal Building
The following is a step-by-step DIY process for your 30×60 metal building:
Start by nailing what type of building you need and where it should be placed on your property for the best results.

Get in touch with your building department to determine the permit process and the required plans, fees, and inspections (details).

Once the tentative plans are submitted to the building department, get in touch with the concrete contractor to complete the slab according to your needs and the building department's requirements. 

Obtain foundation plans from the contractor. (Once the plans have been tweaked to fit the budget, they must be submitted to the building department.)

Ensure that the foundation plans the building manufacturer provides must be adequate to support the structure. At this point, you will need to pay a deposit to the building manufacturer to get the order going. (If the plans came together, you would already have ordered the building. Steel And Stud will then provide reactions and bolt layouts early on so that engineers can design the foundation for permit plans.)

Provide building and foundation plans to the building department and have the slab poured (cognizant of required inspections).

Get the building delivered.

Erect the building according to the plans (cognizant of required inspections).

Ensure that all the basic electrical needs are addressed, so inspectors are satisfied.

Sip a beer and croon a bit; hoping you will be able to afford a few fixtures and overhead doors shortly!
Things To Consider When Buying A 30x60 Metal Building
While purchasing a 30×60 building, there are certain things one must look out for. This article will discuss important things to watch out for when purchasing a 30×60 metal building plan.
Is A Financing Option Available For A 30x60 Metal Building?
There are numerous financing options available for acquiring this multi-purpose 1800 square feet structure. Options include:
A Bank Or Credit Union
When you cannot afford to finance the construction of a metal building by yourself, you should consider taking out a loan from a bank or credit union. Start by approaching the bank or credit union where you already have an account to inquire about financing. It would be wise for you to analyze the loan rates set by your state and make the most of local regulations.
Mortgage Broker
A mortgage broker can also expedite the financing process. They will analyze your economic situation to determine which types of loans are most suitable to fit your requirements. Once a broker determines whether you qualify for the loan, they will take your information to potential lenders who can supply you with money at a fair interest rate.
An Alternative Direct Lender
A direct lender could be a good option (for financing) if you somehow fail to secure a loan from the bank, credit union, or mortgage broker. The interest rates charged by most direct lenders are reasonable.
Why Our 30X60 Metal Buildings Are Best For You
Our 30×60 metal building is primarily made out of heavy-duty steel. These prefabricated metal buildings are a great option for quickly building a secure and reliable structure. When you're looking to build a new building or improve the facade, you can have us as your reliable contractor to get the job done right the first time and do it to save you money. 
If you wish to buy from Steel and Studs, you may select the 30X60 Metal buildings tab and use the online builder to input all the details of your area. You may proceed to order and generate an invoice inclusive of tax. 
Our return policy is simple and transparent. All requirements should be resolved before ordering because if a permit is denied for reasons other than your plans, your deposit will not be refunded.
We have different payment gateways for easy transactions. We accept payment through Paypal, Visa, and Mastercard
Other Metal Building Sizes Available
Here are Steel & Stud Most Popular Customized Sizes for metal buildings. We can also get them customized as per your requirements:
Metal Building Sizes

Metal Building Sizes

Metal Building Sizes

Metal Building Sizes
Our Convenient Locations to Serve You
We help design and construct metal buildings or red iron buildings for more space. We install in 48 states, including Alabama, Maryland, and California. Expect installation within four weeks from the order date. Deliveries of 10X40 metal building kits may experience slight delays, but we endeavour to serve you as fast as possible with the shortest possible delivery time.
At Steel and Stud, we contact our customers within 60 days of receiving their orders. Customers may experience delays when ordering metal buildings wider than 24 feet, as they need longer manufacturing time. 
If you're in the market for an Arrow, Versa tube, or ShelterLogic 30 X 60 metal building near me, then Steel and Stud long-lasting is here for you.
These are our current installation locations: Alabama, Montgomery, Birmingham Huntsville, Tuscaloosa, Ozark, Eufaula, Florence Clanton, Semmes Selma Decatur, Dothan Gadsden, Andalusia Anniston-Oxford-Jacksonville Gulf Shores-Orange Beach-Fairhope, Troy-Hayneville-Fayette-Elba Heflin-Greenville-Macon-Enterprise-Daphne Fultondale-Montevallo-Gadsden Hamilton-Jefferson County-Selma Trussville-Pinson-Clayton-Hoover Vicksburg-Jackson (excluding Jackson County) Montgomery County, Jackson County, Lauderdale County, Dixie County, Butler County, Crenshaw County, Monroe County, Clarke County, Coffee County, and Wilcox County) Maryland
Frequently Asked Questions (FAQs)
Yes, you can visit this page and order the size you want.
Please contact us at our phone number. We will be happy to help you.
We will need more specifications before sharing the price of metal buildings. Please drop us a message or contact us on the phone.
Yes, we have a metal shop kit available in various sizes. Please visit us on this page to order fully customizable prefabricated metal shop kits.
Please connect with us by phone to help us know more about your problem. 
Yes, steel and stud are your trusted partner for metal buildings, metal storage, steel garages, sheds, barns, carports, etc. 
Having large acres of land is a blessing, so if you do, it is worth investing in a 30X60 metal pole barn. In other words, adding a 30X60 metal pole barn to your property will increase its value and make it more appealing to prospective buyers.
You can get in touch with Steel And Stud's experts to make the "right" decision. 
There may be differences in dimensions not only due to building type or soil conditions but also due to type of construction, i.e., 
Raised footing slab

Mono-slab
Trusses: 30

Purlins: min yield 55k psi
Instead of relying on an extender, it is best to use a robust wifi router that can provide an unclogged internet speed of 6,600 Mbps up to 90 feet.
An 8X8 column size would be large enough for this massive 1800 square feet structure.
It is estimated that a 30×60 metal building costs between $15,700 and $17,700.00.