Not sure where to park the second car you bought? Or are you simply running out of storage space and can't find a suitable place to hide your lawnmower? Since making room in your existing carport is not possible, as it is already occupied, perhaps it's time to get an extension for your metal carport. Can you do that, though?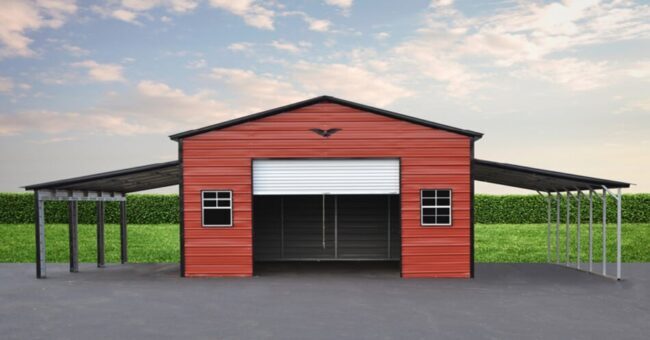 Yes. A metal carport extension is achievable with additional construction. Usually, metal carports are constructed using single-piece struts that connect the columns and rafters, so extending the width of your existing carport can be quickly done. One way is to remove one end or side walls and extend your structure in that direction. Alternatively, you can extend the length of the carport by removing the side paneling and roof, extending the pad, erecting struts, and replacing sheets. Adding a lean-to to metal buildings is also feasible.
Extension Kit Available With Steel and Stud for your Carport At Best Price
Add value to your existing metal carport with easy and practical DIY length extension kits at attractive prices. You can create and design the kit by noting the structure's tubing size (2″x2″/ 2″x3″/ 2″x4″), width, length and height, frame spacing, truss brace type, and the type of anchors used. Shop the following dimensions to extend the height, length, or width of your carport structure.
1′ Height Extension for 2″sq. Side Post

1′ Height Extension for 2″ x 3″ Side Post

2′ Height Extension for 2″ x 3″ Side Post

3′ Height Extension for 2″ x 3″ Side Post

4′ Height Extension for 2″ x 3″ Side Post

5′ Height Extension for 2″ x 3″ Side Post
How to Get a Carport Extension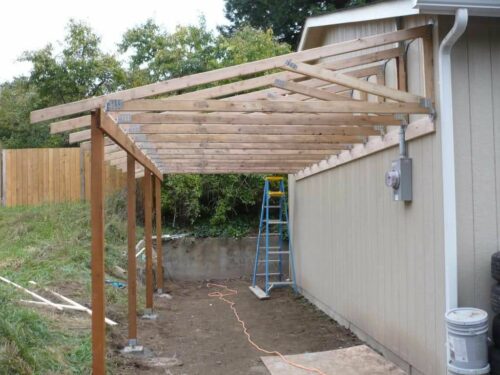 There are several means of getting a carport extension with pre-engineered metal addition. They can be narrowed down to three.
With the installation of expandable end walls in the original carport, you can add bays at the ends of the structure.
In this type of expansion, two gabled roofs have a common wall between them.
Second-Story Prefabricated Additions
You can get an extension above if your carport is locked in from all sides. A pre-engineered second-story addition works if your existing carport is sturdy enough to hold the weight of another structure on top of it. You can utilize steel second-floor additions or a canopy-like prefabricated metal carport if the original structure cannot support the additional weight. Talk with our experts for more possibilities.
Do you Only want to Extend Carport Roofs?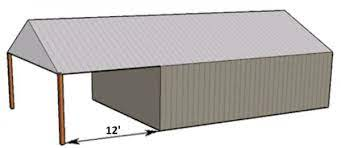 Metal carport roofs are comprised of materials that can be easily extended or enclosed. Sometimes, they require minor adjustments to make your carport bigger for additional space. Often, companies that sell carports also offer materials needed for a roof extension. These tools include additional support ports, fasteners, and roof panels. In case you find it challenging to find materials that complement your original carport, consider getting a single shelter and affixing it to the old one. This would make it a lean–to, and if you have a lot of room for an altogether different carport, investing in a stand-alone shelter is also a good idea.
With the purchase of a carport roof extension, you will get enough and more space to park your second car or storage space for items meant for outdoor use. Manufacturers can guide you through the process and help you decide on what model to choose from the different styles available and how to go about it. A professional installer or contractor can do it for you, and even if it's going to cost a bit more money than when you do it yourself, an expert will ensure that the extension is done properly and has followed the building codes of your area.
Carport Extension Ideas On Adding Length to A Metal Carport
Remove the side paneling and roof
The first step is removing all the paneling so that you can access the struts while working. You need the sheeting only after the building project is over, so you may keep it aside for now.
In case the slab on which your original carport was constructed is poured concrete, see to it that the slab is long enough to accommodate the additional struts you will be adding to the structure. If you need more stable and leveled ground, consider pouring some extra concrete for the added braces.
You might require only one strut, but you'd need two for RV covers. The struts must be secured to the base just as the original mounts.
Replace the metal sheeting
You will have to get new sheeting to cover the extra length.
Adding Width to A Metal Carport Best ideas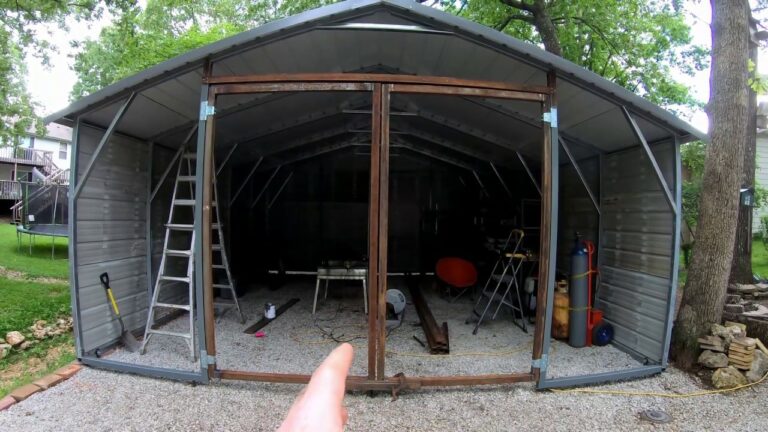 If you want to extend the width of your carport, the steps are similar to that of extending the length of the structure, but this method would require additional materials. Instead of adding space, you will be practically constructing a second structure. Apart from struts and sheeting, you would also need front-facing sheeting and a gable to hide the space between the struts and extend the roof. Given that your original carport is constructed from columns and rafters in two pieces adding width becomes a tad easier. You would still require extra materials and a gable if the existing carport has a pitched roof.
If you don't wish to take all that effort to extend the width, then consider adding a lean-to to the side of your metal carport and other structures. This is a convenient option if you don't mind that your lean-to and original carport don't visually match and if the existing design has considerable height.
Innovative Way to Add Height to A Metal Carport
You can consider a second-story addition if your original carport has an enclosed design. For this, you must ensure that the structure of your carport is sturdy and stable enough to hold the weight of a pre-engineered second-story addition. This technique is not recommended if your carport is old.
One way to frame the second story is that the foundation outside the original carport bears the brunt of the outer vertical members of the second story. If done this way, the original frame wouldn't have a role in supporting the new walls, roof, and flooring. This method would require sufficient foundation space to accommodate the second story. You might even need to hire a concrete crew to get started.
You can also get canopy-like second-floor additions so that the original carport is not duty-bound to support the extra weight.
Heavy Guage Extender Post Kits With Warranty
Additionally, you can get a carport extension by going for extender posts that are sold separately. Heavy gauge steel posts with angular offsets up to 3 feet guarantee additional space to park your car or store heavy equipment. Extender posts that are powder-coated won't get rusted all that easily or cause the paint to peel. Carport extender posts add a much-needed walkway for convenient entry and exit from your vehicle. The state-approved extender posts with necessary permits and lifetime warranty are widely popular among homeowners for home improvement. These posts can also help you add a lot of free space, preventing the carport from looking overcrowded. Some benefits of getting these installed at your site are as follows.
It adds strength to your existing metal carport.

Extender poles can help you increase the width of your original carport by up to 3 feet.

They can offer the option of installing a privacy screen.

The installation process is generally hassle-free. It takes a day or less to get them fixed.
Lifting a Sinking Metal Carport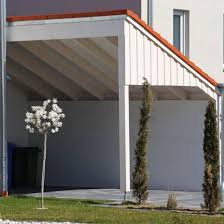 You have to pick the right jacks to manage the weight of the carport and get the additional height you are hoping for. Some owners have tried to lift one side of the carport with three large A-frame jacks, work on that side first, and then proceed with the other side.
If water drainage leads to soil washing out from beneath the slab, you must reorient the gutters and downspouts to prevent this. A sinking carport slab can be resolved with effective concrete filling, which would help lift the concrete to its previous level and secure it.
How To Build a Carport Extension
If you buy a metal building kit, then the guidelines and instructions provided are enough to get you going. A solid foundation is needed. If you want a gravel pad, pier blocks are good. Please ensure the struts are the correct height before securing them to the foundation. Work with the roof support from one brace to the next. Place the roof panels to complete the construction.
Should You Build From Scratch or Expand Existing Carport?
What are the Benefits of Metal Carports
Apart from its basic function of protecting your car, a metal carport can help you save money, improve the style quotient of your property, and offer additional storage space. As additional information, carport installation is easy and don't demand arduous maintenance.
You can extend the length or width of your carport for extra room or get a second-story addition if you have an enclosed structure. Carports and garages serve different purposes. Most opt for carports for their cost-efficiency, but garages can offer extra security for your vehicles and also more storage space. When you turn a carport into a garage, you have to take care of extra costs that would result from buying windows and doors. In addition, if your carport's primary framing, roof, or ceilings are damaged, even if it's only slight, you will have to get it fixed, which would mean more expenses.
Wood carports are visually appealing, but metal carports score better when it comes to assembly, cost, durability, and maintenance. Galvanized steel, a primary constituent of metal carports, can withstand extreme weather conditions and make the construction durable. Wood carports are susceptible to fire, and metal carports are fire-resistant. Wood carports require a high level of maintenance, whereas metal carports hardly ever require replacement parts.
What to Know Before You Expand Your Carport
Whether it's for parking or more storage space, extending your carport's width, length or height has perks. Why you really want to get an extension is a question you must be able to answer. If you wish to space for parking a vehicle that exceeds the height of your regular car, you might need only to raise the carport's roof.
This again depends on the purpose of getting an extension. Based on why you require an extension for metal buildings and other steel structures, you will have to get an extension that is bound to meet your requirements and expectations.
Get in touch with the municipality or local government and talk to HOA about getting the necessary permits and approval for extending metal buildings before you can proceed with your carport extension.
Placement of a New Add-on
Adding extra width or length can be a bit taxing, so you can also go for a far easier and cost-efficient option of adding lean-tos.
Before planning about whether you should or shouldn't extend your metal building, consider your location. Is it ideal? Are you planning to leave the residential area at some point, or do you see yourself living there for the most part?
An extension is only practical if you have the necessary land to accommodate it. Are you in a position where you can buy the land that you need for this project?
Just as you obtained building permits and consulted your local zoning and planning commission before constructing your first metal building, you need to tick these off the checklist before extending your metal carport. The local government or homeowners association might impose certain requirements or restrictions before you can get the extension approved.
Additional Considerations
A metal carport can be an excellent way to promote and expand your business. You can start with smaller structures on a tight budget but upgrade it gradually. For future increments, you can increase the frame's load-bearing capacity. Add structures as your business flourishes.
Getting a metal carport extension is easily achievable if you have the right set of tools and also some expert guidance if you need it. In fact, if you feel like converting your carport to other metal structures, that's doable as well. You can add a side panel or end panel to make modifications or enclose it to provide better protection for your vehicles. Some of you might like to use your enclosed carport as a workshop, garage, or even an office.
1. How Much Does a Carport Extension Cost?
This would largely depend on the model you want to buy or the type of extension you have in mind. Tarp and tent models are available at a price as low as $500. These choices may, however, not be that pleasing to the eye. The metal extensions are available at prices ranging between $1000 and $2000. One store could be selling arrow kits for $5000, and another might offer them at a lower price of $1500. The ones that come with rip-stop fabric cost as low as $299.
2. Can you add to a metal garage?
A metal building expansion is a budget-friendly and convenient method to create additional space for parking, business, or storage purposes. This is possible by increasing the structure's length, width, or height.
3. How do you extend a metal building?
The most cost-effective way to extend a metal building is by adding frames at either end wall. You can do this by either increasing the width, length, or height of the metal building. You could also get a lean-to for an economical solution.
4. Can you add length to a metal carport?
You can extend a metal carport easily by increasing its length. Usually, metal carports are constructed using single-piece struts that connect columns and rafters. You can add length by removing side panels and the roof, extending the pad, erecting the struts, and finally replacing the sheeting.
5. Does adding a metal garage increase home value?
As per a study conducted by Florida State University, the presence of an average-sized garage enhanced home value by 13% when compared to similar houses without garages.
6. How much does it cost to build a 20×20 room?
Homeowners usually spend anywhere between $42,000 and $88,000, with an average cost of $65,000 to build a perfect metal building of 20×20 dimensions.
7. Can you build on top of a garage?
To build on top of a garage is a costly and labour-intensive project. The average cost of constructing a room above a garage is $200,000.
8. Can I extend my existing garage?
It is possible, but it requires a lot of planning and construction. Firstly, you must hire an engineer to inspect your existing garage. They will be able to determine if the foundation and frame of your garage can hold the weight of an extra extension.
9. Can you extend over a garage?
Extending over a garage makes sense if you plan a height extension for your home. It can be a cost-effective project because you don't have to work on the foundations or lower walls.
10. Do you need planning permission to extend above a garage?
Permitted development guidelines make no allowance for an extension over a garage. Therefore, you will need planning permission. Each Local Authority will have a House Extension Design Guide with criteria outlined under which it would be mentioned whether or not it is acceptable.
11. How do I build an addition to my garage?
First, use wooden beams and double trimmers to outline the bump-out wall. Next, remove the existing garage wall, make a base, build walls of the bump-out addition, add a roof, and install vinyl siding.
12. How much does adding a room on top of a garage cost?
The average cost of adding a room on top of metal garages is $200,000.
13. Can I convert my garage without planning permission?
Whatever your remodeling plans, you must get planning permission to approve your project. It's illegal to convert a garage without complying with local building codes, building regulations, local zoning codes, and fire safety codes.