Whether you're looking for a metal garage for six cars or Metal Buildings with Living Quarters, Our 40 x 60 galvanized and red iron steel metal buildings have the perfect plans for you. Highly durable and cost effective, these 40′ by 60′ metal buildings are the perfect choice for commercial spaces and residential storage, making to fit about 2,400 square feet of area. 
Popular 40 x 60 Metal Buildings Structured By "Steel and Stud"
Some popular metal buildings that you can get from Steel and Stud include: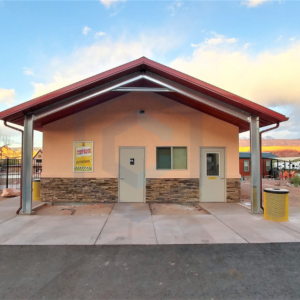 Commercial 40X60 Metal Building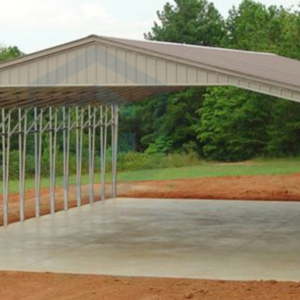 If you want an open garage area, the 40X60 open metal carport can help you achieve that. It aims at enhancing the appearance and also being functional.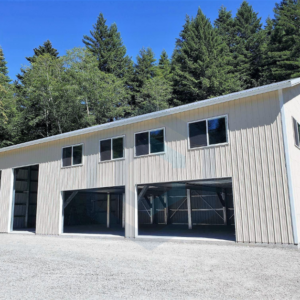 1 Story 40X60 Metal Building
This is the perfect option for those who want a small living space for themselves for better privacy.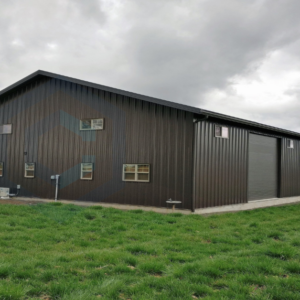 Whether you want a residential or commercial project, the 40X60 metal building can suit the purpose right.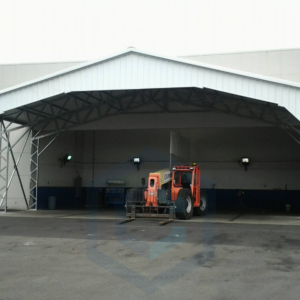 40X60 Metal Workshop Garage
If you're looking for an extension to your residential space, you should consider choosing this one as a workshop garage option.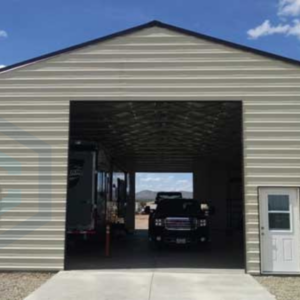 40X60 Metal Building Garage
If your vehicle isn't occupying too much room yet needs some space, you should choose the 40X60 metal building garage.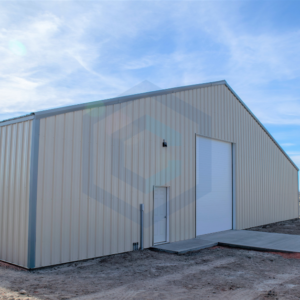 40X60 Metal Building Warehouse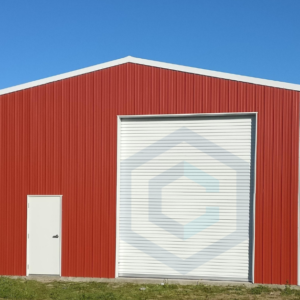 40X60 Metal Building with Bathroom
The 40X60 metal building with a bathroom provides a bigger space for efficiency and also plays an important role in catering to residential needs.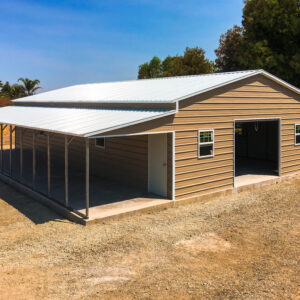 40X60 Metal Building with lean to
You can customize these buildings with Steel and Stud for better efficiency and effectiveness around your space.
Purposes of 40'x60′ Steel Buildings
A metal building is a prefabricated, non-load-bearing structure built with steel. These structures are customized as per need. For steel building kits for various uses, 40×60 metal building kits are the most frequently purchased. It is not the only standard size of kits; the prices for 40×60 kits are also affordable.
40×60 metal building with living quarters
40×60 garage kits
40x60x12 metal building
40x60x14 metal building
40x60x16 metal building
40x60x18 metal building
40x60x20 metal building
40 x 60 Metal Buildings for Sale
Steel And Stud is a leading supplier of high-quality and cost effective steel building kits and materials in the US. We provide an extensive range of metal building solutions, including pre-engineered steel buildings, commercial warehouse buildings, and all needed steel components. we also specialize in custom building projects including custom steel garage buildings and more.
Call us now to get a free quote on the most popular sizes of storage buildings.
40X60 Metal Buildings Kit Features
The biggest advantage of 40×60 steel building kit is "that it is cost effective ." These metal buildings are built to last snow loads or high winds and come with a long-term warranty. Steel buildings are also much more affordable than traditional wooden structures, so if you're on a budget, they can be a perfect choice.-
All 40'X60′ steel building kits are shipped with a 20-year steel frame warranty. Our 40×60 steel building kit worth rs $25,000 to $26,500 will have materials including.
Note: Prices for metal buildings are influenced by a list of factors on the website and are subject to change without prior notice. They may also vary according to local building code requirements for different locations. Also, the prices don't include concrete, installation and insulation cost. We provide free installation and shipping services to various locations. Please check with our representative to confirm your eligibility for free services. Pictures in the display are only for reference and may vary from the actual model and final installations.
40X60 Steel Buildings Warranty
Year Limited + Product Pledge - Frame Warranty
Year Paint Finish - Sheet Metal Warranty
Day Workmanship -
14 Gauge Frame Warranty
Day Workmanship -
12 Gauge Frame Warranty
40×60 Metal Buildings Price
To build a Metal Building home or any building in a space of around 2400 sq feet or more, you can buy a prefabricated kit of 40X60. The average cost of the kit will be $25000 to $26500 ($10.20 – $11.00per square foot).
Readers should be aware that this is just the cost of the prefabricated kit. For the complete erection of the metal building, other factors, including foundation cost,  installation cost, insulation costs, interior cost, additional doors and window costs, add to your total cost for a 40×60 metal building.
Stable and solid foundations to withstand harsh and unpredictable weather conditions are a must before installing a metal building. Concrete foundation costs usually vary between $4 to $8 per square foot. Depending on soil and climate, every location requires a different foundation layout.
Construction and Interior Finishing Cost
After constructing the foundation, you can save the installation cost by DIY our pre-fabricated kit of a 40X60 metal building. Whereas if you want innovative and sounder installation of your metal building kit, you should hire experts to install, insulate and design the interiors.
The average construction cost for a 40×60 metal building ranges between $5 to $10, depending on the quality of the wall and roof panels you choose. Also, you should add the labour cost while calculating the cost. The construction and interior cost is influenced by:
Financing of 40X60 Metal Building
For small farmers or new startups investing more than 20 grands in one go can be a bit edgy. 
Steel and Stud partner with RTO national (Rent-to-Own) to help you with easy instalments.  
Also, a rational decision can help you get Finance for your new building for longer tenure and at cheaper rates. Some common avenues from where you can have finance for your metal homes in US are
New Century Bank

USDA(United States Department of Agriculture)

GreenSky

Home Improvement Loan Pros

Acorn finance

Admirals Bank

Use A Mortgage Broker

Use A Mortgage Broker

Mariner Finance
Similar to other credit loans, your poor credit score may also affect fast processing of your file at cheaper interest. So it's advisable to check with your Building Department for more information on financing options."
You can read our guide on financing your metal building which will help you know the common finance options available and the complete process of financing options. 
Prerequisites for Installing 40×60 Metal Building
Here are some things you need to follow before installing our 40X60 metal buildings:
Our prefabricated kit includes all the major nuts, purlin, and bolts used to build the metal building. 

Before assembling the building you need to have a proper concrete foundation to lay down the metal building. 

You also need  local permits, along with necessary tools and equipment like extension ladder, bolt remover tin snips, a screw gun, and a metal cutting blade to hoist, install and erect the metal building. 

We provide certified material as per your area's local building codes and ratings when needed.

When you share your details with us, we ensure to use the best anchors and braces for the steel building kit to hold the structure against high wind and snow loads.
Why Our 40X60 Metal Buildings Are Best For You
Our 40×60 metal building is primarily made out of heavy-duty steel. These prefabricated metal buildings are a great option for quickly building a secure and reliable structure. When you're looking to build a new building or improve the facade, you can have us as your reliable contractor to get the job done right the first time and do it to save you money. 
Maintenance and Care Tips for 40X60 Metal Buildings
Some of the major maintenance and care tips to follow for the 40X60 metal buildings include the following:
Perform Routine Checks:

The metal building will be prone to damage due to harsh weather conditions. It is advisable to perform routine checks once every month to check for potential damage. 

Keep the building clean:

It is advisable to clean the 40X60 metal buildings regularly using water and small amounts of ammonia. You should remove as much grime as possible. 

Minor repairs:

If any part of your 40X60 metal building needs a minor repair, make sure to get it done immediately. This is to ensure the damage does not aggravate.

Insulate:

It is advisable to insulate the metal buildings properly to avoid the risk of condensation, which may be damaging to your metal buildings.
If you wish to buy from Steel and Studs, you need to follow the steps below:
Select the 40×60 Metal buildings tab.

Use the online builder to input all the details of your area. 

You may proceed to order and generate an invoice inclusive of tax. 

We have different payment gateways for easy transactions. We accept payment through Paypal, Visa, and Mastercard
Our return policy is simple and transparent. All requirements should be resolved before ordering because if a permit is denied for reasons other than your plans, your deposit will not be refunded.
Other Metal Building Sizes Available
Here are Steel & Stud Most Popular Customized Sizes for metal buildings. We can also get them customized as per your requirements:
Metal Building Sizes

Metal Building Sizes

Metal Building Sizes

Metal Building Sizes
Our Convenient Locations to Serve You.
We help design and construct metal buildings or red iron buildings for more space. We install in 48 states, including Alabama, Maryland, and California. Expect installation within four weeks from the order date. Deliveries of 10X40 metal building kits may experience slight delays, but we endeavor to serve you as fast as possible with the shortest possible delivery time.
At Steel and Stud, we contact our customers within 60 days of receiving their orders. Customers may experience delays when ordering metal structures or buildings wider than 24 feet, as they need longer manufacturing time. 
If you're in the market for an Arrow, Versa tube, or ShelterLogic 40X60 metal building near you, then "Steel and Stud" long lasting and cost effective solution is here for you.
States

States

States

States