Weather variability in Georgia can be difficult for some people to handle. Many homeowners may think metal buildings won't be able to withstand thunderstorms and tornadoes and can be dangerous to people. But let's face it; metal buildings are the way to go for all your storage, living, and recreational needs. Don't let old misconceptions hold you back; it's time to embrace the benefits and invest in a metal building today.
Steel and Stud prefab metal building kits used for residential purposes offer a variety of benefits for homeowners. They are extremely durable and can withstand harsh weather conditions, such as high winds, heavy rainfall, and extreme heat, making them ideal for the Georgia climate.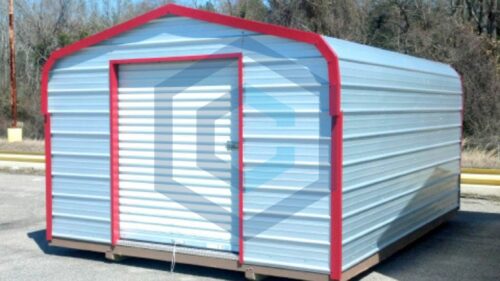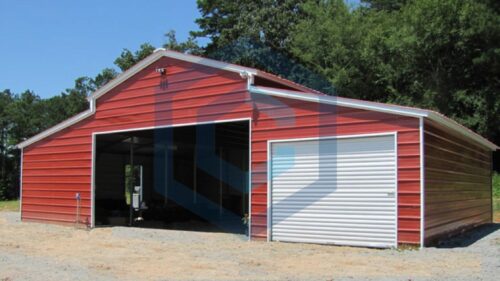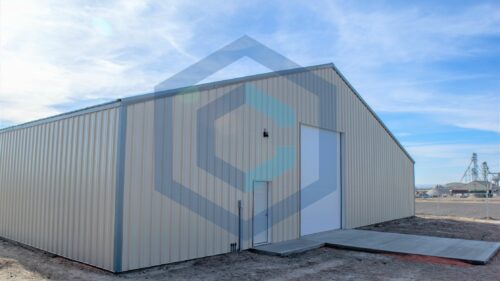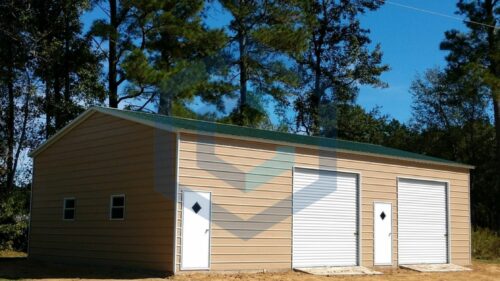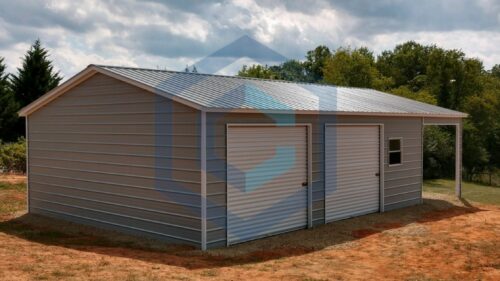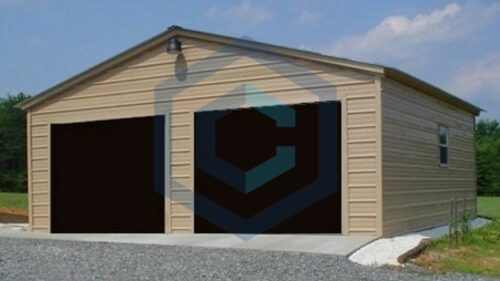 Additionally, metal buildings have excellent energy efficiency properties, which can help lower homeowners' energy costs. They are also low maintenance, reducing the cost of upkeep over time.
Comparison of Metal Buildings to Traditional Building materials
In recent years buildings made of steel, aluminum, or red oxide iron have been in more demand than traditional building materials for their advantages. Metal buildings are considered more durable, requiring less maintenance and repairs over time. Many of our customers testified that because of the proper insulation system, the metal building had better energy efficiency, leading to lower home energy costs. 
Metal buildings are also resistant to fire, termites, and other common issues that wood, bricks, or other traditional building materials may face. Furthermore, prefab metal building kits are built faster and at a fraction of the cost. 
Metal buildings offer a cost-effective and long-lasting solution for residential construction, making them an ideal choice for homeowners in Georgia.
Get More Information about: Why Do Americans Go For Pre Feb Metal Building Over Traditional Wood Buildings
Metal Buildings are More Durable in Georgia's Climate
Steel and Stud metal building kits are made of galvanized steel, a form of steel coated with a layer of zinc to protect it from corrosion and rust. The zinc layer is a deterrent to prevent water, dust, and heat from reaching the steel underneath.
The steel galvanization process also reflects heat away from the steel, preventing it from getting too hot. Furthermore, when the zinc coating is exposed to high temperatures, it forms a layer of zinc oxide, which acts as an insulator, thus increasing energy efficiency. 
Additionally, the zinc oxide layer protects the steel by reducing the amount of oxygen that can reach the steel surface, which slows down the rusting process.
A metal building kit with galvanized steel is thus a popular choice, as it provides both corrosion and heat resistance, making it a durable and long-lasting building material.
Whether you live in the Georgia Mountains Region or next to the coastline, you have specific weather conditions you need to consider when protecting your cars and trucks. Our metal buildings for sale in Georgia are just what you need. We even have metal buildings for motor homes that accommodate the tallest RV.
Affordable Residential Metal Building in Georgia
Not only Steel and Stud metal buildings are strong and long-lasting, but they are also at affordable prices for homeowners in Georgia. Our Metal buildings are manufactured using cost-efficient materials such as steel or aluminum, which are generally less expensive than other building materials such as wood or brick. 
Additionally, we have pre-engineered metal buildings or modular buildings that provide ample space for storing vehicles, equipment, and other valuable items, without spending the high cost of traditional construction. 
Since we are into this industry from such a long time we are able to take advantage of referral and volume discounts by material and equipment vendor passing the savings on to the customer. 
The company may also offer competitive pricing by keeping overhead costs low and passing the savings on to the customer. 
Furthermore, we also offer financing options such as leasing or rent-to-own, which make metal building more affordable. Our specialised designers and contractors can help with different customization options without increasing the cost significantly.
Unlimited Applications Of Residential Metal Building in Georgia
Prefab metal building can serve to any of your needs. Whether you need extra living space, a home office, workshop, or agricultural storage, residential metal buildings are often more cost-effective than traditional wood-framed buildings, making them a great option for budget-conscious homeowners.
2023 Best Metal building Ideas for Residential Purposes:
Extra living space: Residential metal buildings in Georgia can be designed as guest houses, in-law suites, or apartments for extra living space for family members, guests, or renters. 
Home office or studio: Design it as a home office or studio, for a quiet and separate space for work or hobbies.
Workshop or garage: Metal garages, carports, or order as a workshop or garage, space for sheltering your cars, RV, AV.
Agricultural storage: Residential metal buildings in Georgia can be used for agricultural storage, such as for equipment, tools, or hay.
Swimming pool house: Customize metal garage into the pool house, for changing, showering, and storage of pool equipment and supplies.
Fitness studio: The latest trend is to buy a metal building for the fitness studio, a clear-span space for exercise equipment, and workout classes. Owners also add extra walls for sauna or hot tub rooms.
Yoga or meditation room: 20×20 or 50×50 metal building kits can be designed as a yoga or meditation room, providing a peaceful space for relaxation and wellness.
Home theater: Enjoy space for movie nights and entertainment by converting a prefab metal building into a home theater.
Game room: Surprise your kid with their own private game room, installed with table games, pool tables, and arcade games.
Artist studio: Allow your inner artist to shine high. Call us now to order your own artist studio, providing a space for painting, sculpting, or other forms of art.
Home brewery or wine cellar: A residential metal building can be converted into a home brewery or wine cellar, providing a space for brewing beer or aging wine.
When you order a metal barn building or prefabricated steel warehouse shop from us, you know you're going to get quality. Along with great materials we offer free shipping and installation on your shop buildings so you get steel building prices Georgians' can afford. It doesn't have to cost a fortune to get the right steel building kit for your situation doesn't have to cost a fortune.
Order Metal building with Endless Customization Options
Our buildings are customizable and can be tailored to meet your specific requirements, allowing you to optimize the space for your specific use. You can easily order metal building kits from our website with customized specifications. With a simple and user-friendly portal, you will easily find the different options for all the metal building parts and specifications.
Our metal building kit designs all have you, the customer, in mind. We offer various styles with different roofs, such as standard, rounded corners, A-Frame, and boxed eve styles. 
Read Also: Types of Metal Roofing
The classical standard roof is for the customer looking for durability and sustainability, while the round roof is for those who want to experiment and looking for trending metal building designs.
If you want to handle heavy snow loads, the A-frame roof style is the best option to choose, while the boxed eve roof style is designed to handle heavy rain and wind loads.
We have many colors to choose from in our metal shop building kits, so you can match any other residential steel buildings you may have. 
Our Metal Building color options make it easy to create a cohesive and polished look for your metal shop building, making it an attractive and valuable addition to your property. However, some popular color choices for metal buildings include:
Dark Gray:

This color is versatile and complements a variety of other colors, making it a great option for matching existing structures.

Beige or Tan:

Considered neutral colors and can complement many different architectural styles and surroundings.

Dark Brown:

Because of its natural look, it can mimic the appearance of wood, making it a great option to blend with other wood structures.

White

: This color is a popular option for metal buildings because of its reflective properties. White can reflect sunlight and heat, which can help to reduce cooling costs in warmer climates. It also gives a clean and modern look to the building.

Custom Colors:

Steel and Stud offer custom color options allowing customers to choose a specific color that aligns with their preference, or surrounding.
Also Read: Metal Roof House Color Combinations 
Our metal storage building kits also come in a variety of sizes to hold anything from a few motorcycles to many cars or trucks.
The commonly purchased metal building sizes for residential purposes include:
20×20 or 400 sq ft

:

20×20 metal building size

is suitable for small garages, or storage sheds.

30×40 or 1200 sq ft: 30×40 size

is suitable for larger garages, workshops, or storage sheds. It can also be used for a small home or cabin.

40×60 or 2400 sq ft: 40×60

is suitable for larger homes or cabins, or for multiple-vehicle garages or workshops.

50×100 or 5000 sq ft: 50' x 100'

 is suitable for large homes, barns, or commercial buildings.
To find the right size for your carport or other residential metal building consult with our professional building specialist or architect to help you in considering the intended use of the building, the number and size of vehicles that will be stored, and the amount of storage space needed. It's also important to consider the size of your property and the zoning regulations and building codes for steel buildings in your area. 
Lastly, you can use the building area calculator to calculate the size required for your metal building.
Check out the Metal Building Sizes available with us.
Steel and Stud Metal Buildings are Easy to Install
When you choose to buy a prefab metal building kit from us, you can trust that the entire installation process will be a breeze. Our kits come with detailed and easy-to-understand instructions, making the installation process straightforward. You will also find the necessary tools and equipment, so you don't have to worry about gathering them yourself.
Our Metal Kit Includes:
Galvanized steel tubing framing for tubular 30'x20′ steel buildings.

Galvanized purlins and grits for cold-formed steel framing.

Industrial grade steel coated with red oxide, I-beam or channel, purlins, and grits for red iron 10×12 steel metal buildings.

All steel sheeting for roof and walls in chosen colors.

Door frame and trim

Insulated window frames, 

Complete insulation and vapor barrier for roof and walls with proper electrical wiring.

Fasteners, bolts, brackets, colored screws (no nails), and socket for colored screws.

Matching sealing strips 

All painted steel flashings, trim, ridge caps, and channels with our 20-year-warranty

 colors.

Steel anchor bolts 

Two sets of custom and wet-stamped engineered plans and calculations for your state, including foundation drawings. 

Detailed instruction manual and detailed video instructions for smooth installation.
Installing a prefab metal building can be a daunting task for homeowners who are handy with tools and equipment, for them we offer professional installation services to make the process as smooth as possible for you. Our team of experts will ensure that your building is installed correctly and meets all safety standards.
With Steel and Stud, you can have peace of mind knowing that your building will be installed correctly and in compliance with all regulations.
Building Codes In Georgia
We advise our customers to get permission from the state authority before ordering the metal building kit with us. 
To get the permission you first need to apply with your plans blueprint to the local building department or permit office.  
Your plans and engineering drawings should include information on the size and layout of the building, the type of foundation, the type of metal used, and the design load requirements of your proposed metal building. 
Once your plan have been reviewed and approved by officials, You can contact our building inspector to discuss the installation of your metal building. Our seniors will provide you with any additional information or instructions that you need to follow to ensure that your building complies with the local building codes and regulations.
If you are from Atlanta, Columbus, Athens, Augusta, or Savannah you can check the building codes from this website: www.dca.ga.gov 
If you're unsure which Georgia storage metal building kit you need, contact us and we can help you out. We have an A+ rating with the BBB and take pride in our customer service. Our commitment to selling you the best metal buildings on sale in Georgia is evident in everything we do. From metal buildings for business to steel shops for garages, we've got just what you need. We will take into account how many vehicles you need to store or just how much space you need for your business. We believe in getting you the right metal building kits cheap, so you don't have to worry about the cost. When you're ready to get serious about protecting your valuable cars, trucks, and more, give us a call. You will not be disappointed!
Metal Building Sizes Available At Steel And Stud
Metal Building Sizes

Metal Building Sizes

Metal Building Sizes

Metal Building Sizes
We Deliver And Install Metal Buildings Across Georgia
Atlanta, Augusta-Richmond County, Columbus, Macon-Bibb County, Savannah, Athens-Clarke County, Sandy Springs, South Fulton, Roswell, Johns Creek, Warner Robins, Albany, Alpharetta, Marietta, Stonecrest, Smyrna, Valdosta, Brookhaven, Dunwoody, Peachtree Corners, Gainesville, Mableton, Newnan, Milton, Evans, East Point, Peachtree City, Rome, Tucker, Hinesville
Although the exact delivery date (timeframe) cannot be assured, Steel And Stud can provide you with an estimated timeframe of when you can expect your metal building.
| Time Frame | Delivery of Metal Building (%) |
| --- | --- |
| | |
| | |
| | |
| | |
Other Convenient Locations to Serve You.
States

States

States

States

West Virginia Metal Buildings
Frequently Asked Questions
Do I need to pay any fees to obtain permission to install metal building?
Yes, you will likely need to pay fees to obtain permission to install a metal building. Typically, building permit fees are based on the value of the construction and can be calculated by multiplying the estimated cost of the construction by a set percentage rate. You may also need to pay additional fees for plan review and inspections.
Can I Install metal building in Macon without obtaining building permit ?
The failure to obtain a building permit or failure to comply with building codes can result in significant fines, penalties and even legal actions.
I live in North Gerogia. What kind of roof should I choose for my metal garage?
"A-frame Roof Style" is best for places having heavy snowfall.
Which is the best website to buy metal building in Georgia?
Steel and Stud is your reliable supplier for prefab metal building kit for both commercial and residential use.