The metal and glass S.R. Crown Hall of the Illinois Institute of Technology, built-in 1956, established old love for Metal buildings in Illinois. Nothing has changed so far. Apparently, technological advancement has further refined and improved metal building systems in Chicago. To enhance metal buildings' structural technology and energy efficiency, the MBMA( Metal Building Manufacturers Association) studies the seismic performance of metal building systems, improves the design of wind loads on roll-up doors, and develops stronger structural connections.
Steel and Stud feel proud to contribute to this victorious journey of livelihood. We take immense pleasure in manufacturing metal building kits made of durable and long-lasting building material that can withstand harsh weather conditions, including heavy snowfall, extreme temperatures, and high winds. This makes us the first choice for those in Illinois who need a structure that will stand up to the challenges of the local climate.
Another reason for the popularity of metal buildings in Illinois is that you can easily and quickly construct our metal building kits which can be a significant advantage for those who need a new building in a short amount of time.
Metal buildings can also be customized to meet the buyer's specific needs and preferences, making them a versatile and adaptable choice.
Finally, Steel and Stud metal buildings can be more cost-effective than buildings constructed with other materials, which may make them an appealing option for those on a tight budget.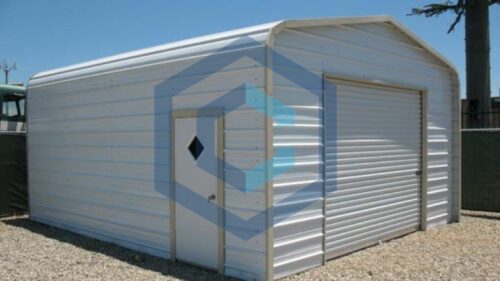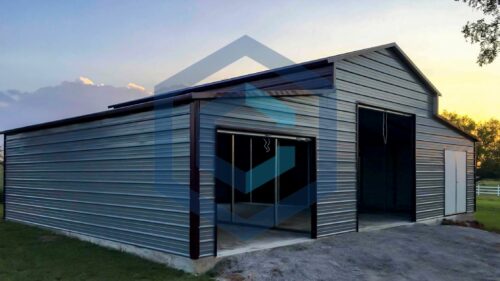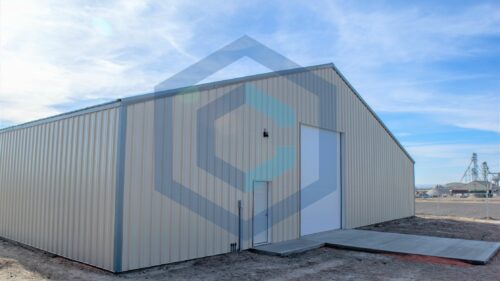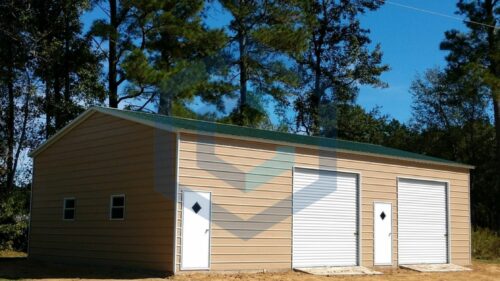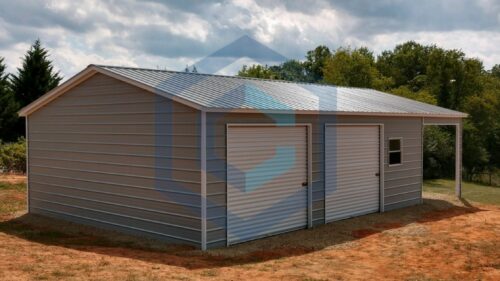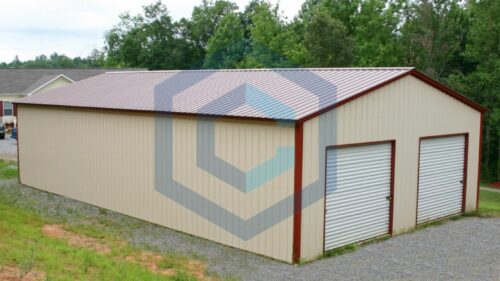 Prefab Metal Building Kits In Illinois
There are likely many different types of buyers of metal buildings in Illinois. You could be individuals or businesses who need a new garage, workshop, storage facility, or other types of structure for personal or commercial use. Some potential buyers might be farmers looking for a new barn or shed to store equipment or contractors seeking a storage solution for their tools and materials. Other possible buyers include homeowners looking to add an outdoor structure to their property or businesses seeking to expand their operations with a new warehouse or factory building.
Steel And Stud is a leading provider of metal building kits and materials in the United States. We offer a wide range of metal building solutions, including custom steel garage buildings, pre-engineered steel buildings, commercial warehouse buildings, and all necessary steel components.
We have affordable metal building kits, which can be a cost-effective choice compared to traditional wood structures. If you are interested in a metal building for storage, Steel And Stud offers a variety of sizes and can provide a free quote. Please contact us for more information.
Different Types of Metal Storage Building Kits Available in Illinois
Illinois have a diverse climate, with cold winters and hot summers. It can place demands on the construction of buildings, including the need for materials that can withstand extreme temperatures and weather conditions. Metal is a durable building material that withstands harsh weather, including heavy snowfall, extreme temperatures, and high winds. Such weather conditions make metal, steel, and galvanized iron steel a good choice for building construction in Illinois. The specific type of metal structure individuals or businesses in Illinois might depend on their specific needs and requirements. Some common types of metal buildings that may be in demand in Illinois include:
Metal Garages in Illinois
Metal garages and steel carports are popular choices for those needing additional storage space for vehicles, boats, tools, and other equipment. When choosing a metal garage, ensure that the structure meets your needs and preferences. Metal garages come in various styles, including gable, lean-to, and barn roofs. Consider which style will best fit your property and your personal taste.
Metal Workshops in Illinois
Metal workshops are an excellent choice for those who need a dedicated space for woodworking, automotive repairs, or other hands-on projects. Choosing a metal workshop that is the right size for your needs is important. Consider the size of your tools and equipment and the available space on your property.
Metal workshops come in various layouts, including open-concept, divided, and multi-room. Consider which layout best fits your needs and the work you will be doing in the workshop.
Metal Storage Facilities In Illinois
Metal storage facilities can store a wide variety of items, including household goods, business inventory, and more. Other purposes include the following:
Vehicle Storage –  Metal storage facilities or carports can be used to store vehicles, such as cars, trucks, boats, and RVs.
Climate-Controlled Storage – We also provide metal storage facilities with climate-controlled storage options, which can be useful for storing temperature-sensitive items, such as art, antiques, and electronics.
Agricultural Storage –  One of the popular uses of our metal building kit in Illinois is to store agricultural equipment, feed, and other items used in farming and ranching.
Metall Barns And Sheds In Illinois
Metal barns and sheds are a popular choice for farmers and other rural property owners who need a durable, weather-resistant structure for storing equipment, hay, and other supplies.
When choosing a metal barn or shed, some features and options to consider are:
There are several different roof styles to choose from when it comes to metal barns and sheds, including gable, gambrel, and flat. Consider these styles' aesthetic and functional differences to determine which is best for your needs.
Many metal barns and sheds have various finish options, including different colors and textures. Choose a finish that complements your property and meets your aesthetic preferences.
Some metal barns and sheds come with additional features such as skylights, electrical outlets, and shelving. Consider which of these features would be useful for your needs and budget.
Metal Warehouses And Factories
Metal warehouses and factories are commonly used by businesses that need a large, industrial-strength commercial buildings for storing and processing goods. Make sure the metal building you choose complies with local building codes and regulations. This can help ensure the safety and structural integrity of the building. Our metal building Kits come with a good warranty to protect your investment in case of any issues that may arise.
Steel and Stud's Metal Building Kit Checklist
All Our steel building kits are shipped with a 20-year steel frame warranty. Our steel building kits will include materials as per the customized order: The common features of our kits include
We pride ourselves on producing all of our DIY frame kits in the USA using American-sourced materials.

When it comes to metal building certification, we provide the necessary materials to meet your local code ratings. 

When you share your location with us, we ensure that the best anchors and braces are used in the steel building kit to hold up against high winds and heavy snow loads.
Order Your Metal Building Kit In Just A Few Clicks
Ordering a metal building kit with steel and stud construction is easy with our user-friendly website. Simply browse our selection of available sizes and specifications to find the perfect fit for your needs.
Note:  Before placing your order with us, be sure to check with your local building department to understand the permitting process and any other requirements.
To get started, determine the type of metal building you want and select a suitable location on your property.
Work with a concrete contractor to have the slab built according to your plans and the building department's requirements, and submit everything for approval. Once you have chosen your structure, you can request customization to fit your specific needs.
To complete your order, make a 10% advance payment and pay the remaining balance after installation. We will then deliver the kit to your address and erect the metal building according to the approved plans.
Our return policy is simple and transparent. Buyers should resolve all requirements before ordering because if a permit is denied for reasons other than your plans, your deposit will not be refunded.
We have different payment gateways for easy transactions. We accept payment through Paypal, Visa, and Mastercard.
Make sure the electrical work meets the inspector's expectations, and then celebrate the progress of your DIY project with a cold beverage and some music.
Handy Guide To Save on Metal Building Kits
In general, metal building kits can range in price from a few thousand dollars for a small structure to tens of thousands of dollars for a larger, more complex building. It's a good idea to get quotes from multiple manufacturers or suppliers to compare prices and find the best deal. You should also be sure to factor in additional costs, such as delivery, installation, and necessary permits or fees.
You can check out the carport cost calculator to learn about our cost. 
Also, you can save up to 30% of your total erection cost of a metal building by paying attention to a few details, including:
Financing Options for Metal Buildings
Several financing options are available to help you purchase a metal building in Illinois. These include using the equity in your home through a home equity loan or line of credit, obtaining a personal loan from a lender, using a credit card, or taking advantage of financing options the manufacturer offers.
It's important to carefully review and compare the terms and conditions of each financing option to find the one that best meets your needs and budget. Before deciding, consider the interest rates, fees, and repayment terms. With careful planning, you can find a financing solution that helps you afford the metal building you need.
Metal Building Sizes Available At Steel And Stud
Metal Building Sizes

Metal Building Sizes

Metal Building Sizes

Metal Building Sizes
We Deliver And Install Steel Carport Across Illinois
Wicker Park, Chicago Loop, Lincoln Park, Hyde Park, Lower West Side, Andersonville, Wrigleyville, Printer's Row, Bronzeville, Old Town, Northalsted, Greektown, Chinatown, Magnificent Mile, Naperville Historic District, Prairie District, Ukrainian Village, Near North Side, East Side, Forest Glen, South Chicago, Lake View, Hermosa, Bucktown, Near South Side, Armour Square, Grand Boulevard, Ashburn, Douglas, Clearing and many more.
| Time Frame | Delivery of Metal Building (%) |
| --- | --- |
| | |
| | |
| | |
| | |
Other Convenient Locations to Serve You.
States

States

States

States
Frequently Asked Questions
How much would a single car carport cost (16 x16 A-frame 14 gauge steel)?
The pricing of a metal building is dependent on various factors, such as roof styles, steel prices, construction costs, slab costs, door sizes, etc.
What are Illinois's wind burst, snow, and dead load ratings?
In Illinois, the wind burst rating and snow and dead load ratings will vary depending on the specific location within the state. It is important to ensure that your metal building meets the applicable ratings for your area to ensure the structural integrity and safety of the building.
I want to buy a pole barn home. How do we get this information from your company?
You can call us at  1-877-275-7048 during business hours and talk to our sales associate to discuss prices and available options.
Where can I buy a good-quality prefab metal building kit in Illinois?
Steel and Stud provide high-quality metal building kits and materials in the entire United States. We offer a wide range of metal building solutions, including custom steel garage buildings, pre-engineered steel buildings, commercial warehouse buildings, and all necessary steel components at affordable prices.
Will you ship building materials to Washington state?
We help design and construct metal or red iron buildings for more space. We install in 48 states, including Washington state. Expect installation within four weeks from the order date.