Idaho, an unparalleled state of majestic splendor located in the Pacific Northwest, contiguous to Washington and Oregon, is renowned for its distinctive shape and large-scale production of potatoes. However, this Gem State boasts an abundance of natural treasures, including over 2000 named lakes, thousands of unnamed lakes, and 4.7 million acres of wilderness, in addition to an impressive 280+ mineral species.
But Idaho's offerings extend far beyond its natural beauty. The state's economy is a dynamic blend of industries that foster stability, collaboration, and innovation. 
These industries [such as Manufacturing, Agriculture, Health Care, Real Estate, Tourism, Mining, Technology, and Aerospace] demand robust, resilient structures that can withstand the whims of Mother Nature and her harsh weather conditions, such as heat (86 °F), severe snow (30 to 40 inches), earthquakes, thunderstorms, precipitation, and flooding, along with being affordable, aesthetic, and customizable to the needs of business owners, entrepreneurs, industrialists, farmers, and small retail proprietors.
And for this reason, "Steel And Stud" have been a vital contributor to these industries since 2002 by providing versatile and energy-efficient steel structures that meet these requirements.
So if you are seeking a solution for modifying or constructing a robust, high-galvanized steel structure that adheres to all relevant zoning and metal building regulations for your upcoming endeavors, Steel And Stud is the answer. 
Our team of knowledgeable Sales representatives is available to assist you in clearing any doubts and providing you with information on the metal building process, enabling you to confidently initiate your project.
Do not procrastinate. Reach out to us today and allow us the opportunity to furnish you with the finest steel structures you necessitate.
Steel And Stud Metal Building Kit The Dominant Choice Of All Industries
Residential Or Living Quarters
Our residential buildings cater to the burgeoning population in Idaho, offering a superior option to conventional home construction. Our offerings are (not only) built to last but also energy efficient and cost-effective.

We offer myriad options, including living quarters

, recreational spaces, penthouse suites, and opulent guest houses.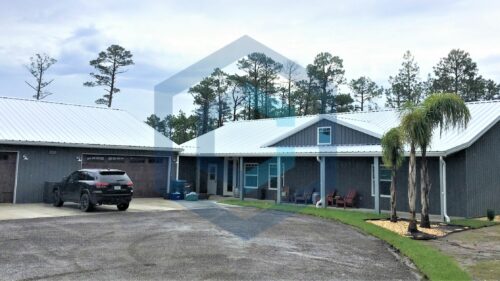 Idaho, a state that has established itself as a premier destination for economic growth, has witnessed a steady upward trajectory in employment with an annual growth rate of 2.7% over the past five years, culminating in a current workforce of 779,404 individuals (in 2022). 

Given this booming economic landscape, it is an opportune time for businesses to establish a presence in the state. Our

commercial real estate portfolio

comprises a wide range of properties, from

office buildings

and retail spaces to warehouses, meeting spaces, conference rooms, and storage facilities, designed to cater to the specific needs of businesses across various industries and

sizes

. 
Read to Get Know More: Commercial Steel Building 
Our offerings are both functional and visually appealing, providing businesses with an ideal setting to achieve their objectives.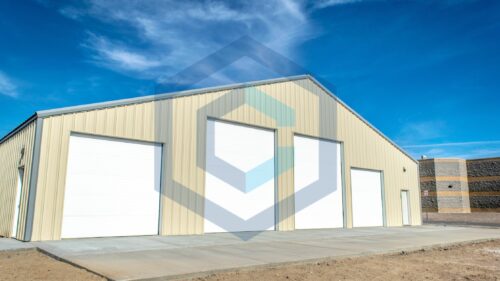 Agricultural Metal Buildings
Idaho's thriving agriculture industry, characterized by impressive revenue and economic growth, necessitates the utilization of robust, durable structures that can effectively withstand the state's unpredictable weather patterns and securely store an array of crops, vegetation, harvested foods, and livestock. 

Our

steel agricultural buildings

are expertly crafted to provide a reliable and sturdy solution for all your agribusiness, ranching, and farming needs.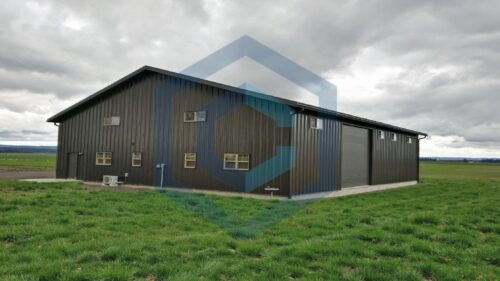 Idaho's construction industry is experiencing a significant uptick, with a pressing need for skilled workers to keep pace with demand. A recent study by

Skynova

revealed that Idaho's workforce growth last year was an impressive 13.8%. 

To cater to this growth and ensure that the workforce has ample space to perform their duties, Steel And Stud's industrial properties, including factories, warehouses, and distribution centers, offer a viable solution. 

These facilities will (not only) accommodate the influx of workers but will also provide the necessary infrastructure to support manufacturing, storage, and other industrial operations.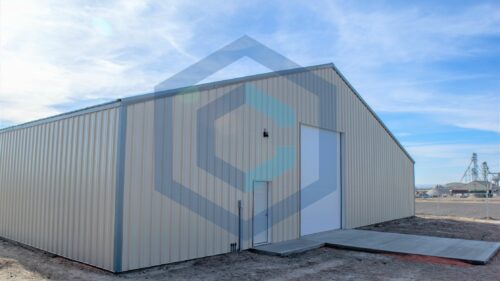 Give us a Call Now or Visit Our Website to learn more
Unlock The Hidden Benefits of Investing in Metal Buildings
In Idaho, utilizing metal buildings offers a plethora of advantages, such as: 
✅ The versatility of metal buildings in accommodating their environment is unparalleled. Their ability to adjust to an area's various climatic and meteorological conditions, such as those found in the north-central region of Idaho, where strong winds, seismic activity, and heavy snowfall are familiar, is a testament to their durability.
✅ In addition to being resistant to deterioration from factors such as rot, fire, and termite infestation, metal structures also boast a high level of energy efficiency. The insulation properties of metal make it (an ideal) material for maintaining a comfortable interior temperature, particularly in regions with significant seasonal temperature fluctuations, such as Idaho.
Also Read: How to Insulate an Existing Metal Building
✅ Metal buildings offer a unique and appealing option when it comes to construction. 
✅ Aside from readily available materials and low prices, the construction process is quick and efficient. 
✅ Moreover, metal structures require minimal maintenance, saving you money in the long run on restoration and repainting.
Metal Building Regulation In Idaho
In Idaho, metal building construction is an exciting and rewarding endeavor, made possible by the stringent local building permit requirements that are in place to ensure the safety and well-being of all building occupants and the general public. These requirements (codes), tailored to meet the unique needs and processes of the local government jurisdiction, serve as a vital safeguard for the community and provide peace of mind for those involved in the construction process.
Following is a list of Idaho's metal building codes:
2020 Idaho Energy Conservation Code

2020 Idaho Residential Code

2018 International Building Code (IBC)

2018 International Existing Building Code (IEBC)

Electrical Code

Elevator Code – 2018 International Mechanical Code, 2018 International Fuel Gas Code, and 2018 International Residential Code Parts V & VI

Plumbing Code

Fire Code
Just elevate your construction experience with Steel And Studs: Our unparalleled familiarity with building codes sets us apart and allows you to unwind and focus on your metal building vision. Contact Us Today and Experience the Difference.
Secure Your Dream Project Despite Financial Constraints: Financing Options to the Rescue
Explore the diverse array of financing options available in this esteemed Potato state. Carefully consider your financial capabilities and peruse the myriad options to determine the best fit for you.
Here are some of them:
Personal loans

Leasing

Mortgage

Government loans

Manufacturing financing

USDA agriculture loans

Credit card

Home Equity Line Of Credit, Or Home Equity loans

Banks
Rest assured; our team is here to provide expert guidance and assist you in making the most informed decision for your unique needs and circumstances.
Elevate Your Property: A Guide to Securing a New Metal Building Structure in the Gem State
At Steel And Stud, we understand the significance of a well-functioning website in fostering trust with our clients. With this in mind, we have meticulously crafted a user-friendly platform for you to order your desired metal building structure effortlessly.
To bring your vision to fruition, we recommend taking the following steps:
By determining the

type of metal building

and the location of your property, we can guarantee that the structure will be optimized to its fullest potential.

We understand the importance of adhering to building regulations and, thus, take great care in preparing the construction site following the laws of Idaho. This includes clearing and grading the land, removing utilities or debris, and excavating if necessary.

Our team then works closely with you to determine your project's size, budget, and layout, keeping in mind its intended purpose. We also ensure that all necessary approvals and permits are obtained from local building departments before proceeding with the project.
Once selected, the metal buildings can also be customized to suit your specific requirements.
We require a 10% upfront cost to initiate the project, with the remaining balance to be paid upon completion.

We pride ourselves on our ability to deliver the metal building kit promptly upon receipt of the initial payment, including tools, materials, and instruction manuals. Our (team of) experienced professionals will then execute the project with precision and attention to detail, ensuring that all electrical work meets inspection standards.
Steel And Stud are dedicated to providing its clients with a seamless and satisfying experience. We strive to be the premier provider of metal building structures in the market and invite you to join us in achieving this goal.
Upgrade Your Style: Customize Your Metal Building to Reflect Your Idaho Way of Life
Customization is the key to unlocking the full potential of your structure, allowing you to tailor it to meet your unique needs and requirements. At Steel And Stud, we understand that each individual possesses unique individuality, preferences, and desires. That's why we offer a level of customization that is second to none, delving into the most minute details to ensure that our offering is an actual mirror image of your work. Allow us to be your counterpart and elevate your experience to new heights with our unparalleled level of customization.
Elevate your commercial or industrial space with our state-of-the-art prefabricated metal buildings. Our extensive selection of sizes and customizable options empower you to realize your vision and optimize your space to its full potential. 

From compact storage solutions to large-scale warehouses, factories, or metal garages, we offer a comprehensive range of options to suit your unique requirements. 

With our unparalleled expertise and advanced manufacturing capabilities, we are committed to delivering structures of the highest caliber optimized for performance, functionality, and aesthetic appeal. Trust us to help you achieve your goals.
When (it comes to) designing the perfect doors and windows for your business or residential space, the options are truly endless. Imagine large, pivot, louvered, casement, elegant sliding windows that let in an abundance of natural light or sturdy pivot windows that provide maximum security. And when it comes to doors, the choices are just as varied. From sleek roll-up doors, stacking, and hydraulic to classic bi-fold doors, we have something for every taste and style. 

And if you can dream it, we can build it. Our team of experts will work with you to create a customized solution that perfectly matches your vision for your business space. So don't limit yourself; let us help you envision the space of your dreams.
Choosing the right roof style is crucial (when it comes) to safeguarding the longevity and resilience of your metal building. 
Read Also: Types of Metal Roofing
Our extensive array of roof styles, including but not limited to regular, A-frame, gabled, hipped, arched, domed, boxed-eave, and vertical, offers a plethora of options to suit the specific needs and demands of your metal building project. 

Each roof style has unique characteristics and features that, when combined with a thorough evaluation of local weather conditions and environmental factors, will help you make a well-informed, strategic decision that will ensure the structural integrity and weather resistance of your metal building for years to come.
As an individual with discerning tastes, Steel And Stud allow you to tailor your prefabricated steel structure to your (exact) specifications.

The selection of anchors, gables, and trim, among other elements, can be a gratifying experience as you meticulously plan and ensure that they align with your design aesthetic and harmonize with the surrounding environment.
Demonstrate your ingenuity in construction by personalizing your framing, roofing, and sides with a selection of steel gauges. 

It is worth noting that thicker gauges (12 & 14) are particularly advantageous for our pals residing in Idaho, who regularly contend with inclement weather conditions.
To settle for a mundane color scheme for your metal building is a missed opportunity. 

We offer a comprehensive selection of options at Steel And Stud, each of which can be expertly combined to create an unparalleled, unique aesthetic for your building. Don't settle for anything less than excellence.
Choose Steel And Stud for an indeed exceptional final product.
Beef Up Your Metal Building Maintenance Game: Proven Strategies The Competition Doesn't Want You to Know
At Steel And Stud, we acknowledge the significance of preserving the longevity and functionality of metal buildings. With our expertise and experience spanning over two decades in the industry, we have developed a comprehensive strategy & Tips for maintaining these structures.
To truly excel in (the realm of) building maintenance, it is essential to execute the basics with precision and diligence. This includes regularly cleaning the building to retain its aesthetic appeal and washing it annually to prevent the accumulation of mud and grime.

Regularly inspecting the roof for leaks or damage and promptly repairing as necessary is a crucial component of maintaining the structural integrity of your building.
Also Check: How to Paint A Metal Building
Utilizing

rust-inhibiting paint

on the exterior surface of your

pre-engineered metal building

not only improves its appearance but also protects it from rust, rot, and decay, setting your structure apart from the competition.

Proper insulation is essential to maintain a consistent temperature and prevent condensation to optimize your building's functionality.

The fasteners of your building play a critical role in its structural integrity. It is crucial to ensure they are tightened if loosened and replaced if damaged to prevent potential compromise.

Pest infestations, such as rodents and insects, must be addressed with appropriate control measures to maintain the overall health and safety of your building.
By adhering to these guidelines, you can effectively prolong the lifespan of your structure and save on costly repair expenses.
Rather than settling for subpar building options, invest in a durable and hassle-free metal building kit from Steel and Stud – a choice that will undoubtedly pay dividends in the long run.
Don't wait; call us now and take the first step toward realizing your vision.
Metal Building Sizes Available At Steel And Stud
Metal Building Sizes

Metal Building Sizes

Metal Building Sizes

Metal Building Sizes
We Deliver And Install Metal Buildings Across Idaho
Boise City, Meridian, Nampa, Idaho Falls, Caldwell, Pocatello, Coeur d'Alene, Twin Falls, Post Falls, Lewiston, Rexburg, Eagle, Moscow, Kuna, Ammon, Mountain Home, Chubbuck, Hayden, Jerome, Blackfoot, Garden City, Burley, Star, Rathdrum, Middleton, Hailey, Sandpoint, Payette, Emmett, Rupert and many more.
Estimated Delivery Time Of Our Metal Building Kit In Idaho
Although the exact delivery date (timeframe) cannot be assured, Steel And Stud can provide you with an estimated timeframe of when you can expect your metal building.
| Time Frame | Delivery of Metal Building (%) |
| --- | --- |
| | |
| | |
| | |
| | |
Other Convenient Locations to Serve You.
States

States

States

States

West Virginia Metal Buildings
Frequently Asked Questions
What are the various ventilation options available for 30X60 metal building structures in Potato state?
The different options include:
Ridge vents

Louvers

Exhaust fans

Roof jacks

Flood vents

Circular vents
Each of these options can be customized to meet the specific ventilation needs of the building, such as temperature control, air exchange, and moisture management.
Would metal buildings make a good workshop center in Idaho?
Metal buildings are perfect for creating a functional and efficient workshop center.
What is the expected life of a metal building in Idaho?
Generally, metal buildings have a life expectancy of more than 30+ years, but it also depends on how the structure is used.
How do metal buildings in Idaho contribute to environmental preservation?
Choosing metal buildings in Idaho for environmental friendliness is a sound decision as our manufacturing process incorporates sustainability in every stage.
Can we get a metal building for rent in Idaho?
Yes, metal buildings are available for rent in Idaho.
How much do metal buildings cost in Idaho, and what are their standard dimensions and sizes?