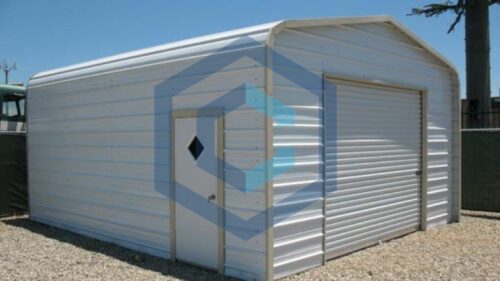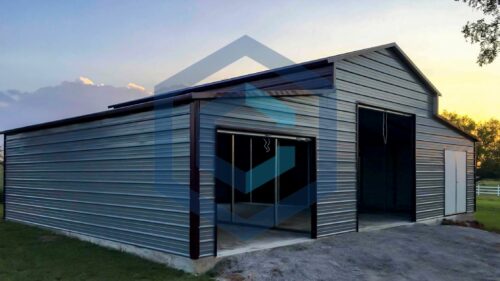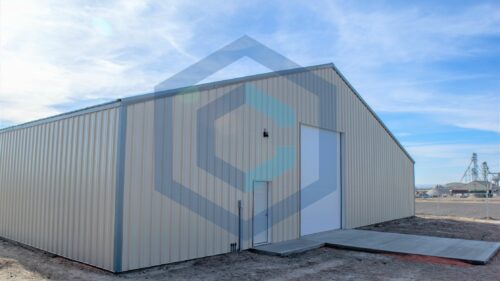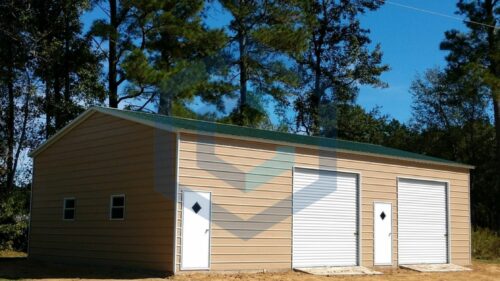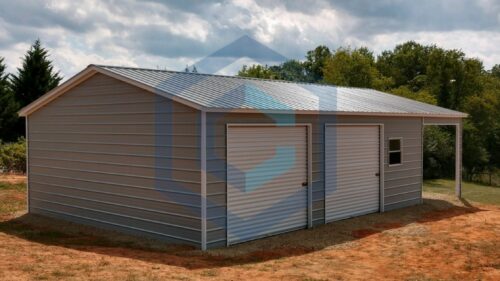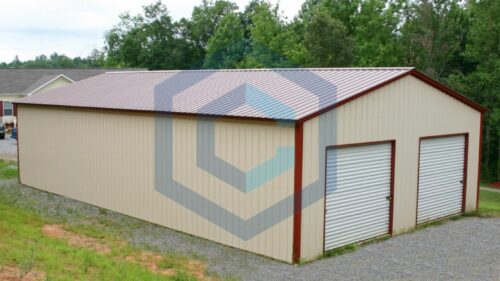 Metal Buildings In Maine Provide Protective Coverage
A solid steel structure coupled with the ability to withstand the harshest of climatic conditions, Steel and Stud's metal buildings in Maine is the perfect solution for farmers, entrepreneurs, individuals, and organizations who seek to shield their valuable possessions (assets) and belonging from the elements.
Metal buildings are an eminent way to provide protective coverage to your automobiles, aircraft, trucks, and livestock from Maine's high winds, extreme blizzards, heavy flooding, and hazardous weather conditions.
The best part about our metal buildings (for any purpose, commercial or personal) is that it is all available at a very competitive price so that you can keep up the appearance of your vehicles all year long.
Steel And Stud's Metal Buildings in Maine Offer Many Benefits
The following are some of the reasons why metal buildings are more promising than traditional buildings:
Prefabricated metal building kits are a cost-effective alternative to stick-built buildings with regard to installation, which requires less than no time or labor and can be customized according to local regulations. 
And Steel And Stud have streamlined the installation process to be some of the fastest in the industry!
Cost-Effective And Customizable
There is a saying that goes that one size never fits all when it comes to shoes, and the same applies to a metal building. Each person has different needs and wants, so a structure's dimensions and height will differ depending on your intended use.
Steel's enduring strength and its non-inflammable nature make it less susceptible to pests, storms, and other threats, which in turn can reduce insurance costs.
Metal buildings can last well over 20+ years and can withstand the threat of Mother Nature in Maine, such as snowfall, hefty wind, an onslaught of heavy rains, lightning, and the ravages of termites and lightning that may befall them.
Unfortunately, like traditional buildings, metal structures do not have the quality to rot, warp, split, twist or be subject to termite infestations (which cost $730-$1530).
And these are one of the reasons why metal buildings require little maintenance over time.
Colourful Metal Buildings Make A Big Impact
COLOUR IS EVERYTHING! According to a study, a color is chosen because of its positive connotations.
And what could be more positive than keeping your metal building in an excellent aesthetic look that simultaneously protects your valuables and looks great.
Check out the metal building colors that we offer for metal buildings in Maine.
Different Sizes For Different Purposes
Your needs determine what size of metal building you require.
For instance, if you're a farmer who needs an energy-efficient metal storage unit for agriculture gear, then our 40X70 (2800 square feet) will do the trick, or if you want to open a modern restaurant or cafe, then our 60X60 is what you are looking for.
And Steel And Stud (The largest independent retailer in States) have what you're looking whether it's for commercial (regular roofs, A-frame, vertical roof, boxed eve style) or residential (metal buildings) purposes in Maine. 
Buildings from our company are erected of either 12-gauge or 14-gauge galvanized steel frames.
As far as roofing material is concerned, we use 26 gauge sheet metal when manufacturing our metal building kits, so your belongings are further protected from the elements.
Please look at all our Metal Building Sizes, as we offer the best-prefabricated metal building selection on the market today, and our selection is unmatched.
The Right Insulation For Your Metal Building
Insulation is one of the most consequential aspects in erecting a metal building structure in Maine since it assists with temperature regulation and energy efficiency. 
Some of the most familiar types of insulation for metal buildings structure in Maine that we recommend to our clients include the ones listed below:
Also known as glass wool insulation is usually easy to install and cost-efficient. 

It is made up of recycled glass materials which are melted in high heat, twisted into long fibres, and is obtainable by its R-value, which measures its resistance to heat flow.
This insulation is an effective option for metal building structures in Maine as it refills the gaps and crevices between framing elements and other irregularities. 

This foam comprises isocyanate and polyol resin that inflates (which fills space) after application.
This type of insulation is one of the most enduring and nonflammable options for your metal structures. 

This wool comprises rock or slag fibers, which makes it an excellent material for insulating walls, ceilings, and attics.
What's Included In Our Metal Building Kits
This kit includes all the essential materials you might need for your project. You can customize the kit's contents according to your personalized needs (as our customer service is top-notch).
Contact us if you want to know more about the certification process.
We Make It Easy To Order Metal Buildings
We pride ourselves on having a user-friendly website that simplifies the ordering process at Steel And Stud.
Also, check out our shipping process in Maine to get a clearer picture.
Start by selecting the type of building you need and determine where it will be located on your property to reap its maximum benefits.

Get in touch with your local building department to comprehend the plans, permitting process, fees, and other necessary details.

Once your tentative plans have been approved, ask your concrete contractor to build the slab based on the specifications you have provided in contrast with the building department.

Get your foundation plans from the contractor so that you can revise them as necessary to ensure that they are within your financial limits.

Submit your building foundation plans to your local building department for approval and get the slab poured following inspection requirements.

You can ask for customization of the structure once it has been chosen.

In the next step, you will be asked to pay a 10% advance payment (to your metal building contractor) to get the order going, followed by the remaining balance after the installation.

The kit will be delivered to your address immediately upon receiving your advance.

Get your metal building delivered.

Meet the expectations of the inspector when it comes to electrical work.
A Five-Step Guide to Erecting Metal Buildings
With this practical 5 step guide compiled by our Maine experts, you'll be able to erect your metal building in no time:
As part of this process:
The ground will be levelled

The foundation will be prepared &

The site will be graded to ensure proper drainage
Step 2: Building Frame Erection
A metal building structure consists of a steel framework typically built from steel beams and columns (gathered on-site). 

The frame is then attached to the concrete foundation with bolts or other fasteners to secure it.
Step 3: Exterior Panel Installation
Once the frame is anchored, steel exterior panels are attached to the edge of the frame. 

The panels may be fastened in place with screws or bolts, or other methods.
Step 4: Roof Installation
A metal building's roof is made up of metal panels that are attached to the frame employing screws or other fasteners. 

In some cases, roofs may also be insulated to regulate building temperatures.
Once the basic configuration is complete, other segments like electrical, plumbing systems, doors, and windows must be installed.
Note: make sure you follow the building codes and safety guidelines when erecting a metal building structure in Maine.
Are Local Building Codes Rigid In Maine?
Maine's local building codes and rules are likely very rigid as a precautionary measure to prevent structural collapse. 
These codes may differ based on location, construction type, and building use. For instance, if one wants to erect a metal building in Maine where there will be no provision for municipal water and sewer hookup, one has to undergo a soil test.
In short, non-compliance with the local building or zoning codes can lead to financial penalties, delays, or other consequences.
Different Financing Options Available For Metal Buildings In Maine
Below are some of the financing options that you may want to consider when buying a metal building in Maine:
Beneficial Tips For Maintaining Metal Building Structures
We have listed five beneficial tips that will help you preserve your metal building in Maine:
How Voguish is Metal Building in Maine?
If we talk about its voguishness, steel buildings are extensively used across the United States, including Maine, in countless applications, including:
Industrial Storage

Residential Structures

Recreational Facilities

Commercial Facilities For Tourism

Agriculture Facilities
The strength of these fences, the low maintenance costs, and the customization options make them the preferred choice among the residents.
Why Is Steel and Stud Metal Building For Motor Home Best?
Pals (business owners or homeowners) residing in Maine always want perfectly crafted, highly durable, and affordable steel buildings. And that's what we've been providing at Steel And Stud for years.
Our metal structures are more cost-effective over the long run than other construction materials.
Not only this, but we also offer a wide range of customization options, such as insulation, door, window, roof, and pops of color to give your metal building a new look that will make it stand out from the crowd and make your building look unique.
When discussing customization, we must recognize the insulation and energy-saving qualities (conserving energy during the winter season) that our metal building carries.
So what are you waiting for? It's time for a new generation of metal buildings in 2023! Contact us right now for your metal building quote!
Metal Building Sizes Available At Steel And Stud
Metal Building Sizes

Metal Building Sizes

Metal Building Sizes

Metal Building Sizes
We Deliver And Install Steel Carport Across Maine
East End, Back Cove, Deering, Rosemont, North Deering, Bayside, West End, East Deering, Cumberland Center, Valley Street, Old Port, East Bayside, Munjoy Hill, Highlands, Libbytown, Riverton, Nasons Corner, Stroudwater, Peaks Island, Falmouth Foreside, Woodfords Corner, Woodfords, Parkside, North Windham, Oakdale, South Windham, Kennedy Park, Downtown, Sagamore Village, Hills Beach, Fortunes Rocks, Waterfront District, Hampden, York Beach and Many More.
Although the exact delivery date (timeframe) cannot be assured, Steel And Stud can provide you with an estimated timeframe of when you can expect your metal building.
| Time Frame | Delivery of Metal Building (%) |
| --- | --- |
| | |
| | |
| | |
| | |
Other Convenient Locations to Serve You.
States

States

States

States
Frequently Asked Question
Do metal buildings in Maine have the ability to be used as permanent residences?
Yes, Metal buildings are proven to have sustained durability and can be used in various commercial and residential applications due to their versatility.
Do metal buildings have any energy efficiency options that are available in Maine?
Yes, metal sheets have been shown to preserve up to 1/3 of a building's energy costs, and Steel and Stud offer cost-effective ventilation sheathing options.
In Maine, what is the average time for a metal building to be erected from start to finish?
The average time for erecting a metal building involves several factors, such as:
The size and experience level of the crew

How many tools and pieces of equipment are available
But generally, a small metal structure usually takes 4-5 days to construct, whereas a large one requires 5-7 days.
Do metal buildings have a warranty? If so, what does it cover?
Based on the metal structure that has been selected, Steel and Stud often provide 90-day workmanship & 50 days structure guarantee.
How can a metal building be protected against rust?
To prevent rust on metal buildings, you must keep moisture away from them.
Are there any standard sizes and dimensions in Maine for metal buildings?
In Maine, the most opted dimensions for metal buildings are the following:
20×40 for storefronts

40×60 for living quarters

60×60 for workstations
Is it more expensive to build a metal building in Maine than a wood or concrete building?
Buildings made of metal are less expensive than those made of wood or concrete, and they require less maintenance.
When it comes to metal buildings, how long do they last?
The life expectancy of metal buildings in Maine is 30+ years, subject to their use and maintenance.
Do metal buildings in Maine play a role in preserving the environment?
In terms of environmental friendliness, metal buildings are often the best option since sustainability is integrated into every step of our manufacturing process.
What types of metal roofings are available for metal buildings in Maine?
There are many roofing options available for metal buildings, including the ones listed below:
Metal tile roofs

Standing seam roofs

Slate roofs

Aluminum roofs

Zinc metal roofs

Steel roofs
When installing a metal building on my property, how can I determine whether I can do so?
Is it true that metal buildings are inherently non-flammable?
Yes, metal buildings are inherently more non-flammable when compared with wood or concrete construction, safeguarding your investment.
How do metal buildings rate in terms of fire safety?
Here goes the list:
American Society for Testing and Materials (ASTM) 

UL Ratings
Do metal buildings in Maine have the ability to be converted into garages?
Yes, it is possible to convert metal buildings into garages.
Are there any different ventilation alternatives available for metal buildings in Maine?
Ridge vents, exhaust fans, circular vents, louver, roof jacks, and flood vents are a few examples of metal building ventilation options.
Do metal buildings in Maine have the ability to be used as workshops?
Yes, a metal building can be customized to be used as a workshop.
What are the different security options for metal buildings in Maine?
Here are some security measures you can implement on your metal buildings to protect your expensive possessions from all kinds of threats, whether natural or artificial:
CCTV cameras

Good lighting system

Alarms at all entry points

A secure lock system

Security through Landscaping

Interior Reinforcements
Do metal buildings qualify as rental properties in Maine?
Yes, it is possible to rent metal buildings in Maine. But before renting, make sure to read these guidelines.