As an equestrian, you know how much time, money, and love goes into caring for your four-legged friends. But with all that investment, you need a reliable shelter that can protect them from the elements and ensure their safety.
And that's exactly where our metal building kits come in.
Our metal barns for livestock are the perfect solution for housing your horses. From protecting them from harsh winters to scorching summers, these metal building kits are built to last. And with numerous sizes and designs available, we can accommodate your needs on an affordable budget.
At Steel And Stud, we understand that you'd spend your money on getting the best thing, which is why we provide steel structures built using highly galvanized steel. And to sweeten the deal, we also offer free shipping and installation on any residential or commercial metal building kit you purchase from us.
But we're not just about selling metal building kits. We're here to assist you every step (of the way), from providing metal building quotes and following all the zoning codes & regulations to installation. Our trained staff has experience building designs for your valuables, so we know what you need to keep your horses and family safe and secure.
So if you want to expand your residential, commercial, farm or ranch structure, don't hesitate to contact us. We'll help you find the perfect metal building kit to house your needs and protect your investment.
Explore the Diverse Metal Buildings That Steel And Stud Deliver!
The agribusiness industry in South Carolina is a behemoth of economic impact, towering over the state with a colossal figure of $51.8 billion each year. Its roots run deep into the region's fertile soil, nourished by the sun and rain and sustained by the hard work of generations of farmers and ranchers. Like our robust and sturdy poles barn, which are the industry's pillars of strength and durability, that stands tall amidst the ever-changing winds of the economy. And just as a lean-to building provides additional shelter and protection to your livestock and cattle, so does agribusiness provide the sustenance and security that keeps families (of farmers) and communities thriving.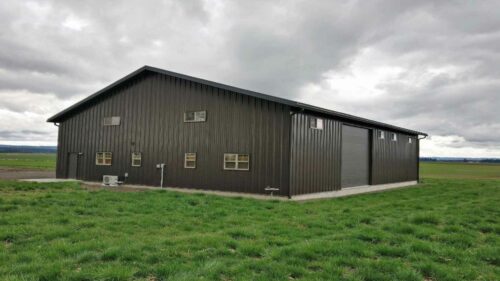 Industrial Storage Buildings
Charleston's strategic location offers unparalleled access to nearly 200 million Americans through its expansive network of rail lines, state highways, and the CHS airport. Its logistics industry leverages these transportation connections to provide unparalleled service to businesses of all sizes. And for these industrial needs, our large metal buildings, including 100×100, 70×50, and 80×80, are ideal for storing heavy machinery and equipment.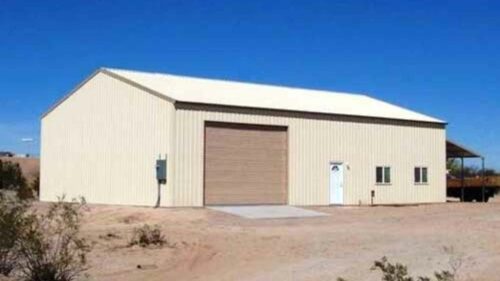 Residential Commercial Buildings
The expanding home and commercial security system market presents an opportunity for businesses to safeguard their assets. And our 100X150 residential metal building offers reliable protection against external factors, allowing for smooth operations. As we navigate a world of uncertainty, it's essential to invest in the safety and longevity of our enterprises.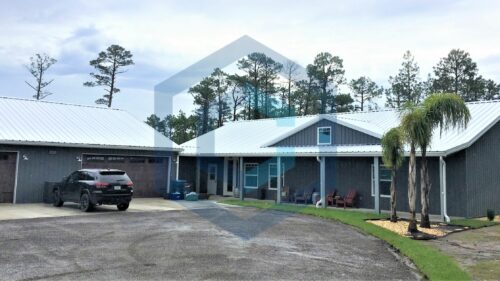 From Strength to Durability: How Steel And Studs Create Long-Lasting Buildings
Are you looking for a building that can provide you with immense benefits and withstand South Carolina's harsh weather conditions? Look no further than Steel and Stud's metal buildings.
With powerful winds, frequent thunderstorms, and even hurricanes, it's crucial to have a structure that can

stand up to Mother Nature

. That's why our buildings are guaranteed to meet or exceed all local building codes for wind resistance. We even offer higher-than-code wind resistance options that can withstand a rating of up to 5 on the

Saffir-Simpson Hurricane Wind Scale.

But it does not just wind that our metal buildings can handle. South Carolina is also known for its dangerous

lightning

, with lightning strikes occurring nearly half a million times a year. Luckily, steel conducts current readily and can provide a well-grounded structure that can pass current harmlessly through the framing and into the earth. And if hail is a concern, our heavy-duty steel framing with high-quality PBR steel panels and standing seam metal roofing can withstand even the most giant hailstones.

But the

benefits of Steel and Stud metal buildings

don't stop there. With South Carolina's high wildfire rate, storms and termite problems, a wooden structure can be a disaster waiting to happen. However, steel framing won't ignite and can't be eaten by termites. And with the occasional earthquake and flash floods, our buildings are built to last, meet all local seismic building codes and comply with the

current South Carolina Severe Weather and Flood Safety Week for 2023.
Beyond durability, our metal buildings are also energy-efficient, with insulation and energy-efficient windows to help reduce energy costs by up to 50%. With competitive metal building pricing and excellent customer service, Steel and Stud metal buildings are the perfect choices for every South Carolinian looking for a durable, versatile, customizable metal building.
Quality and Customization: Steel And Stud Offers South Carolinians The Best of Both Worlds For A Building That Lasts
Have you ever thought that metal buildings could also be visually appealing? At Steel and Stud, we believe that just because something is functional doesn't mean it can't be beautiful too. That's why we offer prefabricated buildings that you can customize to your heart's content! With a few personal touches and design considerations, your metal building can be transformed into a stunning work of art.
But before you place an order with Steel and Stud, there are a few things you need to consider. The design and planning phase ensures that your metal building meets your needs and fits your budget. Don't worry; we're here to help you through the process and ensure your project is a hit!
Let's take a look at some of the key design and planning customization you should keep in mind:
The roof is one of the crucial things (the backbone of your metal building) you can customize to enhance the appearance of your metal building. You can choose from many types of metal roofing options, including: 
And if that's not enough, we can also help you add awnings and overhangs to make your metal building stand out.
Painting and adding colors to metal building can give a unique look. Say goodbye to the dull, bare steel grey color and hello to something vibrant and eye-catching. With 12 hue options, you can pick a color that perfectly reflects your style.
Metal building windows play a crucial role when customizing your metal building. Refrain from settling for traditional windows that have little impact on the building's appearance. Instead, choose metal building windows that you can customize in any shape, size, or color. Proper ventilation is crucial for maintaining a comfortable and healthy atmosphere within your metal building. We'll help you determine the size and placement of the windows you need and any other ventilation systems you may need to install.
Insulation, Panels, & Doors
Insulation is another important consideration. We'll ensure your metal building is adequately insulated to keep you comfortable all year round. And when it comes to the wall panels and doors, we'll help you choose the type, color, and finish that best suit your needs. 
Finally, if your metal building has electrical or plumbing systems, we'll help you consider the design and layout of these systems to ensure they are properly installed and function as intended.
And if you're still figuring out where to start, our team of design experts is always here to assist you in the planning process. Let's work together to create a metal building that (not only) meets your needs but also exceeds your expectations!
Metal Building Codes And Zoning Regulation Followed In South Carolina
When it comes to constructing buildings, safety and durability are the cornerstones that ensure a long-lasting structure. Metal building codes in South Carolina play a crucial role in ensuring the integrity and safety of buildings. These codes provide a blueprint for the design, construction, and installation process of metal buildings, which helps reduce the likelihood of accidents. Moreover, adhering to these codes can contribute to the long-term durability and quality of the structures, promoting energy-efficient standards.
Below is a list of metal building codes that South Carolina residents need to follow:
2018 International Residential Code

2018 International Building Code

2018 International Fire Code

2018 International Plumbing Code

2018 International Mechanical Code

2018 International Fuel Gas Code

2009 International Energy Conservation Code

2017 National Electrical Code
It may seem straightforward, but getting the right permits and information requires thorough research and due diligence. But you need not worry as our team is well-versed in this process so that you can focus on the tasks (at hand) instead of worrying about the process.
Smart Money Moves: Saving Big With These Flexible Financing Options
We understand that investing in a metal building can be a considerable expense, and we want you to know that we understand the value of this acquisition; that's why we're committed to making the purchase process affordable and accessible.
Here are some of the metal building financing options that we're flexible with:
Personal loans

Private lenders

Credit cards

USDA agriculture loans

Banks

Manufacturing financing 

Mortgages

Government loans

Leasing

Home equity lines of credit and home equity loans. 
However, here's something that could save you a lot of money: before you commit to any of the above financing options, be calm and ensure you know all the particulars (about it). Compare them (with each other) to make sure they are suitable for you based on your financial goals.
Get Your Metal Fix in South Carolina: Order Now With These Easy Steps!
At Steel and Stud, we are proud to offer robust metal structures that exceed your expectations. As a company dedicated to providing high-quality products, we adhere to all regulations in South Carolina, ensuring that your metal building is (not only) beautiful but also built to last.
Our ordering process is straightforward, with a user-friendly interface that will guide you every step of the way. As you embark on this journey with us, imagine the possibilities that you get. Picture your metal building rising from the earth like a phoenix, its gleaming structure reflecting the sunlight with grandeur.
The metal building process begins with a decision, as you carefully choose the

type of metal building

that aligns with your needs and the location's potential. 

As the construction site is prepared,

leveled

, and graded, you can feel the anticipation building inside you. With each passing moment, you edge closer to realizing your dreams. 

Visualize your structure's size, budget, and layout, pouring your heart and soul into every detail. Then consult with South Carolina's local building department by submitting your tentative plan and seek out the knowledge regarding fees,

metal building installation process

, and expertise required to bring your vision to fruition.

Once the department approves your plans, contact your metal building provider to pour the slab.

Now pay 10% upfront advance of the total construction cost, and as soon as we receive your payment, Steel And Stud will immediately

ship

your metal building kit with all the necessary tools, materials, and DIV guide. 

Our skilled crew, galvanized purlins and girts in hand, will be on the scene, ready to build a structure that will stand the test of time.
Metal Building Sizes Available At Steel And Stud
Metal Building Sizes

Metal Building Sizes

Metal Building Sizes

Metal Building Sizes
We Deliver And Install Metal Buildings Across South Carolina
Estimated time frame for delivery in South Carolina
Although the exact delivery date (timeframe) cannot be assured, Steel And Stud can provide you with an estimated timeframe of when you can expect your metal building.
| Time Frame | Delivery of Metal Building (%) |
| --- | --- |
| | |
| | |
| | |
| | |
Other Convenient Locations to Serve You.
States

States

States

States

South Carolina Metal Buildings

West Virginia Metal Buildings
Protecting your valuables is easy when you get a prefab steel shop from Steel And Stud. We have trained staff to assist you all along the way. From getting steel building quotes to shipping to installation, we are with you through the entire process. We have also built designs for livestock, so we know the business.
Contact us when you want to add to your commercial structure, industrial buildings, farm or ranch. We are the nation's largest independent retailer of steel storage buildings, and we'd love to add you to our list of happy customers.
We take pride in our business, and it shows with our A+ rating from the BBB.
Frequently Asked Questions
What is the cost of shipping and handling metal building kits in Charleston?
The cost of shipping and handling charges differ for every county and state. Please Contact Us for the shipping and handling cost of metal buildings in Charleston.
Do Steel and Stud offer installation services, and at what cost?
You can ask for the installation services along with your order of metal building kits. Usually, the erection cost comes to around $5-$7 per sq foot, but we can share a good discount with our valuable customers.
Are there any additional taxes or fees associated with purchasing a metal building kit online?
Yes, you pay the sales or any other tax levied by your local government on purchasing a metal building kit.
What is the return policy in case of dissatisfaction with the product?
We are 100% confident that you will always be satisfied with our products. Still, you can return your product within three days of delivery. Buyers will bear the shipping cost on return orders.
What is the process for the maintenance and repair of the metal building kit?
Are there any references or customer reviews available for your metal building kits?
Yes, you can check google reviews and genuine reviews here.
Can the metal building kit be customized to fit specific needs?
Yes, our designs are versatile and can be easily customized, serving your specific purposes.