You want to feel the luxurious leather seats and the smooth steering wheel when you step into your car. But the harsh sun beating down can cause them to age prematurely and lose their shine. The same goes for your dashboard – no one wants to see it crack and fade over time. That's where our metal storage buildings come in.
Our metal buildings offer more than just storage solutions; they provide year-round protection from the elements. Imagine being able to protect your prized possession from New York's scorching heat, freezing snow, and heavy downpours.
As New York is a bustling metropolis, its residents face unique challenges, especially regarding housing. After the pandemic, affordable housing has become a more acute crisis than ever before.
That's why Steel And Stud offer more feasible options for homeowners, business owners, farmers, and ranchers. With versatility and robustness inside, our metal buildings can serve numerous purposes, such as workshops, garages, offices, or even homes.
We understand the importance of a secure and stable shelter, so we offer a range of sizes, styles, and configurations to suit your specific needs. Our clients have found solace and financial security under our metal roofs and walls, and so do you can too.
Steel and Studs: Providing Strong Structures For Every Industry!
Picture this: you're a farmer or rancher, and you've got a lot of hay, feed, and equipment to store. Ideally, it would be best to choose something resilient and durable, capable of resisting harsh land conditions and weather. 

Well, look no further than our

pole barns and Quonset huts!

These buildings are more than just practical solutions. They're visually appealing, with their curves and angles adding a touch of architectural beauty to your property. 

And they reflect your hard work and dedication to your craft – a symbol of your commitment to providing the best possible care for your animals and crops.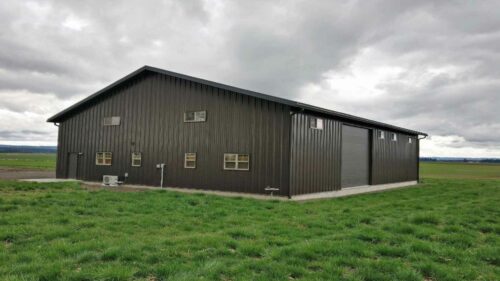 If you own a construction company, another firm, or an office with a fleet of cars or trucks, we offer commercial metal buildings for people like you.
We have an oversized metal garage and commercial-building kits that can accommodate multiple vehicles simultaneously, saving them from damaging elements.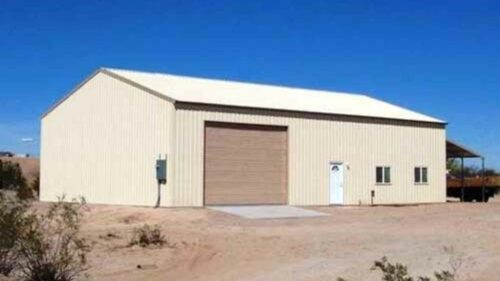 Our

40X60 steel buildings

are an excellent choice for warehouses due to their sizeable precise span capabilities, which allow for more usable space.

They can also be customized with functions such as loading docks and roll-up doors.
And we offer steel warehouse quotes over the phone with prices that can't be beaten. When you're serious about protecting your valuable vehicles, we're the ones to call. We offer metal building kits cheap, so you don't have to worry anymore.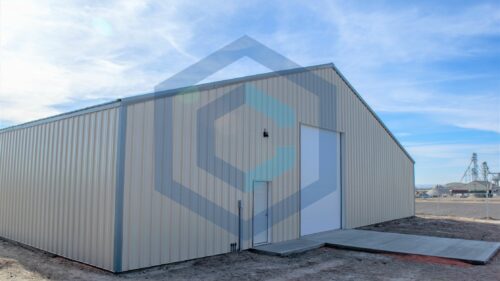 Steel And Stud's

50X70 retail buildings

are built to accommodate all kinds of retail businesses, from large department stores to small boutiques. 

These units are highly customizable, with multiple options, such as storefront windows, mezzanine floors, and unique architectural details.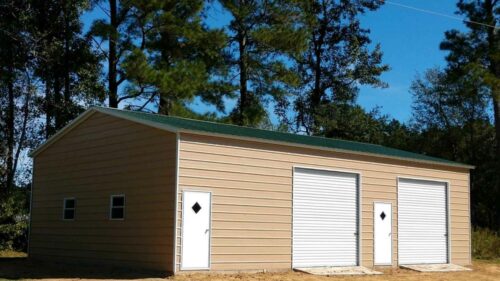 The Long-Term Benefits Of Steel And Stud Metal Buildings In New York's Strenuous Weather!
Enter the world of Steel and Studs, where the impossible becomes possible, and the ordinary transforms into the extraordinary. Our pre-engineered metal buildings are a marvel of modern engineering, designed to withstand the harshest tests of mother nature.
Our pre-engineered metal buildings are known for their

versatility and potency

as they shield well against insects, rodents, heavy floods, and earthquakes (3.8-magnitude). And unlike traditional garages and sheds, these steel storage buildings won't rot or warp, ensuring longevity and peace of mind.

Made from the finest US-sourced materials, Steel And Stud's metal buildings are durable and low-maintenance, perfectly aligned with the

Energy Cost Savings Program (ECSP)

. With their

quick installation quality

and various insulation options, our metal buildings save time and money, allowing you to get back to what matters most – your work.

Our cost-effective metal buildings have the correct prices to save money. Also, in line with saving you money, we ship all of our prefab metal buildings free and install them for free. This can save thousands of dollars for our client's company, where money matters most.
 

But it is not just their robustness that sets them apart. With their wide clear spans, our metal buildings offer a sense of freedom and openness that is rare in traditional structures. With no need for columns or supports, they create an expanse of usable space, perfect for industrial or commercial settings.

And what's more, our 60X60 metal buildings are infinitely customizable; their design is limited only by the bounds of your imagination. Curved walls, angled walls, or whatever shape suits your fancy – the choice is yours. Steel and Studs metal buildings offer a canvas for creativity, a chance to create something unique and reflective of your style.
Your Vision, Our Expertise: Personalize Your Steel Building With Customization Options
Are you tired of settling for pre-fabricated structures that don't meet your expectations? At Steel And Stud, you can say goodbye to those days and design every aspect of your dream metal building in the comfort of your home. With a wide range of customization options, you have complete control over every detail, ensuring your structure reflects your unique style and preferences.
We provide different

roof styles

for our clients, encapsulating all your tastes and preference, going from mono-pitched or shed to gable, arched, and gambrel. 

You can also choose your roofing pitch and attach gutters with it.
Steel And Stud also offer many

metal building color options

, with 12 different shades available to mix and match. You can unleash your creativity and curate a truly unique color combination.
The door options are endless, from fixed and casement to swinging french, sectional, natural, vinyl, and

roll-up

options.
Don't forget about

windows

– with choices like tempered glass, laminated glass, sliding, double-hung, and more; you can create a structure that's both functional and visually appealing.
Steel And Stud have everything you need from 22, 24, to 26 gauge and 29 gauge tubing.
Lastly, regarding

insulation

, you can choose from various options, including fiberglass, spray foam, mineral wool, cellulose, and more.
Zoning Codes And Metal Building Regulation Followed In New York
Zoning codes dictate how the land can be used and developed within a community. By following these codes, we can ensure that buildings are located in appropriate areas and adhere to specific guidelines regarding their size, height, setbacks, and other vital factors. This helps to maintain a uniform look and feel in neighborhoods, and it also helps to prevent overcrowding and other potential safety hazards.
In addition to zoning codes, metal building regulations are significant in New York. These regulations are designed to ensure that metal buildings are constructed safely and durably, which meet specific standards for structural stability, fire safety, and other essential factors; like the column should be anchored by particular bolts. 
These pointers help us to ensure that the buildings we curate are safe for you and your family and can withstand the elements and other potential hazards like floods, hurricanes, and havoc winds.
These are the codes that New Yorkers need to follow:
NYC Energy Conservation Cod
Financial Freedom: Explore Affordable Financing Options That Won't Break Your Bank
Metal buildings are the way of the future – a cost-effective and long-lasting investment that will provide you with the protection and security you need. While the initial installation cost may seem daunting, these metal building financing options, which Steel And Stud are flexible with, allow you to build the structure of your dreams.
Personal loans

Private lenders

Credit cards

USDA agriculture loans

Banks

Manufacturing financing 

Mortgages

Government loans

Leasing

Home equity lines of credit and home equity loans. 
But before you jump to any of these financing options, make sure you check all these factors (like credit score, income & employment history, downpayment, debt-income ratio, terms of the loan, etc.) since we want our pals to be able to live life to the fullest in their metal buildings rather than being burdened with debt.
Order Your Dream Metal Building In The Big Apple State In No Time
Ordering metal building through Steel And Stud is as intuitive as a well-designed interface; all you have to do is:
Determine the

type of metal building

you require and where it will be installed on your property. This lays the foundation for the utmost benefits you will receive.

After determining the type, it's time to prepare the construction land/area by ensuring that the land meets metal building regulations, is

leveled

, and the soil is graded. If excavation is needed, it must be done with care and precision.

Once this is done, remember why you are creating this structure and, according to that, determine its design, size, layout, and budget.

The moment you have decided why you need and completed the above three essential steps, its time you reach out to your local metal building department and submit your tentative metal building plans, which consist of

(all the interior specifications, from the roof to the windows, ventilation to shelves). And you will also get the details regarding the metal building installation process

, essential information, fees, and requirements.

Once your plans are approved, have the concrete slab poured by contacting your contractor.

Now as far as your metal building is concerned, once you have selected the type, you can ask for customization based on your requirements and as per the plans.

Paying 10% of the total construction cost as an advance is like investing in your future. It's like sowing the seeds of your dreams and watching them grow.

As soon as we receive your 10%, we'll immediately

ship

(between 2-10 weeks) your metal building with the necessary tools, DIY manual guide, and materials.

The final step is to watch your metal structure come into play through Steel And Stud's experts, keeping all the electrical work in mind.
To summarize, a metal building is more than just a structure – it symbolizes your commitment to quality and longevity. With a sleek and modern design, these buildings are a sight to behold, a perfect fit for those seeking simplicity in a complex world. So don't wait any longer – get your metal building quote today with one call and discover how Steel And Stud's metal building kits can provide peace of mind and protection for your valuable investments.
Metal Building Sizes Available At Steel And Stud
Metal Building Sizes

Metal Building Sizes

Metal Building Sizes

Metal Building Sizes
We Deliver And Install Metal Buildings Across New York
Although the exact delivery date (timeframe) cannot be assured, Steel And Stud can provide you with an estimated timeframe of when you can expect your metal building.
| Time Frame | Delivery of Metal Building (%) |
| --- | --- |
| | |
| | |
| | |
| | |
Other Convenient Locations to Serve You.
States

States

States

States
Frequently Asked Questions
Which metal is used in building construction primarily as a coating to prevent rust?
Zinc is used as a coating to protect metal buildings from rust.
Do Steel And Stud provide any warranty on its metal sheets?
Yes, we provide 20 Year Paint Finish on all our metal sheets.
How much does it cost to build a skyscraper in New York?
According to estimates, the price per floor for a skyscraper is $3.5 Million.
Are steel structures less expensive than concrete?
Yes, steel buildings are not only cost-effective, but they are also easier to maintain in contrast with concrete.