Embark on a journey to the land of southern charm and rich history, Alabama – the Peanut Capital of the World. Nestled in the heart of the Southern United States, surrounded by the natural beauty of Tennessee, Georgia, Florida, and the Gulf of Mexico, Alabama is a state brimming with potential. From its thriving agricultural industry to its proud history of space exploration, Alabama is a state on the rise.
But Alabama is not just known for its natural beauty and diverse attractions; it's also a hotbed of leading industries, from manufacturing, automotive, aviation, food production, and poultry farms to biotechnology and tourism.
Recognized as having the best business climate by Business Facilities, the demand for top-quality metal structures like garages, warehouses, factories, workshops, storage facilities, and industrial and commercial buildings is at an all-time high.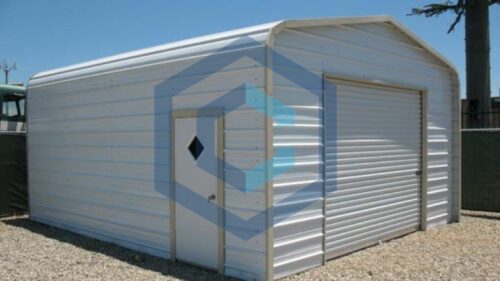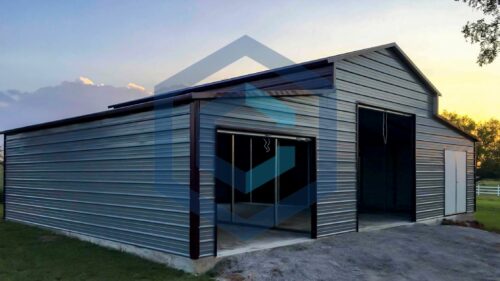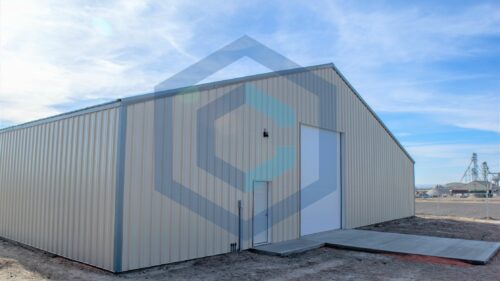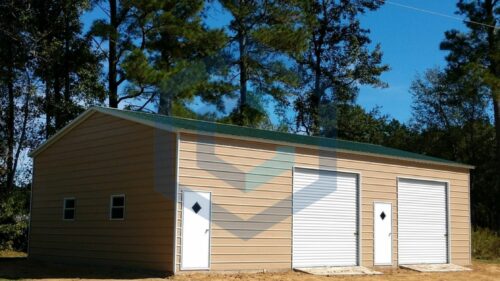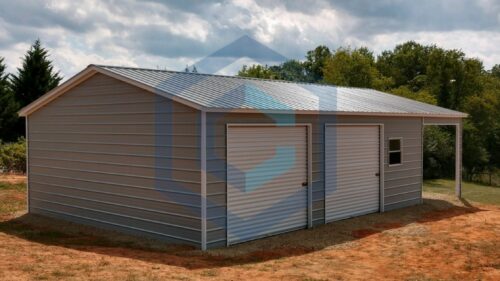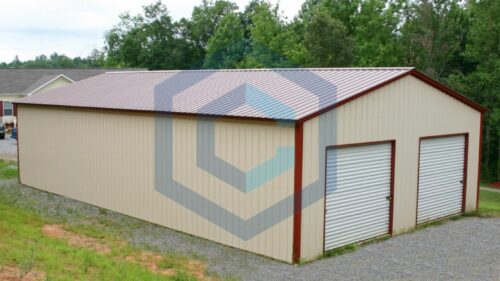 And that's where Steel And Stud come in. Since 2002, we've been providing high-carbon and galvanized metal structures (to these leading industrialists & individuals) that are built to withstand Alabama's severe weather conditions, from tropical storms, hurricanes, and precipitation to extreme winter seasons (less than 19°F).
So why wait? If you're looking for metal buildings for sale in Alabama, you've come to the right place! Steel And Stud help you soar to new heights with their top-notch metal structures. Imagine the possibilities with a Steel And Stud structure – a garage that withstands the most brutal storms, a warehouse that can handle the busiest of seasons or a factory that will take your business (in Alabama) to the next level. Contact Us today, and let's build something truly extraordinary together!
Steel And Stud: The Go-To for Industrie's Metal Building Needs
The state of Alabama boasts a diverse cultural and geographic landscape and a range of thriving industries. And all these industries trust us for all their metal building needs.
Commercial And Industrial Buildings
Imagine having a sleek and stylish space to call your own, where you can showcase your business and make a lasting impression on customers. That's precisely what Steel And Stud's commercial buildings offer – a chance to stand out and make a statement. Whether you're a small business owner, retailer, or entrepreneur, these buildings are designed to provide a professional and polished appearance while meeting your business's functional needs.
Imagine a state where the skies are filled with the hum of industry, and the street abounds with the latest automotive technology. Welcome to Alabama, where mining, aviation, beverage production, and automotive manufacturing industries come together to create a landscape of progress and innovation. And what better way to join this thriving community than with our 50X80 metal building kit, the ideal choice for industrialists looking for a resilient, fire-resistant, and rust-proof option that is also cost-effective and customizable to suit their individual needs. This is the perfect opportunity to be a part of something big and make your mark in Alabama's industrial scene.
Alabama, where the vibrant poultry industry reigns supreme! With over 86,000 jobs generated annually and representing a significant portion of the state's economy (1/3), it's no surprise that poultry farming is one of Alabama's most cherished and prosperous industries.
But behind every successful poultry farm lies a backbone, a foundation that allows farmers to raise and accommodate chickens in large numbers. And that backbone is none other than our 50X60 agriculture buildings.
Built to last, these structures are not only durable and low maintenance, but they are also the key to success in the poultry industry. So, join us in Alabama and be a part of this thriving industry and see the difference our agriculture buildings make!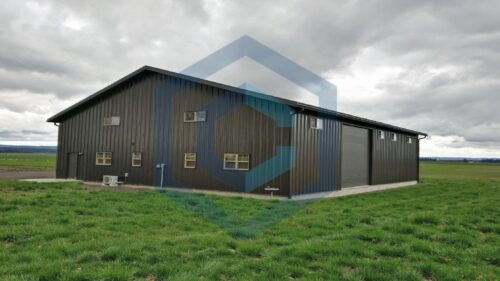 Metal Garages And Living Quarters
Are you tired of the same old construction options that drain your wallet and take forever to complete? Say goodbye to those days with our 40×100 metal building. Its durability, strength, and cost-effectiveness make it the perfect choice for our Alabamians looking to build their dream space.
Imagine the possibilities – stunning living quarters, a car enthusiast's paradise garage, or a luxurious guest house. Our metal building allows you to create whatever you desire with none of the expensive, time-consuming hassles of traditional construction. Don't settle for anything less; elevate your building game with our 40×100 metal building today!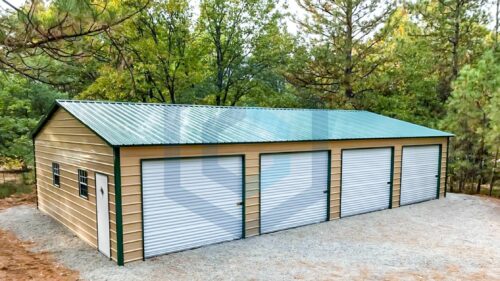 Get Your Metal Building In The Heart Of Dixie With These Simple Steps
Are you tired of the headache-inducing process of ordering a metal building online? Scammers lurking around every corner, endless middlemen taking a cut of your hard-earned money, and the constant fear of not getting the exact building you want. At Steel And Stud, we're here to change all that. Our website is easy to navigate (with no middleman), and we offer a wide variety of designs to suit a range of budgets, needs, and regulations (metal building). But we don't just stop there; we take pride in providing top-notch service to our clients, so you can trust that you're getting the best bang for your buck. It's time to forget the past and look towards a brighter, more building-filled future.
Take the first step and follow these steps!
1️⃣ First things first, it's crucial to carefully consider what type of metal building you desire and where it will be situated on your property to make the most of it.
2️⃣ Once you've solidified those details, prepare the construction site by keeping all regulations in mind, clearing the area of trees, ensuring no utility lines are present, assessing the slope and soil, and adequately compacting the ground.
3️⃣ Next, deliberate on your project's size, layout, and budget based on its intended use, such as a garage, shed, gym, or even a killer caveman quarter. Additionally, pay close attention to the number of doors, windows, insulation, and other openings to ensure the design is cohesive and practical for long-term success.
4️⃣ With your plans in hand, it's time to navigate the permitting process with Alabama's local municipality department. Once the plans are approved, bring in a contractor to start pouring the slab on site.
5️⃣ The moment the local department approves your tentative plans, get your contractor to work by pouring the slab.
6️⃣ Don't miss out on securing your spot in the metal building journey by placing a 10% deposit now, with the remaining balance only payable upon project completion.
7️⃣ Finally, Steel and Stud will promptly deliver your metal building kit, including all the necessary tools, materials, and manual instructions.
8️⃣ Our skilled crew will competently erect the structure, complete with electrical work and in compliance with all regulations and code standards.
Metal Building Regulation In The Yellowhammer State
Metal buildings must abide by building codes to guarantee they are constructed with the utmost safety, adhering to standards of structural soundness, fire protection, and accessibility. Some of these codes that Alabama follows are
2021 International Existing Building Code July 1, 2022

2021 International Plumbing Code July 1, 2022

2021 International Fuel Gas Code July 1, 2022

2021 International Mechanical Code July 1, 2022

2020 National Electrical Code (NFPA 70) July 1, 2022

2021 International Fire Code July 1, 2022

ANSI/ASHRAE/IES Standard 90.1-2013 Energy Standard for Buildings Except for Low-Rise Residential Buildings, with exceptions permitted to July 1, 2022.
The codes in question not only serve to ensure that the construction adheres to the intended function & conforms to the regulations and laws in the state of Alabama, but they also play a vital role in protecting the well-being of the community by ensuring:
Safety

Health

General welfare

Fostering stability & development in the region
And at Steel And Stud, we are the experts in navigating these codes fluidly, leaving you to focus on what ultimately matters – creating your dream building without any hassles.
Money Woes? Say Goodbye to Financial Stress with Easy Financing Solutions
Personal loans

Leasing

USDA agriculture loans
Government loans

Manufacturing financing

Home Equity Line Of Credit, Or Home Equity loans
However, the options for financing metal buildings are diverse and varied, making it a challenging task to find the best suited for your needs. But with due diligence and a bit of research, you can discover the perfect financing solution that not only meets your financial goals but also has the potential to take your building project to the next level. So, take your time, weigh your options and uncover the financing plan that will bring your dream building to reality in an efficient and appealing manner.
Upgrade Your Space with Steel and Stud's Metal Buildings: Benefits Unveiled
Are you ready for a metal building that serves its purpose and goes above and beyond? Look no further than Steel And Stud.
Our pricing is fair and crystal transparent, giving you peace of mind knowing exactly what you're paying for.

Quality and longevity go hand in hand, and we ensure that with a rock-solid 20-year warranty and 40 days of expert craftsmanship.

We pride ourselves on using only the finest materials (galvanized steel) sourced from top American suppliers.

The green thumb in you will love the energy-efficient design of our building which will save you money on energy bills.

Your building, your way. Customize it to fit your specific needs and wants, whether it's for storage units, garages, living spaces, recreational facilities, or industrial factories in Alabama.
Trust us to provide you with a building that will take your breath away, giving you a sense of pride and accomplishment every time you see it.
How Steel and Stud Metal Building Solutions Helps Overcome the Structural Limitations in Alabama?
Choosing metal buildings in Alabama is a grave mistake due to the numerous negative aspects that come along with them.
These structures offer minimal design options, thanks to (the use of)

prefabricated

panels, which completely strip away any architectural creativity. 

Additionally, their poor soundproofing qualities mean that noise will easily penetrate the building, making for a noisy and unpleasant experience. 

The winter season in Alabama (less than 9° C) can spell disaster for metal buildings, as their susceptibility to condensation leads to mold and mildew growth, not only causing damage to the structure but also posing significant health risks. 

To top it all off- the limited insulation options leave the building's temperature at the mercy of the elements, making it uncomfortable and energy inefficient. Opting for metal buildings in Alabama is a decision that will inevitably lead to disappointment and regret.
But hold on!
Don't let these issues deter you from your dream structure.
Steel And Stud proffer distinctive and productive remedies to surmount these issues. Should you be contemplating the construction of a metal structure, kindly do not hesitate to contact us and permit us to aid you in creating the precise metal building you have envisioned, devoid of any hindrances.
Features You Can Customize Metal Buildings in Alabama
Imagine the possibilities of your metal building structure with Steel And Stud as your partner. We offer only the finest key ingredients and an array of customization options to make your vision a reality:
Money Woes? Say Goodbye to Financial Stress with Easy Financing Solutions
Personal loans

Leasing

USDA agriculture loans
Government loans

Manufacturing financing

Home Equity Line Of Credit, Or Home Equity loans
However, the options for financing metal buildings are diverse and varied, making it a challenging task to find the best suited for your needs. But with due diligence and a bit of research, you can discover the perfect financing solution that not only meets your financial goals but also has the potential to take your building project to the next level. So, take your time, weigh your options and uncover the financing plan that will bring your dream building to reality in an efficient and appealing manner.
Effective Maintenance of Metal Buildings: Proven Techniques for Preserving Structural Integrity
Proper maintenance is the key to a sturdy and long-lasting metal building. That's why we've compiled a list of expert tips to keep your structure in top shape.
Firstly, it is crucial to conduct regular inspections to verify that all components have been properly delivered by the manufacturer, as any missing or faulty elements can compromise the overall stability and durability of the building.

Next, don't underestimate the power of proper insulation – it can save you big bucks on heating and cooling costs and keep you comfortable all year round. 

Damaged or loose fasteners constitute a significant safety hazard, so ensure that you replace or tighten them as soon as you notice any issues.

And last but not least, give your metal building a suitable power wash once a year with an appropriate cleanser to remove any stubborn stains or fungus.
At Steel And Stud, we understand that our clients are more than just customers; they are individuals with unique needs and aspirations. As a leading supplier and manufacturer in the States, we strive to create buildings that (not just) meet those needs but exceed them. We understand that a metal building is more than just a structure. It reflects your vision and is a sanctuary for your daily life.
As you have come to the end of this blog, we hope we've given you some valuable tips, and we would love to take the next step with you. Metal building kits for sale in Alabama are ready for you right now. You can work with good friends over the weekends or have us install the perfect storage metal building for you. If you're ready to build your dream building, don't hesitate to contact us. Whether by phone or email (the choice is yours), we'll be here, eager to listen and help you in any way we can. We understand that building a new structure can be daunting, but with our guidance and expertise, we'll make it an enjoyable and memorable experience. Reach out to us today. We can't wait to work with you."
We Deliver And Install Metal Buildings Across Alabama
Huntsville, Birmingham, Montgomery, Mobile, Tuscaloosa, Hoover, Auburn, Dothan, Decatur, Madison, Florence, Vestavia Hills, Phenix City, Prattville, Gadsden, Alabaster, Opelika, Northport, Enterprise, Daphne, Homewood, Bessemer, Athens, Trussville, Pelham, Albertville, Oxford, Mountain Brook, Fairhope, Anniston and many More.
Although the exact delivery date (timeframe) cannot be assured, Steel And Stud can provide you with an estimated timeframe of when you can expect your metal building.
| Time Frame | Delivery of Metal Building (%) |
| --- | --- |
| | |
| | |
| | |
| | |
Other Convenient Locations to Serve You.
States

States

States

States
Frequently Asked Question
A 50X100 metal building, i.e., 5000 square feet, typically ranges between $16-$26. For a more precise quotation, we recommend contacting one of our sales representatives for assistance.
Generally, metal structures don't have a vapor barrier installed on them; you'll probably need to put in laminated blanket insulation.
Fiberglass insulation is a popular choice among metal building systems due to its cost-effectiveness, as it presents the lowest R-value per installed cost. Furthermore, fiberglass insulation is known for its durability and aesthetic appeal and can be paired with various facing options to enhance its performance.
The metal roof on our metal building kits for sale in Alabama are made from 29 gauge sheet metal to ensure you have the overhead protection you need.
We are the largest independent retailer in the nation of prefabricated metal buildings and are proud of our A+ rating with the Better Business Bureau (BBB). We also offer great prices on all metal building kits and would love to hear from you if you're interested in a metal building quote.
Yes, we offer free delivery and installation of your new metal building kits for homes and businesses.