Anyone who has traveled to Nebraska knows how cold and windy it can get, and what better way to protect your living investments than with a metal building for livestock? Nebraska is known for its temperature fluctuations and other disastrous weathers throughout the year. Therefore, traditional buildings may always pose a structural threat to the residents and metal buildings offers the best structural strength for both residential and commercial purposes.
We have very large storage metal buildings in Nebraska that can help to keep your livestock out of the elements when it gets too cold for even them. Our steel buildings for farms can add room if you don't have a large enough barn or if you need extra space to store farm equipment, in addition to animals.
The American state of Nebraska is situated in the country's Midwestern area. The state of Nebraska is renowned for its plains, gently undulating hills, and prosperous agricultural industry, including raising beef cattle, wheat, soybeans, and corn.
In Nebraska, agriculture is the primary industry. The state's agricultural sector, which is mainly made up of the farming of maize, wheat, corn, soybeans, and beef cattle, is vital to the state's economy.
In addition to agriculture, Nebraska has a sizeable manufacturing sector, focusing on machinery, food processing, and transportation equipment. The services industry is also proliferating, such as the financial, healthcare, and professional services sectors. The increase in the service sector is increasing job opportunities for people in Nebraska.
Depending on the season and location, Nebraska's temperature can change significantly. The summer months are often warm, and the winter months are typically mild.
The state's typical high temperatures during the summer could be around 30°C in the west and 33°C in the east. However, during heat waves, temperatures may get over 38°C.
The state's typical low temperatures in the winter can range from -6°C to -8°C in the east and -12°C to -15°C in the west. However, during cold periods, temperatures can fall well below -17°C.
It's important to note that Nebraska is renowned for its extensive weather fluctuation. Depending on the area and regional weather patterns, temperatures can vary quickly and drastically, so it's always a good idea to be ready and see the forecast before leaving.
Due to their many advantages and compatibility with Nebraska's temperature and weather, metal buildings may be a wise choice for development in the state.
There are several benefits to using metal buildings for construction in Nebraska, including the ability to adapt to its climate and weather conditions. Metal buildings provide a lot of advantages, including durability. Metal is a robust, durable material that can survive strong winds and loads of snow, which can be frequent in Nebraska, particularly in the state's western region. Furthermore, metal structures are resistant to rot, fire, and termite damage, which can be significant in an area with a high threat of severe weather.
The energy efficiency of metal buildings is another benefit. Due to its excellent insulation properties, metal may help keep a structure cool in the summer and warm in the winter. It is conducive in Nebraska, where seasonal temperatures can be rather extreme.
Metal structures may also be affordable. It may be less costly to build metal buildings than other types of buildings due to the affordability, material availability, and speed of construction. Additionally, metal structures require less upkeep, which can result in cost savings on repairs and painting over time. So if you are considering erecting a metal building or looking for a manufacturer for metal buildings, Steel and Stud is the most intelligent choice. You could consult Steel and Stud if you have any questions or confusion regarding what kind of building would suit you. We provide the best quality material at a reasonable price with free delivery.
Which Operational Sectors In Nebraska Can Draw Benefits From Metal Buildings?
In Nebraska, metal buildings can be advantageous in many operational sectors. Several instances include:
Metal agricultural buildings are ideal for Nebraska's agriculture industry's needs. You can utilize a metal building for several things, including crop storage, animal housing, and tools and supplies. Additionally, they can withstand damage from pests and harsh weather, frequently occurring in agricultural districts.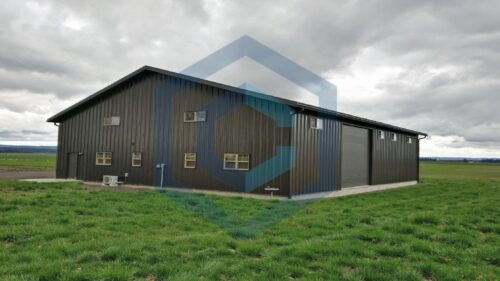 Metal Garages and Carports
Metal garages and carports are best for Nebraska weather resistance. Steel structures protect your vehicles and other storage items from the harsh weather of Nebraska.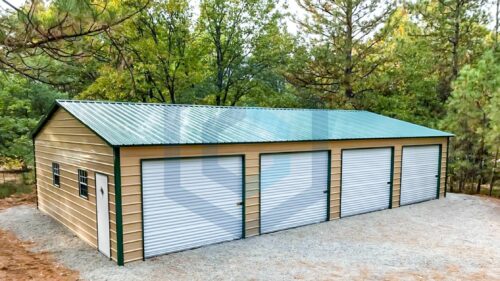 Metal structures are reliable and outstanding materials for building living apartments because of their resilience and sturdiness in erecting structural elements, piping, cladding materials, and other characteristics.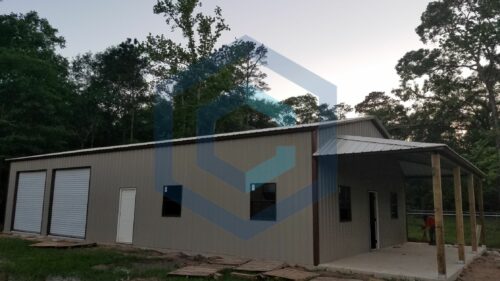 Nebraska's manufacturing sector can also make use of metal industrial buildings. They can be used as factories, warehouses, and distribution centers, which is beneficial for businesses that need lots of room.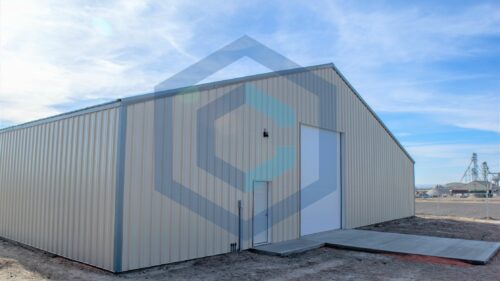 A lot of products and materials can be kept in metal storage buildings. They are resistant to the elements and ideal for outside or partially outdoor storage of heavy machinery, automobiles, and boats. Metal barns are also a great storage facility for Nebraska weather.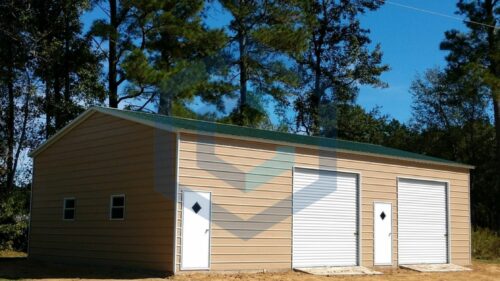 Metal commercial buildings can also be used for purposes such as Churches, schools, government buildings, etc. They can be created to fulfill particular requirements and offer a lasting, helpful place for communal usage.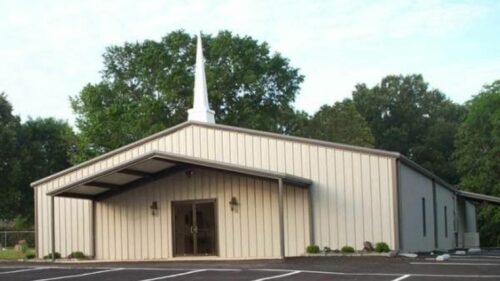 Commercial buildings are also used in the shipping, trucking, and logistics industries. These businesses can utilize these buildings to store and repair automobiles, offload and load cargo, and carry out other crucial tasks.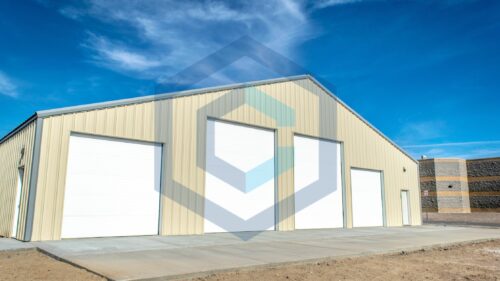 You could also customize a metal building as per your requirements.
Why Opt for Metal Building in Nebraska?
The following are some advantages of purchasing metal building kits:
Customized Steel Building Options in Nebraska
You can design a steel structure exclusively yours as a valuable client at Steel And Stud. A wide variety of designs, colors, sizes, roof styles, insulation, and other customization options are available from our design specialists, enabling you to build a building that precisely matches your requirements.
In Nebraska, Steel And Stud specialize in providing and erecting metal buildings that suit your requirements. We can build anything you need, whether it's a building 70 feet wide or more significant. Additionally, you can alter the building's height and length to meet your needs. What size are you interested in, then? What size is required? Call Us now to get the details about different sizes and options that will cater your requirements.
In Nebraska, common roof patterns, including gable or single-slope roofs, are frequently used on metal buildings. The slope of these roofs is sometimes stated as a ratio; for instance, a 6:12 slope indicates that the roof elevates 6 inches for every 12 inches of horizontal space.
We can guarantee that your metal structure complies with Nebraska building codes and requirements because we are a top manufacturer of metal buildings.
Panels, Windows, and Doors
In Nebraska, Steel and Stud let you add different windows, panels, or an open-air cover. You may create a custom-enclosed building. You can position your favorite access point wherever you like, and we provide various window and door options (for adequate ventilation).
Your imagination's capacity is the only thing standing in the way of your ideal metal building.
Trim, Gables, and Anchors
If desired, you can add decorative gables (used for an excellent drainage system) on either side, and you can use J-trim to conceal any flaws on the panel margins. We offer a range of anchor solutions in Nebraska that are compatible with all foundation types, irrespective of your foundation type.
Steps to Order Steel Building in Nebraska with Steel and Stud
To order metal building kits in Nebraska from Steel and Stud, follow these steps:
Before placing an order for prefabricated building, it's crucial to ascertain the precise needs and specifications of your undertaking. It comprises exact design or aesthetic requirements, the size of the building, and its intended use.
Search For Steel and Stud
If you are not convinced, you may examine the reputation, product quality, and customer service of Steel and Stud in Nebraska by conducting research and comparisons of them.
Obtain Quotes From Steel and Stud
Get bids for the metal building kit from Steel and Stud, which includes all the components and any extra choices you may desire, once you have decided your requirements and have located possible suppliers.
Review and compare the estimates you have received from Steel and Stud and other vendors, taking into account not just the price but also the materials' quality and the supplier's standing. After reviewing and contrasting the estimates, We are sure you will pick us as a supplier who can satisfy your needs and budget.
Go Over And Verify The Order
With regard to specifics like delivery windows and installation guidelines, examine and confirm the purchase with us.
Obtain Nebraska Building Permits
Before the delivery of the building kit, it is crucial to secure any required Nebraska building permits or approvals from neighborhood governing bodies.
Prepare the construction site by performing any necessary foundation or grading work.
Follow the supplier's instructions to erect the building, or if you lack the appropriate knowledge, engage a contractor to construct it for you.
Welcome To Your Brand-New Building
Once it has been put together, you may utilize your new metal structure in Nebraska for what it was designed for.
It's crucial to note that the procedure can change based on the particular needs and building kit, so contact us if you have any concerns or queries.
Building Regulations for Metal Buildings in Nebraska
Much like any other sort of building in Nebraska, metal building construction is usually subject to local building permit requirements. Building permits are obtained based on the needs and processes of the local government jurisdiction where the building is being constructed.
The following steps are usually involved in the procedure for acquiring a building permit in Nebraska:
Authorities that Give Permits for Metal Buildings in Nebraska
Local governments in Nebraska are in charge of adopting building rules after they are established into law by the state legislature.
Local governments in Nebraska are in charge of adopting structural requirements.
Plumbing and Electrical Codes
How to Finance your Metal Buildings in Nebraska?
To obtain the best financing option for your particular circumstances, it's crucial to look around and evaluate financing choices. You may consult a financial counselor or accountant should to help you choose the financing strategy that will work best for your particular circumstances. There are various alternatives for Nebraska metal building financing, including:
An ordinary bank loan is among the most popular ways to finance metal construction. Savings & loans, commercial banks, and credit unions are frequently the lenders of choice for this kind of loan. To qualify, banks typically require a down payment and a strong credit score.
Several financing options from the Small Business Administration (SBA) can be utilized to fund metal buildings. These loans are made to assist small firms and business owners obtain the capital they require to establish, develop, or extend their operations.
Equipment loans, specifically designed to finance equipment purchases, are available if you're planning to use the metal building for a particular equipment, such as a manufacturing facility or farm.
Some suppliers or producers of metal buildings provide leasing options, which let you pay for the structure over time in a manner akin to a rental arrangement. If you need the funds to pay for the building in full, this may be an intelligent choice.
If you presently own a home, you can finance steel structures with the equity in that home. To take money against the value of your home, you can get a home loan or a home equity line of credit.
How to Keep Up with the Maintenance and Repairs of Metal Buildings in Nebraska?
It's crucial to remember that the upkeep requirements can differ from one type of metal structure to another and the application for which it is intended, so it's better to speak with the supplier or a specialist to receive precise advice. To keep the structure in good shape and take care of any problems as soon as they appear, it's also crucial to arrange routine inspections and maintenance. Maintaining metal buildings in Nebraska is relatively easy, but frequent attention and care are necessary to keep the facility in good condition. Here are some pointers on the maintenance of metal structures in Nebraska:
Metal buildings are an excellent choice for people in Nebraska as metal can withstand its drastic weather and be customized per their needs. So whatever may be the purpose of your use, be it metal garages, metal barns, metal workshops, metal storage buildings, etc., it is suitable for everything because of its capacity to adjust to its climate and weather. 
Strong winds and heavy snowfall, which can frequently occur in Nebraska, especially in the state's western region, can be withstood by metal because it is a robust and resilient material. Additionally, metal buildings are resistant to damage from termites, rot, and fire, which can be important in a region with a high risk of severe weather.
Metal Building Sizes Available At Steel And Stud
Metal Building Sizes

Metal Building Sizes

Metal Building Sizes

Metal Building Sizes
We Deliver And Install Metal Buildings Across Nebraska
Omaha, Lincoln, Bellevue, Grand Island, Kearney, Fremont, Hastings, Norfolk, Columbus, Papillion, North Platte, La Vista, Scottsbluff, South Sioux City, Beatrice, Chalco, Lexington, Gering, Alliance, York, Blair, Seward, McCook, Crete, Nebraska City, Plattsmouth, Schuyler, Sidney, Ralston, Wayne, and Many More.
Although the exact delivery date (timeframe) cannot be assured, Steel And Stud can provide you with an estimated timeframe of when you can expect your metal building.
| Time Frame | Delivery of Metal Building (%) |
| --- | --- |
| | |
| | |
| | |
| | |
Other Convenient Locations to Serve You.
States

States

States

States

West Virginia Metal Buildings
Frequently Asked Questions
How long will a metal building last in Nebraska?
A metal building can last up to 50-100 years in Nebraska.
Are metal structures appropriate for Nebraska's climate?
Metal structures are best for Nebraska's climate because they are robust and can withstand the harsh weather of Nebraska.
In Nebraska, can I modify my metal building?
Yes, you can modify your metal building in Nebraska. Contact Steel and Stud, and we will help you change your metal building fast and at reasonable prices.
What is the price of a metal structure in Nebraska?
The price of a metal structure depends on various factors such as dimensions, roofing, insulation, material, accessories, etc. To get an estimation, get in touch with Steel and Stud with your requirements, and we can give you an estimate.
In Nebraska, do I need a permit for a metal building?
Yes, you need a permit for a metal building in Nebraska.
What advantages do metal buildings have in Nebraska?
Metal is a robust, resilient material that can withstand strong winds and heavy snowfall, which can happen regularly in Nebraska, especially in the western portion of the state. A region with a high chance of severe weather may find it beneficial to use metal buildings because they are resistant to damage from termites, rot, and fire.
In Nebraska, how do I preserve metal buildings?
To preserve a metal building in Nebraska, you must keep an eye out for leaks, rust, and pests. If you notice even a slight hint of these, fix them asap. Clean your building regularly and check that gutters should not have any blockage.