Nestled in the heart of the Midwest, this state boasts a rich history and a wealth of archaeological discoveries. Bordered by Illinois, Lake Michigan, Minnesota, and Iowa, it is home to a diverse array of landscapes and attractions, including expansive forests, rugged mountain biking trails, and picturesque lakes (resulting from glaciers), ideal for fishing, boating, and other leisure activities.
Also known as a Badger State, with its name derived from the Native American word meskonsing (which means it lies red), the bulk of Wisconsinites occupy homesteads along the shore of Lake Michigan.
Furthermore, in addition to being a popular tourist destination, the state's economy primarily relies upon three key sectors: manufacturing, agriculture, and tourism.
These industries, which generate 67% of employment within the state, significantly impact the state's economy, with a gross state product of $348 billion and a per capita income of $31,998. 
To ensure the continued success and prosperity of these industries, (it is imperative that) the state requires a robust infrastructure to support their operations.
And Steel And Stud (since 2002) have been a prominent provider of robust, resilient, and cost-effective metal structures for these industries.
Our steel structures are specifically engineered to withstand the challenging weather conditions that are prevalent in Wisconsin, such as:
23 tornadoes (annually)

High winds

Severe storms (which pose serious health hazards)

125-160 inches of snow

Hot summers
However, we do not limit ourselves to just providing metal buildings; we also offer exceptional godsends that make us the preferred choice for all your metal building needs.
⭐ Our metal structures are constructed using only premium materials sourced from reputable American suppliers, utilizing techniques that guarantee durability and longevity.
⭐ And when it comes to price, we're upfront and transparent – you'll know exactly what you're paying for.
⭐ Our pre-fabricated metal building kits are cost and energy-efficient, which is excellent news for your wallet and the environment. Plus, they're made with high-performance insulation, so you'll be able to slash energy costs.
⭐ Last but not least, our metal structures are the epitome of versatility and customization. So if you are looking for something that suits your business, personal style, or aesthetic preferences, whether that is a specific color, windows, doors, or anything other, we have you covered.
We recognize that forging a competitive edge in the industry relies heavily on exceptional customer service. Thus, we are dedicated to delivering superior service to the residents of Wisconsin. 
And we certify that with every metal building we provide, you will receive nothing but the highest level of excellence and precision.
So if you are intrigued and want further information and a comprehensive understanding of our metal building process, do not hesitate to contact our seasoned sales representatives at your earliest convenience. We assure you that our team is ready to assist you every step of the way.
Elevate Your Industry With Steel And Stud's Durable Metal Building Kits
Agriculture Metal Building
In Wisconsin; the agriculture industry represents a significant economic force, with an annual economic impact of $104.8 billion. Given the state's climatic conditions, metal buildings are particularly well-suited for meeting the diverse needs of farmers in Badger State.

These metal barns

and

sheds

can be leveraged for various purposes, such as safeguarding crops, storing cheese, housing livestock and equipment, and protecting against pests and inclement weather. Overall, our

steel agriculture buildings

are a practical and efficient solution for the agriculture industry in Wisconsin.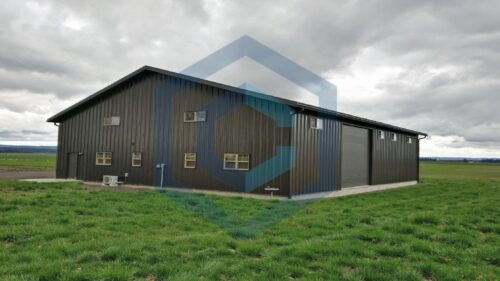 Metal Garages and Carports
In Wisconsin, metal garages and carports (are ideal) for protecting your vehicles and belongings from the elements. Their superior weather resistance ensures that your investments are well-protected, no matter what Mother Nature throws your way.

Our

prefabricated metal garages

and carports come in various sizes to hold anything from one car to many cars. When you don't have a garage connected to your home or if you have more vehicles than garage space, we have the perfect

metal buildings in Wisconsin for sale

.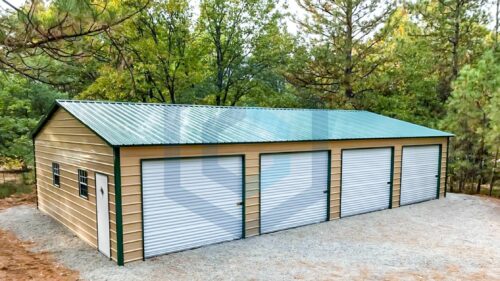 The utilization of metal structures in the construction of

living quarters

is a highly advisable strategy due to their exceptional strength and durability in support of structural components, the facilitation of plumbing infrastructure, and the provision of suitable cladding materials.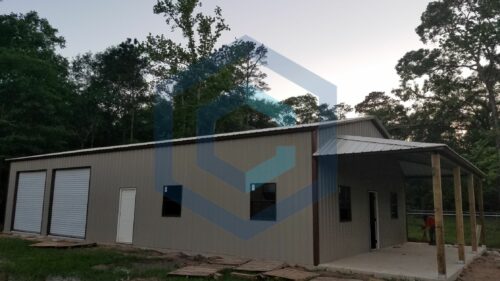 Commercial And Industrial Metal Building
The utilization of metal industrial buildings within Wisconsin's manufacturing and commercial sectors can offer many benefits for businesses operating within the state.

These structures, with their vast interior spaces, can serve as factories, offices, warehouses, and distribution centers, providing ample room for the execution of operations and facilitating the growth and expansion of businesses.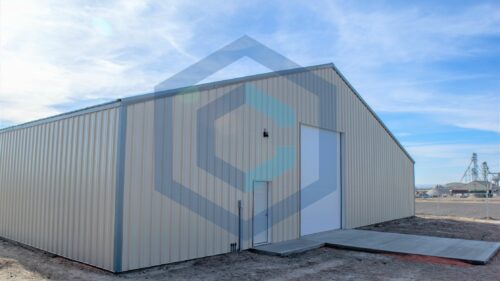 It is a well-established (fact) that metal storage buildings are the superior choice for housing a broad range of products and materials. 

These structures are unrivaled in their ability to withstand the harsh effects of various meteorological conditions, making them the ideal solution for storing heavy machinery and boats. Other storage options cannot compare to the durability and protection given by metal storage buildings.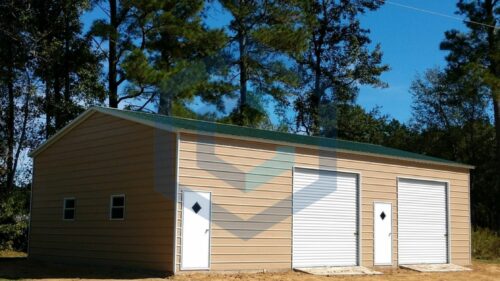 Enrich Your Metal Building In Wisconsin With These Customization Options
You can dramatically increase the value of your property by adding these accessory dwelling units from Steel and Stud. These additions are made of quality materials, ensuring that not only will they increase the value of your home or business, but their quality will also be maintained.
And the best part? Our superior-quality materials and expert craftsmanship will bring your vision to life in a way that exceeds your expectations. 
So, why wait? Let's start building your dream custom, enclosed space today with Steel And Stud.
Procure Your Prefabricated Buildings In The State of Wisconsin Through These Effortless Steps
Elevate your construction game by acquiring your metal building structure with these simple, streamlined steps. But that's not all. We're also arming our pals with the essential factors to make informed decisions before investing in their metal building structure. These considerations will (not only) aid in reducing costs but also streamline the construction process, allowing for a greater focus on the task at hand.
To embark on the exciting journey of constructing a metal building, carefully consider the

type of metal structure

that best suits your needs and the location that will yield the maximum benefits. 

Once the types have been selected, it is integral to meticulously prepare the construction site by adhering to all relevant zoning regulations, ensuring proper soil grading, and removing debris or vegetation.

Upon completing the site preparation process, the next step is to determine the precise size and layout of the metal building based on its intended use, whether as a metal garage, storage facility, agricultural structure, or even as a comfortable living space.

Subsequently, it is imperative to communicate with Wisconsin's local building department to acquire comprehensive information on the necessary permits, fees, and other regulatory requirements.

Upon obtaining the necessary approvals, it is advisable to engage a reputable contractor to pour the slab and commence the actual construction process.
Note: Customizations can be requested after you select a structure.
To begin construction, you must pay 10% of the total project cost as an initial payment. The outstanding balance shall be due upon the completion of the project. 

Upon receipt of the advance payment, Steel And Stud will promptly dispatch the metal structure containing all necessary components, including comprehensive instructions and a tool kit. 

Our highly skilled and proficient workforce will then (proceed to) erect the structure in strict accordance with the approved plans, assiduously ensuring that all electrical work conforms to inspection standards and regulations.
Be assured that your project is in the hands of our elite team, who will handle every detail with extreme attention and accuracy. We are dedicated to delivering a finished product that not only meets but surpasses your expectations and leaves a lasting impact.
Metal Building Regulation In Wisconsin
The concept of metal building regulation, permitting, or codes may present itself as a complex and nuanced subject, requiring a thorough understanding of the various intricacies involved in its comprehension and execution. 
It is not uncommon for one to ponder this process's multifaceted nature and contemplate the various considerations necessary for its successful implementation.
However, it is essential to note that these terms simply refer to a document issued by the local government, which grants permission to an individual or organization to construct or renovate a metal structure. 
This document constitutes an essential mechanism for ensuring compliance with the law, promoting safety, and maintaining uniformity in design.
And if we talk about the codes that Wisconsin adheres to are:
2015 International Building Code

2015 International Energy Conservation Code – Commercial

2009 International Energy Conservation Code – Residential 

2015 International Existing Building Code

2015 International Fuel Gas Code

2015 International Mechanical Code
Moreover, a wealth of other codes are in place to ensure the safety and quality of the work. For instance:
So don't let the thought of navigating through various building codes overwhelm you. 
Leave it to the experts at Steel And Stud. We understand the intricacies of metal building codes in Wisconsin and will handle all of the necessary compliance, so you can focus on what truly matters – creating your dream metal building structure.
Trust us to guide you through the process with ease and confidence.
Flexible Financing Solutions to Meet Your Metal Building Needs
Personal loans

Mortgage

Government loans

Leasing

USDA agriculture loans
Private lenders

Credit card

Banks

Manufacturing financing

Home Equity Line Of Credit, Or Home Equity loans
So as you embark on the ambitious task of financing your metal building project, you'll find that myriad options are available, which can be (both) overwhelming and daunting. 
However, with a discerning eye and a proactive approach, you'll be able to unearth the ideal financing solution that aligns seamlessly with your financial objectives while propelling your building endeavor to unprecedented heights. 
Embrace the challenge, meticulously evaluate each option, and uncover the financing plan that will materialize your vision compellingly and efficiently.
Maximize The Lifespan Of Your Metal Building In Wisconsin With These Expert Tips
Neglecting the maintenance of metal buildings is a common yet detrimental mistake. The accumulation of even minor grime and neglect can rapidly escalate into a significant crisis. However, thanks to the expertise of Steel And Stud, a comprehensive and easy-to-implement maintenance regimen is within reach, ensuring that such oversights are avoided and your building remains in optimal condition.
Proactively safeguard the longevity of your metal building through a comprehensive maintenance strategy, including regular cleansing of the exterior surfaces, such as walls, gutters, and roof, to eliminate debris and filth that can lead to corrosive damage.

Conduct meticulous inspections for rust and promptly eliminate it through aggressive measures such as sanding and wire brushing while implementing rust inhibitors to inhibit its further spread.

Perform regular evaluations of the roof for signs of degradation, such as leaks, holes, or missing or lost fasteners, and undertake prompt repairs to preserve the structural integrity of the roof

Keep your metal building's downspouts and gutters in tip-top shape by regularly ensuring they're clear of any obstructions and effectively directing water away from the structure.

Remain vigilant for potential structural threats, such as rodents or termites, and take swift and decisive action to eliminate any detected infestations.

It is highly recommended that a regular check-up of the building's foundation must be conducted to ensure its soundness and longevity. 

Any signs of wear and tear, such as breaks or other damage-related symptoms, should be promptly addressed by a skilled professional to maintain the building's structural integrity.
So if you are probing for a formidable, maintenance-free metal building in Wisconsin, Steel and Stud's metal building kits should be your premier choice. These kits are constructed with premium-grade metal – robust Galvalume steel – impervious to rust, corrosion, and decay and non-combustible, requiring minimal upkeep to preserve their impeccable condition. 
Refrain from settling for inferior options; invest in a Steel and Stud metal building kit for a structure (that is) built to endure.
Call us at 1-877-275-7048 to get your free metal building quote.
Metal Building Sizes Available At Steel And Stud
Metal Building Sizes

Metal Building Sizes

Metal Building Sizes

Metal Building Sizes
We Deliver And Install Metal Buildings Across Wisconsin
Milwaukee, Madison, Green Bay, Kenosha, Racine, Appleton, Waukesha city, Eau Claire, Oshkosh, Janesville, West Allis, La Crosse, Sheboygan, Wauwatosa, Fond du Lac, Brookfield, New Berlin, Wausau, Menomonee Falls, Greenfield, Franklin, Beloit, Oak Creek, Sun Prairie, Manitowoc, West Bend, Fitchburg, Mount Pleasant, Neenah, Superior city and Many More.
Estimated Time Frame For Delivery In Wisconsin
Steel And Stud cannot provide a definitive assurance regarding the delivery dates of metal buildings in Wisconsin; however, we can furnish an approximation for the anticipated delivery duration.
| Time Frame | Delivery of Metal Building (%) |
| --- | --- |
| | |
| | |
| | |
| | |
Other Convenient Locations to Serve You.
States

States

States

States

Wisconsin Metal Buildings
Frequently Asked Questions
What are some effective ways to safeguard a metal building?
Install security cameras and motion sensors to monitor the building and detect any suspicious activity.

Another option is to ensure optimal lighting around the building

Fencing can also create a physical barrier.

Installing burglar alarms at every entry point.

Secure locking systems can also be implemented to prevent unauthorized access to the building.

Incorporate landscape security measures.

Lastly, installing security gates or bars on windows and doors can provide an extra layer of protection.
What are Wisconsin's best ventilation options for a 30x60 metal building?
This massive 1800-square-foot structure has a variety of options to choose from, including:
Ridge vents

Louver

Exhaust fans

Roof jacks

Flood vents 

Circular vents
Are warranties offered on metal buildings? If so, what coverage does Steel And Stud offer for their structures?
Steel And Stud provide a comprehensive range of services tailored to the specific requirements of the chosen metal building.
90-day artistry

50 days structure guarantee