Whether you have a ton of stuff to store or want additional room for your vehicles, we have just the metal storage building for you. We offer metal building kits in Michigan for offices or livestock and everything in between. Whatever your need, we have the perfect metal shop building for you.
Metal building kits for sale in Michigan are the perfect answer to your storage needs. When you are able to protect your valuable things in a metal storage building, you no longer need to worry about damage from the weather or things getting stolen. When your motorcycles, cars or trucks are outside they are getting continually beat up on by the sun, wind, and even hail. While you could have your insurance pay for the damage, each and every time you make a claim your insurance premiums go up. Why not just avoid those situations all together and invest in a metal shop building to protect everything?
Prefabricated metal structures give sturdiness, strengthen the structure, are cost-effective, and are adaptable as needed for the diverse market of Michigan. Michigan's two halves form a border around Lake Michigan, with about 11,000 inland waterways to its credit. Even though Michigan's weather is usually mild, the last few years experienced extreme weather conditions.
Steel and Stud's prefabricated metal buildings are suitable for varied climatic conditions in Michigan. These metal structures can withstand the state's occasionally crushing snows, lethal hail, extreme winds, deadly lightning, and rare tornadoes.
Which Metal Buildings types are for Sale in Michigan?
In Michigan, different metal buildings types are available for purchase, all of which are made to satisfy particular requirements, including the following:
Steel buildings are the most commonly built building types in Michigan. These metal structures are customizable, durable, strong, and can fit any type of building requirements, including many residential, industrial, and commercial applications.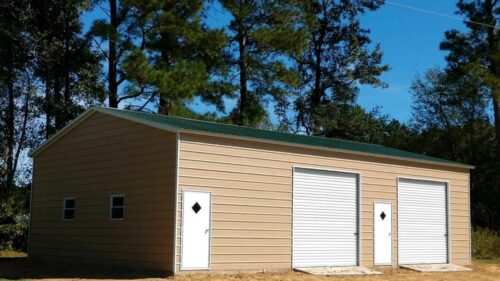 Prefabricated modular structures are not built on-site. Instead, they are transported for assembly to their location after building them off-site. These structures are often employed for classrooms, temporary housing, offices, etc.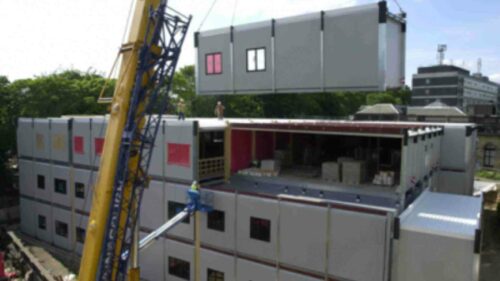 Metal Sheds Or Metal Garages
Metal sheds or garages are specifically designed to store vehicles and suit many vehicle types and sizes.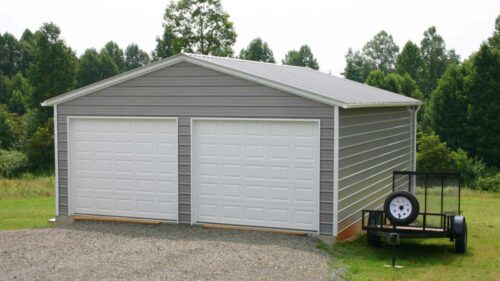 Agricultural, boat, and RV storage are a few of the requirements that metal structures can accommodate for storage.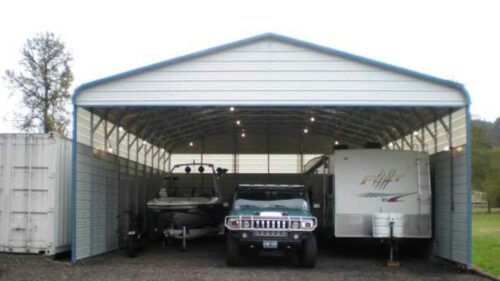 Metal workshops are made for many commercial or industrial applications or usages, such as automotive and vehicle repairs, manufacturing, and welding.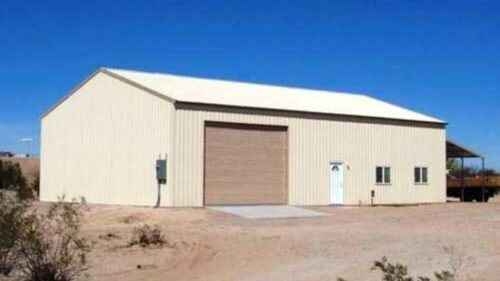 How beneficial are Installing Metal Buildings in Michigan?
Installing metal buildings is advantageous in Michigan in many ways, including the following:
Metal buildings can resist harsh weather conditions since they are highly durable against high winds, intense heat, and heavy snowfall.
Energy-efficient metal buildings can be built with reflective roofing, insulation, and some aspects to save energy. In addition, due to Michigan's changing weather, metal buildings may save your expenses on cooling and heating.
Unlike many other building types in Michigan, significant maintenance is not required for metal buildings in Michigan. These structures can resist fire, rot, and pets, which doesn't need you to worry about expensive replacements and repairs.
Check out our guide about Steel Building Maintenance Tips to know more details.
Metal buildings are adjustable as per the recreational facility, commercial warehouse, or residential garage preferences, and custom metal buildings are the best investments for the owner. These building types are accessible in many shapes, colors, and sizes. Besides, you can expand or modify them per the required changes.
Metal buildings are cost-effective and not as expensive as materials used in traditional buildings or structures, like wood or brick. Besides, their life span is longer and needs minimal repairs or maintenance, resulting in long-term savings on expenses.
Check out Metal building Home prices by "Steel and Stud" to get the best quotes.
Customizable Metal Buildings Options in Michigan
Many customizable metal building options are available in Michigan that fit any particular preference or demand. Besides, getting metal building options from "Steel and Stud" guarantees that the metal building built and installed are as per the local regulations and codes. A few of the available customizable building options in Michigan are the following:
What Is The Process of Ordering Metal Buildings In Michigan?
Determining Your Requirements
Determining your requirements is the initial step in the ordering process of metal buildings. Types of metal building, design preferences, location, size, the purpose of constructing the structure, or any specific features must be considered while placing the metal buildings order.
Selecting Metal Buildings Service Provider
After determining your requirements, you must check for metal building companies and service providers to get the service you need in Michigan. The reputed steel building manufacturer, "Steel and Stud", is among the manufacturers in Michigan who will complete your project according to your preferences.
Approval and permits are mandatory before constructing metal buildings in Michigan. The metal building company will also require Michigan's local authorities. This process includes building and zoning permits and the submission of plans for inspection and review.
Preparing Metal Building Site
After permits and approvals, the site must be ready for installation and construction procedures. The process may include excavation, foundation installation, and grading process.
Metal building construction can be initiated after the site is ready. The building manufacturer will look after every aspect of construction, from roofing, framing, and windows to door installation.
Final Approval And Inspection
The metal building requires final approval and inspection after the construction work. It ensures whether every local regulation is met or not. The metal building company does this process to verify that the completed construction is ready to utilize.
The Process of Installing Metal Buildings In Michigan
The building site must be built first and prepared to install a metal building. This phase includes cleaning the obstacles, trees, brush, etc., and creating a stable and flat foundation by leveling its surface.

The metal building's foundation must be set after the location has been cleaned up and prepared. Based on the location and design of the metal building, this step entails setting up a beam and pier foundation, using other foundation types, or pouring a concrete slab.

The components of the metal building are shipped to the location, such as accessories, frames, and panels. This process must be examined cautiously to ensure the proper storage and complete delivery of the components.

The metal building is assembled after the foundation is placed and the components are delivered to the site. This step involves adding windows and doors, installing the panels, and erecting the frames.

After the building assembly is completed, the finishing of exterior and interior work must begin. This process includes ceilings and installing flooring, wall finishing, adding insulation, and final preparations for siding or paint are done.

After its thorough inspection, the metal building will need finalizing and approval to determine whether it adheres to the local regulations and codes. This process will include inspecting plumbing, electrical, or other functions to ensure the structure is safely built and good to use.
Metal Structure Installation Building Codes In Michigan
The installation of metal structure building codes in Michigan is as follows:
Financing Options For Metal Buildings In Michigan
The Best Metal Building Manufacturers in Michigan - "Steel and Stud"
"Steel and Stud" is a well-recognized manufacturer of metal buildings in Michigan. We provide commercial, agricultural, residential, and many other building styles. We specialize in steel buildings' construction and design, using advanced construction techniques and premium quality materials. Our customizable building options are available for many applications, from workshop and storage spaces to residential and commercial buildings.
There's no need to worry about metal building costs in Michigan when you call our company. We can give you a metal building quote over the phone when we know the size of the storage metal building you want. All of our metal barn buildings come in a variety of colors to match any other metal building homes you might have. We also offer metal buildings for livestock and metal buildings for business. We understand when you order metal building kits in Michigan, you want your metal storage building right away. We have fast and free delivery and we also install free of charge, saving you even more money.
When it's time for additional storage space, we have the highest quality storage metal buildings around. We're the largest independent retailer in the nation and our customer service is second to none.
Give us a call to get started on getting the perfect metal building kits available.
Toll-Free No. 1-877-275-7048
Metal Building Sizes Available At Steel And Stud
Metal Building Sizes

Metal Building Sizes

Metal Building Sizes

Metal Building Sizes
We Deliver And Install Metal Buildings Across Michigan
Although the exact delivery date (timeframe) cannot be assured, Steel And Stud can provide you with an estimated timeframe of when you can expect your metal building.
| Time Frame | Delivery of Metal Building (%) |
| --- | --- |
| | |
| | |
| | |
| | |
Other Convenient Locations to Serve You.
States

States

States

States

West Virginia Metal Buildings
Frequently Asked Questions
How advantageous are the prefabricated metal buildings in Michigan?
Several advantages of metal buildings in Michigan include durability, sustainability, customization options, cost-effectiveness, energy efficiency, and rapid construction and installation.
How long can aluminum buildings last in Michigan?
Many factors contribute to the metal buildings' life in Michigan, including the construction techniques and material quality used, quality of construction done, frequency of repairs and maintenance, ventilation and insulation systems, etc.
Are metal buildings suitable for Michigan's climatic conditions?
Metal buildings can withstand Michigan's climatic conditions, including high winds, severe storms, extreme temperatures, and heavy snowfall. Therefore metal structures are preferred in Michigan.