Kansas wasn't nicknamed The Sunflower State for nothing. Farmers have been growing sunflowers, wheat, soybeans, and oats there for years, and when you're making a living growing crops you don't have time to worry about buying the right metal building kits in Kansas. We understand the price of any given crop can fluctuate, but that's not the case with our steel metal buildings for farms. We routinely have metal building prices lower than all the competition, so you can get the perfect prefabricated steel building you need at a price you can afford.
Why do Kansas residents choose prefabricated metal buildings? The most central U.S. state, Kansas, has different landscapes. Kansas' rolling plains, rising to Mount Sunflower in the west from the east, generate so much wheat compared to any other state in the United States. Besides, Kansas' requirements for agricultural, farm, and residential metal structures are many. "Steel and Stud" can provide them with all.
Also, Kansas experiences ice storms, snowstorms, floods, tornadoes, dust storms, etc., giving the state different weather types. With that climate or sudden snow, the metal buildings can hold heavy snow and cannot be impacted by the weather conditions. "Steel and Stud's" metal buildings adhere to and are the best among all local building codes for the lifetime of the building and are the right choice for Kansas living.
Metal Building Types and Uses in Kansas
Farm equipment can run in hundreds of thousands of dollars, so you need the perfect metal buildings for farms in Iowa to protect that expensive equipment. All of our Iowa metal building designs are constructed with sturdy steel frames and metal roofs to protect your contents year-round. Whether you're storing a combine for the winter or seed for the following year, you can trust our commercial metal buildings will get the job done.
Owing to their toughness, the need for repair and maintenance is low, and energy efficiency, making prefabricated metal buildings a common construction option in Kansas. Following are a few of the popular metal building applications and building types in Kansas:
Metal buildings are the best for agricultural applications like livestock storage, storing agricultural equipment, and grains. The structures protect the stock from damage and resist extreme weather conditions.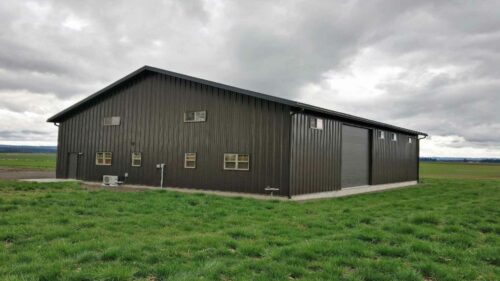 Metal building applications are wide across the industrial sector for storage units, distribution centers, and manufacturing facilities. The metal buildings' higher durability is perfect for holding heavy equipment and machinery.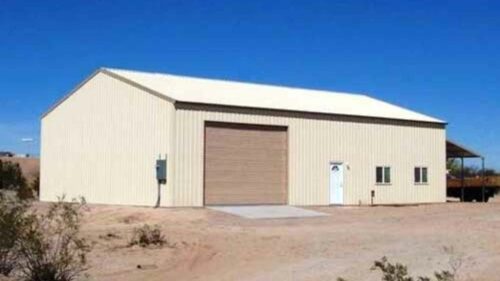 Metal building applications are frequent in the commercial sector for using them in retail areas, factories, office settings, and warehouses. These cost-efficient metal buildings can be easily designed and customizable. Also, it can meet specific business requirements to make it the right choice in Kansas.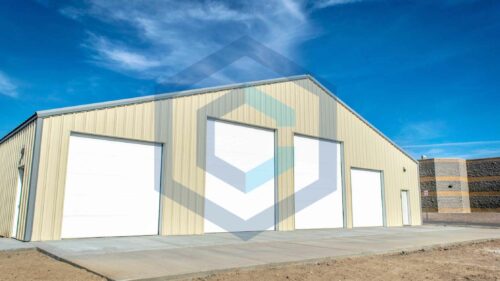 Recreational Applications
Community centers, sports stadiums, gymnasiums, and other facilities are common applications for recreational activities. The structures fit into specific activity requirements because of their customizable option and provide open and large spaces.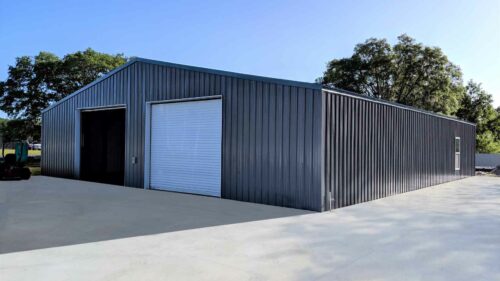 Garages, houses, and workshops can each be made of metal buildings. Such buildings do not need much repair and maintenance than other types of buildings and are worth constructing because of their suitability with different styles or architects and do not need much maintenance.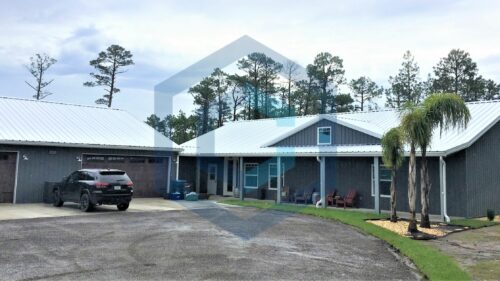 Benefits of Owning A Metal Building In Kansas
Metal buildings are designed to endure snow, heavy rain, and strong winds, making them durable and capable of handling extreme weather conditions. Since Kansas experiences severe patterns of weather all through the year, metal building kits are the right choice in Kansas.
The customizable advantage of metal buildings is suitable for different architectural styles and requirements. The structures offer many designing options by employing several features, including skylights, windows, and doors, to suit specific demands.
Metal buildings can be easily designed since they do not necessitate regular repair and upkeep. These buildings can resist corrosion and rust, so regular refinishing or repainting is not required.
The energy efficiency feature of metal buildings gives less expense on cooling and heating. The insulation option in metal buildings maintains the cooling in the summertime and reduces heat loss during the wintertime.
How Can Customized Metal Buildings Increase The Worth Of The Structures In Kansas?
Spaces are more effectively used or maximized by creating customized measurements, improving the building's efficiency. Customized measurement will give more room for supplies, inventory, or equipment, which increases the building's storage capacity. The dimensions are incredibly flexible and can be designed to suit with surrounded landscapes or structures. 
Roof styles can increase the worth of metal or steel structures in Kansas since their visual is appealing and unique, adding aesthetics and overall worth. Besides, metal shingle roofing, standing seam, or other roofing styles boost the durability of metal buildings. Also, insulated metal roofing is highly energy efficient, minimizing air leakage and heat loss. Therefore, improved functionality of roofing provides additional space for solar panels or rooftop decks, increasing the worth of the building.
Walls, Windows, And Doors
Walls, Doors, and metal building windows can increase the metal building's value by improving the building's functionality, energy efficiency, and aesthetics. Upgraded walls can improvise the structure's insulation and durability, reducing expenses on energy and boosting its worth. While upgrading or replacing a door will help improve its security, aesthetic attraction, and accessibility, adding windows will make it energy efficient and improve ventilation and natural light.
The color of the metal building also boosts its worth, making it enticing and impacting the aesthetic appeal. Color schemes aligning with the business's branding will give a professional and cohesive look. Besides, some colors make metal buildings energy efficient since dark hues absorb heat in winter, and light hues reflect heat in summer, reducing energy costs. Moreover, the color coating will increase the life and durability of the metal buildings.
Metal Building Installation Process In Kansas
Although the installation process of metal buildings in Kansas is challenging, choosing a knowledgeable and reputed metal building provider can complete the building structure. The process of installing the metal buildings in Kansas is as follows:
Preparing the metal building site is the initial step in installing the structure, including clearing the vegetation, debris, or any other obstacles and levelling the site's ground. 

The metal building's foundation is constructed after the site is ready and levelled.

The building's required components are brought to the building's site, such as primary framings, accessories, roofing systems, wall panels, windows, doors, etc.

These components are assembled on the building's site using accessories such as screws and bolts. Wall panels and roofing assembling is done after the erection of primary framing. Windows, door installation, and final fittings or assembly follow it.

After the building's assembly is completed, several inspections are performed to verify that every safety standard and local building code is followed, examining the plumbing, structural, and electrical systems.

Finishing is done once the structure verification during the inspection is completed. The final touches may involve metal building painting, trimming, siding, or finishing work.
Metal Buildings Codes In Kansas
Metal building codes in Kansas are applicable as per the regulations and codes established by local and state authorities. A few of the significant building codes in Kansas are as follows:
Financing Options For Metal Building In Kansas
The available financing options for a metal building in Kansas include the following-
Prefabricated Metal Building Kits By Steel And Stud In Kansas
"Steel and Stud" provide the best-prefabricated metal building kits in Kansas that suit almost every customer's preferences and demands. Our metal building systems include wall, roof, and prefabricated metal building kits. These metal structures are helpful for several industrial, agricultural, commercial, and residential applications, with a commitment to customer support and building quality.
In Kansas, our metal structures fare better against intense hail and winds than wood-framed ones. Our commercial-grade prefabricated metal buildings withstand destructive twister winds, storms, piercing small tornadoes, and straight-lined winds without harming the structure.
We also understand that Kansas leads the nation in small aircraft production. Our prebuilt metal buildings for planes in KS may be just what you need. When you aren't flying a lot or just need the aircraft for crop dusting, we have the perfect commercial or residential metal building kits for sale in Kansas to protect your plane. Year after year we are the largest independent retailer of prefabricated metal buildings and our commitment to each customer shows in how we conduct business every single day.
So whether you need steel building kits for barns or a prefabricated metal building for cars, trucks, and other farm equipment, we have the perfect metal storage building for you. Our steel building prices are competitive and we even offer free shipping and installation, getting you the protection you need in just a short time.
We invite you to give us a call and get a personalized metal building quote for your metal building kits today.
Metal Building Sizes Available At Steel And Stud
Metal Building Sizes

Metal Building Sizes

Metal Building Sizes

Metal Building Sizes
We Deliver And Install Metal Buildings Across Kansas
Although the exact delivery date (timeframe) cannot be assured, Steel And Stud can provide you with an estimated timeframe of when you can expect your metal building.
| Time Frame | Delivery of Metal Building (%) |
| --- | --- |
| | |
| | |
| | |
| | |
Other Convenient Locations to Serve You.
States

States

States

States

West Virginia Metal Buildings
Frequently Asked Questions
Which metal building types are accessible in Kansas?
Several metal building types are accessible in Kansas, such as metal barns, workshops, garages or carports, prefabricated metal buildings, etc. Various applications exist for metal buildings in Kansas in agriculture, manufacturing, industrial, storage, and many other sectors.
Is metal building useful in Kansas?
Metal buildings are useful for many reasons in Kansas, such as easy and rapid construction, energy efficiency, cost-effectiveness, affordability, and durability.
Do metal buildings need a support system?
Metal buildings are supported by combining structural framing and foundation systems, such as beam and pier foundations, and basement and sab-on-grade foundation systems.
Do metal buildings require permits in Kansas?
Building permits and approvals are mandatory to construct metal buildings in Kansas. However, the permit and approval process may differ per country or city.