In Colorado, a metal building can help you thrive if you know how to utilize it.
With a high number of visitors and a relatively high incidence of natural disasters, Colorado has gained recognition within the United States.
Also known as the Centennial State or colorful Colorado, this state is well-noted for its imposing landscape that includes gorgeous scenery of mountain ranges, woodlands, deserts, canyons, plateaus, mesas, rivers, and high plains.
Aside from Colorado's many enticing tourist destinations, it is also imperative to note that a vast portion of the state does not feature mountain ranges but has a series of diverse industries, including agriculture, arts, manufacturing, mining, and craft breweries.
To address the increasing need for these structures in various locations, the demand for metal garages, warehouses, carports, steel factories, and commercial & industrial buildings (in Colorado) is rising and accelerating rapidly.
So to fulfill the demand for metal buildings in various locations throughout the state, Steel And Stud (since 2002) has supplied a selection of top-notch galvanized structures to its variety of clients, including farmers, small business owners, and individuals in sectors such as aviation, agriculture, commercial, industrial, church, and retailers.
Not only that, but the components of our pre-fabricated metal buildings (sourced from American suppliers) are expertly manufactured in our facility by industry professionals to ensure the safety of your vehicle, valuables, priceless possessions, and family against Colorado's unpredictable weather conditions, including:
Damaging baseball-sized hailstones

Wind damage
Flash floods

Lethal lightning
Aside from offering a broad selection of metal buildings (durable & cost-effective), Steel and Stud also provide bespoke design and engineering services that cater to each client's specific requirements. These design and engineering services comply with the relevant zoning regulations and metal building codes.
So are you ready to get your metal building project off the ground? All you have to do is reach out to one of our friendly sales representatives. We will be happy to answer any queries (you have) about metal buildings and guide you through the building process.
Let us help you bring your dream building to life!
Steel And Stud Has The Metal Buildings You Need In Colorado
Warehouse Or Clear Span Metal Building
These metal structures are frequently erected in enormous sizes and require little to no internal support beams.
Metal buildings of this type are preferable for our pals who are commercial beekeepers and require a space to store 17 different varieties of honey from the harsh weather of colorful Colorado.
Looking for the perfect warehouse solution? Look no further! Our 50X50 metal building has got you covered.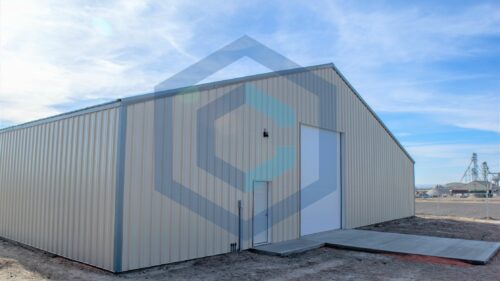 Metal Building Schools, Community Centers, And Churches
A metal or steel building is worth considering if you're in the market for a public building that won't break the bank or require constant maintenance. Their budget-friendly nature (from Steel And Stud) combined with minimal maintenance makes them a smart choice for any (above mentioned) project.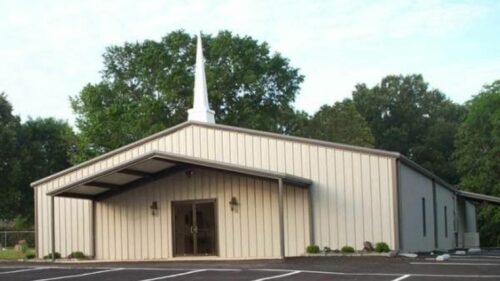 Metal Buildings For Agriculture
Whether you need a place to stow equipment, food crops, accommodate livestock, or protect crops, our 40X60 metal Building barns offer a versatile and reliable option. Their cost-effective design and low maintenance requirements make them an excellent choice for any agricultural operation. 
Read More About: Agriculture Steel Building
And also, don't settle for a cookie-cutter solution – make your shed one-of-a-kind with our customization option.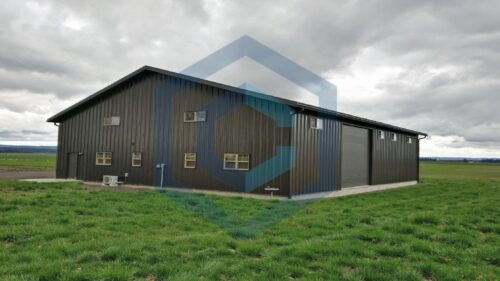 Commercial And Industrial Building
Colorado is known for its mining industry, entrepreneurship, innovation, wind turbines, telescopes, & spacecraft products, and it is also the birthplace of Techstars. At Steel And Stud, we take great pride in helping our industrialist, and commercial business owners succeed by providing them with superior (robust) storage facilities, manufacturing units, office buildings, and retail spaces. 
Not only do our commercial steel buildings contribute to the success of our clients, but they also create functional and appealing workspaces that enhance the overall productivity of their operations. 
Don't wait any longer to get the industrial metal building you need! Call us now and get your pre-fab kit ready to go.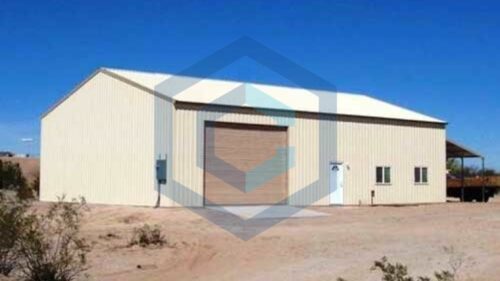 Metal Garages And Living Quarters
Coloradans, are you looking for a durable, robust, cost-effective alternative to traditional home construction? Look no further! Our 50X80 metal buildings are the perfect solution, offering a wide range of options from living quarters to the new garage (gearheads wishing to store their precious automobiles) to fancy guest houses. 
Don't waste time and money on expensive, time-consuming construction – choose a reliable and affordable solution with our metal buildings.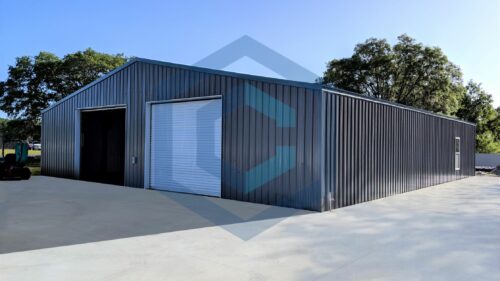 Steel And Stud - Colorado's #1 Metal Building Kit Supplier
After glancing at this heading, you might be curious about why we have been named the number one metal building kit provider in Colorado. This is due to the following reasons and the benefits that we provide:
With over

21 years of experience

in the metal building industry and an extensive list of satisfied customers in Colorado, our team has established a strong reputation for excellence. We pride ourselves on our expertise in erecting metal buildings and our commitment to delivering the best service to our clients in the shortest time frame.

Our team thoroughly understands

Colorado's metal building and zoning codes

, and we possess the expertise to ensure that all of our client's specifications are met to the fullest extent.

Steel And Stud offer metal building kits at

competitive prices

, with full transparency on what is included in the package.

To ensure the quality and longevity of your metal building structures, we offer a

20-year warranty

. In addition, we provide

40 days of artistry

for any necessary adjustments or repairs. If you have any concerns regarding your order, please feel free to get in touch with our customer service department.

All of our metal building structures are

constructed (to last)

with only the finest galvanized steel and other construction techniques to ensure they last for years.

Our prefabricated metal building kits

are energy efficient,

and the steel sheets used in those kits can

save 1/3 of the building's energy costs.

From storage to workshops, factories, industries, and even living quarters, metal buildings in Colorado are

versatile structures

that serve many purposes. At Steel And Stud, we understand that every customer has unique needs, which is why we offer the

ability to customize the specifications

of your metal building to fit your specific requirements.
Interested in learning more? Give us a call at 1-877-275-7048 today!
Be the Architect And Get Your Hands On A Customized Metal Building Kit
Steel And Stud have an intuitive interface that allows our pals (in Colorado) to place orders quickly. But before placing an order, we always recommend a few key considerations to all our valued clients.
These considerations will not only help prevent upfront costs from mounting but (will) also help you succeed with your metal building project in the long run.
Make a start by determining the

type of metal building

you require and the location where it'll be erected (thereby making the most of it).

Once the type is determined, it is necessary to select and prepare the construction site by adhering to all relevant zoning regulations, soil grading, and clearing any existing vegetation or debris.

After preparing the construction site, it is noteworthy to consider the size and layout of the metal building structure based on the intended use; for example, it could be for a garage, recreational facilities, gym, or maybe another function. Besides this, it is imperative to carefully consider the desired number of doors, windows, and other openings to ensure a cohesive and functional design.
Now that the foundation and layout of your project are in place, it's time to select the key ingredients that will make up your metal building structure:
Steel And Stud offer a diverse selection of

windows and doors

to suit your desired atmosphere,

ventilation

, and functional needs. From slimline to single-hung, dutch to french frames, we can assist you in finding the ideal solution for your project.
Also Read: Best Way to Ventilate A Metal Building
Our

cost-effective roof options

, ranging from A-frame to vertical, are built to withstand the fierce winds of Colorado, with a design capable of handling speeds up to 148 mph.

The metal used in our structures

(for steel framing)

is classified as Type 1 by the International Building Code for being

fire-retardant

. It is also resistant to pests, mold, rot, and decay, providing long-lasting durability and conservancy.

Enhance the visual appeal of your metal building structure by adding two-toned wainscoting for a polished and cohesive look.
Once the ingredients are selected:
Get in touch with Colorado's municipality department to find out what the fees will be and the process involved. 

With your tentative plans officially approved, it's time to bring your vision to life by contacting your contractor and moving forward with pouring the slab.
Note: Once the structure has been selected, you can request customizations.
To begin the exciting process of bringing your project to life, a 10% upfront payment is required. The remaining balance will be due upon completion of construction.

Upon receipt of the initial payment, Steel And Stud will promptly deliver your metal structure, complete with everything needed for a seamless assembly process ( instructions, tool kits, and all the necessary materials).

Our skilled crew will then erect the structure in line with your plans (approved by the department), ensuring that all electrical work complies with inspector requirements.
Rest assured that your project is in the hands of our experienced team, who will handle every detail with the utmost care and precision. From start to finish, we are committed to delivering a finished product that exceeds your expectations and leaves a lasting impression.
Metal Building Regulations In Colorado
By following

Colorado building and zoning codes, you can ensure the safety and security of your community, shield your valuable possessions, and provide a secure haven for your loved ones. These codes provide a roadmap for the construction and maintenance of structures, ensuring they are designed to withstand Colorado's

unpredictable weather conditions. 

Adhering to these codes is a responsible and vital step to take for the well-being of your community.

And that's what we believe, too. We know the ins and outs of the permit process and can handle all the paperwork and requirements related to building codes & fire codes, so you don't have to worry about the hassle.
Let us take care of it for you, so you can focus on your project and build the structure of your dreams.
Limitations of Steel Buildings in Colorado, and How Do Steel and Stud Overcome the Issues
Listed below are some of the potential downsides signifying why metal buildings are a terrible choice in Colorado:
Overall, it is up to you to decide whether a metal building is right for you or not. 
But in light of this looming disaster, Steel And Stud has been diligently working on a solution that preaches the needs & concerns of all Coloradans – from limited design options and noise to minimal insulation options.
Experience the benefits of working with us firsthand – reach out to us with any questions about metal structures and see the difference for yourself!
Having A Hard Time Coming Up With Cash? These Options May Help
In Colorado, you can finance your metal buildings in a variety of ways, including Banks, Mortage, Government loans, leasing, personal loans, USDA agriculture loans, credit card, manufacturing financing, Home Equity Line Of Credit, Or Home Equity loans.
However, you need to take the time to find the optimal financing option to help you reach your financial goals. It would be best if you did a comparative analysis before committing to a mode of financing.
Metal Building Longevity Tips for Coloradans
Check out the quick tips compiled by our experts regarding metal building maintenance:
Preserve the pristine appearance of your structure's exterior (

by cleaning

) with a power washer or a scrubbing pad to vacate dirt, grime, and debris.

Maintain the integrity of the metal by promptly rectifying any scratches, indentations, or fragments to prevent further deterioration.

Maintain a leak-free roof by ensuring regular maintenance.

Keep an eye on the building's foundation for any apertures or visible damage, and promptly address any repairs that may be needed.

To ensure that your metal building's insulation is in good condition, it's important to have it regularly inspected by a professional.
If you're in the market for a reliable, low-maintenance building solution in Colorado, metal building kits from Steel and Stud should be at the top of your list. These kits are made with high-quality metal (sturdy galvanized steel) that stands up to rust and corrosion and requires very little maintenance to keep them in excellent condition. 
Don't waste time and money on a subpar building option – choose your metal building kit with Steel and Stud for a durable and hassle-free structure that will stand the test of time.
Get your free quote today by calling 1-877-275-7048
Metal Building Sizes Available At Steel And Stud
Metal Building Sizes

Metal Building Sizes

Metal Building Sizes

Metal Building Sizes
We Deliver And Install Metal Buildings Across Colorado
Although the exact delivery date (timeframe) cannot be assured, Steel And Stud can provide you with an estimated timeframe of when you can expect your metal building.
| Time Frame | Delivery of Metal Building (%) |
| --- | --- |
| | |
| | |
| | |
| | |
Other Convenient Locations to Serve You.
States

States

States

States

West Virginia Metal Buildings
Frequently Asked Questions
Are metal buildings a sound investment in Colorado?
Many variables can impact the potential success of investing in a metal building in Colorado. From location and size to the intended use and market conditions, it can be tricky to clinch the best course of action without more context. However, by thoroughly researching the local real estate market or seeking guidance from industry experts like Steel And Stud, you can make an enlightened decision about whether a metal building investment in Colorado is suitable for you.
Is it more expensive to construct traditional buildings than metal ones in Colorado?
If you're building in Colorado, metal buildings are a more budget-friendly option compared to traditional buildings. This is because metal buildings tend to have lower material costs and a more efficient construction process, which can lead to lower overall costs. Plus, metal buildings require less maintenance over time, saving you money in the long run. However, it's always a good idea to compare prices and research before making a final decision. Factors like location, size, and intended use can all affect the construction cost, so it's imperative to consider all your options.
In case you haven't already, Steel And Stud have a long list of affordable metal building kits; you might want to look.
Are there any completed projects demonstrating the successful use of your metal building kits that you can provide as references?
Looking for top-quality work that's sure to impress? Just visit our website and see for yourself! We're confident our past projects will speak for themselves and convince you to choose us for your metal building needs.
What is the current cost of a steel building in Colorado?
Steel buildings are highly customizable & cost-effective, and prices can vary based on your specific needs.
Contact us now to get your metal building quote and take the first step toward making it happen!