New Jersey, the "Garden State," despite being the 4th smallest state in the country, its (dense) population is a testament to its competitive edge. The state's rich history of innovation and discovery, particularly in (the fields of) electronics, pharmaceuticals, and biotechnology research, speaks to its ongoing commitment to progress and advancement.
With significant investments in key principal industries such as manufacturing, logistics/transport, and financial services, New Jersey is a force to be reckoned with.
By actively promoting collaboration and talent development, New Jersey has set itself apart, driving its economic growth and prosperity to new heights. A staggering 33% of the nation's population can now be accessed within a day's journey, thanks to the state's robust infrastructure and the optimal location of these companies.
Steel And Stud are proud to have played a significant role in this achievement by providing convenient and efficient solutions (metal buildings) to New Jersey residents and consistently supplying industries with the most durable and resilient steel structures since 2002.
Our state-of-the-art metal building components, manufactured utilizing premium American-sourced materials, are precisely designed to withstand the rigors of nature such as:
"Steel And Stud" provide an unparalleled level of durability and longevity.
On top of this, we're not content with just supplying run-of-the-mill metal buildings. We go overhead and beyond by furnishing a one-of-a-kind, personalized service that starts with custom design and engineering tailored to each client's specific needs. And you can trust that everything we do complies with the most strenuous state standards and regulations (metal building). 
So, if you want a truly unique and cost-effective building that's built to last, you know where to turn.
Contact one of our knowledgeable sales representatives today and see the difference Steel and Stud can make.
Contact one of our knowledgeable sales representatives today and see the difference Steel and Stud can make.
New Jerseyans Unleash The Full Potential Of Your Property With Expert Metal Building Solutions
The search for a truly exceptional (affordable) metal building solution (by every individual) in the New Jersey market ends here. 
At Steel And Stud, we pride ourselves on offering unparalleled options for any purpose, whether agricultural, industrial, commercial, or residential. Our unwavering commitment to excellence is evident in every facet of our metal building designs and construction.
Agricultural Metal Buildings
In the highly competitive arena of New Jersey's economy, the agriculture industry holds its own among powerhouses such as pharmaceuticals and tourism, raking in billions of dollars in revenue. But we don't rest on our laurels. We strive to excel. 

The state boasts an impressive array of over 100 different fruits. As a leading supplier of agricultural infrastructure, we understand the importance of ensuring these precious crops are shielded and preserved with the most resilient and robust structures.

That's why our steel agricultural buildings are designed (not only) to meet but exceed industry standards. And with the added versatility of (being able to) customize our buildings (into sheds or barndominium) to accommodate livestock, tools, and other equipment, we provide our clients with a truly comprehensive solution to their agricultural needs. Outshine the competition with our state-of-the-art structures.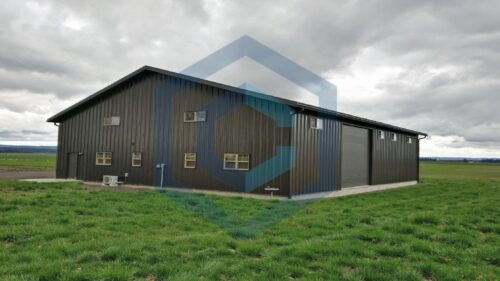 Commercial And Industrial Metal Buildings
As evidenced by the recent trends in the industries of New Jersey, including pharmaceuticals, information technology, and financial services, there is a growing need for spaces that can sustain business operations despite any challenges that may arise, including those posed by Mother Nature. 

Our

 

pre-engineered and commercial metal buildings are specifically designed to meet these needs, offering superior durability and resilience against elements such as rot, fire, and decay.
These metal structures are suitable for businesses of all sizes, including offices, factories, industrial units, & other structural units. They are thus the ideal solution for ensuring the continuity of operations.
You can Read Also: Metal Building Office Ideas To Surprise You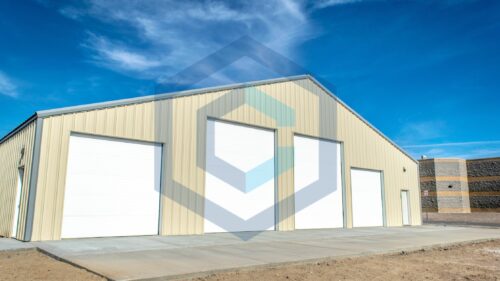 Storage And Warehouse Facility
Unlock the full potential of your storage capabilities with our cutting-edge

40X100 metal building warehouse

and storage buildings. Designed to cater to the demands of the USD 43.17 billion logistics industry, these structures offer unparalleled solutions for efficiently storing goods and products.

But that's not all; our structures are also engineered to meet industry standards for the safe storage of chemicals manufactured in chemical manufacturing facilities, ensuring compliance and peace of mind.
Boost your storage game with our versatile and advanced solutions.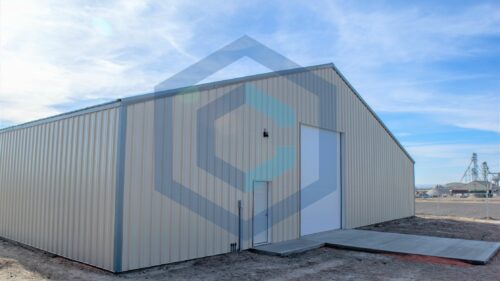 Metal Garage And Residential Building
We at "Steel And Stud" are the undisputed leaders in providing the most advanced and competitive metal-building solutions in the New Jersey market. Our

50X50 steel garage

is the ultimate option for savvy property owners who recognize the importance of security in today's world. According to the

latest statistics

, there have been 14,300 reported vehicle thefts in New Jersey, and our metal garages are designed to provide maximum protection for your valuable automobiles. Furthermore, they can also be customized with state-of-the-art security features such as cameras, fencing, and alarm systems.

But our expertise doesn't stop there. Our residential buildings are the epitome of durability and cost-effectiveness, offering a superior alternative to traditional home construction. We can surpass even the most exacting standards with a wide range of options available, from functional living quarters to opulent guest houses.
Read Also: Metal Buildings with Living Quarters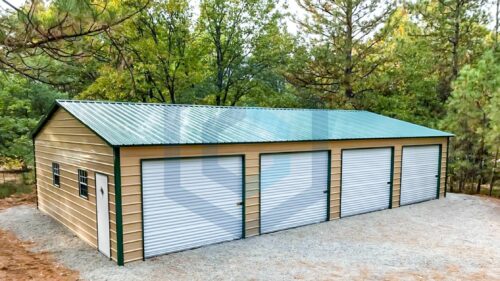 Trust in our unwavering commitment to excellence and elevate your property to new heights with Steel And Stud.
Contact Us at 1-877-275-7048 or Visit Our Website today to learn more!
Experience the Benefits Of Choosing Steel And Stud - The Leading Metal Building Kit Manufacturer In New Jersey
⭐As a discerning individual in the market for a metal building in New Jersey, you demand the very best in terms of experience, expertise, and commitment to delivering unparalleled quality. 
⭐ "Steel And Stud" stand at the forefront of the industry, boasting over two decades of expertise and an impeccably experienced crew, all of whom are dedicated to providing the highest level of service to you (our valued clients) in The Garden State. 
⭐ With a vast number of satisfied customers, our unwavering commitment to excellence is evident in every aspect of our work, from our unparalleled metal building construction to our industry-leading after-service, which includes a 50-day structure guarantee and a 40-day artistry guarantee.
⭐ Beyond our commitment to quality, "Steel And Stud" also possess a deep understanding of metal building codes and zoning regulations, ensuring that all of our client's specifications are met and that no one is left disappointed. 
⭐ Our metal buildings are built to last, constructed from robust, resilient, galvanized steel that can withstand the detrimental effects of Mother Nature at a competitive price point while also being fully transparent in terms of pricing and materials.
⭐ But that's just the beginning. Our metal buildings are also energy efficient, utilizing metal sheets that help save 1/3 of the energy cost. 
⭐ They are also highly versatile, capable of serving a variety of purposes, from factories and warehouses to any other structure you can imagine. 
⭐ Additionally, we also offer unparalleled customization options, allowing you to tailor your metal building to your exact needs and preferences. From doors and windows (including Vinyl, aluminum, slimline, and more) to wall panels, insulation, and roofing (including shed roofs, gable designs, and arched roofs), we offer a wide range of options to choose from. 
You Can Also Explore: Metal Building Windows
⭐ And with a vast array of color options, you can elevate the aesthetic look and appeal of your metal building to new heights.
In short, when you're scouting for the ultimate in metal building construction and customization, Steel And Stud stands out as the clear leader in the industry. Our unmatched experience, superior expertise, and unwavering dedication to excellence make us the go-to choice for discerning individuals throughout New Jersey and beyond. Trust us to exceed your expectations and deliver results that are second to none.
Metal Building Regulation In New Jersey
In Garden State, the construction and safety of metal buildings are held to the highest standards. The codes and regulations put in place by the state, such as:
Are (not only) designed to ensure structural integrity and conformity to laws and regulations but to safeguard the community's well-being.
At "Steel And Stud", we are the premier experts in navigating and mastering these codes and regulations. Our unparalleled understanding of these codes allows us to exceed expectations, leaving our competition in the dust.
Trust in our expertise and experience to elevate your property to new heights of excellence & safety and dominate the rival with a building that stands out from the rest.
Acquire Your Metal Building With Ease Through These Financing Options
Obtaining a construction loan in New Jersey can be a competitive endeavor, as there are numerous financing options available to suit different financial situations. However, it is crucial to carefully evaluate your financial goals, conduct thorough research, and compare interest rates before making a decision. From Personal loans, USDA agriculture loans, and manufacturing financing to credit cards, banks, mortgage loans, leasing, government loans, and home equity lines of credit or home equity loans, the options are plentiful.
But with the right strategy and support, you can secure the perfect financing solution for your project. 
At Steel And Stud, we stand ready to assist you every step of the way, ensuring that your financing needs are met, and your project's success is secured.
Don't let this opportunity slip by – assert your dominance in the construction industry and take charge of your project today.
Get Your Hassle-Free Metal Building Structure With These Simple Steps
Procuring a metal building structure from Steel And Stud is a straightforward process. All you have to do is follow these steps:
1️⃣ To commence the process, it is essential first to determine the specific type of metal building required and its intended location on your property to optimize its utility.
2️⃣ Subsequently, it is vital to ensure that the construction site adheres to all relevant metal building regulations, including grading of the soil, removal of any trees or debris, and the absence of any utility lines.
3️⃣ Once the site has been prepared, it is necessary to determine the building's size, budget, and structure based on its intended usage, such as for a garage, barn, living area, gym, or small cafeteria.
4️⃣ Additionally, attention must be paid to the number of doors, windows, and insulation options (such as fiberglass, loose-fill, blown-in insulation, reflective insulation, radiant barrier, and spray foam) to guarantee proper ventilation and enhance the aesthetic and functionality of the space over time.
5️⃣ After the project site has been decided, it is imperative to contact the local building department for information on fees, metal building processes, and other relevant details.
6️⃣ Once tentative plans have been approved by the local building department, the next step is to contact a metal building contractor and have the slab poured.
Note: You can customize your metal building (after selection) to fit your exact needs and outdo the competition.
7️⃣ For the order to be initiated, a 10% deposit must be paid to the contractor, and the remainder will be due upon completion.
8️⃣ Upon receipt of the deposit, Steel And Stud will deliver the metal building kit, including instruction manuals, necessary tools, and materials.
9️⃣ Our crew will then assemble the structure according to the plan, including proper electrical work, and ensure that it meets the inspector's expectations.
Elevate Your Game: Master The Art Of Metal Building Maintenance With These Expert Tips
In today's competitive market, it's essential to have a premium quality metal building that can withstand the test of time and perform at its highest level. 
For this to happen, a meticulous maintenance strategy must be implemented. And our team of experts has formulated a comprehensive list of best practices to maintain your metal building in New Jersey, such as:
Utilize pressure washing or scrubbing methods to maintain a pristine exterior surface consistently.

Swiftly address cosmetic blemishes such as chips, dents, or scratches to prevent further deterioration.

Regularly inspect the roof for leaks or deterioration and address them instantly.

Scrutinize the building's foundation for signs of weakness and address them promptly.

Ensure that the gutters and downspouts are functioning effectively to avert water damage.

Apply rust-inhibiting paint to metal surfaces to extend the building's lifespan and preserve its aesthetic appeal.
Read Also: How to paint a metal building 
The consistent maintenance of optimal ventilation levels within the structure prevents the accumulation of moisture, a primary cause of rust.

Advanced insulation methods ensure temperature regulation within the building and eliminate condensation.
Read Also: How to Insulate An Existing Metal Building
Regular inspections and monitoring for potential infestations of pests, such as rodents and insects, are crucial in preventing damage and maintaining a sanitary environment.
Our metal building kits are constructed with top-quality, rust and corrosion-resistant metal and come with a 20-year warranty, exemplifying their durability and minimal maintenance needs. They are an astute choice for a low-maintenance, durable building solution in New Jersey.
Discover the possibilities and take the first step toward your dream metal building. Contact Steel And Stud for a free, no-obligation quote.
Let's bring your vision to life!
Metal Building Sizes Available At Steel And Stud
Metal Building Sizes

Metal Building Sizes

Metal Building Sizes

Metal Building Sizes
We Deliver And Install Metal Buildings Across New Jersey
Newark,Jersey City, Paterson, Elizabeth, Lakewood, Edison, Woodbridge, Toms River, Hamilton township, Trenton, Clifton, Cherry Hill, Brick, Camden, Bayonne, Passaic, East Orange, Union City, Franklin township, Middletown, Old Bridge, Gloucester, North Bergen, Vineland, Piscataway, Irvington, Union township, Hoboken, Jackson, Parsippany-Troy Hills and many more.
Estimated Time Frame For Metal Building Delivery In New Jersey
We understand the essence of timely delivery regarding your construction projects with Steel And Stud. While we cannot make a definitive promise on the delivery dates of our metal buildings in New Jersey, rest assured that we are doing everything in our power to get them to you as soon as possible. 
We can provide an approximation for the anticipated delivery duration, but we always strive to beat that estimate and get your building to you even sooner. Trust in our commitment to excellence and timely service.
| Time Frame | Delivery of Metal Building (%) |
| --- | --- |
| | |
| | |
| | |
| | |
Other Convenient Locations to Serve You.
States

States

States

States

New Jersey Metal Buildings

West Virginia Metal Buildings
Frequently Asked Questions
Which option is more cost-effective: building a metal building or purchasing one?
Compared with traditional construction methods, steel buildings are usually half the price and half the time to erect. As a result, labor costs and construction delays can be reduced.
What is the typical cost associated with constructing a 60x100 steel building?
The price of a 60×100 steel building (6,000 square feet) ranges from $54,000 to $78,000. For a more accurate estimate, contact one of our sales representatives.
Is constructing a metal building more cost-efficient than using a block?
Yes, constructing a metal building is more cost-efficient than using a block structure.
What is the standard cost range for a 40x100 metal building?
The price of a 40×100 steel building (4,000 square feet) ranges from $40,000 to $45,000. For a more accurate estimate, contact one of our sales representatives.
What is the approximate capacity for vehicles in a 40x60 metal garage?
There is enough room for three cars in a 40X60 metal garage.
What minimum dimensions are necessary for a garage to accommodate two cars?