Welcome to North Carolina, where the pulse of industry beats strong, and businesses are always searching for new solutions. The challenge of finding the perfect type of building structure is familiar, but with harsh weather conditions and a need for versatility, the answer is becoming more evident.
Metal structures are the answer, and Steel and Stud lead the way. We specialize in creating pre-engineered metal building (carports, garages, RVs, warehouses, conference rooms, and even cosy metal buildings with living quarters), offering the ideal combination of resilience, versatility, and affordability. From automotive, plastic, and manufacturing companies to farmers, ranchers, and homeowners, our metal buildings have been used across diverse industries, providing solutions for all.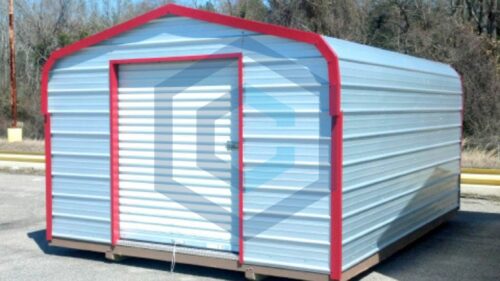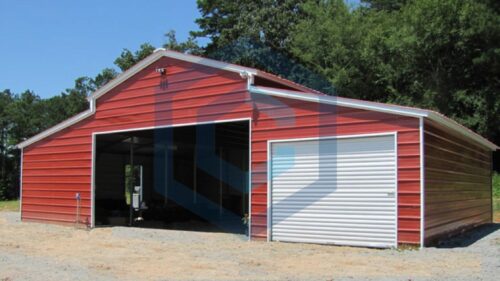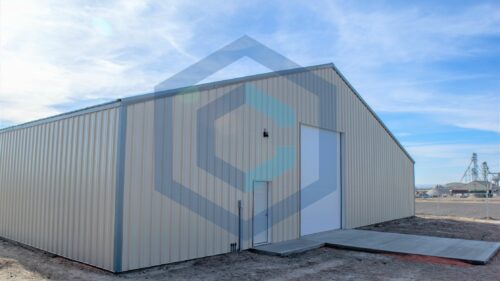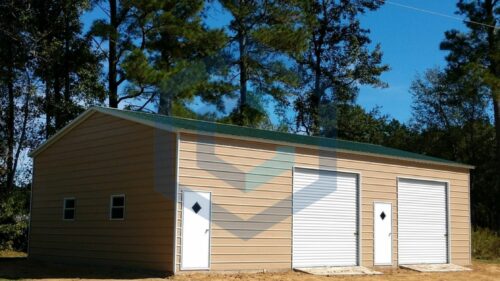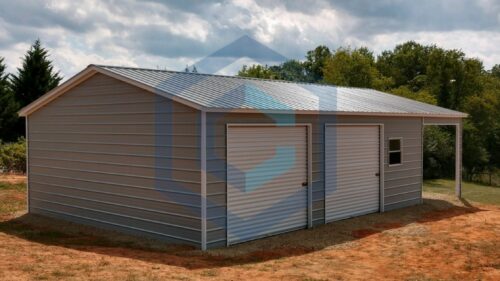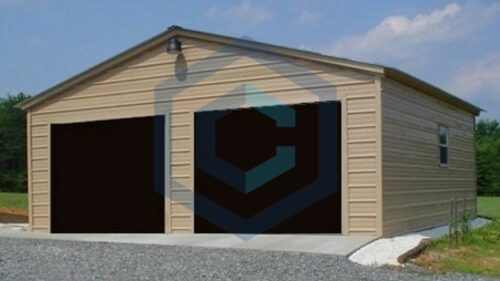 At Steel and Stud, we don't just build structures; we craft works of art. Our metal buildings come in multiple dimensions, styles, and designs, designed to bring your vision to life. Whether you mandate a basic metal shed or a sophisticated workshop, our versatile structures are designed to meet your unique requirements.
We understand the cost that goes into building a traditional structure, and our company offers the perfect alternative. Whether you need a metal building for business or for offices, we have the right steel building kits for you. Getting started in a new business or expanding the one you have takes extra room you might not have. When you're in need of addition room fast, we have the perfect metal buildings for sale in North Carolina.
New churches or auto shops can expect to be up and running in their new prefab metal building in no time. We are committed to our customers 100% and we offer free shipping and installation to get the job done even faster. We know you need a metal building kit fast and there is no one faster in the business. When you call our company we can offer a metal building quote over the phone from a professional. All of our metal building prices are inexpensive to help you get your steel shop faster. We have many structures cheap, so you don't have to worry about the same type of expenses you would with a traditional structure.
We understand many new churches and business can hit a growth period where they need additional room fast, and that is why our metal building designs in North Carolina are the perfect fit. From metal barn buildings to homes for sale, we have an amazing variety of sizes and metal building colors to choose from. We have steel warehouses that are smaller or commercial steel buildings for sale in North Carolina that are large, depending on your exact needs, whether they are short-term or long-term.
We would love to hear from you about what you're dreaming of in a metal building kit for sale and we stand by our customers through the entire process. If you're not sure what type of metal building you need or what style, we have professionals that work with you to make sure you get what you want. Our customer service is top notch and we value each and every customer. We would love to hear from you and help your church or business at any time.
Revolutionize Your Construction Game With "Steel & Stud" Metal Buildings: A Guide To Types and Benefits
Steel and Stud delivers a value-driven solution for metal building needs in the commercial, farming, and urban sectors, emphasizing economic viability and energy efficiency. Our metal building kits are known for their simplicity of assembly and adaptability, allowing for customization to meet the unique requirements of our clients' projects regardless of the size and type of building.
Now let's delve into the vibrant industry of North Carolina, where we proudly deliver our top-notch metal buildings.
Agricultural Metal Buildings
With the flourishing agriculture industry contributing a staggering $72 billion to North Carolina's economy and its status as a leading producer of soybeans, tobacco, and sweet potatoes, it's imperative to have secure storage solutions for the abundance of harvested products, legumes, feed, and equipment.
Pole barns, loafing sheds, silos, feed storage, and riding arenas (made from top-notch galvanized steel and red oxide) are:
The ideal solution for farmers.

Offering unparalleled strength, durability and protection from the elements.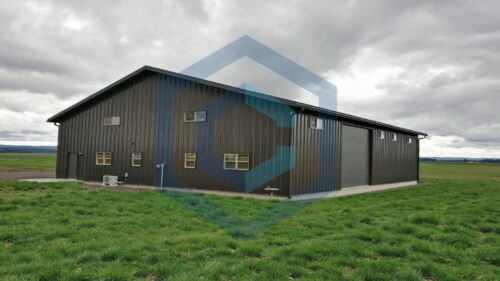 And for those seeking to optimize their property and make the most of their functional space, a steel and stud lean-to building can be attached to their existing residential building, providing a convenient and practical way to accommodate the animal. This way, farmers can rest easy knowing that their livestock is protected and secure without sacrificing valuable land or square footage.
Industrial Metal Buildings
Imagine a world where industries never skip a beat. Where machinery, tools, and equipment are always ready, housed in structures designed to protect and preserve them for years to come. 

Welcome to the world of mega-sized metal buildings! These towering behemoths –

100×100 metal building with recreational facilities

,

80×80 warehouse metal buildings

, crane buildings, and even

75×100 steel manufacturing facilities

– are (not only) strong enough to withstand the test of time but

also energy efficient

. 

So, whether you're in the aerospace industry, manufacturing, biotechnology, IT, or any other field that requires heavy machinery, tools, and equipment to be in constant use, these metal marvels are the perfect solution. Imagine the peace of mind that comes with knowing your assets are safely stored and ready to (be put to) use at a moment's notice. 

It's a world of endless possibilities, all thanks to these magnificent structures.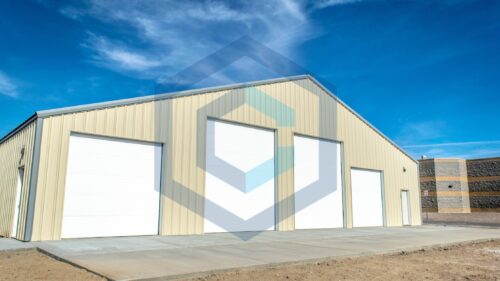 Commercial Metal Buildings
Imagine a galvanized metal building that is non-combustible, rot and decay-resistant, and where your valuable assets are always guarded against the forces of nature. Where rain, dust, and rust can no longer threaten the integrity of your inventory, supplies, and components.

A world where you can rest easy knowing that your investments are safe and secure, protected by structures made of the most robust and durable materials. Welcome to the place of heavy gauge galvanized steel metal buildings! 

These towering fortresses, forged from steel that has been treated to withstand the test of time, offer a haven for your assets.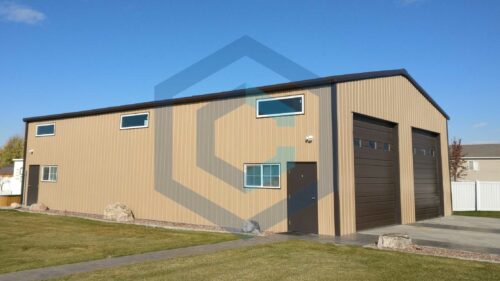 Unlock the full potential of your recreational lifestyle with the latest and greatest

roof types

for your garage, helicopter hangar, or carport. 

Say goodbye to dull and drab storage solutions and hello to a space that combines both style and function. 

Your boats, aircraft, RVs, and other prized possessions will be protected in a structure that's not only practical but also visually stunning. 
But wait, there's more! Transform these storages into a personal wellness oasis with yoga, music, art, or dance. The possibilities are endless with little maintenance; these versatile structures offer you the chance to elevate your recreation and leisure to new heights.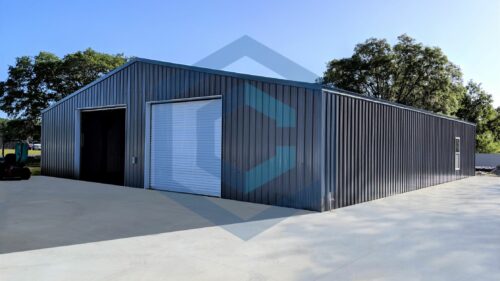 Metal Building Regulation In North Carolina
Having made a well-informed choice regarding the site and specification of the metal building to be installed, ensure that you have authorization from the North Carolina zoning department for your floor plan. These are some of the North Carolina Building codes that residents must follow:
Available Metal Building Financing Options
At Steel And Stud, we understand that budget can be a concern. That's why we offer cost-effective, affordable metal barns and flexible financing options to help our clients achieve their purposes. Whether you need a- 
Personal Loan 

Private Lender 

Credit Card 

USDA Agriculture Loan 

Bank

Manufacturing Financing 

Mortgage

Government Loan

Leasing

Home Equity Line Of Credit Or Home Equity Loan 
we'll help you find the best financing option that fits your debt levels, credit score, and DTI ratio.
Order Your Customizable Metal Building With Convenient Finance Solutions
Now ordering your metal building with Steel And Studs in The Tar Heel State is as easy as pie:
It begins with determining the

type of metal building

that suits your needs and the location that will maximize its potential.

With your vision in mind, it's time to prepare the construction site for the big build. From adhering to building regulations, &

leveling of land

to grading the soil and excavating if necessary, ensure that every step of the process is taken care of to ensure a seamless and smooth build.

Once the construction site is cleared, its time to set the budget, layout, purpose, and size of your metal building structure based on the intended use; for instance, whether you want to optimize the space for storage or provide security for supplies, automobiles, or livestock by covering the open area.

And so, the journey to building your dream metal structure begins with a crucial step – contacting the local building department to submit your tentative plan and gather all the necessary information on the

metal building process,

fees, and regulations. 

With your essential components in place and tentative plans (at hand), you are ready to take the next step.

As the plans are approved

(which include your windows, doors, walls, ventilation outlines, roofs, shelves, or other details regarding the interior)

, it's time to reach out to your trusted metal building contractor and prepare the foundation with a concrete slab. 

With a payment of 10% of the total cost, the order is set in motion.

In no time, "

Steel And Stud

" will dispatch your metal building kit, complete with all the necessary tools, materials, and a comprehensive DIY manual. And with the help of our expert crew, the metal building installation process will commence, ensuring that your structure is built to the highest standards and meets the inspector's approval.
Customization Options With Steel And Stud
Ah, the moment has finally arrived! You've completed the preliminary steps, and now it's time to select the defining elements of your metal building structure. "Steel And Stud" offer a treasure trove of designs and specifications (to choose from), each more impressive than the last.
As you peruse the available options, you'll find (a wide) array of door possibilities, including the sleek, versatile L, B, T, series and many more. And don't forget about the windows! With options like self-framing, vinyl, single-hung, and horizontal sliding, you'll be able to find the perfect fit for your building's style and functionality.
Then, when you thought it couldn't get any better, Steel And Stud also present a range of roof types, gauges from 14-38, panel choices, and a stunning array of colors to choose from, with a dozen different hues to pick from. But wait, there's more! The icing on the cake is the variety of insulation options, such as fiberglass, blowing wool, spray foam insulation, foam board, and mineral wool.
Read Also: How to insulate an existing metal building
So, if you're looking for a reliable and trustworthy manufacturer of metal building structures in North Carolina, look no further than Steel and Stud. Our commitment to providing the highest quality products and the best possible customer service makes us the ideal choice for all your metal building needs.
Metal Building Sizes Available At Steel And Stud
Metal Building Sizes

Metal Building Sizes

Metal Building Sizes

Metal Building Sizes
We Deliver And Install Metal Buildings Across North Carolina
 Charlotte, Raleigh, Greensboro, Durham, Winston-Salem, Fayetteville, Cary, Lexington, Mount Airy, Asheboro, Fayetteville, Hickory, and many more.
Although the exact delivery date (timeframe) cannot be assured, Steel And Stud can provide you with an estimated timeframe of when you can expect your metal building.
| Time Frame | Delivery of Metal Building (%) |
| --- | --- |
| | |
| | |
| | |
| | |
Other Convenient Locations to Serve You.
States

States

States

States

North Carolina Metal Buildings

West Virginia Metal Buildings
Frequently Asked Questions
How much do shipping and handling metal building kits in North Carolina cost?
The shipping and handling cost for metal buildings vary based on location. For a specific estimate of the charges in North Carolina, Please Contact Us.
What is the cost of installation services provided by Steel and Stud?
"Yes, you can request onsite installation services when you place your order for metal building kits with Steel And Stud. On average, erection costs are around $4-$8 per square foot, but we are pleased to offer our pals a terrific deal on these costs.
Is there anything else to consider besides the price listed on the website when buying a metal building kit online?
When contemplating the acquisition of a metal building kit, it is imperative to consider any tax liabilities imposed by the North Carolina local government.
Does the company offer a return policy if a customer is dissatisfied with a product?
Our pals can experience peace of mind with our unwavering guarantee of satisfaction. Yet, if you're not delighted with your purchase, simply return it within three days of delivery, and we'll take care of the rest.
Can your metal building kit be tailored to fit my unique needs?
The answer is a resounding yes! Our highly adaptable designs allow us to customize every aspect to match your requirements perfectly.