Situated in the Northern Appalachian region, home to the state's first commercial vineyard (also called snow vineyard) and a popular vacation spot for millions of tourists who flock each year to see the leaves altering colors in fall, Vermont is known for its lush green mountains, & old-fashioned culture. At the same time, it has its fair share of extreme weather events and brutal winters that add a cheery element to its charisma.
As a result, Vermont residents (homeowners, business owners, or farmers) have to suffer from gale-force winds, severe 89 inches of snow, and torrential rains (which can sweep away any wooden buildings if they happen to be in their way).
This is why many Vermonters are increasingly switching from traditional buildings to metal buildings (for the sake of saving their family, possessions, and valuables). Structures made of metal are crafted in such a way that they are capable of enduring high winds (over 85 miles per hour) as well as severe thunderstorms.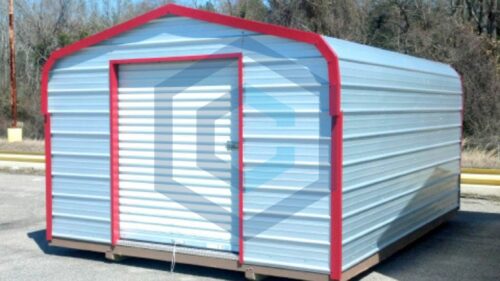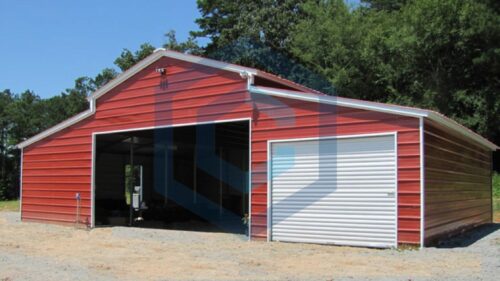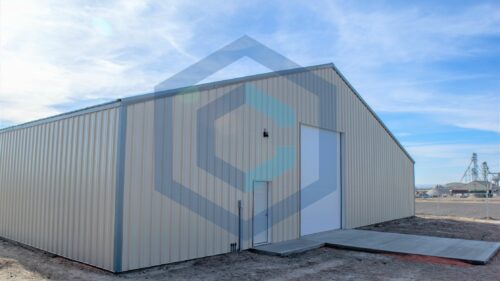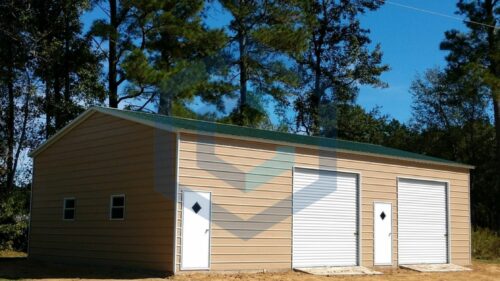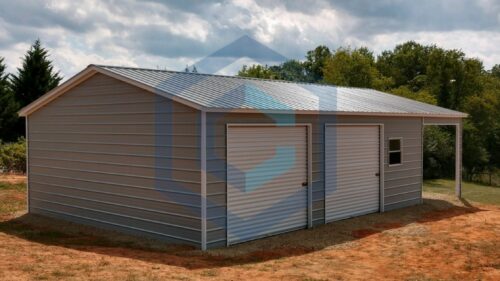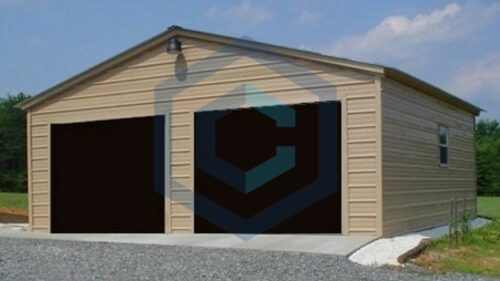 So if you have made up your mind, there is no better time than now to explore the potential of metal buildings for sale in Vermont.
Call now and speak with one of our sales representatives to find out the exact details of the metal building installation process. You can count on us to help you in any way possible, and we will do our best to make it happen.
Complete Your Vermont Metal Buildings Needs with Steel and Stud Covering
Commercials And Worskshop Buildings
Commercial Steel buildings

are an excellent choice for small business owners and retailers looking for a durable, versatile, and customizable space to set up their retail storefronts, restoration shops, greenhouse, or other types of businesses.

In contrast, if you're a hobby enthusiast or would like to do a variety of trades, such as carpentry, mechanics, or blacksmithing, then Steel and Stud's workshop building is the perfect option for you.

This metal structure will enable you to turn your hobby into a passion with an aesthetic design that will make your extra workshop unit look like it belongs inside your home.
Gone are those days when metal buildings were only used for carports or garages. In 2023, metal buildings are so versatile and adaptable that you can transform them into fully furnished residential dwellings.

So, whether you are looking to build a guest room (for enjoying the lush greenery), or perhaps you desire to build a killer man cave in your backyard, Steel And Stud's metal building with living quarters is what you should choose.
Metal Buildings For Agriculture
Ideally, for a Vermont farmer, you may be thinking about investing in an agricultural metal

barndominium

to shelter your harvested products, livestock, horses, and equipment.

Metal sheds

and barns are ideal choices (for residents) in cases with limited space available.

Our metal barns and sheds

are available in numerous sizes to safeguard your agricultural equipment, harvested products, and livestock against unforeseen weather conditions.
Utility buildings from Steel And Stud are an excellent means to store your maple syrup and valuable items (whether a lawn mower, gemstone collection, antiques, or chandeliers).

Buildings of this type have been designed in such a way that they can withstand the conjure of the elements that mother nature throws at them.
Metal Building Factories And Warehouses
In Vermont, if you are a business owner and connoisseur, you need extra factory space (for wine production) or a warehouse to meet the growth of your business. 

Metal building factories and warehouses from Steel And Stud are ideal choices for connoisseurs and business owners due to their extra space, cost-saving features, and flexibility (they offer) in adapting to their business needs.
Let's say for a moment that you have a substantial outdoor space in your backyard, and you would like to design it (in such a way) that it can accommodate a garage or a carport. 

Our metal building options allow you to blend the extra unit (garage) seamlessly into your home's exterior design while maintaining its distinctive look.

Furthermore, these metal garages not only have adaptable designs but feature the capability to be customized by accommodating doors, purlins, roofs, windows, and walls, which will inevitably enrich the garage's usability, functionality, and aesthetic appeal in the long run.
Call at 1-877-275-7048 today to learn more!
Benefits of Buying Metal Buildings in Vermont
In light of the above, it is evident that structures in Vermont need to be robust enough to withstand its unpredictable and drastic weather. As a result, it is beneficial to install metal buildings from Steel And Stud for a variety of reasons, such as:
Metal buildings from Steel And Studs are known for their durability and can withstand harsh weather conditions such as heavy snowfall and strong winds. 

These qualities make them ideal for our pals in Vermont, as they don't get rot and can endure the test of time.
Metal buildings require very little maintenance compared to traditional buildings because they do not have to be coated often, are non-flammable, and are much easier to clean than conventional buildings. 

This will, in turn, save you time and money in the long run as an outcome.
The reflective properties of metal keep interiors cool in the summer (81.4 °F) and warm in the winter (-16 °C), thus making them energy-efficient.

This helps you save money on your energy bills and reduces your carbon footprint.
Metal buildings in Vermont serve numerous purposes, including storage, workshops, factories, infrastructure, and even living quarters.

With Steel And Stud, you can customize them according to your prerequisites.
Metal buildings are more cost effective than traditional buildings as they require fewer materials and crew to construct them, making them more valuable. 

The upfront costs decline, and the building's lifetime is prolonged.
Also Read: Metal Building Price
Some of the Problems Metal Building Owners Face in Vermont
Some of the reasons why one might not choose a metal building in Vermont include the following:
Overall, deciding if a metal building is suitable depends on your requirements. While they offer many benefits, some may have better choices due to their limits and drawbacks.
"With this impending disaster in mind, we've been working on a solution that addresses all of Vermonters' concerns- from price to maintenance to aesthetics.
"Don't just take our word for it – contact us with any metal structure queries and see for yourself!"
Customizable Steel Buildings in Vermont
As a valued customer at Steel And Stud, you have the opportunity to create a metal structure that is uniquely yours. Our team of design experts offers a wide array of designs, roof styles, sizes, colors, insulation, and other customization options (to choose from), allowing you to create a structure that meets your exact specifications."
We at Steel And Stud specialize in delivering and installing metal buildings tailored to your needs. Whether you require a structure 70 feet wide or even larger, you can count on us to make it happen. Plus, you can customize the height and length of the building to suit your requirements. So, how big are you interested in? How big is it needed?
In Vermont, metal buildings often feature popular roof designs like gable roofs (two sides that slope down towards the ridge) or single-slope roofs (one slope at the front and back). These roofs often have a slope that is expressed as a ratio, for example, a 6:12 slope, which means that the roof rises 6 inches for every 12 inches of horizontal distance.
As a leading metal building manufacturer, we are intimately familiar with local building codes and regulations and can ensure that your metal building meets them.
Doors, Windows, And Panels
Make your custom-enclosed building by adding panels, different windows, or an open-air cover. 

And what are your preferred points of access? They can be placed anywhere you want, and we offer a wide range of door and window options (for proper ventilation

) to choose from.

All that stands between you and your dream metal structure is the limit of your imagination.
Trim, Anchors, And Gables
You can add adorning gables (used for exceptional water drainage) on either side and if you like, you can count J-trim on your panel edges to cover up any imperfections. 

Regardless of your foundation type, we have an assortment of anchor options that will work with any foundation type.
Simple Steps To Order Your Metal Building With Steel And Stud
We always encourage our customers that it is essential to take into account various design and planning factors before placing an order with us to ensure that your metal building meets your needs and falls within your budget.
By taking these considerations (factors) into account from the outset, the overall success of the metal building project can substantially improve.
First, identify the type of metal building that meets your needs, and then choose a location on your property that will maximize its benefits.

Once you have determined the

type of metal building

, prepare the site for construction by ensuring that it complies with zoning requirements and that any necessary clean-up or excavation work is completed.

After preparing the site, it is crucial to determine a budget for your metal building project. The funding and how much equipment, conveyances, or other items you are planning on stowing inside the building, will influence the size and layout of the building.
Note: Whenever you are in the planning phase of your metal building in Vermont, consult an experienced metal building manufacturer or supplier who is familiar with local zoning codes and can assist in developing a plan that satisfies both your requirements and regulatory standards.
Contact your local municipality department and ask them for fees and other details. 

Once the departments approve your tentative plans, contact your contractor and have the slab poured.
Note: "Your metal building can be tailored to fit the specific needs of your business or work once it has been "selected."
To initiate the project (order), payment of 10% is required upfront, with the remainder to be paid upon completion of construction.

Upon receiving the 10% payment, Steel And Stud will deliver your metal building kit (supplied with the instruction manuals and the materials required).

Upon delivery, our crew will assemble the structure following your plan, including proper electrical work, and ensures it meets the inspector's standards.
Building Regulation For Metal Buildings In Vermont
The construction of metal buildings in Vermont must adhere to certain regulations specific to the construction of metal buildings and other types of buildings.
In Vermont, zoning regulations govern the use of land in various regions of the state. When erecting a metal building, it may be necessary to obtain a zoning permit from your local municipality to confirm that the construction of the building is permitted at the chosen location.
Vermont follows the International Building Code (IBC 2015), a code that outlines standards for:
Building design

Construction &

Maintenance
These codes must be followed when designing and erecting a metal building in Vermont.
Vermont has rigid structural requirements for metal buildings.
These requirements dictate the following:
Size and spacing of

structural members

Type of materials that can be used & 

The load-bearing capacity of the building
Electrical And Plumbing Codes
Vermont has codes that govern electrical and plumbing installations in buildings.
These codes address matters such as :
The positioning of outlets and fixtures

The materials that can be utilized & 

The essential safety features
Our metal buildings strictly adhere to Vermont's building codes. Our professional team has extensive experience obtaining necessary permits and ensuring compliance with all local and national regulations. With our assistance, you can trust that your metal building project will meet all the requirements.
Contact us today to learn more about how we can help you build a safe and code-compliant metal building in Vermont.
Financing Options For Metal Buildings in Vermont
Comparison and evaluation are essential steps in selecting the best financing option.
Maintenance And Repairs For Metal Buildings in Vermont
When it comes to maintaining a metal building in Vermont, it is advisable to perform basic maintenance tasks regularly. While these metal structures generally require minimal upkeep, a few simple measures must be taken to preserve their condition.
Keep the exterior of the

metal building clean

by power washing or scrubbing regularly.

Make regular roof inspections to check for leaks or damage and repair them if necessary.

Please assess the foundation of the building for any cracks or other indications of damage, and address any necessary repairs.

Maintain the gutters and downspouts in proper working condition to prevent water damage.

Ensure proper ventilation of the building to prevent moisture accumulation and potential rusting.

Properly insulate the building to prevent condensation and maintain a consistent temperature.
Check Also: How to Insulate Existing Metal Building
Implement appropriate measures to control and prevent infestations of insects and rodents.

Please adhere to our recommended maintenance procedures, including inspecting for wear and tear on moving parts and lubricating as needed.
Overall, proper maintenance and timely repairs are essential for preserving the condition and extending the lifespan of a metal building in Vermont. Investing in the upkeep of your structure can safeguard your metal building and ensure that it remains in good condition for years to come.
Regardless of the type of metal structure you need (considering the unpredictable weather in Vermont), we have the expertise to answer all your questions and determine if a metal building is suitable for your industry.
We prioritize customer satisfaction and provide the best possible service at Steel and Stud. In addition to offering competitive pricing and a 20-year warranty on all our metal buildings (made with materials sourced from American suppliers), we also provide free delivery and installation. Contact us today at 1-877-275-7048 for a no-obligation quote and experience the benefits of working with a customer-focused company.
Metal Building Sizes Available At Steel And Stud
Metal Building Sizes

Metal Building Sizes

Metal Building Sizes

Metal Building Sizes
We Deliver And Install Metal Buildings Across Vermont
Although the exact delivery date (timeframe) cannot be assured, Steel And Stud can provide you with an estimated timeframe of when you can expect your metal building.
| Time Frame | Delivery of Metal Building (%) |
| --- | --- |
| | |
| | |
| | |
| | |
Other Convenient Locations to Serve You.
States

States

States

States
Frequently Asked Question
Is it cheaper to build or buy a metal building?
The cost-effectiveness of building or buying a metal building will depend on various factors, such as the size and complexity of the structure, the materials used, and the location of construction.

Purchasing a pre-fabricated metal building

from a reputable seller may be a more economical option,

but erecting a metal building

from scratch could save you money if you have the required skills and resources, such as discounted materials.
What is the most economical metal building size?
For farms and sheds: 30X30 metal building

For workshops and garage: 30X60 metal building

For churches and commercial centers: 50X50 metal building
Is a metal building cheaper than a block?
Yes, a metal building is cheaper than a block and brick wall.
Are metal barns cheaper than wood?
Yes, metal barns are less expensive than wood ones. Get more information by speaking with our executives.
How much does a steel building cost in VERMONT?
The cost of a metal building is influenced by various factors, including:
Customization options 

The location where the building will be installed &

The dimensions of the building
In general, these factors can all affect the final building price. Get in touch with us for a more accurate estimate.