Residents of Massachusetts must be proud to call themselves lucky because they live in one of the best states in the United States. With a top-notch economy, sound education system, affordable cost of living, robust health system, safe communities, and overall high quality of life, it's no wonder Massachusetts continues to thrive. And regarding business and industry, the pre-engineered metal buildings in Massachusetts are a significant reason for the state's economic success. With a Gross Domestic Product that reached a whopping 693,130.5 million US dollars in the 3rd quarter of 2022, it's clear that the metal buildings in Massachusetts are not only cost-effective, but they also serve as a robust and sustainable solution for businesses and industries.
So whether you are on the Eastern coastline or near the Western mountains of Massachusetts, "Steel And Stud" has the best–prefabricated metal building for your needs. We design our pre-fabricated metal buildings, carports, Quonset huts, and pole barns for RVs, trucks, livestock, harvested products, inventory, cars, and any other purpose you have. Depending on your need, we have the correct prices you can afford.
So please don't wait any longer. Call us now and receive your free metal building code!
Transform Your Space with Our Prefab Metal Buildings: Enjoy Unmatched Benefits for a Brighter Future!
Our metal building designs are made with the most rigid materials

(sourced from US suppliers) with low maintenance requirements

to ensure they can withstand anything, rain or shine. When you need to protect any vehicle or house more employees, we have the correct metal building kits for sale in Massachusetts.
With the ability to be customized for versatile purposes, 40×60 or 50×70 is a popular building size for workshops, storage, or even an animal barn.
At "

Steel and Stud

", we believe in delivering top-notch prefab metal building kits, steel structures, and red-oxide metal buildings that are not only sturdy and long-lasting but also budget-friendly. 

Our good working relationships with suppliers, traders, and distributors allow us to secure raw materials at a discounted price, making us a more economical choice. 

Our easy-to-assemble engineered designs save our pals both time and money. 

You'll enjoy improved energy efficiency and lower energy bills with the option to insulate your metal building. 

Plus, our use of aluminium and galvanized steel, made of recyclable materials, means you're not only getting a structure to last but also doing your part for the environment.
Keep your standards and quality high regarding your shelter or storage needs. Choose Steel and Stud as your trusted provider of metal buildings in Massachusetts.
Industries Strengthening Their Base With Steel And Stud Pre-Build Metal Buildings
The above heading signifies that industries are bolstering their bases with metal buildings (which is true) due to their versatile nature, ability to adapt to the latest trends, and affordable features.
And that's what Steel And Stud metal buildings are capable of; they embody these characteristics and provide opportunities for the industry to benefit from our metal buildings. The following are the prominent industry that can take leverage of our pre-build metal buildings:
Agricultural Metal Buildings
As Massachusetts is renowned for its

newton cookies

, delicious cranberries, and baked beans, so is Steel And Stud's

50X60 metal pole barn

(versatile size) & silos. 

It is renowned for its robust classy look and bespoke ability.

Once getting this metal structure, farmers of Massachusetts can rest easy knowing that their harvested products, livestock, expensive gears, and pesticide supplies (for crucial crops) are safe, secure, and shielded from thefts & whims of mother nature.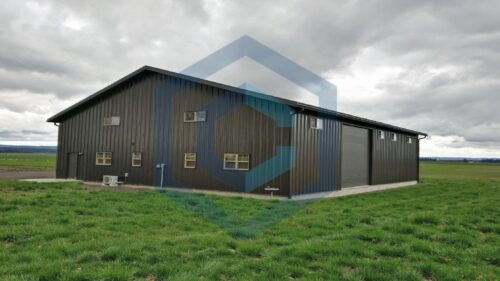 Industrial And Commercial Metal Buildings
Generating employment, combating the economic crisis, and fostering innovations are hallmarks of Massachusetts industries and businesses. 

And to keep the spirits high, the need for metal building structures is as crucial as having the perfect product.

So our 100X120 storage facility

,

75X100 pre-engineered industrial building

, and

60X60 office buildings

are excellent choices for entrepreneurs, business people, and industrialists who are stepping into their respective industries or are already active in them.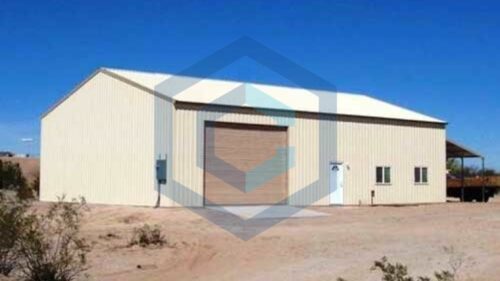 Residential And Garage Buildings
In the face of extreme weather conditions like scorching heat (100°F), frigid winters (−6.1°C), tornadoes (4-5 annually), floods, and blizzards in Massachusetts, it's evident that prefabricated metal buildings are paramount for protecting our homes, families, and automobiles.

Residential buildings and metal carports (such as Steel And Stud's 80X60 garage building

with customizable insulation and ventilation options) equipped with proper insulation and electrical fittings can make the space more comfortable and inviting.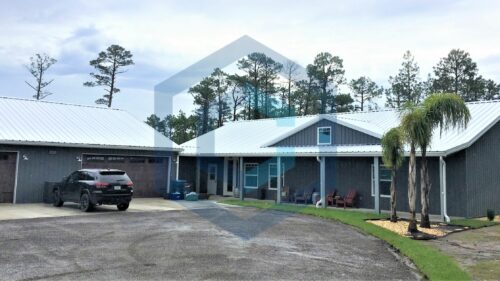 Customize Your Metal Buildings From Steel and Stud's Numerous Options
With Steel And Stud's diverse available components and accessories, you can (not only) elevate the aesthetic appeal of your metal building structure but can also supplement its functionality; sounds interesting, right?
With so many options to choose from, you can tailor your building to your unique needs and preferences. Here are some of the most popular customization options that you can explore to take your metal building to a whole new level:
A- framed opening is

one of the most crucial components of your metal building structure which is pre-build in the factory and comes ready to install. These openings provide a sturdy void in your metal building structure used to hang the doors and

metal building windows

.

Walk doors, all-class front doors, bi-fold, stack doors, sectional doors, and roll-up doors are just some of the many options that Steel And Stud provide for your prefabricated metal buildings to maintain their access point, integrity, and security.

You can also augment the ventilation and natural light throughout your metal building structure by incorporating sliding, wall lights, horizontal, and skylight windows.
Additionally, Check Out: Best Way to Ventilate a Metal Building
A metal building's backbone is its roof, and we provide different metal roofing options for your metal building.

Talking about galvanized purlins (which adorn the roof) and grits (which give stability), we have enormous options for them that you can choose from.

Other commonly selected components, which include

insulation

, panels, louvers, ridge vents, canopies, and gutter & downspouts, can add practicality and an appealing look to your metal building structure.
Building Codes And Zoning Regulation In Massachusetts
In a nutshell, following the local metal building codes and zoning regulations in Massachusetts is crucial for ensuring the safety and functionality of metal buildings. These regulations provide technical standards and guidelines for design and construction, as well as guidelines for how buildings can be used and located within your community. By following these regulations, you can ensure that your metal building meets the necessary safety and aesthetic standards and is a safe and attractive addition to your community.
So, stay notified and in compliance with these codes for a safe and worry-free experience with your metal building.
Financing Options That Steel And Stud Is Flexible With
In terms of financing, "Steel And Stud" are flexible with a variety of metal building financing options, including:
Personal loans

Private lenders

Credit card

USDA agriculture loans

Banks

Manufacturing financing

Mortgage

Government loans

Leasing

Home Equity Line Of Credit, Or Home Equity loans
But hold on before choosing any one of these options; it's crucial to give these five critical factors (cost, repayment terms, flexibility, credit score, and your financial situation) a cross-check. 
However, if you are still trying to figure out which finance option is right for you, experts at "Steel And Stud" can provide guidance that will not strain your budget.
Streamline Your Metal Building Procurement With These Effortless Steps
Kudos to our user-friendly website; ordering your metal building is as simple as pie; all you have to do is:
To begin, you need to determine the

type of metal building

you demand and where it will be situated. This will allow you to operate the pre-build building thoroughly.

Now you have figured out the type; specific guidelines

need to be in place,

such as

ground leveling

, grading of soil, excavating the land, and sticking to local metal building codes & zoning regulations

(before we can start erecting your residential metal building)

.

Once this is done, leap towards determining your metal building structure's size, budget, dimensions, and layout based on its intended use.

Upon completing all steps outlined above, it's time to get in touch with your local building department, where you'll submit your tentative plans and fetch the information related to fees,

the metal building process

, and other generic information.

When your plans are approved, it is time to reach your metal building contractor and have the slab poured. To begin the process, you must pay a 10% deposit of the total construction cost. Once we receive the deposit, Steel And Stud will promptly send your metal building kit (along with) all the necessary tools, materials, and a DIY manual.

Finally, sit back and let the experts erect your metal building according to your plans and inspector's standards, keeping all electrical work in mind.
Through the blog, you might have now comprehended how Steel And Stud's metal buildings are superior in versatility, customizability, affordability, and more. When you contact our company, we can give you information on the latest steel buildings and how they are constructed. Our metal building designs are made with the most rigid materials to withstand anything, rain or shine. We answer every question on metal building kit homes and can give you prices based on your specific design choices. We offer metal buildings cheap in Massachusetts, so you don't have to shop elsewhere.
We are the best in metal building kits in Massachusetts, and our A+ rating with the BBB shows our commitment to our customers. When you buy from us, you can rest assured you're getting the highest quality steel.
Metal Building Sizes Available At Steel And Stud
Metal Building Sizes

Metal Building Sizes

Metal Building Sizes

Metal Building Sizes
We Deliver And Install Metal Buildings Across Massachusetts
Although the exact delivery date (timeframe) cannot be assured, Steel And Stud can provide you with an estimated timeframe of when you can expect your metal building.
| Time Frame | Delivery of Metal Building (%) |
| --- | --- |
| | |
| | |
| | |
| | |
Other Convenient Locations to Serve You.
States

States

States

States

Massachusetts Metal Buildings

West Virginia Metal Buildings
Frequently Asked Questions
Are there any tips or guidelines I can follow to maintain the shape of my RV garage?
Can you tell me about the warranty or guarantee that Steel And Stud provide on their metal building structures?
The warranty of your structure depends on the type of metal structure you go for. But generally, our metal buildings come with a 20-year and 40-day artistry warranty.
How to prevent rust on the components of our metal building structure?
Rust can be prevented naturally if you keep moisture (away) from your metal building components.
Can a metal building be used as a residential structure in Massachusetts?
Yes, a metal building can be used as a structure for residential purposes.