Ohio, situated in the Northeastern region of the Midwest and surrounded by several neighboring states, has earned the distinction of being a key player in determining the outcome of presidential elections (which requires a sturdy metal building to ensure the integrity of the election process). The state's name originates from the Ohio River, a name (ohi-yo) derived from the Iroquois word meaning "great river."
Aside from its cosmopolitan atmosphere, Ohio boasts a thriving economy, with agriculture alone contributing a substantial sum of over $100 billion. This Buckeye State also excels in various industries, including manufacturing, aerospace, transportation, leisure, retail, and health. And as a result of this thriving economy, this robust industrial landscape has fueled a growing demand for metal structures such as industrial & commercial metal buildings, garages, steel barn, and carports, demonstrating Ohio's continued growth and development.
So if you're researching quality metal buildings for sale in Ohio, your search with Steel And Stud is over. We have numerous options in size, metal gauge, height, and styles for you to choose from. We offer huge selections because we know every customer is different and has different needs and uses for their metal storage building. When you call one of our customer service representatives, you can get a metal building quote with ease.
We deliver free of charge anywhere in the lower 48 states and offer free installation. All we require is a level surface on which to erect your metal storage building kit. All our metal building designs in Ohio are configured with you in mind. We know some people use metal buildings for houses and offices. Some use metal buildings for livestock or RV trailer campers. There are no two customers alike, and we respect that.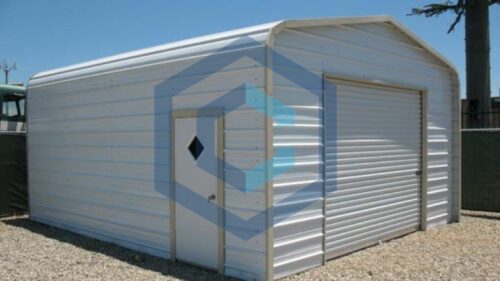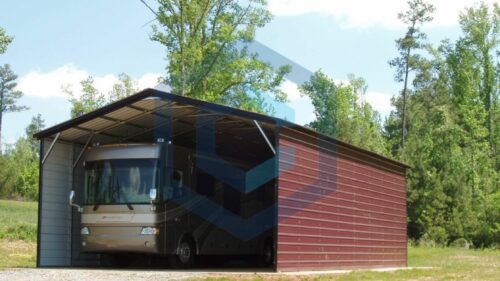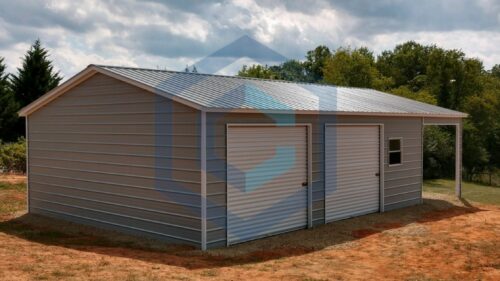 Metal building kits for sale in Ohio can be for various uses. Businesses will find we offer commercial steel buildings at greater savings than competitors. Residential metal buildings are just as inexpensive and come in sizes just right for your needs. When you've determined that a metal storage building is what you need, don't waste your time calling other companies when we have just what you want in a steel shop with free shipping and installation. There is no better deal on metal building kits for sale in Ohio.
Prefab metal buildings are made from high-quality materials. We offer both 12 gauge and 14 gauge siding and 29 gauge metal roofing, so your metal shop building will stand up to the many different seasons in Ohio.
Call us now to protect your contents in a sturdy structure year-round from Sun, rain, or snow.
Transform Your Vision Into Reality With Steel And Stud's Unmatched Metal Building Solutions In Ohio
Agriculture Metal Buildings
At Steel And Studs, we believe in providing Ohio's 76900 farmers with the best solution for their agricultural needs. 

Our

steel agriculture buildings

are specifically designed to accommodate a diverse range of crops and livestock, including poultry, cattle & calves, soybeans, corn, pork, blueberries, strawberries, sweet corn, honeybees, chestnuts, sunflowers, and over 200 other products. 

Our product offerings range from spacious

40X60 metal building barndominium

to compact

sheds

, all of which can be tailored to meet the specific needs of each (individual) farmer. 

With affordable customization options available, we are dedicated to delivering flexible and cost-effective solutions that are second to none.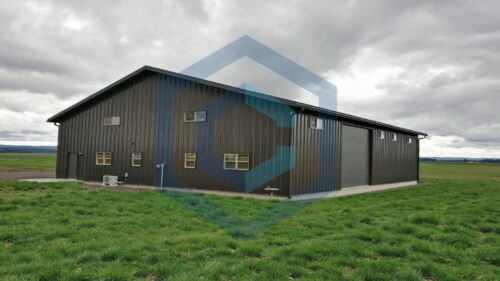 Commercial And Industrial Metal Building
At Steel And Studs, we are proud to be a part of Ohio's thriving business community, known for its diverse industries and opportunities. 

With that in mind, we take great pleasure in providing our clients with the finest

prefab metal buildings

(commercial) in Ohio. 
Additionally, delve deeper to What is Pre-Engineered Metal Building
Whether you need storage facilities, manufacturing units,

office buildings

, garages, factories, warehouses, or retail spaces, we have everything you need. 
In Addition to Also read Metal Building Office Ideas
Our extensive offerings ensure that our clients have access to the right solution for their specific needs, and our commitment to excellence guarantees that each building is of the highest quality.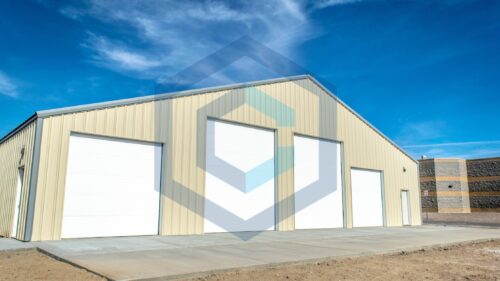 Residential Metal Buildings
At Steel And Stud, we redefine home construction with durable, affordable metal buildings. From Metal Buildings with living quarters

to lavish apartments, we offer a range of options to suit all tastes and budgets of Ohio residents. 

Our commitment to excellence, innovative technologies, and stylish designs result in homes built to last and impress. 

Choose us for your next home and experience the difference.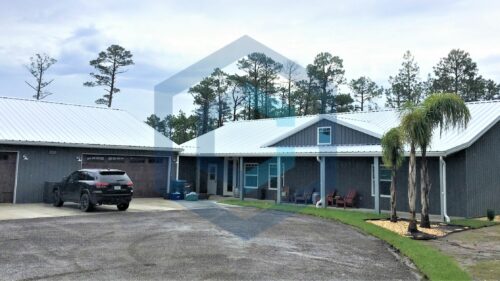 Reap the Benefits Of Durable Metal Buildings With Steel And Stud
Here are a few of the benefits that you can expect to reap from the use of our metal building kits:
We at "Steel And Stud" are thrilled to bring you structures that embody

durability and longevity

. Our metal buildings are masterpieces constructed with a passion for excellence and only with the finest galvanized steel and advanced construction methods. 
And, with

cost-effectiveness

being a top priority, we offer competitive pricing (with no hidden fees) to make your dream a reality. 
But that's not all! Our prefabricated metal building kits are truly remarkable, featuring

energy-saving features

such as insulation and energy-efficient doors to create a structure that looks amazing and helps you slash energy costs. Experience the future of construction with us!
Our metal buildings boast remarkable

versatility and unparalleled customization capabilities

, ensuring that every customer's requirements are easily fulfilled. Whether you seek a functional storage solution, a robust livestock building, a spacious hay shed, a modern farm office, a sturdy metal carport, or a protective RV cover, our products have you covered.
A commitment to

safety and security

is at the core of our metal building offerings. All components are meticulously crafted from

non-flammable and non-combustible materials

, imbuing our structures with exceptional fire resistance. Coupled with our unwavering dedication to delivering unparalleled customer service and our constant striving for customer satisfaction, we are confident that every interaction with us will leave you thrilled with your fire-resistant metal building.
Enhance Your Project with Steel & Stud's Customization Solutions
Unleash creativity with Steel And Stud's unlimited building dimensions. Create a space that fits your vision with structures over 70ft wide. Custom design made possible.

Transform your outdoor space into a personalized and protected oasis with the addition of a customized cover or by incorporating panels to create an enclosed structure. Experience ultimate flexibility as you can choose the ideal locations for your points of entry, selecting from a range of door and metal building window options to suit your unique needs and preferences.

Elevate your outdoor structure with adorning gables & eaves, rake, and J-trim. Our flexible anchor options accommodate various foundations. Experience seamless installation with expert support.
Explore Also: The Price and Installation Process of Metal Buildings with Concrete
We also provide a palette of metal building colors and numerous types of metal roofing styles (including hip, mansard, and vertical roof style) to match your style and preferences. For an added touch of sophistication, opt for a two-tone wainscot look and elevate your building to the next level of elegance and aesthetic appeal.
Metal Building Regulation In Ohio
In Ohio, metal buildings have to toe the line regarding building codes and standards to ensure they're as solid as a rock.
These codes are established to safeguard the well-being of the building's occupants and the wider community. And if navigating these tricky codes makes you feel like a fish out of water, don't sweat it! "Steel And Stud" have your back, so you can focus on breathing life into your metal building while we look after all the (nitty-gritty) details.
Here's a rundown of the codes Ohio residents have to follow:
2018 International Energy Conservation Code

2017 Ohio Plumbing Code

2017 Ohio Mechanical Code

2017 National Electric Code (NEC) – NFPA 70)

2015 International Fuel Gas Code

ICC A117.1-2009 Accessible And Useable Buildings And Facilities

2012 International Energy Conservation Code

ASHRAE 90.1 2010

National Fire Alarm and Signaling Code (NFPA 72-16)

Automatic Sprinkler Systems (NFPA 13-16)

Ohio Fire Code 2017

OBC – Residential Code(RCO)2013
Money Matters Got You Down? These Financing Options Will Lift You Up
In Ohio, you can finance your metal buildings in a variety of ways, including:
Personal loans

Private lenders

Credit card

USDA agriculture loans

Banks

Manufacturing financing

Mortgage

Government loans

Leasing

Home Equity Line Of Credit, Or Home Equity loans
So don't jump the gun and commit to a financing option too soon! Take the time to shop around and find the one that fits you like a glove.
And if you're feeling overwhelmed and can't seem to find the needle in the haystack, fear not! "Steel And Stud" are here to lend a helping hand and steer you in the right direction so that you don't pick the wrong horse back (aka financing option). With our expert guidance, you'll be on the path to reaching your financial goals and metal building in no time.
Metal Building Maintenance: 6 Essential Steps for Long-Term Preservation
Protect your investment and maintain the integrity of your Ohio metal building with these six key steps, brought to you by our seasoned expert in the industry:
Keep it sparkling clean: Keep your metal building clean by regularly scrubbing its sides, drains, and roof to prevent corrosion and other structural damage.

Rust-proof your building: Inspect your ideal metal structure

(which is a significant investment)

regularly and address any rust promptly by removing it and applying a layer of rust-inhibiting paint.

Conduct routine check-ups: Stay ahead of potential issues by conducting regular inspections to identify and address minor faults such as leaks, foundation decay, or clogged gutters.

Be vigilant and proactively address (any) potential parasitic threats to the building's integrity. Implement effective measures to eliminate any pests or evidence of infestation.

Ensure optimal air flow within the interior to stave off moisture accumulation and its associated consequences, such as rust.

Implement strategic insulation solutions and make sure that your custom metal building shows no signs of moisture, exposure, or damage.
To learn more about taking care of your metal building, check out: Tips for Steel Building Maintenance and Essential
By implementing these steps, you can ensure the longevity and preservation of your steel building, protecting it from weather elements and other factors. At "Steel And Stud", we understand the importance of maintaining the integrity of metal structures, which is why we offer customized solutions to meet your unique needs. From new builds to existing structure customization, our team is dedicated to delivering top-notch results in no time. Get in touch with us today to experience the difference for yourself.
Building Your Metal Masterpiece, Just Got Easier: Follow These Quick Steps To Order Now
It is crucial to identify the

type of metal building

required and its optimal location to achieve maximum efficiency. 

Subsequently, prepare the construction site by complying with all applicable metal building regulations, grading the soil,

levelling the land

, and removing any vegetation or debris if necessary. 

Next, determine the metal building structure's size, budget, and layout based on the intended use. 

Then, it is advisable to consult with the local building department in Ohio to obtain information regarding the metal building process, fees, required plans, inspection requirements, and other relevant details. 

Once the plan has been approved, the next step is to arrange for the pouring of the slab by engaging with a metal building contractor. 

A 10% upfront payment of the total construction cost is necessary to initiate the process. Upon receipt of payment, Steel And Stud will promptly dispatch the metal building kit featuring the essential tools, manual, and materials. 

The installation of the metal building kit will be carried out by our experienced crew, ensuring prompt and efficient completion.
Metal Building Sizes Available At Steel And Stud
Metal Building Sizes

Metal Building Sizes

Metal Building Sizes

Metal Building Sizes
We Deliver And Install Metal Buildings Across Ohio
 Columbus, Cleveland, Cincinnati, Toledo, Akron, Dayton, Parma, Canton, Lorain, Hamilton, Youngstown, Springfield, Kettering, Elyria, Cuyahoga Falls, Lakewood, Middletown, Newark, Euclid, Dublin, Mansfield, Mentor, Beavercreek, Strongsville, Cleveland Heights, Fairfield, Huber Heights, Grove City, Delaware, Lancaster, and many more.
Although the exact delivery date (timeframe) cannot be assured, Steel And Stud can provide you with an estimated timeframe of when you can expect your metal building.
| Time Frame | Delivery of Metal Building (%) |
| --- | --- |
| | |
| | |
| | |
| | |
Other Convenient Locations to Serve You.
States

States

States

States

West Virginia Metal Buildings
Frequently Asked Questions
How much does a 40X60 metal building cost?
Typically, a 40X60 prefab steel building costs between $60,000-72,000. For an accurate price estimate, please do not hesitate to contact one of our sales representatives.
Do Steel And Stud provide any assurance or guarantee on their metal structures?
Yes, Steel And Stud provide:
50 days structure guarantee

90-day artistry
What kind of insulation solutions do Steel And Stud offer?
Some of Steel And Stud's insulation solutions are fiberglass, rigid Board, batt & blanket, loose-fill, and foil bubble.
From where do Steel And Stud source its metal building components?
All of our metal building components are sourced from American suppliers.