Steel agricultural buildings are an excellent choice for many reasons. Steel is a strong and durable material, making it a great choice for agricultural and commercial construction applications.
You can also store and protect your equipment in steel farm buildings. The steel construction is fireproof and also protects the building from weather damage. Steel buildings can be used for many applications, including commercial storage, storage of farm equipment, and hobbyist projects.
Agricultural steel building kits are available in different sizes and styles to meet your needs. If you're looking for a simple structure that doesn't require much maintenance, then steel building kits may be the right choice for you. You can install these building kits on virtually any site, and they come in various designs to suit any application.
Metal farm buildings can serve many purposes. It includes storage sheds, tool sheds, animal barns, equipment garages, machine shops, and showrooms.
Steel buildings can be customized to fit any application or size requirement. They can also be designed to meet specific needs such as high wind resistance or fire resistance requirements set forth by insurance companies or local regulations regarding safety codes.
Steel Agricultural Buildings
A steel` building is an excellent choice for farmers who need storage buildings to store large amounts of grain, store hay, and other crops. They can also be livestock barns and equipment storage areas. Steel farm buildings can withstand the harsh weather conditions often found on farms, including strong winds and heavy snowfall.
Agricultural steel buildings are constructed from steel panels welded together at joints. The strength of the building comes from the welding process, which creates a seamless structure that offers superior strength compared to similar-sized wooden buildings. It makes metal buildings more durable than wood structures, which tend to warp or rot when exposed to constant moisture or extreme temperature changes.
During the building process, agricultural steel buildings can also be built with insulation between the metal walls and roof panels. Therefore, reducing heat loss in winter months and helping keep cool air inside during warmer seasons.
In addition, agricultural steel buildings are highly versatile structures that can be used for any type of farming activity. They are available in different sizes, shapes, and styles to meet the needs of farmers.
Metal farm buildings have several advantages over other types of structures. They are easy to assemble, move around easily, and have a long lifespan. They also have plenty of customization options to create the perfect steel building for your needs.
A steel building is also an excellent option for livestock operations, such as cattle and horses. Hence, it is a great choice for farmers, ranchers, and anyone who needs pole barns to store their equipment. They offer better protection from the elements than wood structures and are typically less expensive than other options.
Why Steel Agricultural Buildings Is The Better Option
Steel farm buildings are popular for farmers who want to get their money's worth by building a durable and reliable structure. If you are planning to build an agricultural building, here are some reasons why steel is the better option:
Steel is one of the most durable materials in construction. Unlike wood, it will not rot or crack over time. It does not need to be painted and can withstand harsh weather conditions.
Steel construction does not require much maintenance because there are no moving parts like hinges or locks that can break down easily. You also don't have to worry about insects or termites eating through your walls because they won't bite through them!
Steel is strong enough to support heavy loads without bending or breaking under pressure, making it perfect for farm buildings where farmers store crops such as hay and grain. The roofing system also contributes to its strength by distributing weight evenly around the frame so that it doesn't sag or collapse under pressure from heavy snowfall or strong winds during winter.
Unlike wooden buildings, steel structures don't require much work when installing them at your farm. They come pre-built and ready to be installed onto your property with little effort from anyone involved. It means less time spent working on your new structure and more time spent doing what needs to be done on your farm instead!
One of the major characteristics of a metal building is its fire resistance. Therefore, there is very little risk of any external damage. Steel buildings wouldn't catch fire compared to other materials, like wood. Therefore, you can easily store your crops and other materials in the steel buildings. 
Flexibility in design and expansion
 If you plan to expand your building in the future, it can be problematic when doing it with other material buildings. However, things become a lot easier when you're doing the same with metal buildings. The metal buildings are very flexible, providing the benefit of expanding and choosing the designs. You can choose any metal building color and eventually integrate the same.
 Metal buildings are one of the most sustainable types of buildings. They are convenient and do not cause any harm to the environment. Therefore, installing metal buildings at the agricultural site can provide various exclusive environmental benefits.
Compared to other methods and materials, it is easier to build metal buildings. The ease of construction ensures that the metal building is ready soon. The steel buildings will be ready in a year if the foundation is leveled and the process is performed correctly.
Pros and Cons of Steel Agricultural Buildings
When you need a new barn or other agricultural building, you may wonder whether steel is the material for you. There are several benefits to using steel in these structures, but there are also some disadvantages to consider:
Many agricultural uses – These structures can be used for many different purposes, from animal shelters to storage facilities and much more. You can even use them as a permanent house if you want!
Fully customizable – Steel buildings offer endless options when it comes to customization. If you want an open-air structure with no walls, that's possible too! Or maybe you'd prefer a closed-up space with large windows for maximum ventilation visibility? Either way, it's up to you!
Energy efficiency – Steel buildings also help to conserve energy because they're insulated. Insulation helps keep heat in during cold months and keeps cool air out during hot months. If your building isn't insulated, it will take more energy each month to keep it at a comfortable temperature throughout the year. This can significantly increase your utility bills over time.
Cost effective – Another major benefit is how these ag buildings can have low building costs compared to traditional wood structures. While wood structures may look nice, they require maintenance over time because they are susceptible to insects and other pests that can damage or destroy them if left untreated.
Open Space – These metal buildings provide open space. You can choose from many different sizes and configurations of steel ag buildings, so you can get what you need without sacrificing any space on your property. It is especially important if you need extra space for equipment or livestock.
Zoning restrictions – One of the biggest cons of steel agricultural buildings is zoning. If you live on a rural property, there are no zoning restrictions. However, if you live in an urban or suburban area, there may be zoning restrictions that prevent you from putting up an agricultural building. In some cases, you may need to obtain an agricultural exemption permit before.
Non-traditional look – Steel structures can be less aesthetically pleasing than wood-frame buildings. They don't have the traditional construction look many people want in their homes or business.
Cost – Another drawback of a steel agricultural building is the cost. The price of steel has been increasing over the years, making it more expensive than other materials such as wood or concrete. However, if you are looking for something that will last for several decades, this may be an investment worth making.
Types of Steel Agricultural Buildings
A steel farm building is a great way to get the most out of your property. They are durable, long-lasting, and can be used for various purposes. The following are some of the most common types of steel agricultural buildings:
Stables are designed for horses or other livestock that need protection from inclement weather conditions. It especially serves best during the winter when heavy snow is on the ground or rain is pouring down from the sky.
Barns – Steel barns provide shelter for tractors, livestock, hay, and other farm equipment. They're also used as storage facilities for feed, fertilizer, and other supplies that farmers need to keep their animals healthy and productive.
If you need extra space for hay storage, a steel hay shed may be the perfect option for you. These buildings come in many sizes to accommodate all types of equipment and materials.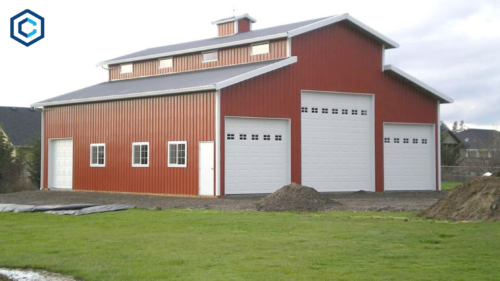 A combination between a barn and a condominium, barndominiums offer modern living space while preserving the beauty of traditional farmhouses. These homes may include amenities such as hardwood floors and high ceilings and large windows that allow plenty of sunlight into each room.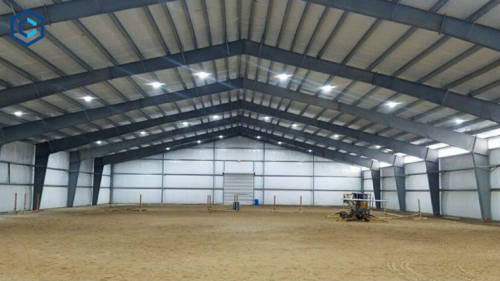 Indoor riding arenas are spacious and can be designed with various riding surfaces. They may also include jumps, longe lines, and other features for use by horses or ponies. Some feature indoor facilities for year-round use and may be heated in cold weather months.
 – Steel agricultural sheds often add an extra layer of protection to the building. The cost of constructing steel buildings is much lower. The steel agricultural sheds will further protect the products and ensure smooth functioning. With an extra layer of protection, the steel agricultural sheds offer more convenience.
Different Uses Of Steel Agricultural Buildings
Steel buildings are a great option for agricultural uses. They are durable, easy to maintain, and come in various sizes. The following are some of the different uses that steel agricultural buildings can be put to:
Storage space – A steel building is a safe place to store everything from farm equipment to supplies and inventory. You can keep everything in one place and protect it from the elements. They are also ideal for vehicle storage and farm machine storage.
Feeding – A steel building can also be used for feeding livestock. They provide protection from the elements, which is important when feeding large animals like cows and horses.
Shelters – If you need to shelter animals from bad weather or protect them from predators, steel agricultural buildings can also be used for this purpose.
Price of Steel Agricultural Buildings
Several factors determine the cost of a steel farm building:
Size of the structure – The larger the building, the higher the cost. It is due to more materials being required to construct a large structure than a smaller one.
Type of roofing – A flat roof will be less expensive than a gable roof. However, this does not mean you should always choose a flat roof over a gable roof. If you want your metal building to look like an authentic barn, you may want to consider adding a cupola to your design.
You can also add other decorative features to the interior and exterior, such as shutters and doors. These items can add significantly to your overall price tag but will also enhance the look and feel of your steel agricultural building. That way, it closely resembles an authentic barn or outbuilding.
Location – If you live in an urban area with many similar buildings nearby, it might be easier for you to find manufacturers and suppliers who sell their products at reasonable rates. It is a cost savings strategy, so you do not need to pay more for shipping charges or extra packaging fees.
The cost of a steel building is the sum of materials, labor, and delivery. The cost of the structure is dependent on its size and complexity. It also varies depending on whether you plan to install it or hire a contractor to do the work.
The average cost of metal agricultural buildings ranges from $5.20 to $12.92 per square foot, depending on how many amenities you want and how much customization you require.
Maintenance tips for Agriculture steel buildings
When it comes to your agriculture steel buildings, you must maintain them in the best condition possible. Some of the prominent metal building maintenance tips to follow are:
Check regularly for maintenance:

You should regularly check your metal building. During the inspection stage, you should carefully analyze each section and check for any potential damages due to weather. 

Proper anchor and support:

You should always leave the metal building with an anchor or support. If there is insufficient support, there will be a high chance of damage. At the same time, you must level the foundation. 

Repair minor damages quickly:

As soon as you get a chance, you should repair the minor damages. This will help you prevent the risk of damage becoming bigger. Even the small holes can be huge if you wait to fix the issues immediately.

Insulate metal buildings:

You should insulate your metal buildings properly to avoid major damage. When you insulate the building, you will be able to protect it and also regulate the temperature. Not insulating the metal building can increase the risk of damping and rust, which may damage the structure.
Why Agricultural Building Built With Steel And Stud
Quality
We build high-quality agricultural metal buildings that will last a long time.
Affordability
We aim at bringing affordability with our high quality products
Accessible
At Steel and Stud, we bring the ease of accessing these agricultural metal buildings.
Easy to Assemble
We build high-quality agricultural metal buildings that will last a long time.
Experience
Our team of experts help in building the best
Value
One thing we never compromise on is the value.
FAQs Related to Steel Agriculture Buildings
Why choose steel for agricultural buildings over traditional materials like wood?
Unlike wood, steel buildings will not rot. Furthermore, the steel buildings as agricultural buildings will protect against harsh weather conditions and seismic activities. The steel buildings are also pest and fire-resistant. 
Can I customize my agricultural steel building according to my needs?
It is quite efficient to customize the steel agricultural buildings as per your needs. You can add extra elements to suit your requirements.
How do the costs of constructing agricultural steel buildings compare to traditional buildings?
The cost of constructing agricultural steel buildings is usually more affordable than the traditional buildings. Once the buildings are constructed, they are easy to maintain. Moreover, they can be easily constructed using metal building kits which proves to be more efficient in the long run. 
How do I maintain and care for my agricultural steel building?
It is important to regularly maintain and care for the metal buildings to avoid any inconvenience. It would help if you regularly cleaned it, check for any damages, and repair it. Furthermore, repairing the small damages in the initial stages will prevent big damages later on.
Can I expand or modify my steel building in the future?
As your agricultural needs/demand grow, it will become imperative for you to expand the metal building. Therefore, expanding the metal building in the future is very possible. It is a better ergonomic way to expand the building. However, the scope of expansion will completely depend on the original construction.
Are there any specific foundation requirements for agricultural steel buildings?
Like most steel buildings, agricultural steel buildings also have very specific requirements. Therefore, as far as the foundation is concerned, the base should be leveled. A leveled and well-balanced foundation can be highly efficient for agricultural steel buildings. 
What are the other types of steel buildings?
Apart from the agricultural steel buildings, there is a wide range of steel buildings. These include: