Gone are the days when people used to invest in the traditional wood garage or concrete structures. With the new and innovative technological advancements, metal structures are the latest building materials preferred by all. According to a survey, more than 90% of building types are steel made.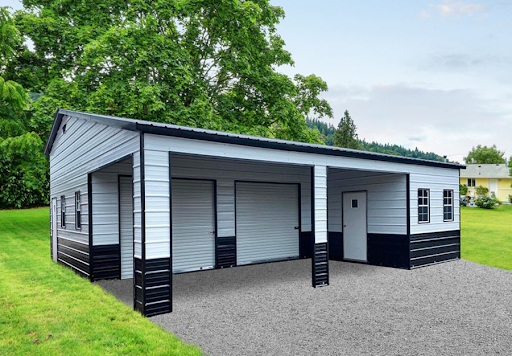 From workspaces to residential living and storage units, metal building kits are aesthetically pleasing, cost-effective, and offer versatility while increasing the value of your overall steel structure. Prefab metal buildings are ready to install metal structures designed with common standards while maintaining the scope for customization.
Costs for prefab metal carports are significantly lower than traditional wooden or concrete structures, providing incredibly tough structural strength against climatic events and pests. These not just lend a shed to park your vehicles; instead also fulfill many other requirements for an auto repair shop, home gym, entertainment areas, etc.
Steel and Studs have the same material you're looking for and much more. The expert building constructors care about your budget and requirements, offering metal garage kits and other customization options.
If you want to enhance the aesthetics of your property while adding an extra functional unit to the existing plan, then this blog will help you with the benefits of prefab metal buildings. It will share why you must invest in a metal garage, and the value steel building can add to your space.
Metal Garages vs Traditional Garages

A detached or lean-on garage must make sense with your finances or investment while benefitting your home with extra functional storage and workspace. A few pointers will help address the major pros and cons of pre-engineered metal buildings and traditional wood garages, helping you make a financially sound and confident choice.
Cost Considerations:
Prefab metal carports kits are steel, offering more cost-effective and quicker solutions. The main parts for these metal structures are manufactured in a factory that reduces the setup time and makes it easy for the installers to complete their job efficiently.
Whereas wooden building needs to be built and installed on-site, increasing labor and installation costs. Metal carports will roughly cost only $2300 per kit, and the same size for wooden buildings may range up to $10,000-$15,000.
Attractiveness:
Garages are often built with a utilitarian and contemporary look. There are very few instances when attractiveness for these functional units matters. Wooden buildings are useful if you aim to enhance your property's curb appeal.
But, if you prefer a custom and traditional look, a metal garage is a fantastic option. These are often handy when you need a durable and affordable space to store business goods, seasonal items to bulk supplies. Moreover, these structures provide more strength and security in long-term use, costing way less than wooden garages.
Usability:
Most users install detached garages to their property to enjoy extra recreational and storage space. If you want a larger space at lesser upfront costs, then a metal building will deliver more financial sense for your money.
Climate Considerations:
Both metal and wooden buildings are equipped with an effective climate control system. Wooden garages have the advantage of staying warmer in winters and cooler in summers, but this does not justify the extra costs for the same. The metal building will provide more worth to your investment while keeping the climate moderate and protecting your belongings from unwanted damaging elements.
Steel and Stud eliminate the burden of cooling costs, getting the job done at minimal enhancement prices.
Security:
Both wooden and metal garages can protect our belongings from sun, winds, and other damaging elements. But, metal is extremely durable and more robust than wood. It can easily withstand high winds and snow loads as compared to wood. It takes extra effort to break into a metal garage, delivering extra peace of mind.
All these pointers reflect that metal garages are more functional, safe, and cost-effective, delivering more value for money than wooden garages.
Pole Barn vs Metal Garage – Which is Right for You?
As the name speaks for itself, you probably don't need much introduction for a metal building. But what are pole barns?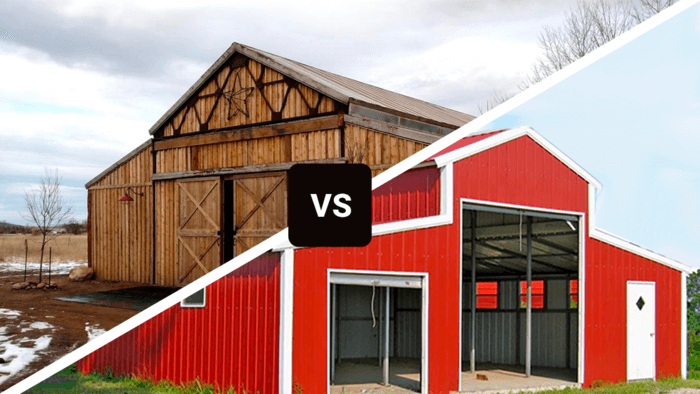 In a few words, pole barn frames are made from wooden frames and have exterior metal panels. These structures need flat trims, low rib lighter gauge exterior panels, and poles that dig into the ground for strength. These materials decrease the construction costs for pole barns compared to steel buildings constructed with foundations or concrete piles.
Roofing:
Pole Barns don't give much control over roofing patterns, and designs as these usually have a 4:12 roof pitch. This standard dimension only allows specific heights with limited headroom to the bottom of the wood rafter. Whereas metal buildings do not have limitations, the height can easily be customized according to the preferences that suit your needs.
Materials:
To be safe with harsh climates or unappreciated weather conditions, you need to increase the truss spacing for pole barns that further limits you with a certain width. Homeowners cannot adjust to wider widths in these poled structures and can only withstand a limited scope.
On the other hand, steel buildings allow you to select the ideal support and sliding you want for your structure. These can easily withstand harsh weather conditions such as heavy snow, harsh winds, and large hail.
Construction:
Pole barns require a lot of wooden support, roofing, siding, and interior features. Moreover, these will need a lot of anchors, screws and other pieces or parts for assembly.
Steel structures are comparatively much easier to erect. Steel and Studs provide prefabricated or pre-welded metal kits ready to install. That eliminates the difficulties of long construction times and the need to define required materials, saving money, time and effort.
Why Go For a Metal Garage- Safety Benefits
Steel and metal buildings are considered the safest construction material options due to their fire-resistant nature and strength. These structures protect your priced belongings from all the damaging elements, maintaining the cosmetic appeal for a longer time. That is why steel is often used in industrial and high-rise buildings where safety is the main concern. Few of the other reasons why metal is the safest option are:
Steel does a great job in protecting your belonging from outside elements. The structure protects your cars and other vehicles from winds as its flexibility prevents breakage or leakage from metal sheets. It can absorb more energy and remain sturdy in Seismic Zone 4, the highest seismic classification.
Metal sheets or buildings are designed to sustain 160 mph winds and are an excellent choice for high seismic ranking areas. Steel deforms or bends when it is exposed to extreme pressures. It can flex during an earthquake or extreme winds and will rarely collapse.
Unlike wood, steel is a fire-resistant material that stops heat flames' fast spreading. Steel buildings don't attract lighting; if lighting strikes the sheet, it gets transferred to the ground due to low resistivity.
Protection from Break-Ins
With high-quality steel building materials provided by Steel and Stud, you need not worry about thieves, scandals, or unwanted intruders. Metal buildings are designed with extreme security specifications to protect your belongings from break-ins and intrusions while delivering the exact designs.
Steel buildings reduce the stress of maintaining a facility. Buildings with natural damage but less durable materials deteriorate much faster than steel. Metal buildings prevent the chances of dangerous and permanent damage, making your construction and maintenance process less easy, affordable, and affordable.
According to the recent stats, more than 80 million tons of steel are recycled annually, making the material a leader in executing eco-friendly initiatives. Steel can be recycled for multiple purposes, maintaining its long-life span and durability factor while contributing to its safety parameters.
Steel has the highest strength-to-weight ratio compared to any other material. Steel buildings are almost half the weight of traditional wooden buildings and are robust without needing to add much weight. This versatility factor for metal buildings makes the construction process easier while maximizing the safety features.
The strength-to-weight ratio makes steel ideal for areas prone to earthquakes, tornadoes and other natural disasters.
Advantages of Buying Metal Garages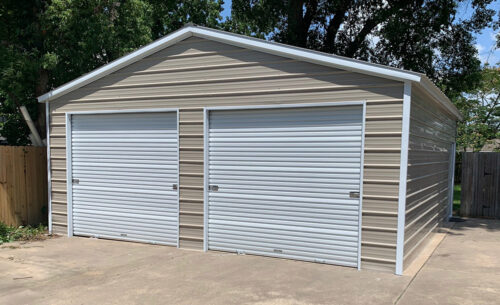 Adds Value to Your Property:
Metal's strength opens the scope for custom metal building constructions. Moreover, these are available in various facades, shapes, sizes, and colors, allowing customers to choose the ideal theme according to their existing structures. Metal structures can ideally be used for different purposes, increasing functionality while adding value to your outdoor space.
They Are Versatile and Highly Functional:
Apart from fluffing the purpose of a garage, standalone metal structures can be used in multiple creative ways. These support your recreational activities by providing extra space, working perfectly as an equipment storage shed, protecting tools and heavy equipment from damage, and are suitable for indoor car maintenance.
Convenience and Safety:
Steel garages are manufactured to be weather-resistant, providing robust structural strength to stand up against all the elements. Over time, these weather elements can cause cracking, wood rots, or possible infections, affecting the overall strength. A steel building is generally easier to clean and maintain than other materials. Homeowners only need a pressure washer and mild cleaning solution to eliminate dirt, debris, and other materials deteriorating the strength and cosmetic appeal.
Why Go For a Metal Garage – Cost-Saving Benefits
Metal garages will be the best bet for your additional space if you try to stick to a strict budget. Not only do metal garages cost less to build, but they also cost less to maintain.
Metal sheets have a polyester top-coat that requires no or little maintenance. All you need to do is occasionally pressure wash the metal garages to maintain them in shape.
They Are Easily Convertible
No rule book mentioned that you could only use metal structures like garages. Instead, these structures are easily convertible and can be used for various creative purposes. Depending on your selections, you can convert these metal structures into an outdoor patio, recreational space, or a get-together/picnic spot
They Are Environmentally Friendly
Metal can easily be recycled and can be used for a variety of purposes. That decreases the overall waste proportion, making metal the most economical and environmentally friendly option.
How Metal Buildings Save Your Money?
Several factors determine the overall cost of your structures. These include the speed of construction, labor costs, material cost, and other uncontrollable instances. Metal garages overcome the cost factor for all these parameters. Prefabricated metal kits are manufactured in factories and come with DIY installation, reducing the overall construction time and cost. Moreover, these structures will also help save your money in the long run.
Traditional wooden structures are more likely to take damage during any natural disaster than steel buildings, and the insurance companies are aware of it.
Steel structures can easily withstand external damaging weather elements, including high winds, blizzards, earthquakes, termites, fires, mold, lightning and much more. Most insurance companies offer substantial discounts on metal frame rates with commercial-grade steel. Therefore, you can easily save a lot every month on insurance as long as you own the steel building.
Low Long-Term Maintenance Cost
When you opt for metal or steel panels for your exterior, then it eliminates the need for frequent maintenance. Unlike wooden structures, you need not pay much attention to the metal or steel exterior. Every year, $5 billion is spent on termite damage and controls in the United States. At the same time, steel is rodent and termite resistant, and you need not regularly treat the structure with harsh chemicals.
Steel also does not support mildew, mold and growth of fungi, eliminating the need for expensive building repair charges. Pre-engineered steel buildings will withstand all the elements for a day and decades with very little maintenance.
If you ever need to expand the space or area for your metal building, pre-engineered steel building kits provided by Steel and Studs will make your remodelling easier and quick. You can easily enlarge your metal garages by either reinstalling the end wall or ordering more frames while increasing its structural strength.
Steel Buildings Retain their Value
Metal buildings have the feature of retaining their value and beauty extremely well for a longer time span. These will look brand new for decades with no or little maintenance required. Furthermore, connectors used in metal garages are not likely to wear out as fast as nails used for traditional garages.
Therefore, if you are investing in a steel garage, you purchase something that will last longer without worrying much about upkeep.
What Makes Metal Garages Environmentally Friendly?
Metal buildings used for agriculture, storage, aviation, garage, and warehouses may not require air conditioning or heating in milder climates. These are the ultimate ways to save money on your electricity or power bill.
However, in some metal garages case where you need a climate control system, prefabricated metal building kits allow scope for thicker and energy-efficient insulation. Homeowners can opt for cool-coated roofing panels that reduce the energy expenditure by 7% to 15% in sweltering climates. Steel and Studs also provide the options for reflexive paint that deflects heat and allows you to save money.
Less Waste During Construction
While designing steel structures, every piece of metal is manufactured for your particular facility, reducing the overall waster proportions. If there is still 1% or 2% waste, steel is 100% recyclable and can be reused for other purposes without weakening its strength.
Designing your metal building will provide you with several chances to build sustainably and save on energy. For example- white roof panels with unique pigments will re-emit and reflect solar radiation, keeping your building cooler while reducing air conditioning costs by 40%. High-performance insulation decreases the chances for heat transfer through the roof and wall panels, keeping your building moderate for a longer time.
Moreover, according to the requirement of some structures, it is easy to install insulation in metal garages. The weather-tight windows and doors of a pre-engineered metal building ensure a tight seal that eliminates the scope for air leaks and energy drains.
What Makes Metal Garages Recyclable?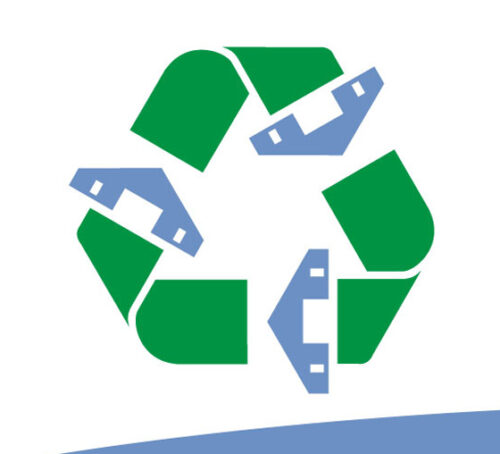 Wood, plastic, and metal are the most opted building materials. Wood can be recycled but has high chances of termite and rodents attack, eliminating the scope for its recyclability. Plastic is not an eco-friendly option and can only be recycled to the degree that is not ideal for structural applications.
Steel, furthermore, is the most efficiently repurposed and recycled building material, ideal for versatile, functional uses as well. 40% of the structural steel buildings are repurposed. Steel can easily retain its strength and physical properties even after reprocessing, and metal refineries can reprocess the recycled material with relative case.
Considerations To Make When Purchasing Your Metal Buildings
In most states of the USA, homeowners need to get a permit for metal building installation or construction from the local authority. If you plan to add a standalone or lean-on functional unit to your existing space, you need to check whether you need a license and what paperwork you need to complete before installation for the permission. Steel and Studs professionals will review all the standards for your metal building construction, making your installation process easier.
You must choose an ample space to install or construct your metal buildings. Factors like the site distance from home, future expansion, driveway, and other essential supplies will help you clarify. Moreover, homeowners also need to prepare the ground for the metal kit installation process.
Delivery Times and Schedule
If you plan to match the metal structure with your existing plans or exterior, you can customize your metal building according to your preferences. Customization options by Steel and Studs decrease the delivery time, making sure that the purchase is worth the cost you paid.
Installation and Final Costs
Metal building kits range from $2000 to $20,000, depending on your preferences. Customization options for metal garages or buildings are infinite; each option will add an extra cost. Moreover, installing these metal building kits will also add to the total amount.
Therefore, if you plan for the extension, you must get the proper advice from building constructors to get a final quote. Steel and Studs provide free installation with some of their metal building kits, saving extra expenses.
The Customizable Nature of Steel Buildings
From flat roof to regular style, box eaved style, and vertical roof style, there are various roofing options in the metal garage. You need to figure out your area's weather conditions and other requirements to find the best roofing option.
Steel garage installation is completed with final metal paint and coats. These keep the cosmetic appeal of metal sheets intact, reducing the effect of damage from external weather elements.
For metal buildings, manufacturers provide the options for 12-gauge and 14-gauge options. 12 gauge is thicker than 14 gauge and offers more strength and durability.
From standard sizes to customized options, metal garages can be installed or constructed in any possible size. 12′ X 21′ is the most opted and standard size for a metal garage. Depending on your needs, usability, and the number of vehicles you need to store, you can customize your metal garage size.
Metal buildings are one of the most versatile and affordable investments a homeowner can make. But, buying or finalizing a steel building is a challenge with a lot of considerations. You must address a list of pointers while ordering your dream metal building.
Steel and Studs eliminate all the homework for metal barns or buildings on your end and assist homeowners with professional for the easy installation process. Apart from exceptional prices and high-quality products, our building experts have the drive and passion for succeeding and fulfilling all your requirements with the best metal garage solutions. We offer a variety of metal structures that are extremely durable, affordable and fully customizable. Our building specialists are ready to assist you in all possible ways.
Check out our website or connect with our professionals to explore the many possibilities for your new metal garage and structures and receive an instant quote!
Frequently Asked Questions
Is a metal garage a good idea?
A metal garage is the best option for utilizing your outdoor space at the most affordable cost.
Does a steel garage add value?
This versatile structure will increase the value of your property while providing extra space for storing your essentials or recreational activities.
Is it cheaper to buy a metal garage or build one?
A prefabricated metal garage is a cost-effective option compared to customized buildings. It is because customization will add extra cost to your total amount, sometimes increasing the overall value while delivering the functionality to your space.
Are metal garages safe?
Steel is widely recognized as one of the safest construction materials due to its fire-resistant and natural strength.
Do metal garages rust?
Metal coats and paint prevents the sheet from rust and corrosion, increasing its overall lifespan.
Are metal buildings a good investment?
Metal buildings are very economical. The structures will last a lifetime while retaining their original look and value.
How important is a garage for resale?
A metal garage adds extra functional units to a property, and the recyclable feature of steel makes the structure ideal for high resale values.
Can you insulate a metal garage?
Metal structures have thick walls, and they can maintain a moderate temperature. If you wish to insulate the structure, you can ask professionals for the same to cut your heating and cooling costs.
Is metal building cheaper than wood?
The wooden structure is expensive as compared to a metal building.
What is the average cost of a 40×60 metal building?
The average cost for 40X60 metal building varies from $24,000 to $38,000.