Difference Between Pole Barns and Metal Buildings
A pole barn and a steel building are two common structures found on farms and residential properties for storing agricultural equipment and machinery. A pole barn is essentially constructed using wood poles, while metal barns are built on thick anchored steel frames with concrete floors. The wood pole barn and steel buildings differ in the construction process, durability, cost, and even maintenance.
Here, we compare a pole barn vs steel building. The definitions of the pole barn and steel barns are essential to understand the difference. Later we discuss the factors making the difference between pole barns vs steel metal buildings. Feel free to ask questions in the comments to know more about them.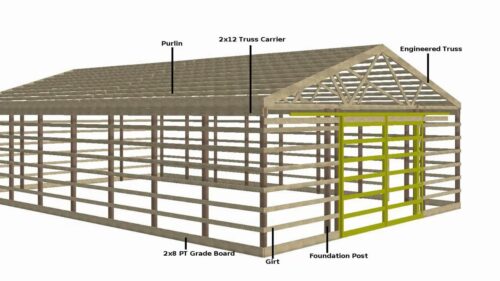 Pole barns are traditional construction of wooden poles using regular ground with either wood walls or steel walls that support the building and are used to store equipment and other materials. These wood pole barns can be used as agricultural buildings, including equipment storage buildings, hay storage buildings, and multipurpose buildings.
What is a Steel Building?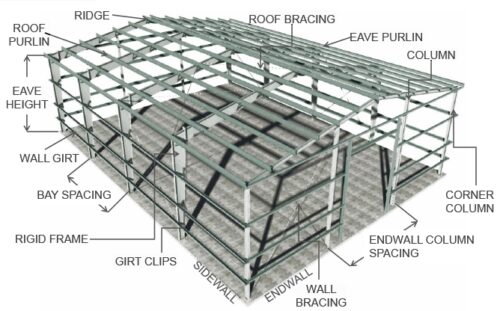 Metal buildings, also known as steel buildings, are built with high-grade steel for internal support and are popular structures for outdoor storage spaces designed to store heavy materials. They're an alternative to pole barns because of their strength, durability, and similar appearance. A steel building can be painted or stained to look like a pole barn. 
Get free quotes for Fully customizable steel frame pole barn construction.
Pole Barns vs Pre Engineered Steel Buildings
The differences between pole barns and steel structures are highlighted below under factors including:
Pole barns are constructed with wooden poles set up to 96″ apart and anchored into the soil. The barn floor is often dirt rather than concrete foundation because they are easier to build that way.
In contrast, metal buildings are built with thick steel framing anchored every 20-25 feet, rather than spaced out at 96″. These steel frames are used to create the structure, and the floor of a steel building is usually concrete.
Durability Pole Barns vs Metal Buildings
Wooden structures, like pole barns, can be exposed to natural deterioration due to mold and moisture, which is why they need regular maintenance and are not a good choice for modern agricultural buildings. Pole barns are also prone to bug and termite damage.
Steel barn buildings are cost-saving projects with very little maintenance. Steel columns and steel frame barns can be protected against rust by galvanizing and painting steel panels. You don't need to be concerned about rust and water leaks with a steel building.
The steel structures are fire-resistant and weather-resistant to both inclement weather and minor weather-related damage, such as cracking and, mold, rotting. Pole barns are likely to succumb and eventually decay. With certification, steel structures can be further reinforced to withstand harsh weather.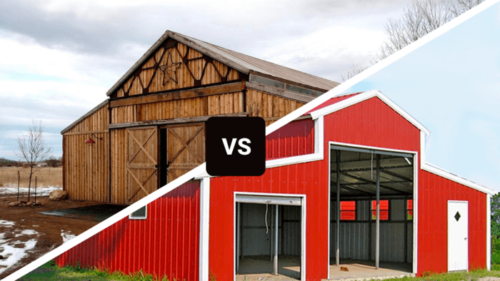 When pole barns were introduced into the market, wood was one of the most economical and easy-to-use building materials. Today, the use of steel in buildings has increased because it generates higher quality results than wood.
The finish and quality in a steel building are higher than in a wood pole barn. Maintenance costs are minimal for steel barns, making them better than pole barns. Generally, metal buildings maintain their shape over a longer period than pole barns.
Adaptability to Soil Nature
Pre-engineered metal buildings are set on concrete floors, while pole barns are set directly in the dirt. Installers do not need to concern themselves with the expansive nature of the soil in an environment. However, installers need to know if the soil in a specific area can bear a pole barn structure.
Wood pole barns are subject to movement in slightly expansive soils with considerable mud content and may even sink. On top of that, changing weather conditions may impact an expansion and contraction effect that may compromise the erected pole barn structure. Pole barn designs are therefore generally inconsistent and can be potentially dangerous for commercial purposes.
Environmental Sustainability
Steel is a highly sustainable building material because it lasts longer than wood and can be recycled for future use. Comparatively, although biodegradable, wood involves the felling of trees from forests and is highly prone to damage and harsh protective chemicals to prolong its lifespan.
The non-reusable wood used in constructing pole barns makes them less attractive to buyers who are conscious of climate change. Metal building also helps owners reduce their energy costs due to higher energy efficiency and additional metal building insulation allowances.
Pole Barns vs Steel Buildings Costs and Insurance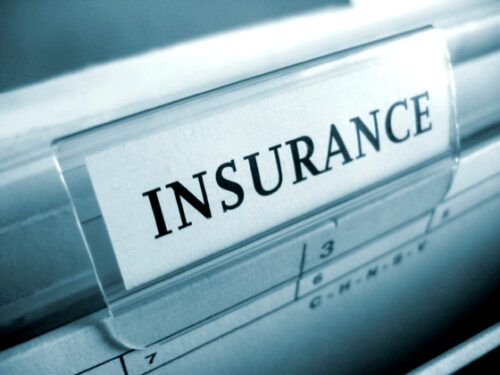 Pole barns post costs are lower than metal buildings in the short term. 
In the short term, pole barn options may save money during the initial installations, but you will pay up later with longer construction times and higher maintenance and energy costs due to weather damage. If you want to expand your wooden barn, you must spend more money.
In contrast, financing a steel building is a low-cost project with additional advantages like reduced installation times, expansion flexibility, and no future maintenance. 
Also, insurance companies view pole barns as riskier than metal buildings. Hence, buyers can save money on their insurance costs for a metal building compared to pole barns. 
Manufacturers of metal buildings also hand out generous warranty periods minimum of 20 years, while pole barn companies may not offer as much due to the risk involved in erecting such structures.
Which is Better Pole Barn or Steel Building?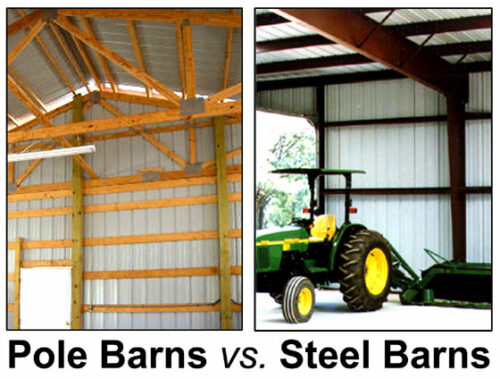 We have compared pole barns and metal buildings, but you may still be finding it difficult to choose between both options. This section discusses the individuals who can buy pole barns or metal buildings.
You can buy a pole barn if:
You want a dated and historic look on your farm or property.
A dirt floor is more suitable for your specific use case.
You can buy a metal building with living quarters if:
Durability and weather resistance is a high priority in your structural choice.
The long-term savings on maintenance, energy, and construction appeal to you.
You are an environmentally conscious owner who understands energy efficiency and reusability.
You want to expand your structure in the future with less difficulty.
How To Buy A Metal Building in Your Location
Steel and Stud can supply you with the perfect prefab metal building kit. We provide installation services for all metal building sizes in agricultural, residential, and commercial properties across all states. If you are interested in buying a metal building in Texas and 48 other US states, including:
| Locations | Locations | Locations | Locations |
| --- | --- | --- | --- |
| | | | |
| | | | |
| | | | |
| | | | |
Metal Buildings Size Chart
Here are Steel & Stud Most Popular Customized Sizes for metal buildings. We can also get them customized as per your requirements:
Metal Building Sizes

Metal Building Sizes

Metal Building Sizes

Metal Building Sizes
Metal Buildings at Competitive Prices

Metal building prices depend on the total square footage for each project. Our base package starts at $4 per square foot. Construction and installation are charged separately. Our prefab metal building is highly flexible and functional in use. In comparison with traditional materials like wood and brick, our metal buildings perform better in strength, durability, and cost. You can contact us today for a free quote for your Metal Buildings.
Conservative farmers still like to invest in pole barns regardless of their shortfalls in the modern construction industry. However, steel buildings offer a modern and durable storage and living space on farmlands. Steel and Studs are specialists in supplying and installing metal building kits. Contact us today if you consider installing one of our metal building kits on your farm!
Frequently Asked Questions
What is the life expectancy of a pole building?
A wood pole building can last 40-60 years, while a steel barn will last for a century.
What R-value do I need for a pole barn?
A good insulation system can reduce the R value to R19, appropriate for a 93′ wide pole barn.