The boxed eave roof style is an excellent and budget-friendly option for garages, carports, barns, sheds, and other metal buildings. Boxed eaves have A-frame rooflines similar to a regular or vertical roof. Boxed-eave roofs are shaped like vertical roofs, but they feature horizontal roof panels without a ridge cap or a hat channel. Many people opt for boxed eaves so that their carport has a roof that matches the roof style of their homes. Boxed eaves easily complement your home's roofline, which is achievable at a lower price when compared to vertical roofs. Boxed-eave metal garage roofs are recommended in places with low to moderate winds and lower precipitation levels.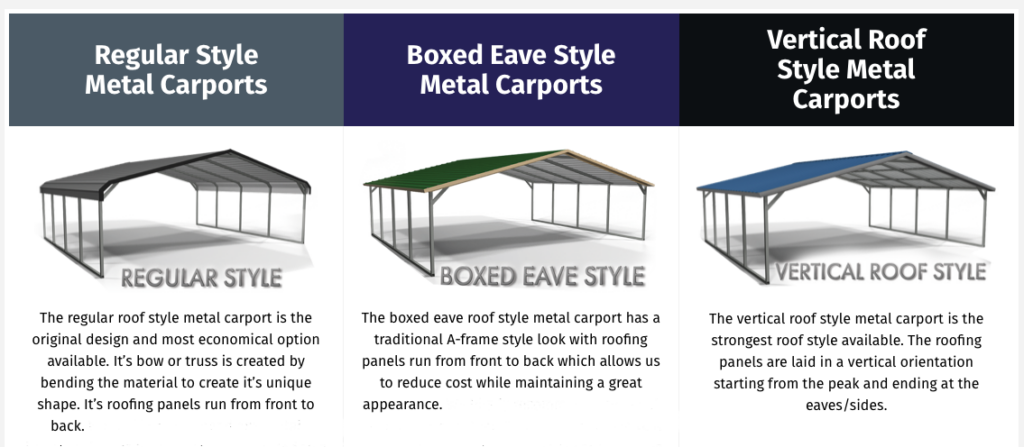 Applications of Boxed Eave Roofs
Boxed eaves may be simple, but that doesn't mean limited usage or application. Boxed-eave carports are perfect for residents living in moderate climatic conditions. This means they are ideal for outdoor activities and can offer a host of functionalities beyond protecting your vehicle from harsh elements.
Your boxed eave carport can be an area next to your house where you can get welding and woodworking done for your construction project. It will provide enough shade to let you work without breaking a sweat.
If you own a pool, consider getting it transformed into an unofficial resort that can channel the vacation vibes. A poolside cabana built with a boxed-eave can be a nice touch, not to forget, a cost-efficient means to entertain visitors and have fun when you feel like it. Add some details here and there, a minibar, and some neatly stacked towels after painting the structure from roof to ground with attractive colors.
Let the children have fun outside the house but inside the boxed eave structure when their friends or neighboring kids visit where there is the right amount of shade.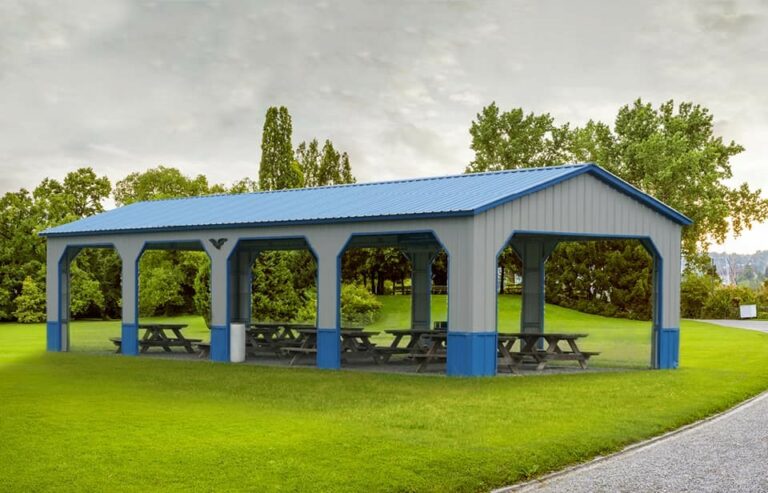 Host the next family outdoor get-together at your place in the shaded area so you can protect your food and drinks from the elements and focus on serving the guests and having fun.
Storage for Lawn Equipment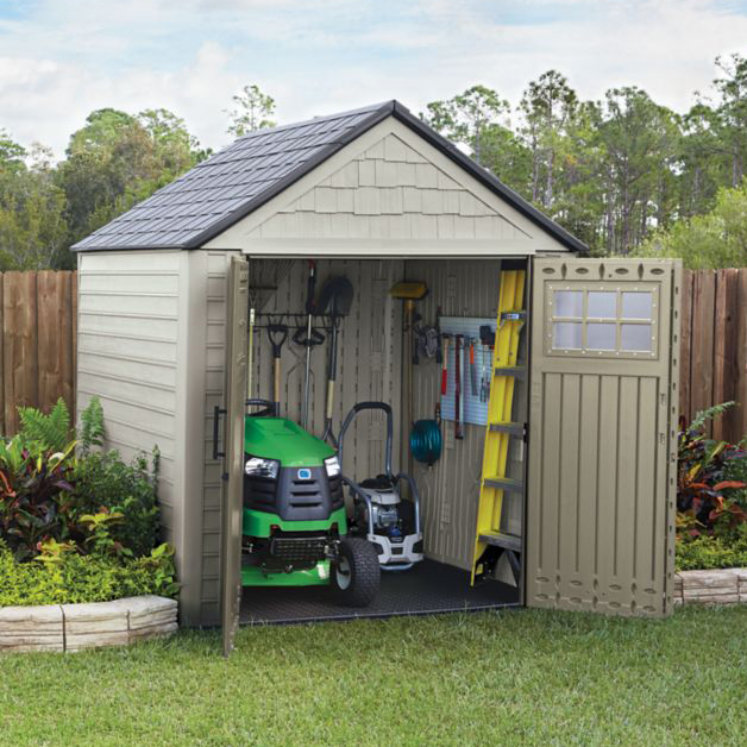 Mowers and other heavy outdoor equipment can be safely stored in your boxed eave metal garage.
Boxed Eave Roofs Can Be Customised to Your Specific Needs
Boxed-eave structures have a variety of applications, but in addition to that, you get to customize them to the extent you desire so that they look the part and stand out.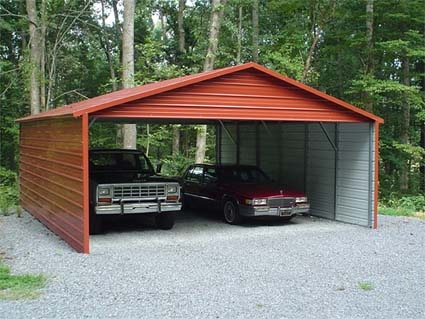 Size
Your reason for building a boxed eaves carport determines the size of the construction. They must be at least 12′ x 21′ but depending on your needs, be it for using one as an office or protecting your multiple vehicles from snow or rain; you can increase the height, length, or width of the carport.
Colors
While randomly picking favorite colors for the exterior walls, the garage door or boxed eave metal carport can seem like a great idea, it's recommended to choose a color based on where you reside. The right color choice can keep you warm if you live in a cold region and vice versa.
Gable ends
Boxed-eave metal carports sometimes come with gable ends. Gable ends are meant to fasten the boxed eave roof firmly to the building's sides.
Anchors
Depending on whether you intend the installation of a metal carport on concrete, asphalt, gravel, or grass, anchors can be customized to secure A-frame roof carports.
Galvanized Steel Framing
Steel carports typically use 14-gauge steel framing, but a 12-gauge guarantees an even sturdier building.
Gauged Roofing
Out of 26 and 29-gauge panels for the roof, 26-gauge is more resistant to dents and is understandably stronger than the other.
Certifications
We deliver metal buildings, carports, and garages that comply with local building and safety codes.
A Stunningly Looking Metal Structure At An Affordable Price
The cost-efficiency of these roofs makes them a popular choice among most homeowners. These are also particularly easy on the eye and can enhance the looks of your residence. Also, you can get it at a price that is considerably lower when compared to vertical roof carports. Boxed eaves can be customized, so the final cost of the roof will be decided by the options you pick, your choice of site, and the construction company or manufacturer you choose. The starting price for boxed eave roofs can be around $1,295. It's not cheap, but we will ensure it's well worth every dime for you. 
Buy Your Boxed Eave Metal Carport-2022 Best designs
You can customize our boxed eave metal garage and carports the way you want. We provide boxed eaves that are 12′ – 30′ wide, at least 16′ tall, and up to 36′ long. If you require a product with a length that exceeds 36′, you may go for a vertical roof. Additionally, when you are considering the size, the slight overhang on the roof's ends should be such that it extends the roof past the building's base. You can also check out the different financing options we offer.
Whether you need a boxed-eave carport for a single vehicle or more, Steel and Stud have got what you need. They are available in different colors, making it easy to pick one according to your preferences. With a diverse list of sizes, designs, and colors to choose from, you will easily score a product that blends with the design of your house.
We offer location-specific services and a 10-20 year warranty on selective products. Steel and Stud offer top-notch building materials to kickstart your construction projects. We also help with installation, thus making the whole process hassle-free. Call us today to learn more about our delivery times in your area.
1. What are boxed eaves?
Boxed-eave roofs and vertical roofs have a similar shape, but boxed eaves have horizontal roof panels without a ridge cap or hat channel. This roof style is a great choice if you want the roof of the new structure to match that of your house.
2. What is the difference between a boxed eave and a vertical roof?
Boxed eaves feature horizontal ridges and an overhang at the edges, whereas a vertical roof has vertical ridges running from the center to the eaves.
3. What are boxed eaves on a metal building?
Boxed-eave carports are also referred to as A-frame metal carports, characterized by eaves that protrude on either side of the roof. The center gable running down the structure's length is covered by a single panel, unlike the trim pieces used in other roof styles.
4. What is a vertical style roof?
A roof style distinguishes vertical roof carports with roofing panels laid vertically from the peak to the sides or eaves. An underlayment of 18 gauge hat-channel is required for constructing this structure so that the metal building is backed up by extra strength and rigidity.
5. What is a boxed eave on a carport?
Boxed-eave or A-frame roof styles feature a roof design where the center gable is covered by a single panel instead of trim pieces, and eaves protrude on either side of the roof.
6. Can metal roofing be installed horizontally?
Most of them can be installed vertically or horizontally, be it a metal wall, siding panels, or roofs.
7. How do you fireproof eaves?
Eaves can be protected from fire exposure using non-combustible or ignition-resistant materials. The overhang on the end of the building can be protected with stucco.
8. What does eaves design relate to?
Eaves are the roof's edges that form an overhang so water can slide off the roof.
9. What is the difference between a soffit and an eave?
Eaves are part of the roof, and the soffit is a part of the eave.
10. What is the difference between an A-frame roof and a vertical roof?
The major difference between A-frame roofs and vertical roofs is that the ridges on the roofing panels are parallel to the side of the building in A-frame or boxed eaves. In vertical roofs, the ridges are vertical, running from the center of the roof to the sides.
11. How many types of eaves are there?
The four basic types of eaves are soffited, exposed, abbreviated, and boxed in. An exposed underside and visible rafters are characteristic of exposed eaves.
12. How much should eaves overhang?
There is no standard size for overhangs, but typically, they can have a width of 16-18 inches for protection from rainfall and should have at least 24 inches if they are meant to provide shading.
13. What is a Soffited eave?
Soffits are parts of eaves and are horizontal panels that cover the gap between the roof's edges and the house's exterior walls.
14. What is the underside of eaves called?
Roofs can extend over the exterior walls of your home, and this overhang is referred to as house eaves. The underside of the overhang is called the soffit. Soffit means "something fixed underneath."
15. Why are eaves important?
Eaves elevate your home's design, but they also protect its siding and foundation. These allow water and snow to slide away from the siding to the ground.