The roof is a significant part of any home. It can be the most obvious portion of your house exterior, depending on where you live. If you live in a colder area, you may want to consider installing a metal roofing on your house.
Metal roof house color combinations are fantastic. They can be bold and beautiful, yet still, feel cozy and comfortable. They have become popular lately due to their durability and ease of maintenance. They also come in a variety of colors so that you can customize your home.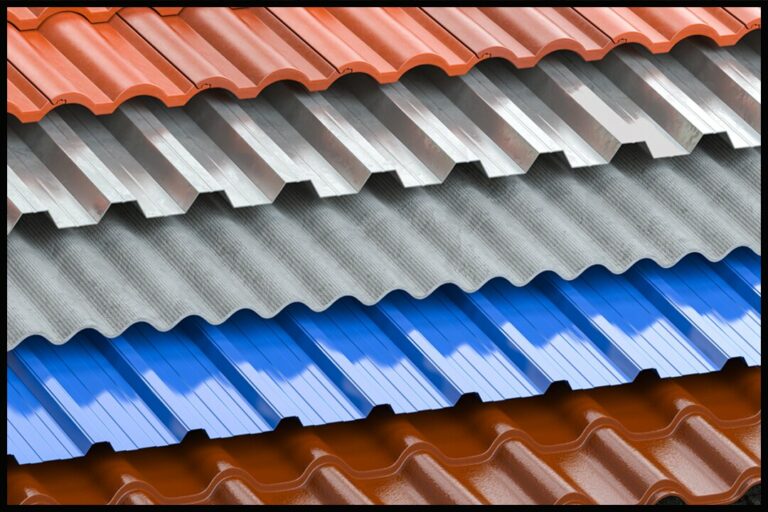 If you're thinking about metal roofing for your home, then you're probably considering different options. There are many color combinations available and it's hard to know where to start. When you're choosing a metal roofing color, there are factors to consider. Your home's style, personal preferences, and climate all play a role in determining which color is right for you.
In addition, when you're planning to install metal roofing on your home, you'll have many choices to make. One of the most important ones is the color of your roof.
Metal roof colors can range from gray and silver to copper and brown. Some people prefer dark metal roof colors while others prefer lighter paint color. There are also different types of metals that you can use for your roof, each with its own unique characteristics.
An old roof is one that's been on a house for many years. It's not always easy to tell if your roof is old, but there are some telltale signs.
Factors affecting the lifespan of a metal roof include exposure to sun, wind, and rain. A metal roof can last anywhere from 20 to 50 years depending on how well it's maintained and what type of metal you use in its construction.
Read on for valuable information on the proper color for your metal roof house color combinations.
Metal Roof House Color Combinations
Metal roof house color combinations are fun to play with. They can add a new dimension to your home's exterior, and bring out the best in the colors you already have. Metal roofs come in many colors, including black, silver, brown, and white.
The most popular metal roofs for homes are flat black, but this is only one option among many. Here are some tips for using metal roof color to create unique and attractive-looking houses: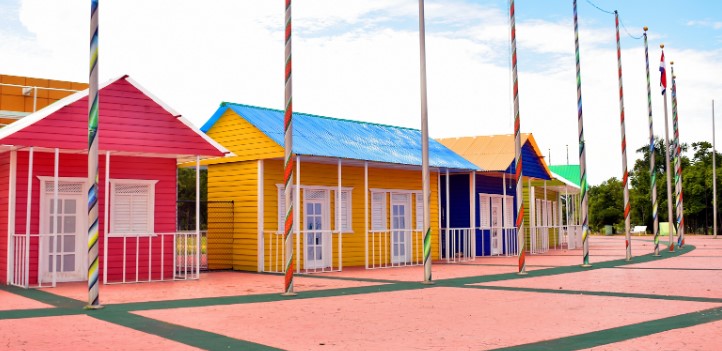 Use a contrasting color for the trim around windows, doors, and other architectural details. It will draw attention to those areas while still emphasizing the overall effect of your home's color scheme.
Try painting the entire roof dark colors with light colors trim around windows and doors, especially a gray siding. It creates an elegant look that works well with wood siding or brick exteriors.
Pick one main roof color for your house's exterior and then accent it with darker shades of trim around windows and doors. Use a lighter-colored trim on the corners and edges of your house where it meets its foundation or garage door.
While there are different shades of metal roofs, they all fall into one of three main categories:
Metal Roofing Colors
Common metal roof colors include browns, tans, and grays. They're ideal for blending into the natural environment and complementing the earth tones of surrounding trees and foliage. Common metal roof colors are also ideal for blending with wooden siding and stone accents on houses with traditional architecture.
Black Metal Roof Colors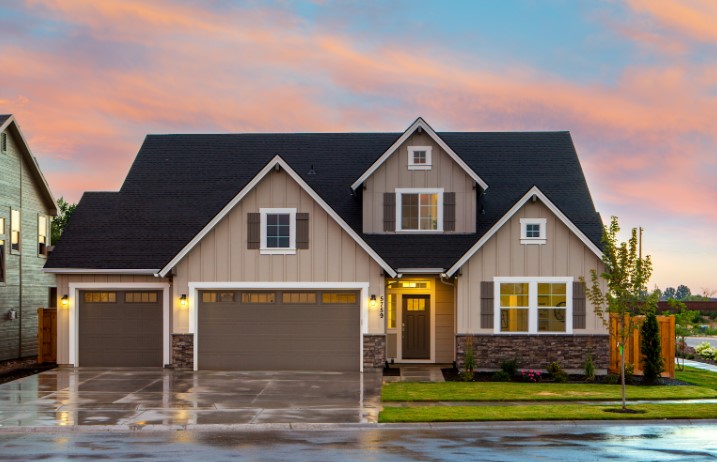 Black is another popular choice among homeowners looking for a bold statement on their homes. Black metal roofs work well with modern or contemporary designs and traditional styles. You can pair it with color scheme red metal roof house color combinations.
Another design is the country style red metal roof house color combinations except maybe Mediterranean or French Provincial styles. It is because black isn't "in" with those two design styles.
White Metal Roof Colors
White is a popular choice among homeowners who want their homes to stand out from their neighbors' homes rather than blend in with them. White metal roof house color combinations can go with nearly any other color combination or style of home and requires little maintenance over time.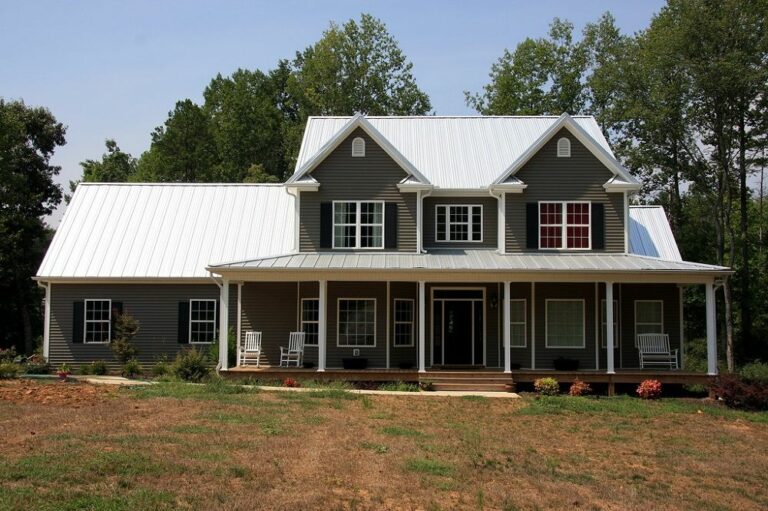 A white roof is a classic choice that has been in use for centuries because of its natural beauty and simplicity. However, because it reflects so much light, it may make your house appear bigger than it really is if there are not any trees or other landscaping around it.
A white metal roof also increases the amount of heat coming into your house during the summer months, which may be an issue if you live in a warm climate or have air conditioning problems already.
Here are some popular metal roof colors for homes:
White
White is an extremely versatile color for metal roofs because it goes with almost any other color scheme on your house. It also makes your house look bigger and more spacious than it really is. The color works well with almost all types of wood trim as well as many types of siding materials like vinyl or aluminum siding.
Brown
A brown metal roof will go nicely with a log cabin style home or other rustic types of dwelling where you want the exterior color to match the interior design of the home inside. The color looks great on homes that have lots of windows and doors because it helps them stand out against the sky during the daytime hours.
It is when they are open and allows light into the house while still providing good protection from sun exposure at night time when they're closed up tight.
Brown metal roof house color combinations are often chosen by homeowners who want something that's more earthy than gray or silver but still doesn't look like cedar shakes or shingles. Brown roof is also easier for homeowners to maintain since it's not as likely as other colors to fade over time due to sunlight exposure.
Blue-Gray Metal Roofs
A blue-gray metal roof is a popular choice because it works well with different styles of homes and creates a beautiful contrast against the sky or surrounding landscape. The color looks nice when you pair with white siding or trim on a house with a wooden exterior.
Blue-gray roofs also work well with dark shingles or shake siding because they complement each other nicely without being too monotonous or boring.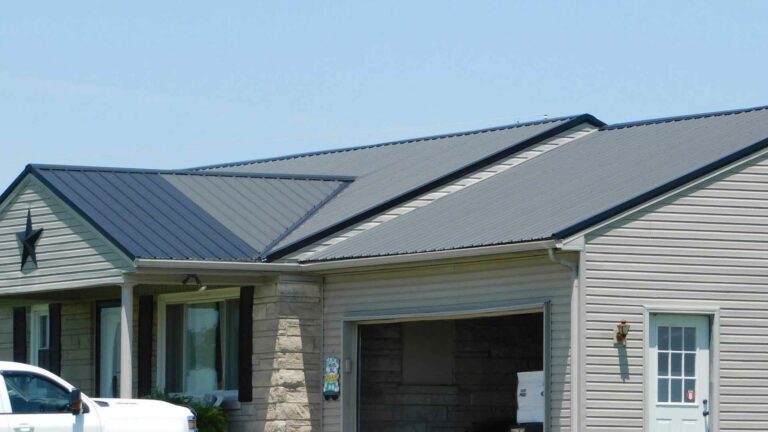 Here are a few ideas to get you started with the color combinations:
Red Metal Roof + White Trim
It is a classic combination that looks great on any house. The red metal roof house color combinations with white trim pop against the blue sky or green trees. It's also easy to maintain since there aren't any plants or trees that will grow on top of it.
Blue Metal Roof + White Trim
Blue metal roofs are another great choice for homeowners who want something classic and timeless. The blue metal roof with white trim will look stunning with green lawns and yellow flowers in bloom around the yard. This combination also goes well with light-colored siding on the house itself, such as cream or light brown.
Gray Metal Roof + Cream Trim + Light Brown Siding colors
Gray isn't just for concrete anymore! Light gray metal roof house color combinations have been popular for years now because they go well with most other colors and styles — especially cream.
Brown and Black Metal Roof Color Scheme
It is an elegant combination that looks great on any house design and size. The combination consists of a dark brown color with black accents on it which makes it look modern yet classy at the same time!
Silver Metal Roof House Color Combinations
A silver metal roof house color combinations are a type of roofing material made from aluminum or steel. These metals have a protective paint coating that gives them their signature silver color. You can install metal roofs in different styles, such as standing seam, corrugated, and shingles; however, they all serve the same purpose — keeping your home protected from wind, rain, and snow.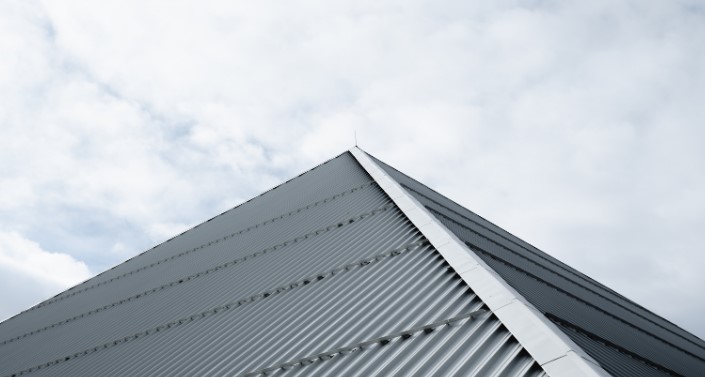 Silver is a unique color that you can use in a variety of ways. You can pair it with any other color, and it always looks great. Here are some examples of colors that work well with silver roofing, so you can see how they can look together.
White and Silver
This is one of the most common color combinations for metal roofs. The white creates a bright contrast against the silver, which is perfect for creating an eye-catching look for your home. This combination works well in most climates, as both colors reflect light well. If you're looking for something more subtle, consider using black instead of white on your roof.
Gray, Brown, and Silver
Brown has become a popular choice for roofs recently because it provides a warm contrast to other colors like white or silver without making them look overdone. To get an even better contrast between the two colors, consider using gray instead of brown on your roof — especially if your house already has gray or white paint inside and out.
Furthermore, Metal roofing is a popular choice for many homeowners because it offers a sleek and modern look. You can install a wide variety of home styles, but you may have some concerns about matching the color of your metal roof to the house's exterior.
Metal roofing comes in different colors, but if you're looking for a natural look, we recommend using silver metal roofs. Silver is the most popular metal roof color because it looks great with almost any house style and is easy to match with almost any exterior color.
We hope  Steelandstud has become a great help for you to decide on the metal roof and color combinations. Good luck with your project!
For further queries please contact us at 1-877-275-7048.