Metal buildings look aesthetically appealing and are capable of withstanding harsh weather conditions. You also get many fancy and classy options for interior designs that meet your preferences. The heavy-duty metal frames offer good support to your entire home and come in the best sizes and dimensions when you order customized prefabricated kits with Steel and Stud.
If you own a metal building with high clear-span construction, you then have unlimited interior design ideas to execute. Steel and Stud share the best interior design ideas for 2023 that will illuminate the living spaces of your steel buildings. They just do not endure the weather conditions but elevate the aesthetical value without demanding a dime for its maintenance. 
It takes only a few weeks to complete constructing metal homes. But before designing the interiors, you must ensure the metal structures are successfully placed and erected.
Steel and Stud, the renowned steel building manufacturer in the USA, shares metal home building interior ideas that are structural and affordable. 
The steel building designs come in different styles. The trending metal building designs include:
Design Considerations For Metal Building Homes
As mentioned above, when you own a metal building, you are packed with enormous metal building interiors design options which you can execute, but before diving into it, what really matters is how you design your inside metal building home's interior.
And in the below pointers, we will break down every single consideration for metal building homes.
Size
The first decision you need to make is to determine the size. By size, we mean it can influence the space's overall feel.
Functionality And Practicality
In simpler words, functionality refers to a design that serves its purpose and allows its user to attain their goals and needs.

On the other hand, if a design has to be successful, it's necessary to put some groundwork ahead of time to ensure the project is feasible. 

But why do you have to do this? Because practicality deals with those aspects that can really be achieved rather than just theorising them. 

The more practical your ideas are, the less will be the chance of designing an interior that doesn't work.
Ventilation And Natural Light
Studies have determined that humans work better in their homes where there is plenty of sunlight and fresh air.

Meanwhile, if we talk about ventilation

, ventilated areas create a sense of happiness among people and boost their morale.
Materials
Picking up the right materials is very crucial to curate a structure that's (not only) durable but also fulfills the metal building home interior design perspective.

Choosing the appropriate materials is not only done to make a room's design pleasant but also to make it more functional and usable.
2023 Metal Building Design Trends for Interiors
The rustic panels and floorings are beautiful and come in different designs and prints for metal building homes. You can see them gracing the roofs of different houses adding elegance and improving the home's value. It helps you to recreate the weathered look to turn the building unique.
You can also get the wall colour and roof colors that complement the wooden shades of your room. Steel and Stud offer different colour panels from which you can select the one that meets your needs. Remember, The cost of panel per square foot may vary as per the chosen color.
The widely used building materials for metal building are black and brown to get a rich look. However, light and dark grey tones are also considered in rustic interiors. The finishing can be done with metal panels. You get a vintage look by giving a matte finish to the metal panels.
Flat Accent Interior Walls
Breaking the color placement with one flat accent wall using a metal panel (one of the best metal building interior ideas) can give a beautiful and luxurious look to your metal building home interior. The beauty of these walls will grab the eyeballs of the onlookers. This one wall popped in different colors also creates a distinctive look for the steel home or office space. The panels are the best substitutes for tile backsplashes. These metal panels are available in different designs and colours. The wall should seamlessly blend other colors of the wall and can be highlighted with a beautiful painting or family picture.
Wavy sheets or corrugated metal panels are popular walls used nowadays as interior walls in metal homes. Adding one entire wall with corrugated metal in the bigger rooms can help to safeguard the part of the metal home that is more prone to moisture or rust. You can have corrugated walls in the lower portion of the wall in smaller spaces than over the entire wall.
Be cautious while covering the accent wall with corrugated metal, as it may make the room look smaller or congested. It is good to protect the lower part of the walls to give a touch of style.
Modern Metal Panels Interior Walls
The clean lines, raw materials, and bold accents are important in creating a modern metal building interior design. The Latest trendy metal panels will create a rich feel to the steel home interior.
Flat Metallic Panels For Log Houses
A simple and classy way to enhance the interior of log houses is by adding flat metallic panels throughout the interior landscape. The is also quite popular. In these types of steel homes, the most popular pattern to use bare metal panels in living spaces observed is the fireplace surrounded by corrugated metal frames. Moreover, kitchen backsplashes and shower liners are also constructed with metallic panels that augment the look and shine.
Metal Accents To Walls And Ceilings
Metallic painted accents on walls and ceilings enhance the look and feel of the interior space. The glossy ceiling and shimmery metallic walls make the house look glamorous. You can style up the interior of the metal house with steel, copper or nickel accessories, suiting the theme and look. Gold motifs on walls and gold framed borders on the ceiling augment the beauty of the steel home manifold.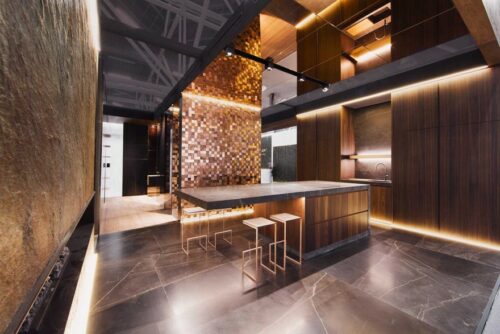 The use of copper tone is one of the most recent trends in the interior design of steel buildings. The copper tone is either used in the original wall panels or on the stainless steel coatings. This offers the warmest tone and makeup for one of the latest 2023 trends of metal home designs. Moreover, the copper color creates contrast in decoration with other tiles and panels.
Create A Modern Metallic Ranch Home Interior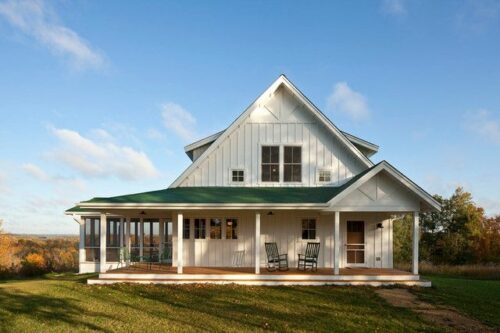 You can design a Ranch metallic farmhouse with steel flat panels, and shiny colored steel plates, replacing tiles. For the kitchen and bathroom, you can use galvanized corrugated steel frame, an alternative to traditional tiles. This pattern which is one of the most trending metal building interior ideas creates a classic yet shimmery look inside the farmhouse. The use of metallic panels in shower areas ensures light in case of poorly-lit bathrooms. The metal roofing of the steel buildings and vertical steam panels made of steel gives a straightforward and simple look.
Replace Columns With Metal Supports
Columns are necessary to offer structural support. However, the stone columns can be obstructive in a building project. An excellent metal building design idea is to replace stone columns with sleek metal support. Metal supports made with smooth white are perfect to place at elegant angles. It goes well with the rest of the design of the metal building with living quarters. It encourages cost savings in new construction.
New Innovative Metal Homes 
You can construct different types of metal homes using metal home kits. Building steel home interiors are effortless and cost-effective. Be it interior or exterior, metal structures are popular owing to their ease of construction, durability, and capability to withstand extreme weather conditions. Many steel buildings are constructed using metal as the primary material.
Metallic Furniture Piecesces
Look for metallic furniture to make the interior look elegant and thematic. You can get a lot of steel-finish sofas, tables and chairs that boost the look and feel of the internal space of the steel buildings. The interior of the steel building with metallic walls and ceiling inside looks complete with metallic furniture pieces. It makes the room look shimmery and gorgeous yet supremely sober.
These are cost-effective because you do not have to use other materials like wood. Moreover, these are easy to mould and shape into unique designs and forms.
How can you forget pretty metallic doors that give a different dimension to steel home interiors? Most of the doors are built in steel and come with beautiful designs and frames. Brass or copper leaves on the door surface make up for a beautiful pattern. Put an iron boundary to make it look more gorgeous. Usually, such metallic doors are seen at the main entrance, but nowadays, many modern custom metal buildings have steel-finish doors in every room.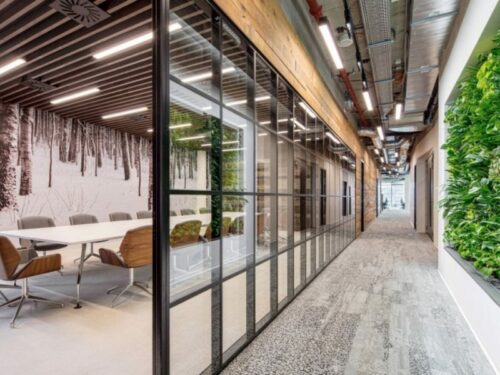 Earlier, nature used to be around us, and although it's still there, the quality of today's environment, which we are surrounded by, has changed. Presently 54% of the world's total population resides in urban environments.
By 2050, this figure will grow by 66%- says the BDC network. Of 100%, 93% of humans generally spend their time indoors.
And because of this, humans tend to have physiological problems.
But you might have this question lingering in your mind regarding how you can reverse this troubling trend, which can improve the overall well-being of humans and our society.
Well, just by applying this single approach called Biophilic Design.
In simpler words, biophilic design is an applied solution for designing landscapes, communities, small projects, and building with the sole aim of integrating natural elements into the built environment.
Elements Of Biophilic Design
Following is the checklist for the elements, along with the attributes that encompass them:
Environmental Features
In the context of biophilic design, environmental features refer to the bits of nature found in the built environment.

Humans have an innate attraction or, let's say, a sense of connection with habitats such as animals, plants, colours, water, and sunlight.
Lights And Space
Both lights and space are crucial elements in biophilic design. Why? Because both filtered and natural light provides godsends in a metal building home's interior.

Meanwhile, if we talk about space, then it creates a sense of harmony & diversity and a link between indoor and outdoor environments. 
Natural Shape
Natural shapes refer to forms and lines that arise in nature. For instance, vaults, arches, and water paths.
The interiors of the metal buildings home look elegant, modern, and pretty. The walls, floors, and ceilings are energy efficient and keep the space comfortable. It's a myth that when you construct metal buildings, you give up on the aesthetics of the interior. You can decorate the interior space with beautiful decor elements and patterns.
As listed above, there are different interior designs in metal buildings. SteelandStud assists you with professionals who can build the interior of metal buildings as per your tastes and preferences. We understand your pulse and design the building that you want. In this manner, you save big on your steel home construction expenses.
Get in touch with our experts for your steel building construction today.
FAQs Related to Metal Building Homes Interior
What common mistakes to avoid when designing a metal building homes interior?
Neglecting the insulation part.

Not incorporating sound-absorbing materials.

Ignoring the texture and ventilation.

Inadequate storage solutions.

Skipping the proportion and scale.
How do you choose the right lighting fixtures for a metal building homes interior?
Have a strong vision, size, and proportion.

Consider your architectural style.

Go for energy-efficient light bulbs.

If your foyer has a vaulted ceiling, then go for a chandelier.
What are the best flooring options for a metal building home interior?
Concrete

Water-proof vinyl flooring

Poured resin

Natural stone and wood flooring

Gravel and dirt flooring

Engineered hardwood

Porcelain or ceramic tile
What are some cost-effective options for metal building homes interior design?
Incorporate canvas art into your dining room to create a wow factor.

Try a chic industrial theme.

Give your blank wall a character by adding plates.

Add a recycled piece of a cupboard to add freshness to your room.

Try tumbled Belgian limestone to add a touch of glimmering look to your fire area.

Minimise clutter by adding multipurpose furniture.
What are some eco-friendly options for a metal building house interior?
Install high-quality windows and sound insulation.

Pick up the right paint which has low volatile organic compounds.

Try adding the green roof.

Add sturdy elements that are robust, durable, easy to clean, and ornamental plants.

Rather than cutting down trees instead, add a rustic look by adding barn wood mantels.
What are some safety considerations for metal building homes?
Install concrete reinforcement or hardware cloth.

Add a thick metal mesh at the exterior window part to avoid anyone damaging the glass.

Install solid core doors.

Incorporate composite cladding to the roof.
What types of furniture are best for a metal building house interior?
Mid-century modern furniture for the retro look

Chippendale

American Empire

Industrial-style furniture

Minimalist furniture

Casual luxe
What are some design considerations for metal building home ceilings?
Consider acoustics

Opt for those designs (ceilings) that are versatile with any theme

Make sure the components which are used are fire safety